Here is a round-up of 20 healthy Thanksgiving recipes, free of gluten, dairy, and refined sugar. There are plenty of vegan options, too.
How To Plan a Thanksgiving Menu
Keep it Simple – Aim for 5 sides, 1 main, and 1 dessert. Depending on the number of guests, you can scale this up or down.
Ask for Help – have others bring a dish.
Prep in Advance – to avoid being in the kitchen all day, prep as much as you can in advance. Pre-wash and chop veggies, make the dessert and anything else that can be made ahead.
Plan Wisely – If you're making a whole turkey, it will be in the oven most of the day, so choose side dishes that can be cooked on the stove-top or pre-made and reheated quickly (while the turkey rests, for example). Also, look at the active and cook times of each of the recipes, and plan to make them in an order that makes sense. Desserts can usually be made the day before.
Keep the Appetizers Simple – Even store-bought! For example sliced carrots and Simple Mills crackers with hummus, or a pre-made healthy charcuterie board with artichoke hearts, olives, nuts, sundried tomatoes, vegan cheese, crackers, hummus, and red grapes.
Eat the Rainbow – The sides are the best part of a Thanksgiving spread. To ensure variety, aim to hit as many colors of the rainbow as you can. This not only helps to make it a nutritionally well-rounded meal but also helps make your spread visually pleasing. For example:
Red: roasted beets, bell peppers, radishes,
Orange: sweet potatoes, squash, carrots
Yellow: bell peppers, squash, turmeric coated cauliflower
Green: salad, chard, kale, okra, Brussels sprouts, green cabbage
Purple: cabbage, purple potatoes, purple sweet potatoes, purple carrots
Black/Brown: Mushrooms
White: cauliflower, parsnips
Healthy Thanksgiving Appetizer Recipes
Get family and friends warmed up with these bite-sized snacks and comforting soups.
Cream Of Mushroom Soup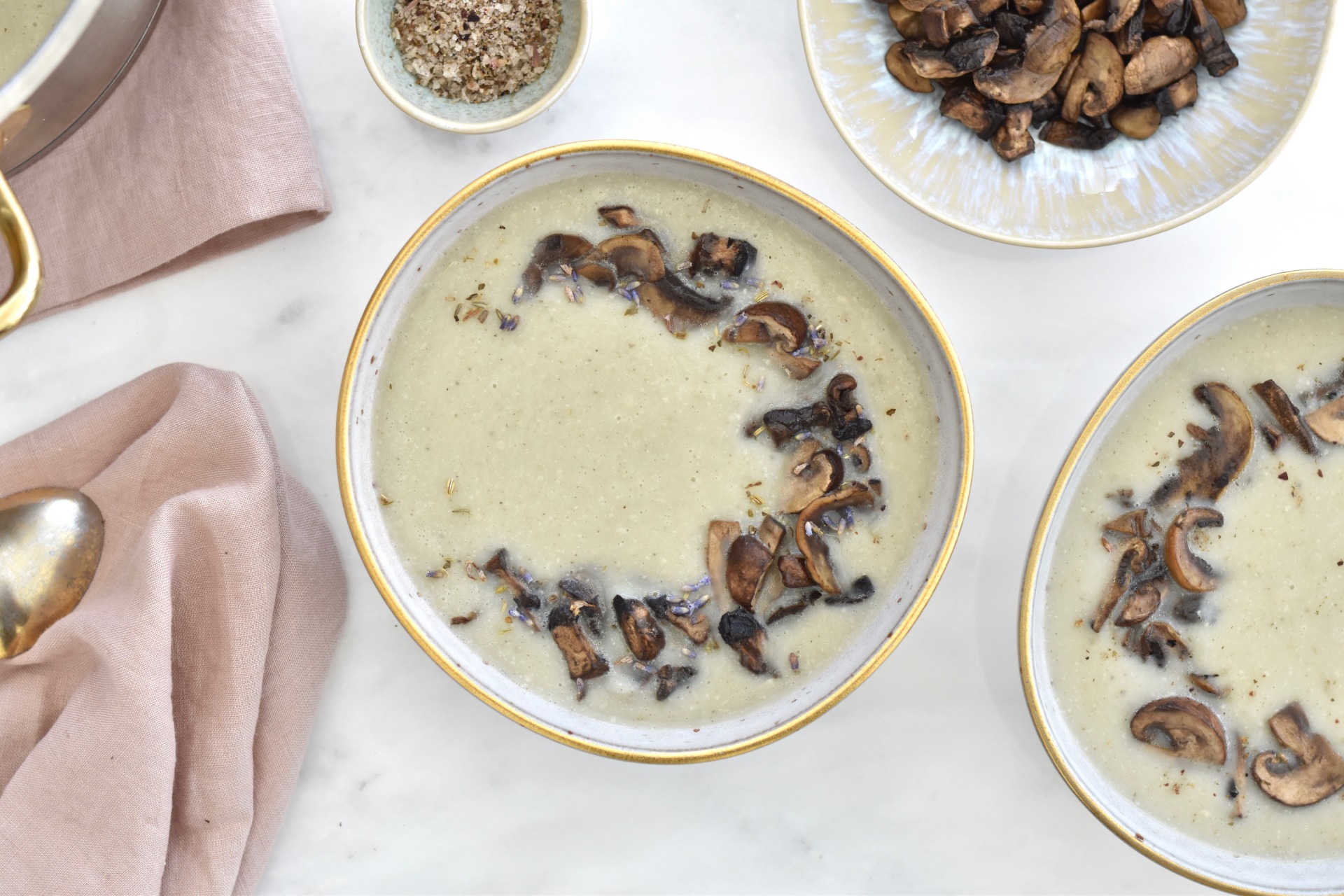 This Cream of Mushroom Soup packs delicious umami flavor. It gets its creaminess from cauliflower instead of dairy. For dinner parties, I love doing mini bowls or shot glasses instead of large soup bowls.
Creamy Roasted Butternut Squash & Curry Soup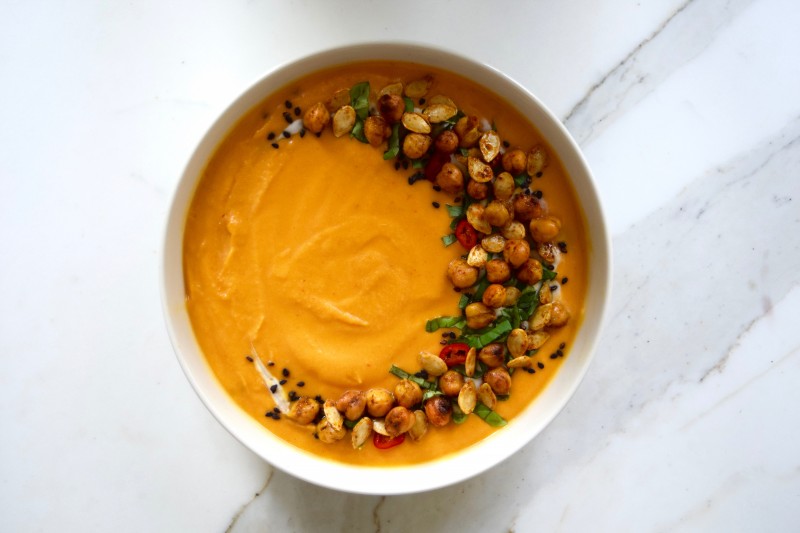 Add a little spice to your Thanksgiving table with this Creamy Roasted Butternut Squash & Curry Soup. You can serve bowls of it garnished with pretty toppings, or instead skip the toppings and serve it in shot glasses for a tasty drinkable appetizer.
Red Lentil Falafel with Lemon Herb Tahini Dip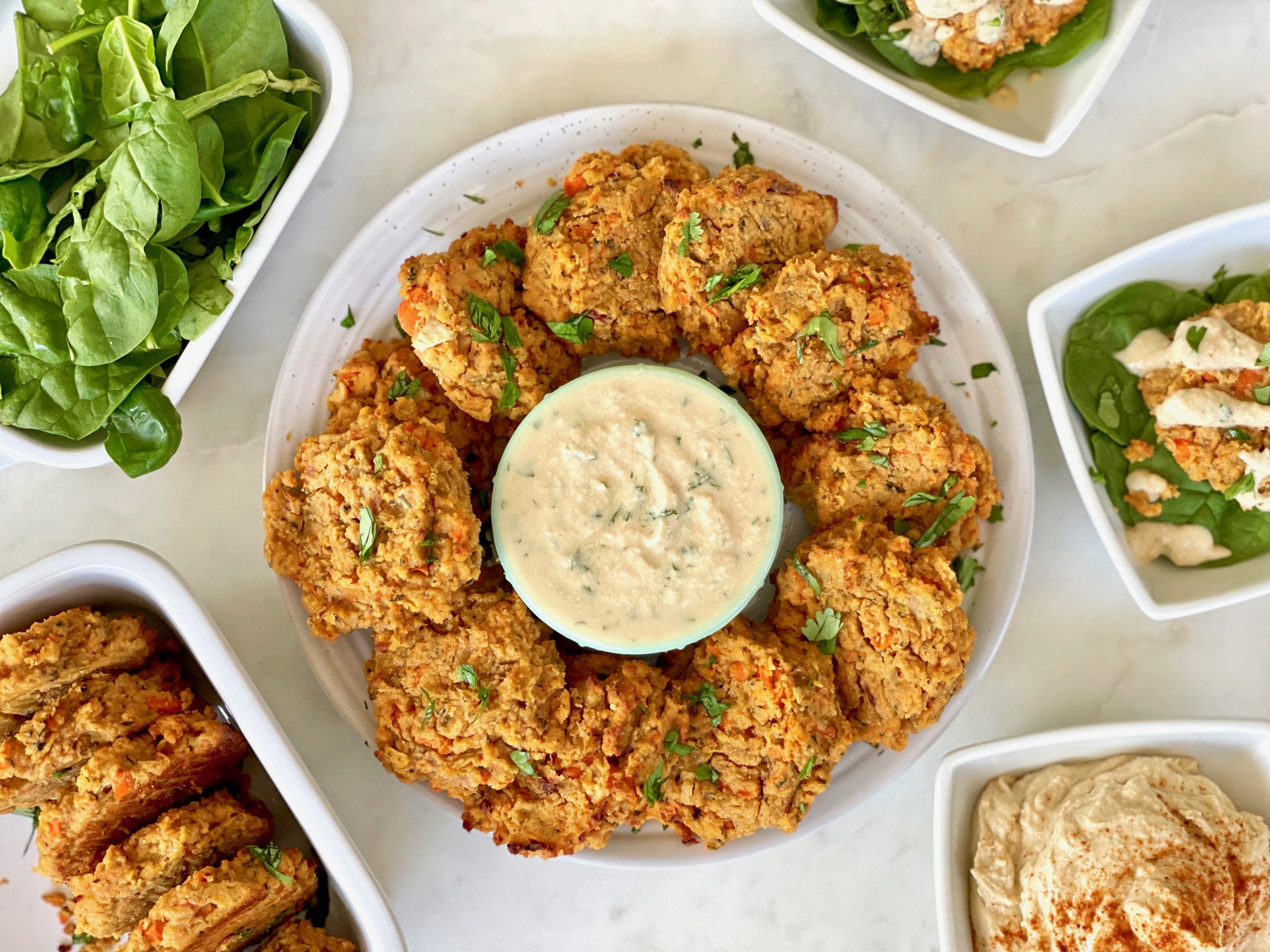 These red lentil falafel are a fun dippable appetizer option that can easily be made a day or two before and even served at room temperature (although reheated is great too). They pair nicely with the lemony herb tahini dressing.
Gluten-Free Vegan Cheez-It Crackers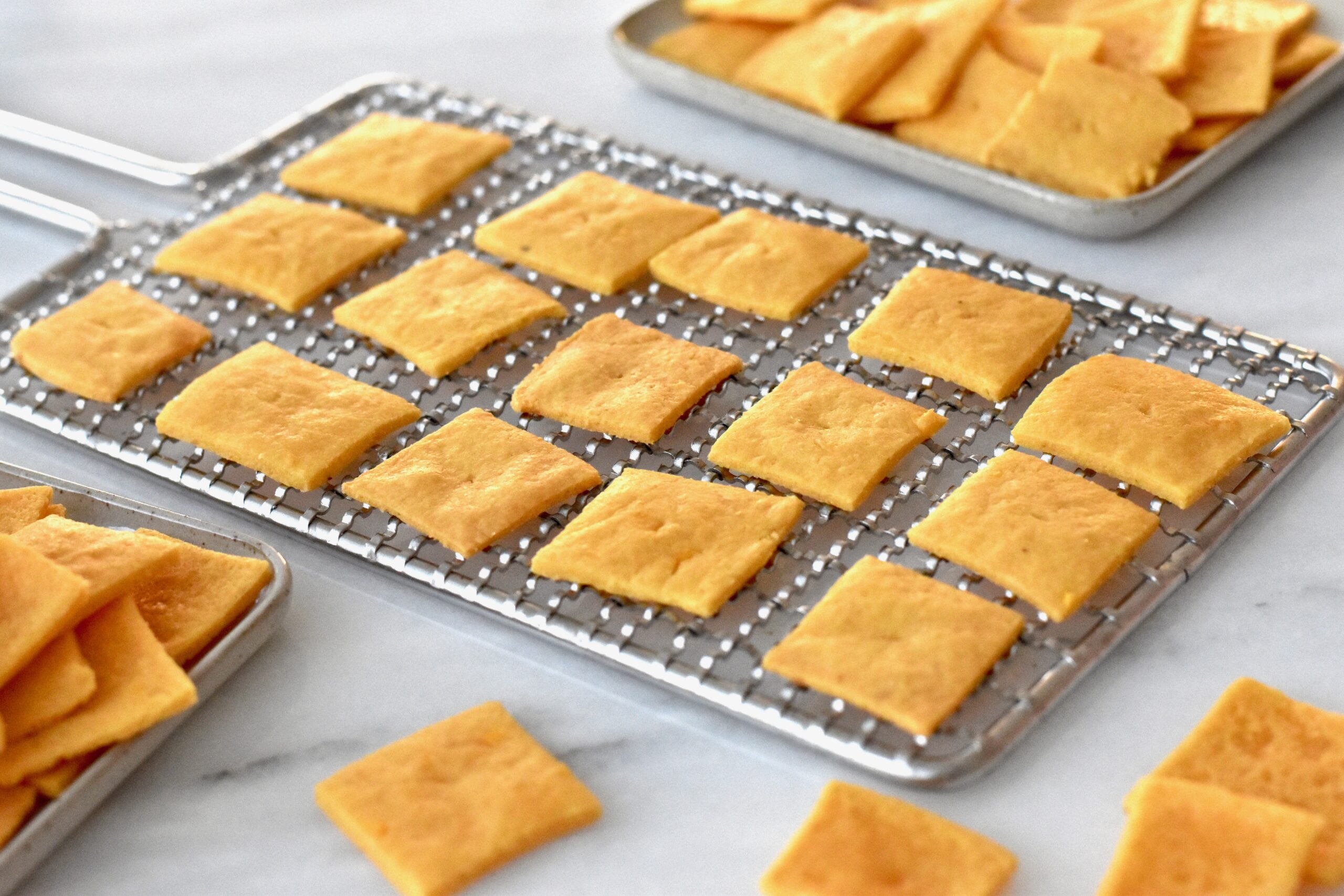 These homemade, dairy-free, gluten-free Cheez-It Crackers are an appetizer both kids and adults alike are sure to love. They are incredibly easy and fast to make, and you can make them the day before. But, be warned, they're addictive, so you may want to scale up accordingly!
Healthy Thanksgiving Turkey Recipes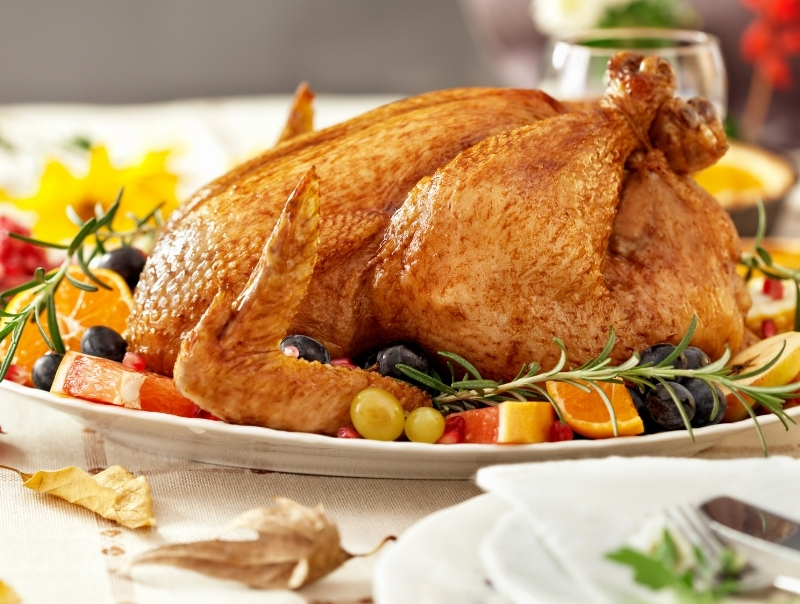 I have only cooked a whole turkey once, in college, and it involved basting it in my vegetable drawer. (I cringe at the thought). Since I am no turkey expert, here are some other people's healthy turkey recipes that look absolutely delicious:
Traditional Herb-Roasted Turkey: I'd swap the canola oil and replace it with avocado oil.
Tuscan Turkey: This recipe had me at "roasted garlic and fresh sage permeates every ounce of the bird."
Herb Roasted Turkey Breast: If you're having a smaller gathering (or are intimidated by cooking an entire bird) then opt for this easy and simple herb-roasted turkey breast instead.
Vegan Thanksgiving Main Recipes
If turkey is not your thing, try one of these tasty vegan Thanksgiving recipes, instead.
Crispy Stuffed Sweet Potato Skins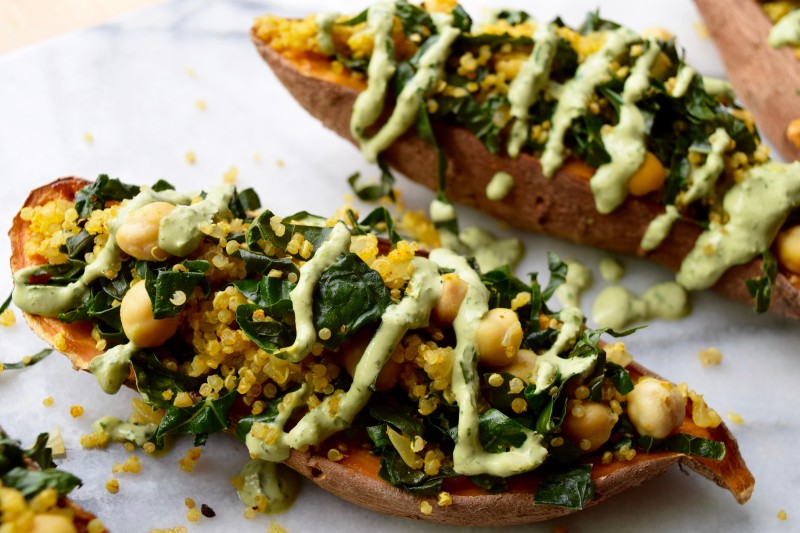 These Crispy Stuffed Sweet Potato Skins are a Thanksgiving favorite. They are stuffed high with kale, quinoa, and chickpeas and drizzled with a delicious herb tahini dressing. They look really nice on a long platter.
Thanksgiving Three-Sisters Stuffed Squash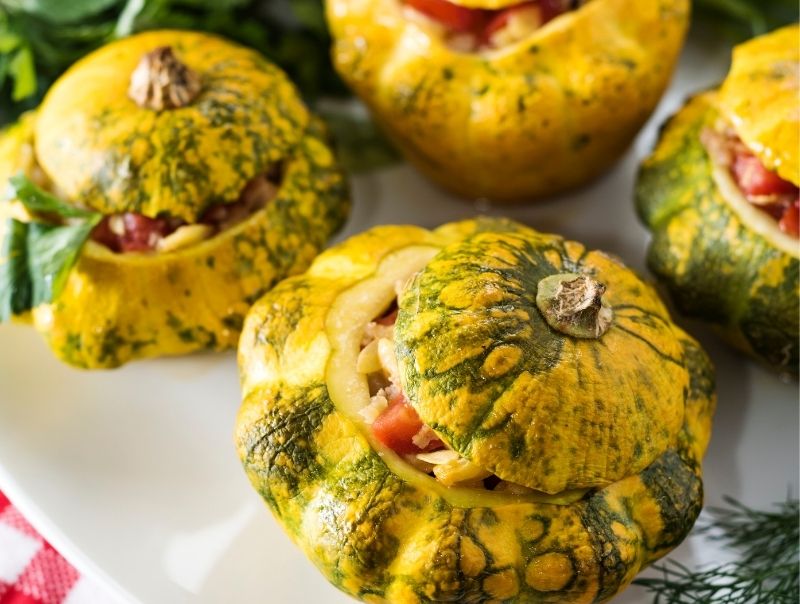 One of my earliest recipes, featured in The New York Times: Three Sisters Stuffed Squash. Tender squash is filled with a mix of beans and corns for an easy and tasty vegetarian Thanksgiving main.
Sun-Dried Tomato & Lentil Stuffed Cabbage Rolls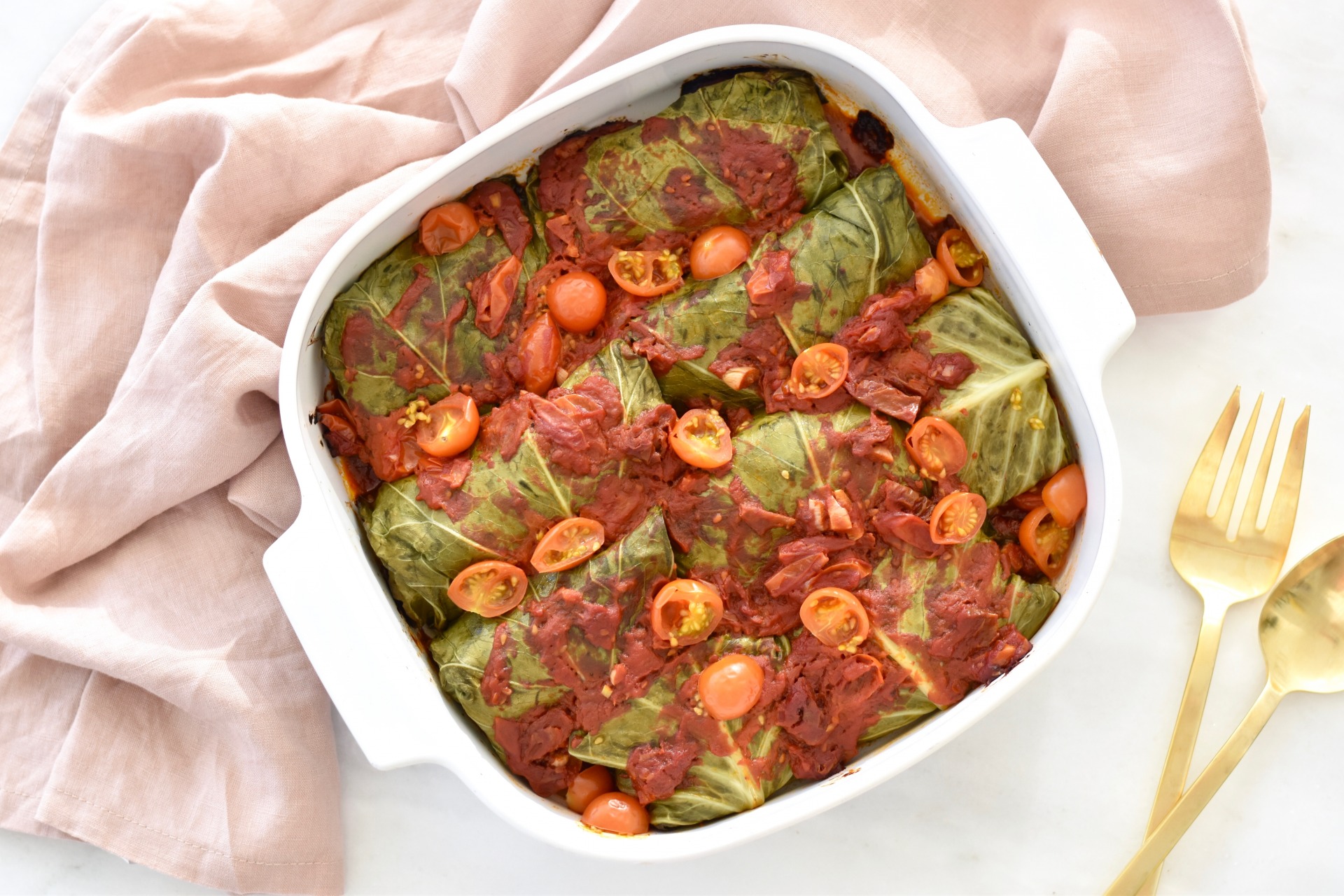 These hearty Sun-Dried Tomato & Lentil Cabbage Rolls are full of flavor and packed with protein, thanks to a hearty blend of well-seasoned lentils, walnuts, and sundried tomatoes. To ease things on Thanksgiving Day, you can pre-cook the filling a day before.
Healthy Thanksgiving Side Recipes
Truth be told, when it comes to Thanksgiving dinner, the sides are my favorite. Here are five delicious options you can lay out on the table:
Okra Stir-Fry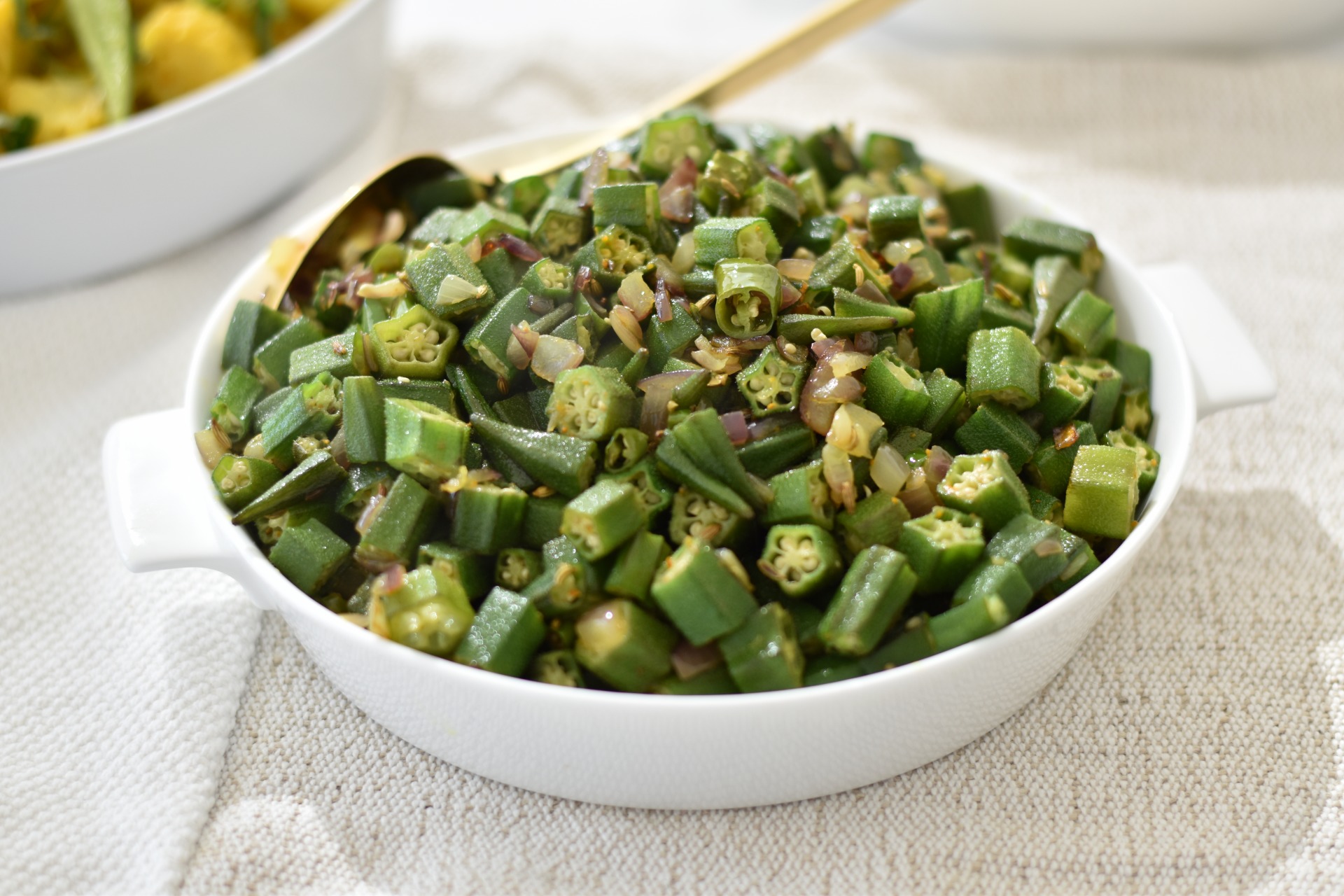 This simple and easy Okra Stir-Fry is a perfect side accompaniment to any Thanksgiving main on the table. Because of the way it's prepared it does not turn out gummy or slimy but incredibly tender and crisp.
Roasted Delicata Squash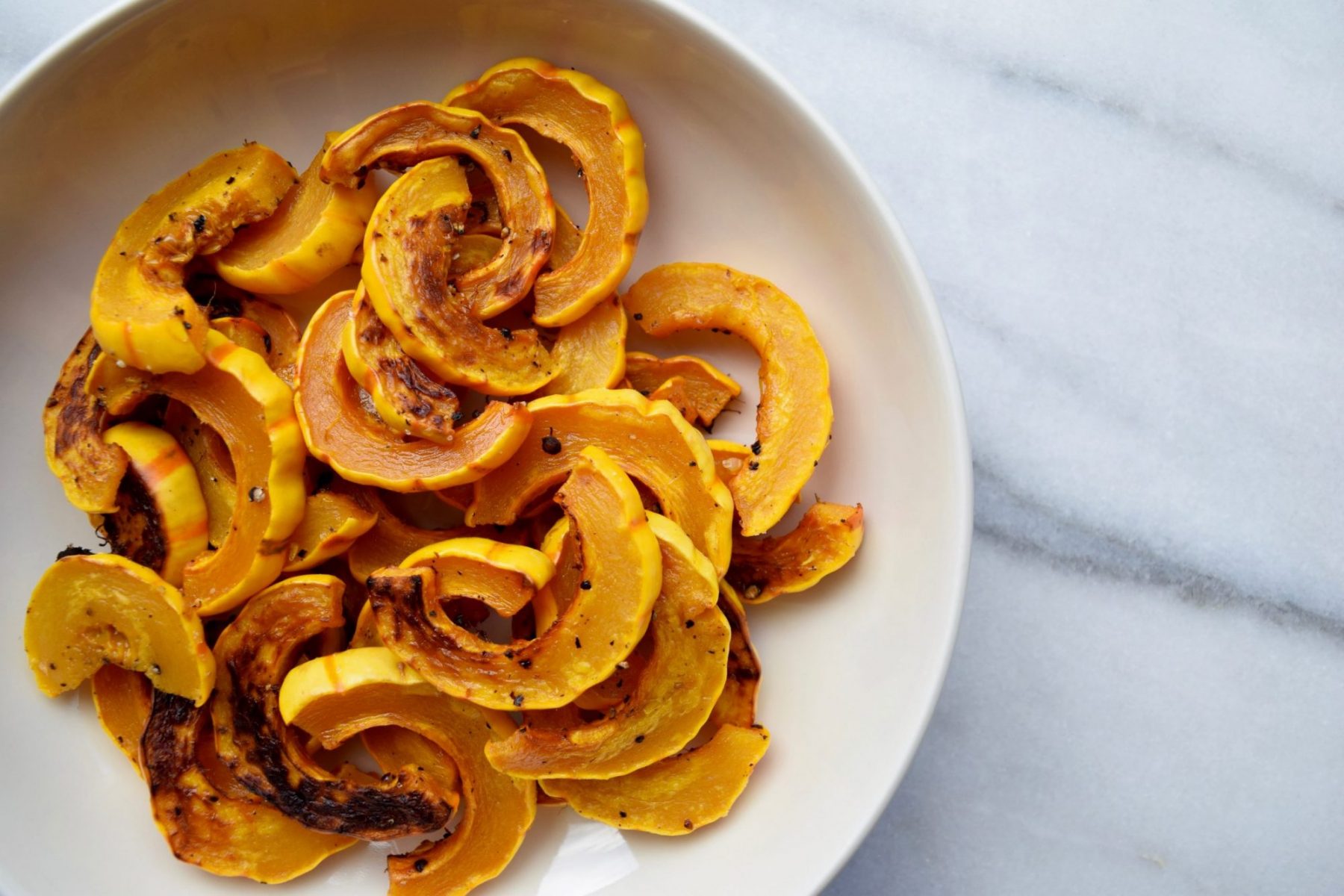 While butternut squash may be more popular, delicata is easier and faster to prepare (it takes just 15-20 minutes to cook). That means less time in the kitchen on Thanksgiving day. Try this simple Roasted Delicata Squash recipe.
Quick Purple Sweet Potato Hash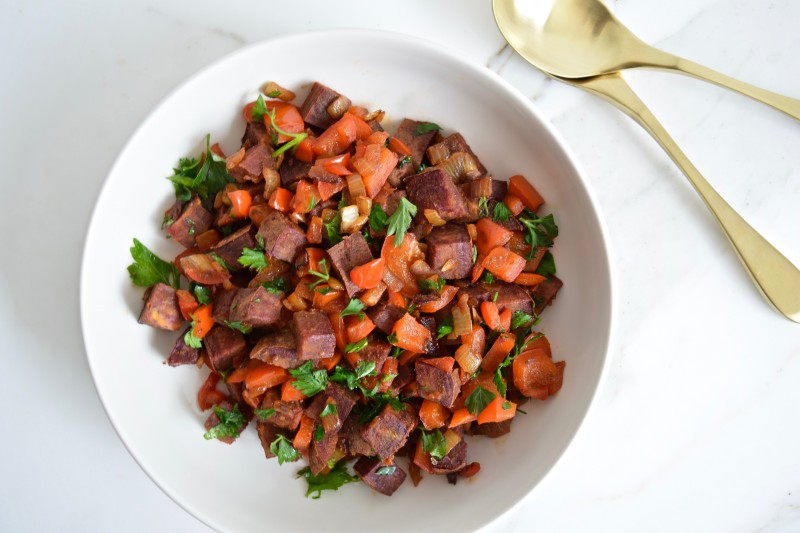 When I see purple potatoes or purple sweet potatoes, I pick them up. Purple is a sign of anthocyanins, powerful antioxidants being studied for their anti-cancer potential. Plus, they are tasty any way you make them. Here is a Quick Purple Sweet Potato Hash recipe, and if you can find regular purple potatoes (the smallish ones, about 2-3 inches long) steam or roast them whole or cut in half with a little olive oil and salt. They make for a dazzling dish.
Fall Pasta Salad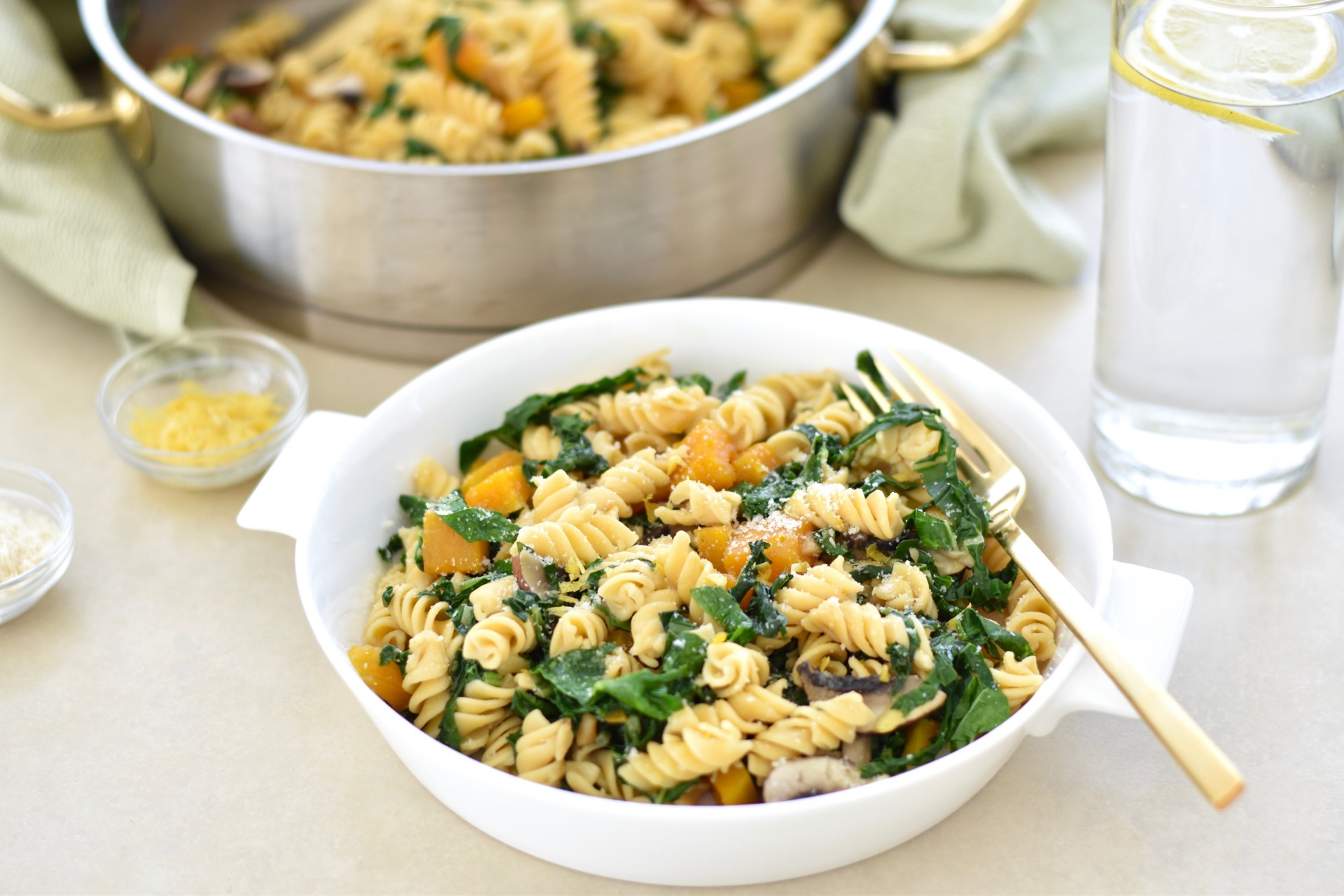 You can't go wrong with pasta – it's a crowd-pleaser. This Fall Pasta Salad feels a little more seasonal with butternut squash, mushrooms, and kale, but you can swap in whatever veggies you have on hand.
Curry Tahini Cauliflower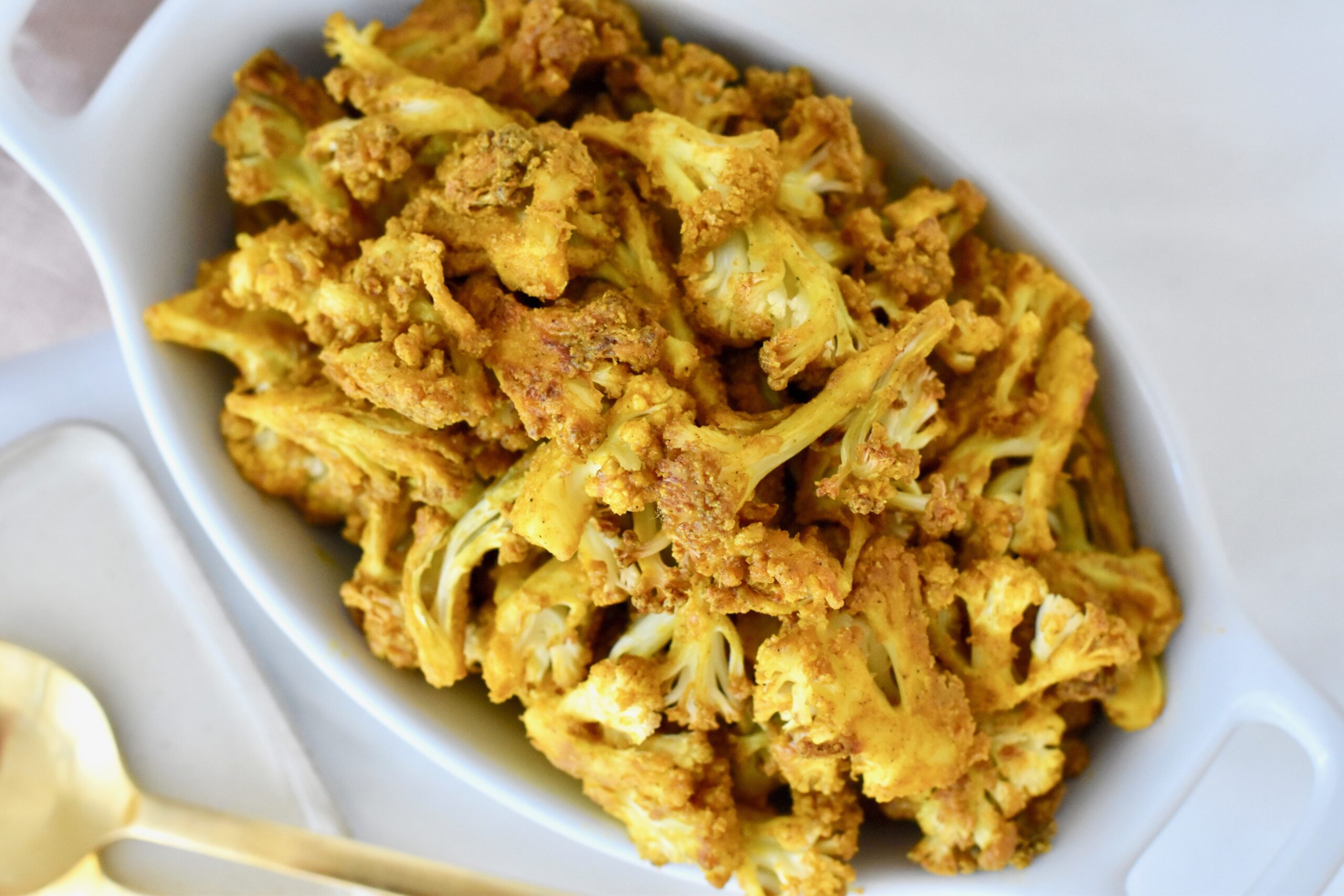 Thanksgiving or not, this is one of my favorite Cauliflower sides. What makes it so delicious is the curry-spiced tahini marinade that coats each floret, adding delectable nuttiness while making it tender enough to melt in your mouth. Get the recipe here. Even if you don't make this for Thanksgiving, bookmark this one for another time!
Buffalo Brussels Sprouts with Cashew Sour Cream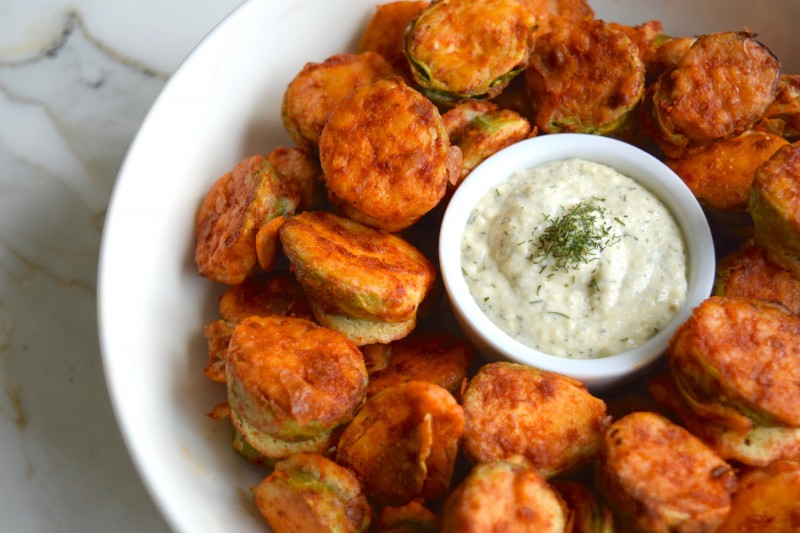 Here's another Thanksgiving classic with a spicy twist. Any of your guests who like it hot will love these fiery Buffalo Brussels Sprouts. Be sure to dip it in the cashew sour cream before popping it in your mouth – these babies are on fire.
Healthy Thanksgiving Dessert Recipes
Here are a few easy healthy Thanksgiving dessert recipe ideas.
Pumpkin Tahini Cream Pie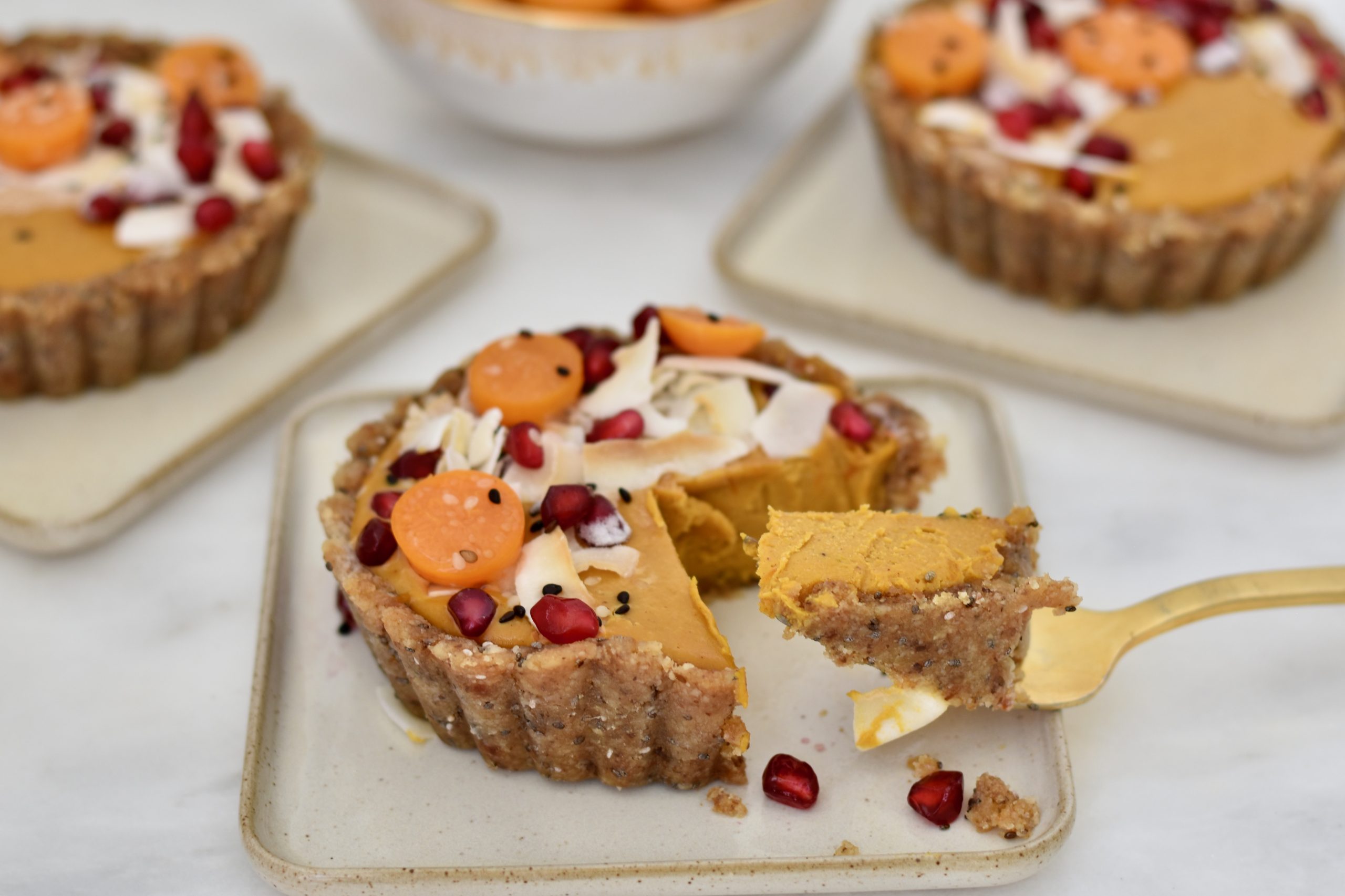 This gluten-free and dairy-free Pumpkin Tahini Pie makes for a perfect festive Thanksgiving dessert. Made with a walnut-date crust and luscious creamy pumpkin tahini center, you and your guests are sure to enjoy it.
Pumpkin Spice Donut Holes (Raw, Vegan, Paleo)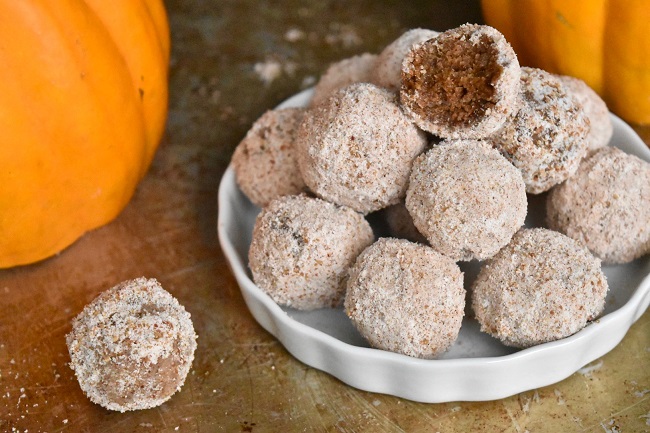 If you're a pumpkin spice fanatic like me (no shame) you will love these scrumptious Pumpkin Spice Donut Holes. And while they sure look like "the real deal" they are actually no-bake, gluten-free, vegan, and paleo.
Gluten-Free Caramel Apple Crumb Cake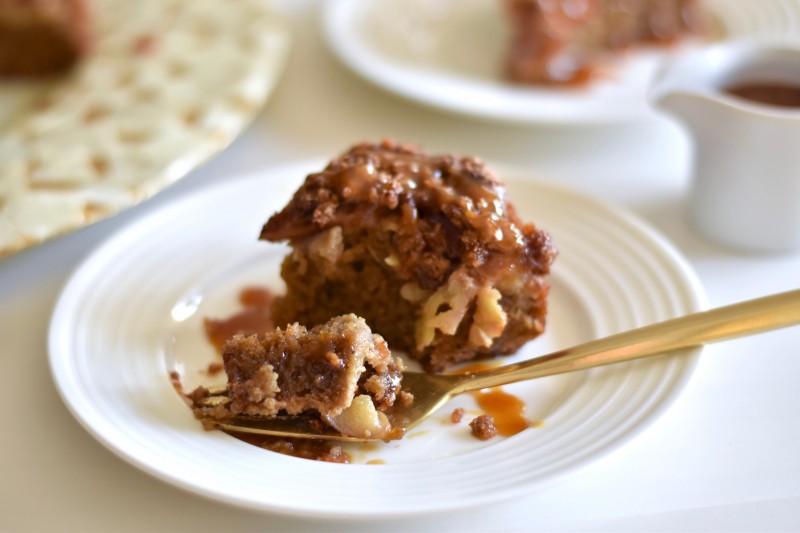 Made with sweet apples and rich date caramel this Caramel Apple Crumb Cake recipe is a fantastic healthy Thanksgiving dessert idea.
Pumpkin Spice Cupcakes with Coconut Cream & Date Caramel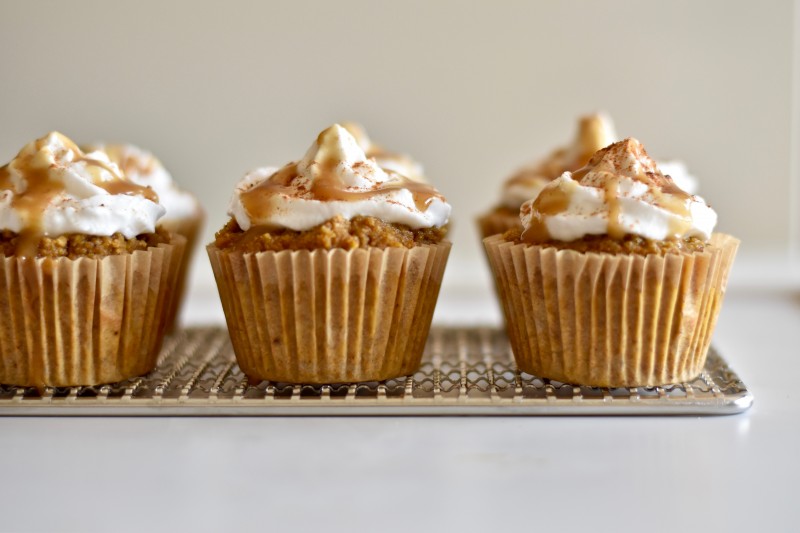 These Pumpkin Spice Cupcakes are topped high with coconut cream frosting and drizzled with date caramel.
Pumpkin Cheesecake with Maple Cinnamon Soaked Pecans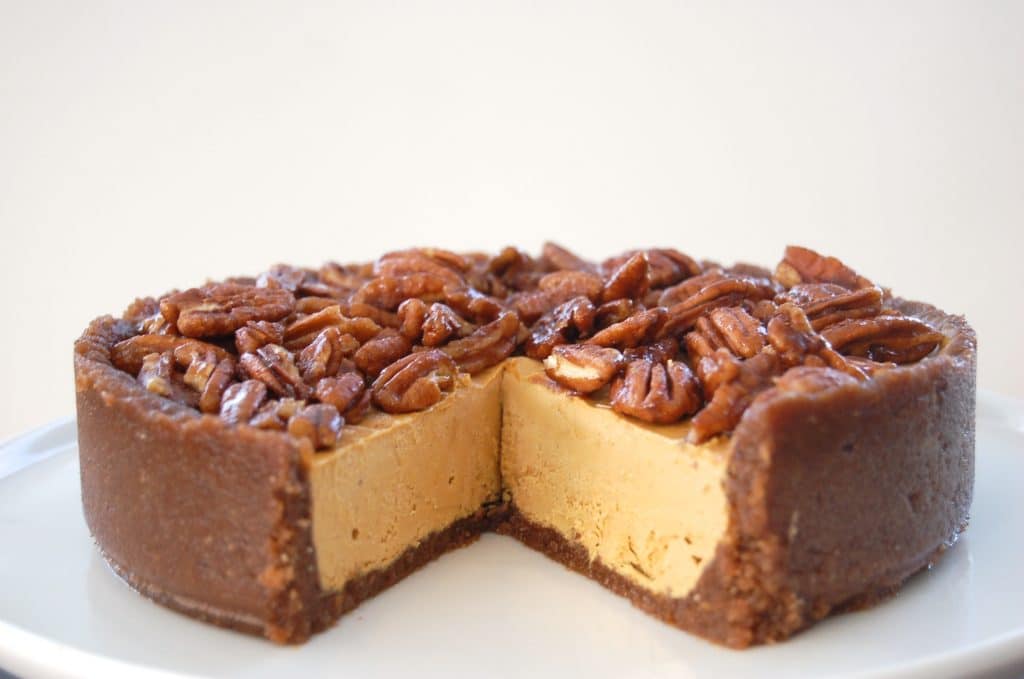 Cashew cheesecake was one of the first dairy-free, healthier desserts I had tasted nearly a decade ago. I used to make it all the time, and was always experimenting with different variations. This  Pumpkin Cashew Cheesecake with Maple Cinnamon Soaked Pecans on top is perfect for Thanksgiving. While this recipe uses raw maple cinnamon-soaked pecans, you can bake them for 10 minutes or so on 350F before putting them on your cake, and your home will smell incredible.
Gluten-Free & Extra-Fudgy Zucchini Brownies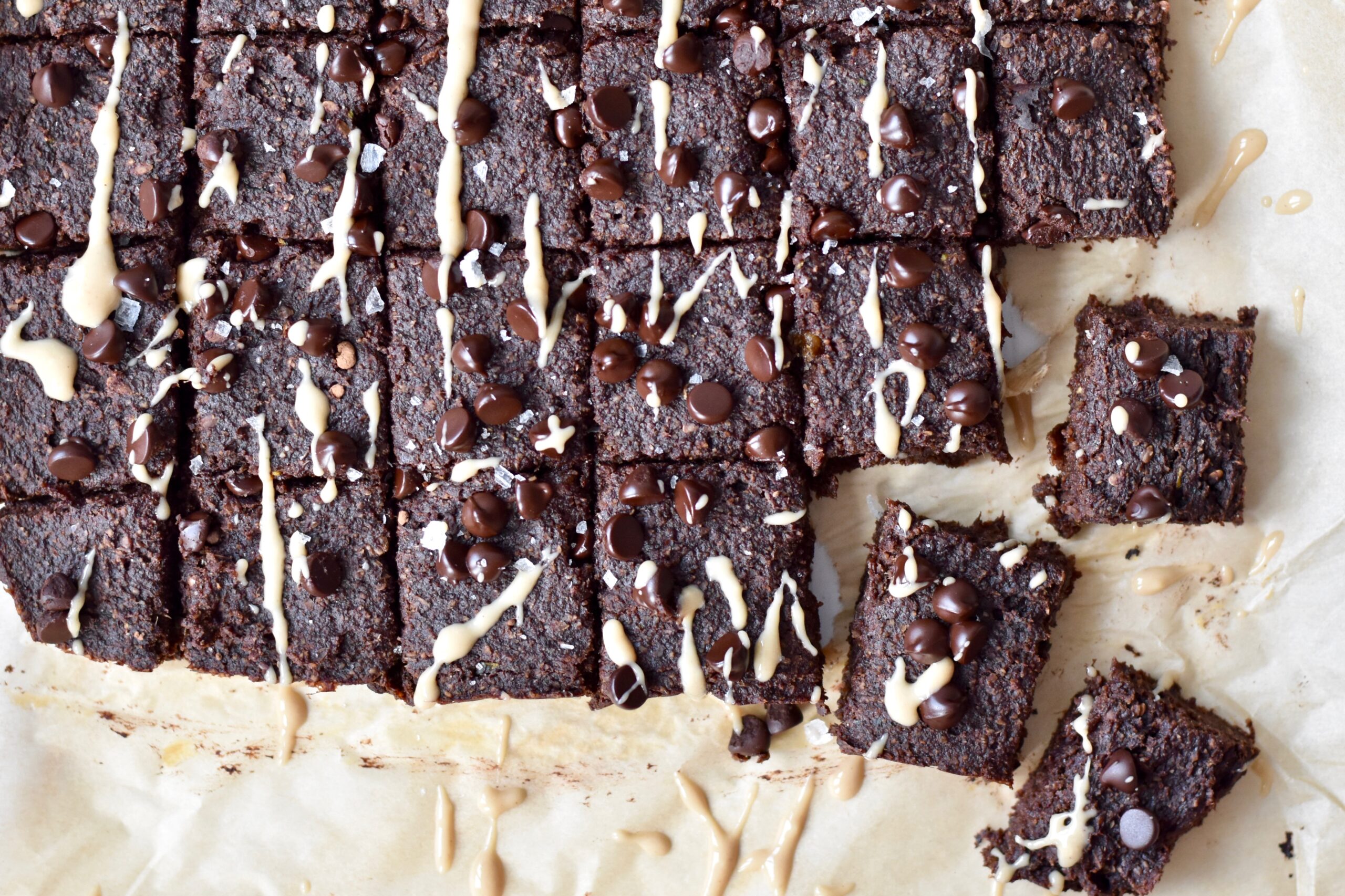 Last but not the least, these Fudgy Zucchini Brownies are always welcome on any healthy dessert table. They are sweetened only with dates and chocolate chips. Top them with flaky sea salt for a little added WOW.
I hope this healthy Thanksgiving menu helps you put together a joyous celebratory dinner. If you're looking for more recipes to choose from or swap in, check out my recipe page. You can choose from a wide variety of plant-based paleo, dairy-free, gluten-free appetizers, soups, salads, mains, and more.