Biting into one of these healthy pumpkin spice donut holes is heaven…and while they look like "the real thing" you'll be happy to know they are no-bake, gluten-free, vegan, and paleo.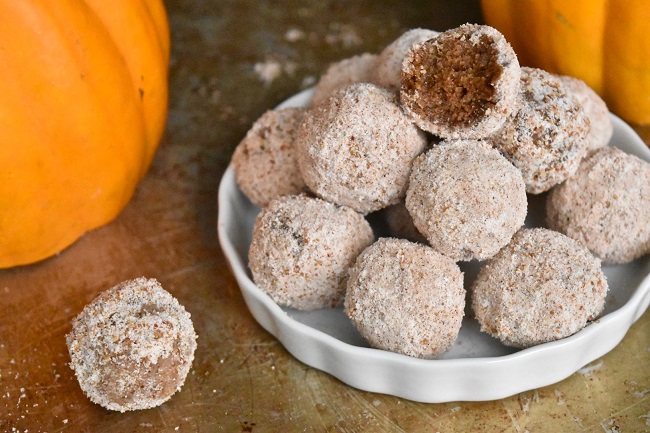 I made this recipe for Vitacost.com, my favorite place to shop for healthy ingredients at a fraction of the price of what I'd pay at the grocery store. Plus, I don't have to physically go to the grocery store, or schlep the bags home – it's a win-win. ☺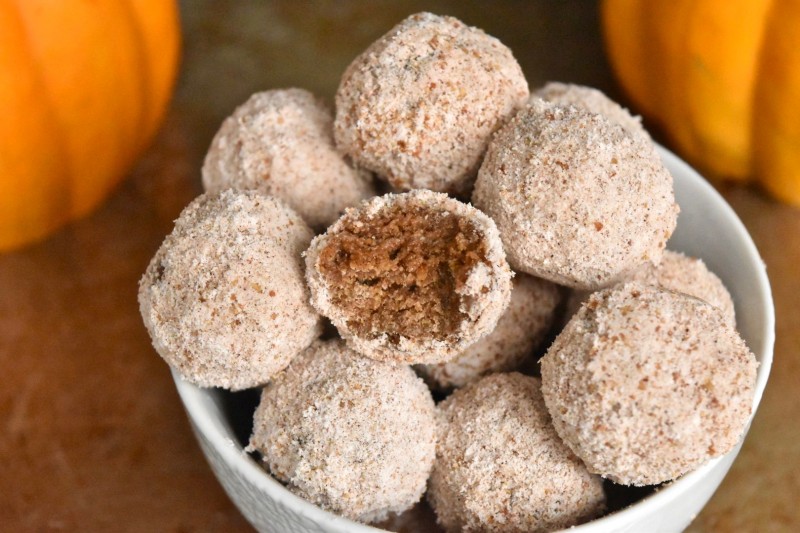 Shop This Recipe
Tigernut Flour
Oh how I LOVE tigernut flour. Tigernuts are not nuts, but rather a root vegetable. You can eat them on their own as a snack (tasty, but they will give your jaw a workout) or you can use the tigernut flour in recipes. It is naturally high fiber, yet not super dry, as some other high fiber flours can be. It's in heavy rotation in my kitchen at the moment.
I buy tigernut flour at Vitacost.com where it's always on sale.
Coconut Milk Powder
This is my most exciting new discovery. Coconut milk powder is different from coconut flour. It adds richness to whatever you use it in, and you can even add water to it to make coconut milk for other recipes. Don't use coconut flour in its place, and don't leave it out! It's inside the donut holes, and I also used it on the outside to resemble powdered sugar.
I buy organic coconut milk powder at Vitacost.com
Coconut Manna
Another kitchen staple, coconut manna or coconut butter is a rich and creamy coconut version of nut butter. It, too, like the powder, can be turned into coconut milk if you add water to it. In this recipe, I use it to add richness.
You can try this MaraNatha brand coconut manna.
Pumpkin Pie Spice
I am obsessed with all of Simply Organic's spices – they are so fresh, flavorful, and vibrant. Their pumpkin pie spice is no different.
Get it on sale at Vitacost.com
Non-Toxic Parchment Paper
Parchment paper makes clean up so much easier – but conventional brands are bleached and could contain the toxic chemical dioxin, a result of chlorine bleaching of the paper. Dioxin is considered a known human carcinogen by The World Health Organization (WHO). According to the World Health Organization, once dioxins enter the body, they last 7-11 years because of their chemical stability and their ability to be absorbed by fat tissue, where they are then stored in the body, to take them out of circulation and away from key organs.. There is a theory, although not well studied, that having chemical buildup causes easy weight gain and makes it harder to lose weight, as your body holds on to the toxic fat is has stored until those toxins can safely be broken down and/or removed from the body without causing damage.
For this reason, I prefer to only use non-toxic chlorine-free parchment paper.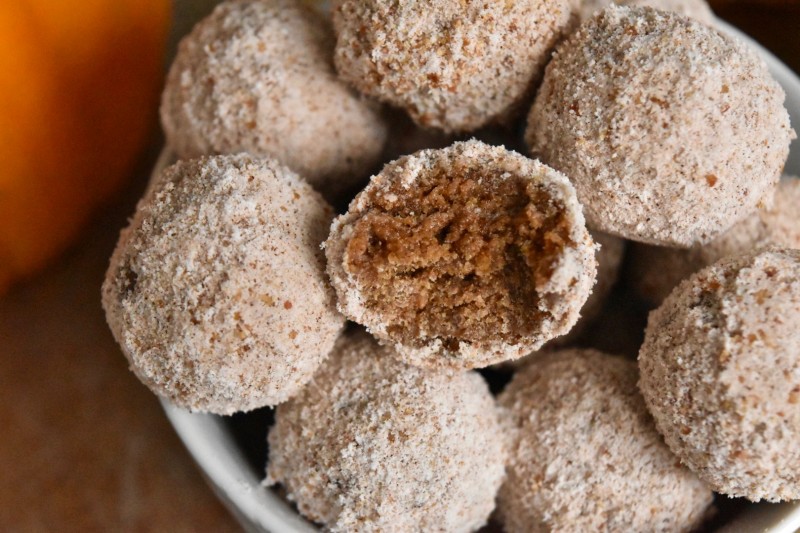 Try These Pumpkin Spice Donut Holes
If you try this recipe, let me know! Leave a comment, rate it (by clicking the stars in the upper right of the recipe card, below), and don't forget to tag a photo @mariamarlowe or #mariamarlowe on Instagram or Facebook. I'd love to see what you come up with!

In blender, combine donut hole ingredients (except water) until dough-like consistency forms. If mixture is too dry, making it difficult to stick together, add one teaspoon water at a time and blend to get dough consistency.

Scoop out about a tablespoon or so of the mixture and roll into ball. Repeat with remaining dough. Set aside.

In bowl, add coconut oil. In another bowl, combine dry powder coating ingredients: coconut milk powder, date sugar, and pumpkin pie spice.

Roll one donut hole at a time in oil to coat, tap off excess, then roll it in powder mixture until fully covered. Put on a plate. Repeat with remaining donut holes.
To store, put them in an airtight container, and store at room temperature or in the refrigerator (If you refrigerate, let thaw 10-15 minutes before serving).
Do not substitute coconut flour in place of coconut milk powder. They are different, and coconut flour will not work in this recipe.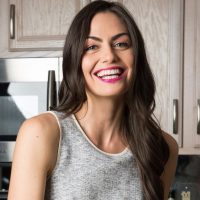 Maria Marlowe
Maria Marlowe is a holistic nutrition and wellness coach who uses real food to help her clients improve their health, weight, and skin. She offers a 28-day healthy eating meal plan that teaches you how to batch cook, as well as one to clear up acne. Her most popular program is EatSLIM, a 10-week online group glass that guides participants to develop healthy eating habits that stick – and lose weight, boost their metabolism, improve their digestion, and quit sugar.
She writes healthy and delicious plant-based recipes for her popular blog. She is also the author of the #1 New Release on Amazon, The Real Food Grocery Guide, the most practical guide to selecting the healthiest foods, without going broke, which has been praised by Dr. Oz and InStyle magazines. You can find her on instagram @mariamarlowe.