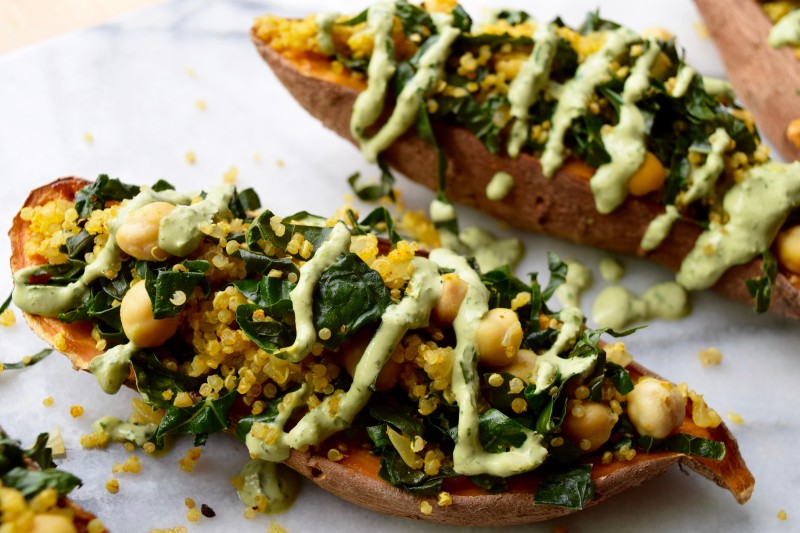 These crispy stuffed sweet potato skins are delicious – and of course healthy, packed with kale, quinoa, chickpeas and drizzled with a lemon herb tahini dressing.
In my book, kale, chickpeas and sweet potatoes go together like PB+J. I can eat this trio together for days on end and not get sick of it. While I usually stir-fry them together with spices, this version is a new insta-worthy twist. Plus, since this new combo is rich in plant-based protein, fiber, and nutrients, it keeps me satisfied for hours.
How to Serve Healthy Stuffed Sweet Potatoes
Serve half as an appetizer or side, or serve the whole sweet potato, overflowing with kale, quinoa, and chickpeas for a meal.
These are also great to batch cook or make ahead, as you can reheat them in a 400 degree oven for 10 minutes. Now that would be a jazzy meal to come home to after a long day at work!
What do Healthy Stuffed Sweet Potatoes Taste Like?
The sweet potatoes are cooked to perfection, with a slightly crisp outer shell, yet soft interior. (Tip from The Real Food Grocery Guide: Did you know you can—and should—eat the skin of sweet potatoes? They provide a plethora of nutrients, vitamins, and minerals, including Vitamin A, Vitamin C, Vitamin E, potassium, and iron, as well as fiber. Just make sure they are organic to avoid agricultural chemicals, dye, or wax.)
[pullquote] Tip from The Real Food Grocery Guide by @mariamarlowe: Eat the skin of organic sweet potatoes! They contain nutrients and fiber. bit.ly/2htIJRT  [/pullquote]
The filling is made from a blend of sautéed kale, chickpeas, quinoa, onions, and spices. Then, it's all topped off with a delicious and creamy lemon herb tahini sauce.

Try These Healthy Stuffed Sweet Potatoes
If you try this recipe, let me know! Leave a comment, rate it (by clicking the stars in the upper right of the recipe card, below), and don't forget to tag a photo @mariamarlowe or #mariamarlowe on Instagram or Facebook. I'd love to see what you come up with!
Healthy Stuffed Sweet Potatoes
Instructions
Preheat the oven to 350 degrees Fahrenheit.

Using a fork, poke holes all around the sweet potato (about 6-8 pokes for a medium potato).

Slice it in half, place cut side down on a baking sheet, and bake for 50 minutes. Remove and let cool 5-10 minutes.

Meanwhile, in a medium saucepan over medium heat, combine the quinoa and veggie broth, and bring to a simmer. Then, reduce heat to low and cover, allowing to cook until all liquid is absorbed, 10-12 minutes.

Continue making the rest of the filling: heat a large pan over medium heat. Add avocado oil to coat. Then, add the spices, and let cook for 30 seconds, until fragrant, and then add onion and kale, cooking for 5-7 minutes, or until onion is translucent and kale is wilted. Stir in the chickpeas, and let cook another 2 minutes or so. When quinoa is done, add that to the pan and mix well. Remove from the heat.

Make the lemon herb dressing: combine all dressing ingredients in a bullet blender, and blend until smooth.

When the sweet potatoes are cooled, flip them over and place on a plate. Use a fork to mash and scrape out a little bit of the flesh to make room for the filling. (You can reserve it for another recipe, mix it into the filling, or just eat it on the side). Spoon the filling into each sweet potato. Drizzle with dressing before serving.
Recipe Notes
These reheat well. Simply place them in a 400 degree Fahrenheit oven for about 10 minutes.

Did you make this recipe?
Tag @mariamarlowe on instagram and hashtag #healthybymarlowe for a chance to be featured and win awesome prizes each month.
Clearer Skin in Just 3 Days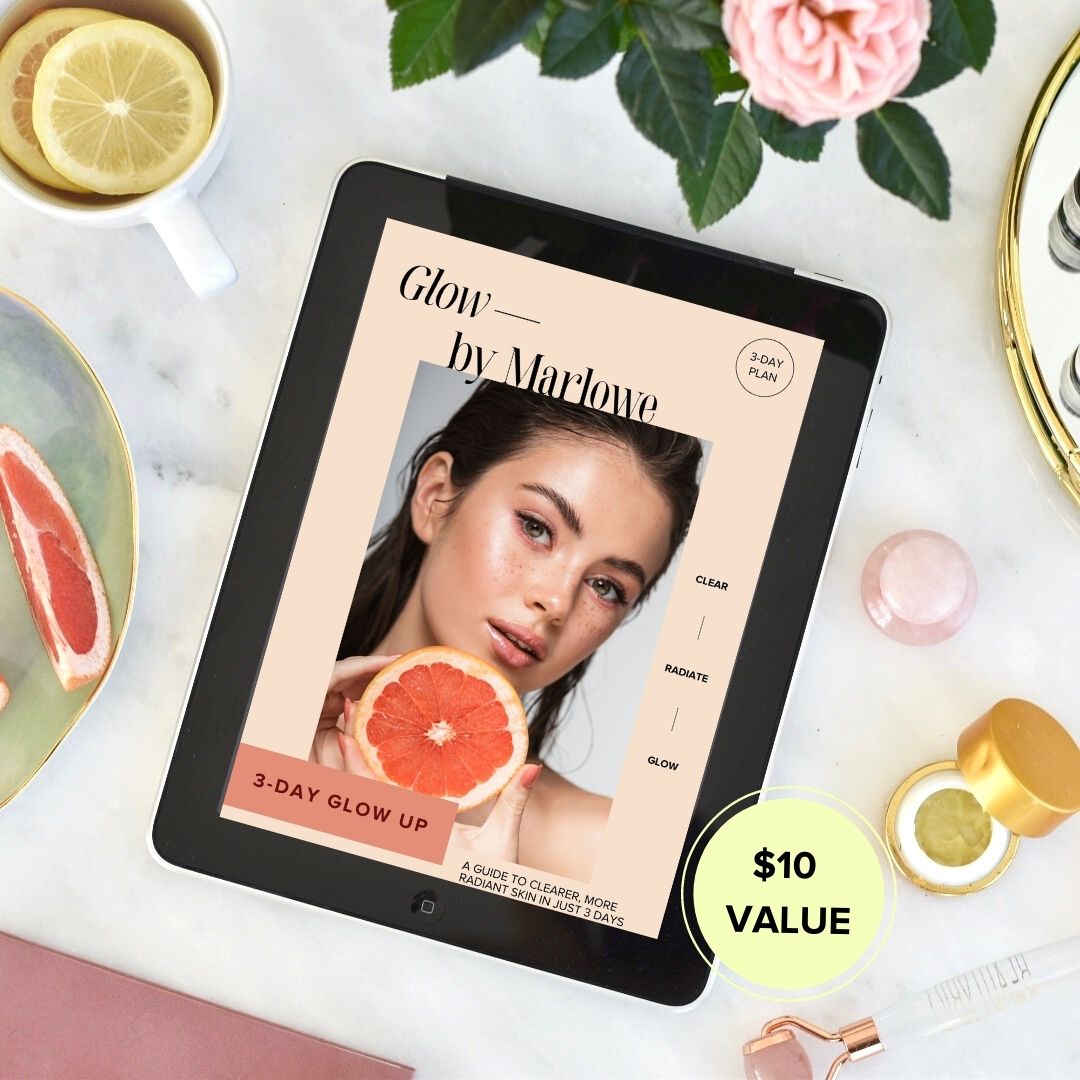 Sign up for my weekly newsletter to get the latest recipes, articles, & podcasts delivered to your inbox.

Plus, you'll receive The Glow Up Guide right away, a delicious 3-day meal plan to reduce redness and bumps, fast.