These Pumpkin Spice Cupcakes with Coconut Cream & Date Caramel are sure to please! They're not overly sweet, although you could certainly add more sweetener if you prefer. 
Superfood Ingredient Highlights in Pumpkin Spice Cupcakes
Tigernut Flour
Oh how I LOVE tigernut flour. Tigernuts are not nuts, but rather a root vegetable. You can eat tigernuts a snack (tasty, but they will give your jaw a workout) or you can use the tigernut flour in recipes. It is naturally high fiber, yet not super dry, as some other high fiber flours can be. It's in heavy rotation in my kitchen at the moment.
Cinnamon
Cinnamon fights inflammation and may help lower blood sugar.
Coconut Oil
When using coconut oil, you always want to choose the unrefined version, as it is healthier than refined. I prefer oils bottled in glass, like this coconut oil from Vitacost, as fats absorb toxins and chemicals readily from plastic. I always buy my oils online from Vitacost, because they are so much cheaper than in stores. If you want to learn more about coconut oil you can read my latest post on the ingredient: Is coconut oil Bad for You?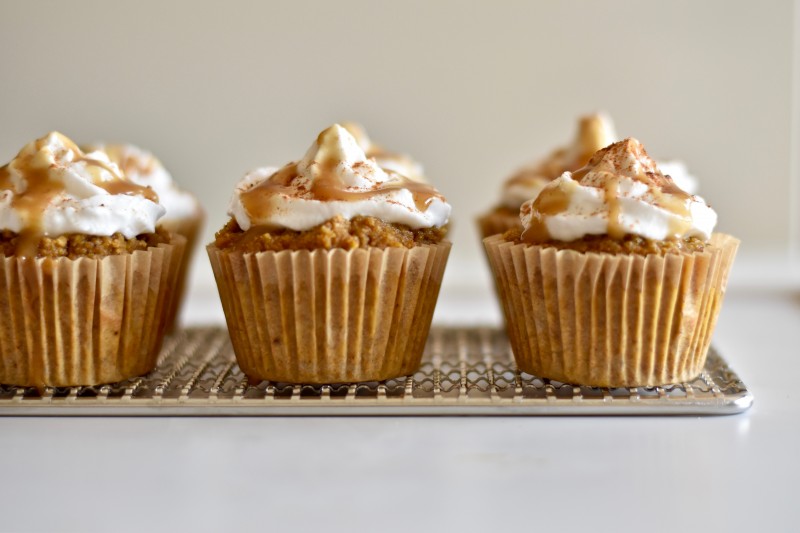 Save on Healthy Ingredients
I made this recipe for Vitacost.com, my favorite place to shop for healthy ingredients at a fraction of the price of what I'd pay at the grocery store. Plus, I don't have to physically go to the grocery store, or schlep the bags home – it's a win-win.
Try these Pumpkin Spice Cupcakes
If you try this recipe, let me know! Leave a comment, rate it (by clicking the stars in the upper right of the recipe card, below), and don't forget to tag a photo @mariamarlowe or #mariamarlowe on Instagram or Facebook. I'd love to see what you come up with!
For more dessert ideas check out this Pumpkin Cheesecake with Maple Cinnamon Soaked Pecans or this Crustless Vegan Apple Pie.
Pumpkin Spice Cupcakes with Coconut Cream & Date Caramel
Ingredients
Instructions
Preheat the oven to 350 degrees F (177 degrees C). Line 9 muffin cups with parchment liners.

In a large bowl, whisk together the dry ingredients: coconut flour, tigernut flour, baking powder, coconut sugar, pumpkin pie spice, and salt.

Make a well in the center of the bowl, then add the eggs, applesauce, pumpkin puree, coconut oil, and vanilla. Mix well until completely incorporated.

Spoon the batter evenly into the muffin cups and smooth the tops. (They should be almost full. Bake for 25-28 minutes, or until an inserted toothpick comes out clean.

While that bakes, make the coconut whipped cream: Remove only the cream from the canned coconut milk, and reserve the liquid for another use. In a bowl, combine the coconut cream, coconut nectar, vanilla, and arrowroot starch. Mix with a hand mixer, until peaks form, about 1-2 minutes. Refrigerate until cupcakes are ready to be iced.

Also, make the date caramel: Combine the date syrup, coconut cream, and salt in a small saucepan. Bring to a low boil over medium-low heat. Whisk every minute or so, while cooking for 7-10 minutes. Set aside.

When the cupcakes are out of the oven, let them cook completely before icing them with the coconut whipped cream. Add a drizzle of date caramel and a sprinkle of pumpkin pie spice.
Recipe Notes
*Get the coconut cream from canned coconut milk. Refrigerate the can overnight and the cream will separate from the liquid. Scoop out the cream only, and reserve the liquid for another use.

Did you make this recipe?
Tag @mariamarlowe on instagram and hashtag #healthybymarlowe for a chance to be featured and win awesome prizes each month.
Clearer Skin in Just 3 Days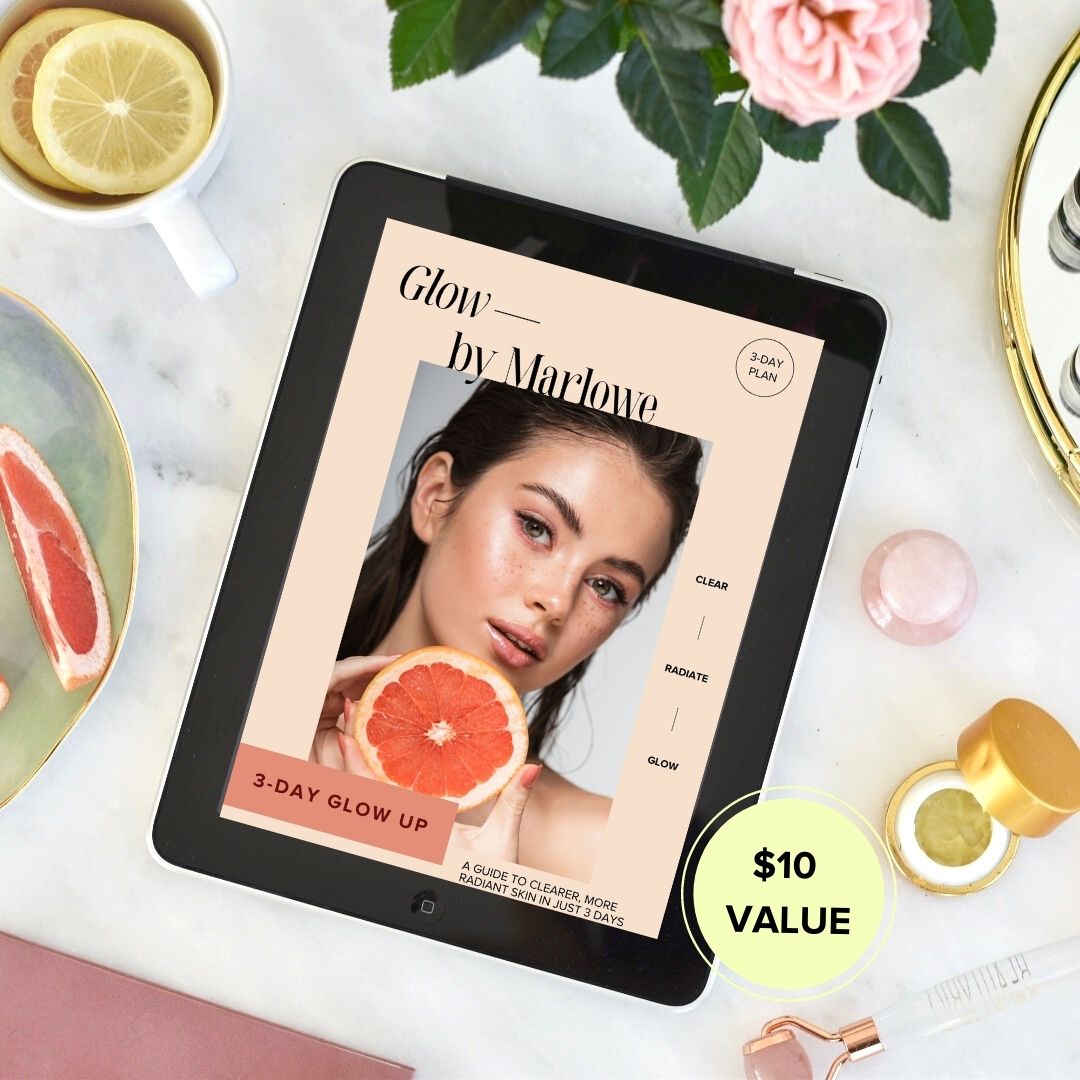 Sign up for my weekly newsletter to get the latest recipes, articles, & podcasts delivered to your inbox.

Plus, you'll receive The Glow Up Guide right away, a delicious 3-day meal plan to reduce redness and bumps, fast.