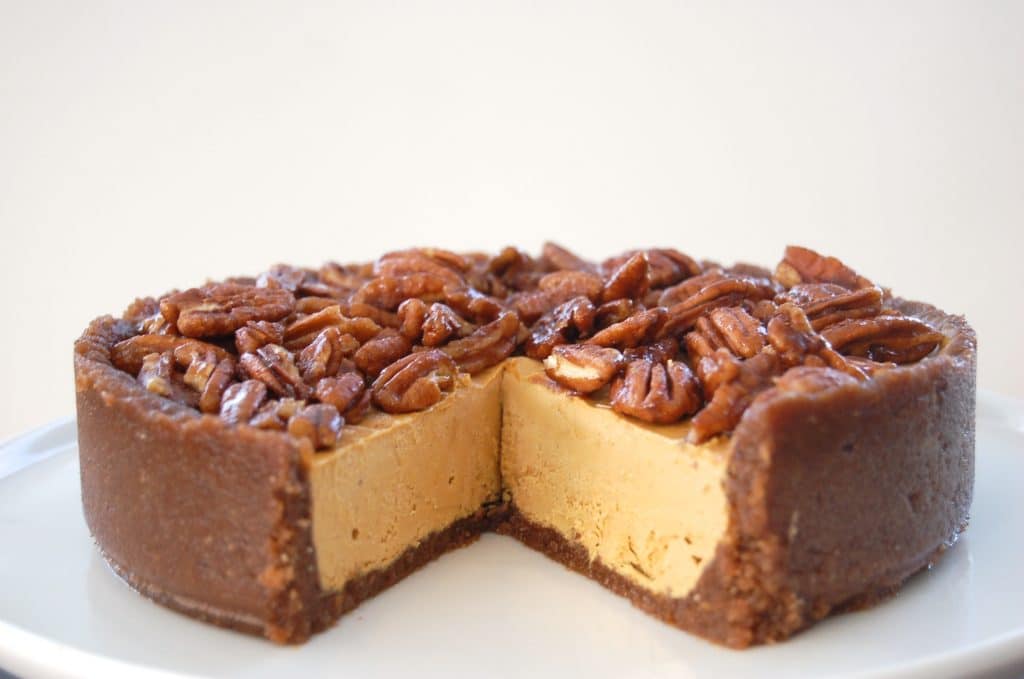 If you've been asked to bring a dish to Thanksgiving Dinner, look no further.
This Pumpkin Cheesecake with Maple Cinnamon Soaked Pecans is a decadent dessert that mixes the classic fall flavors of maple, cinnamon, pumpkin, and ginger to create a creamy and satisfying treat. But, if you know me by now, this is not your typical dessert.
It may be one of the healthier things on your Thanksgiving table (but I promise, it tastes sinfully delicious), and even your less health conscious relatives won't be able to detect that is could possibly be a better-for-you indulgence.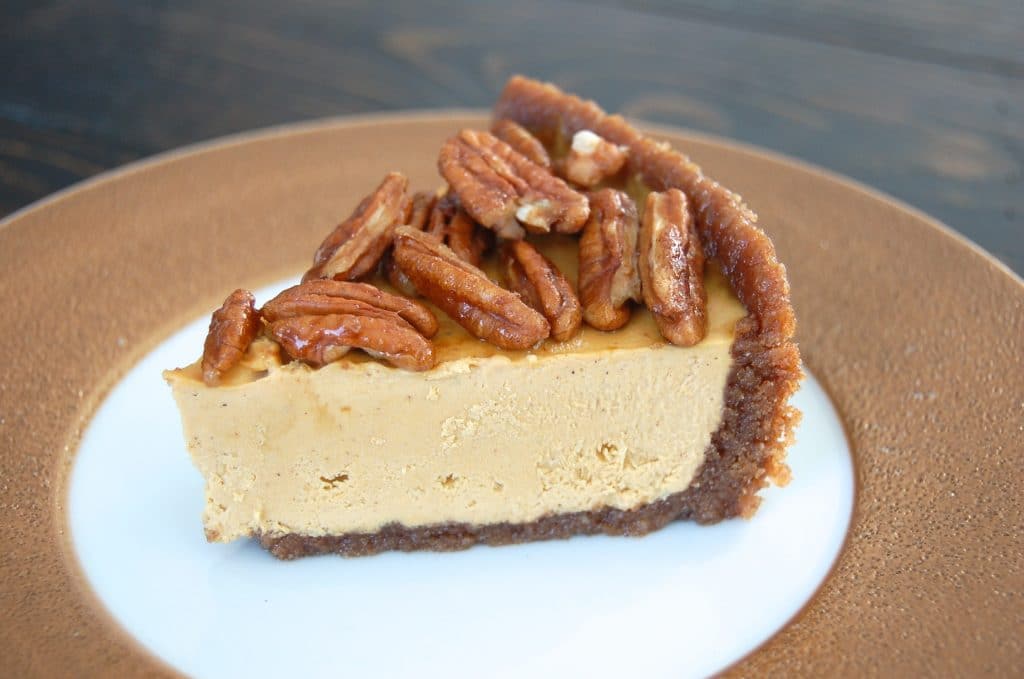 What makes it a Healthy Indulgence?
The crust is made from pecans and dates, instead of flour and sugar, which instantly ups the health factor:
Pecans are loaded with age-defying anti-oxidants, protein, and fiber.
Dates contain fiber & nutrients making them one of the best ways to add sweetness.
The creamy filling is made from nuts, pumpkin, spices, and one of nature's gentlest sweeteners:
Cashews are rich in magnesium and other minerals, as well as healthy fats.
Pumpkin is full of nutrients for blemish-free and wrinkle-resistant skin.
Ginger is highly anti-inflammatory and is an excellent digestive soother, especially after a big Thanksgiving meal.
Coconut Sugar is a low glycemic sweetener, which means it won't give you a huge spike and crash in blood sugar like regular sugar.  It also contains minerals like iron and calcium. This recipe uses coconut nectar, the liquid/syrup version.
Cinnamon fights inflammation and may help lower blood sugar.
No empty calories, here!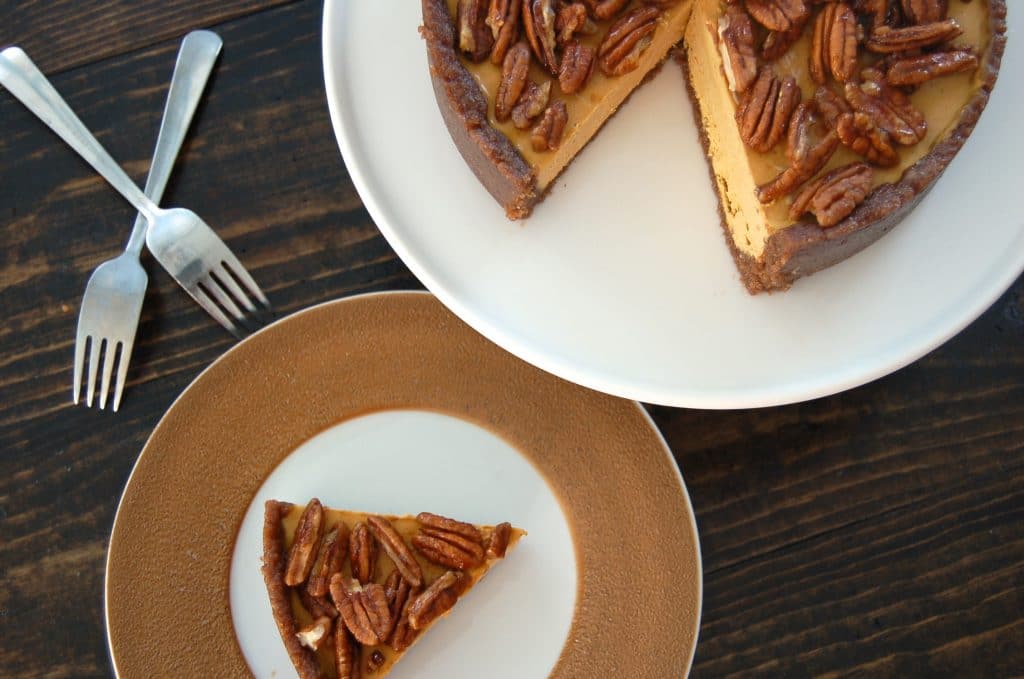 Pumpkin Pie with Maple Cinnamon Soaked Pecans
Instructions
For the topping, mix maple syrup and cinnamon in a small bowl. Add chopped pecans, mix well, and set aside.

For the crust, whiz pecans in high-speed blender until they make a powder, than add dates, ginger, pumpkin pie spice, and salt and process again until combined. The mixture should stay together when squeezed in your hand. Line the bottom of a 6-inch spring form pan with shredded coconut, then press pecan mixture into bottom and up sides.

For the filling, drain cashews, and then throw all ingredients into a blender and process on high for about 2 minutes, until completely smooth. If well soaked, you likely won't need additional water, but if your blender isn't powerful enough, add as little water as necessary to blend and create creamy texture. Pour mixture on top of crust.

Spoon maple soaked pecans on top.

Cover and place in freezer for two hours, to firm up before serving. When you are ready to serve, thaw in fridge for at least an hour. Will then last in refrigerator for up to 3 days, and in the freezer, about 5 days.
Recipe Notes
Make a day or two before for a hassle-free holiday dish.
Can also use 3 mini, 4-inch spring form pans, instead of a larger 6 inch pie, as pictured,

Did you make this recipe?
Tag @mariamarlowe on instagram and hashtag #healthybymarlowe for a chance to be featured and win awesome prizes each month.
Clearer Skin in Just 3 Days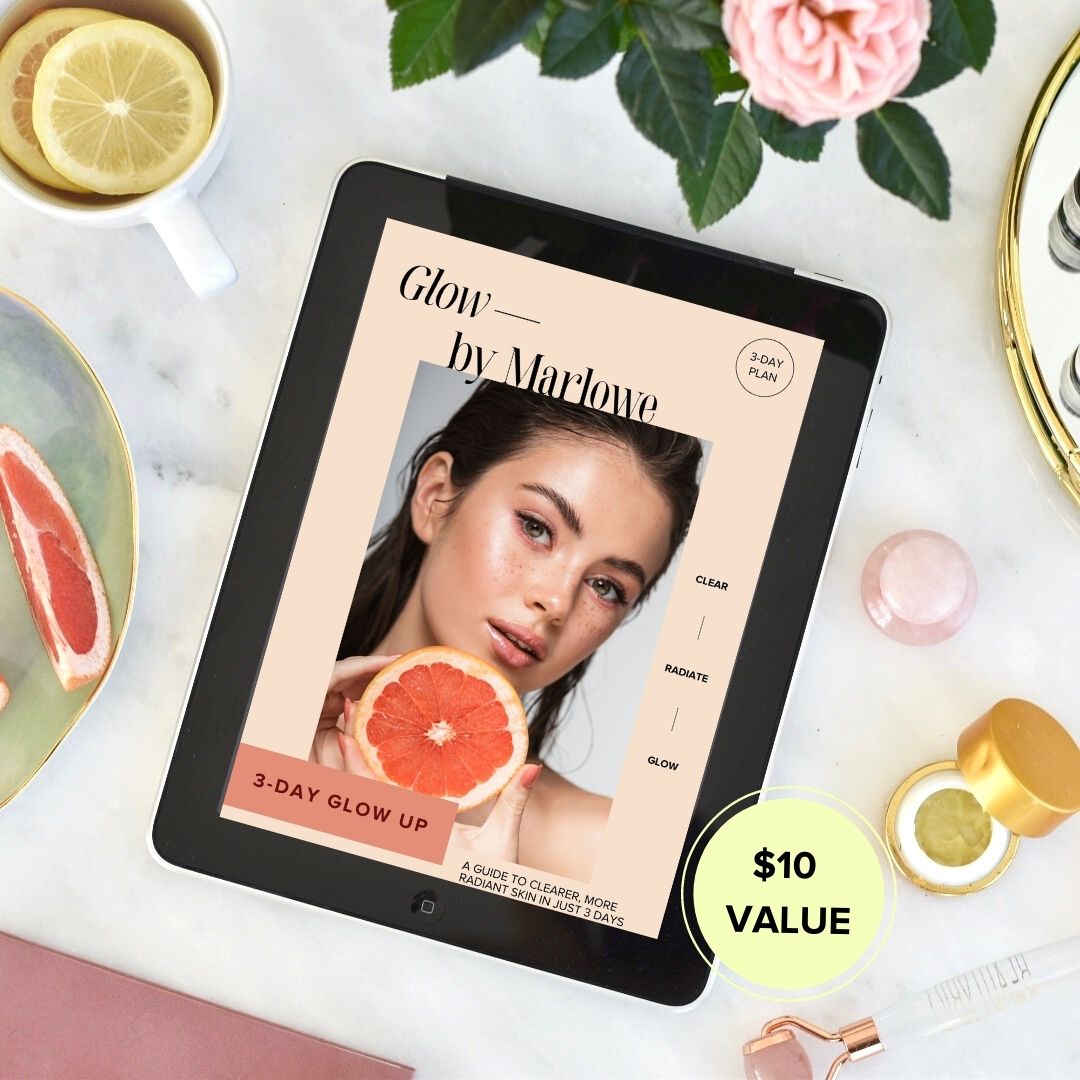 Sign up for my weekly newsletter to get the latest recipes, articles, & podcasts delivered to your inbox.

Plus, you'll receive The Glow Up Guide right away, a delicious 3-day meal plan to reduce redness and bumps, fast.