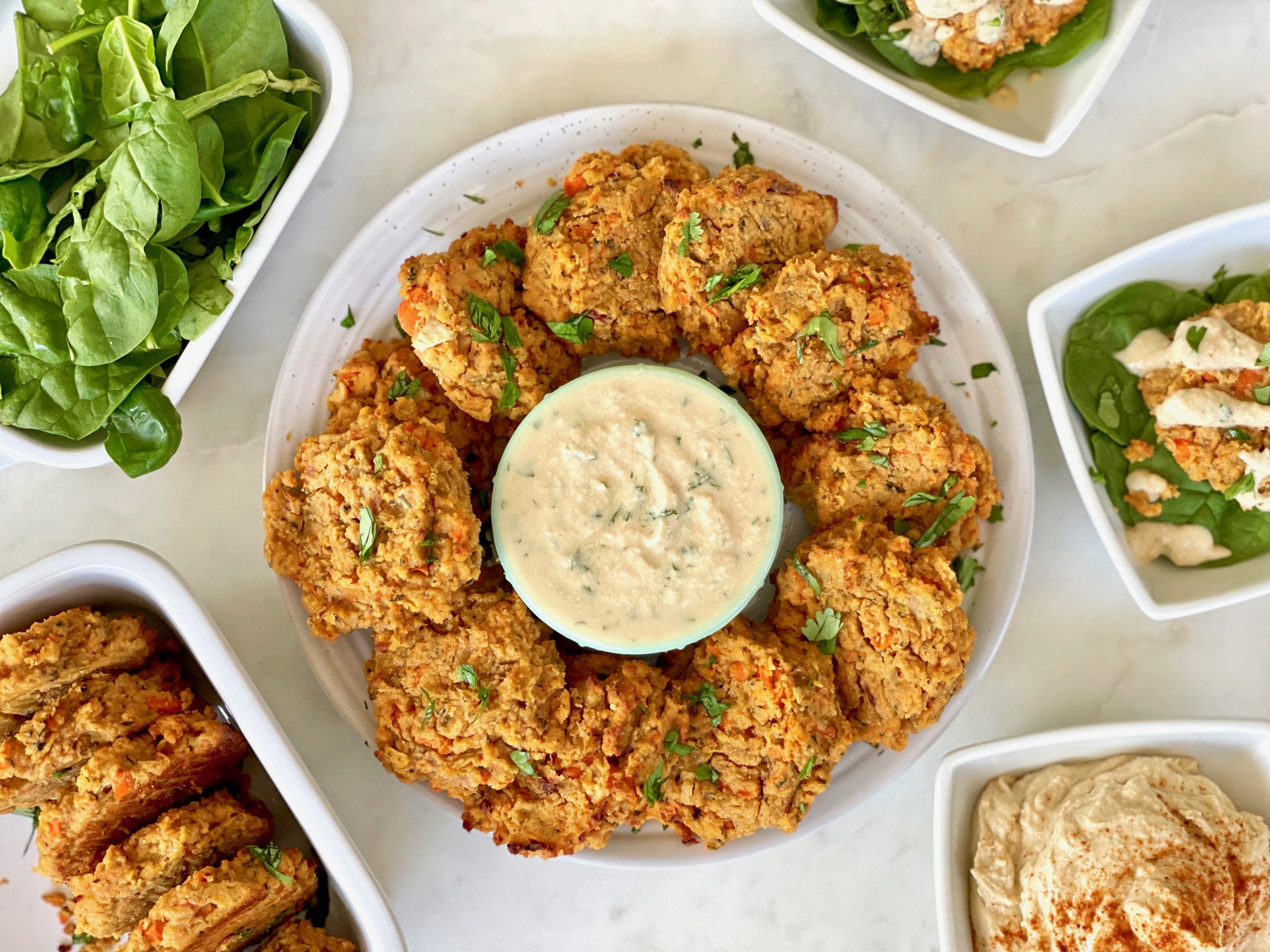 These delicious and easy-to-make red lentil falafel are a fun make-ahead lunch for the workweek. One serving provides 18 grams of plant protein, and over 20 grams when dipped into the lemon herb tahini.
Serve them over a salad or roasted veggies.
Health Benefits of Lentils
Similar to beans, lentils are a top source of plant-based protein. They come in a variety of colors, including red, yellow, green, brown, and black. Some of the health benefits of lentils include:
Nutrient-dense: Lentils provide a variety of nutrients, including B vitamins, iron, magnesium, potassium, and zinc. One cup of cooked lentils provides about 18 grams of protein.
High in fiber: One cup of lentils provides over 15 grams of fiber which supports gut function, regularity, and the growth of healthy gut bacteria. (1)
Anti-inflammatory: Lentils are rich in health-promoting polyphenols, which have strong antioxidant, anti-inflammatory, and neuroprotective benefits. (2, 3, 4, 5)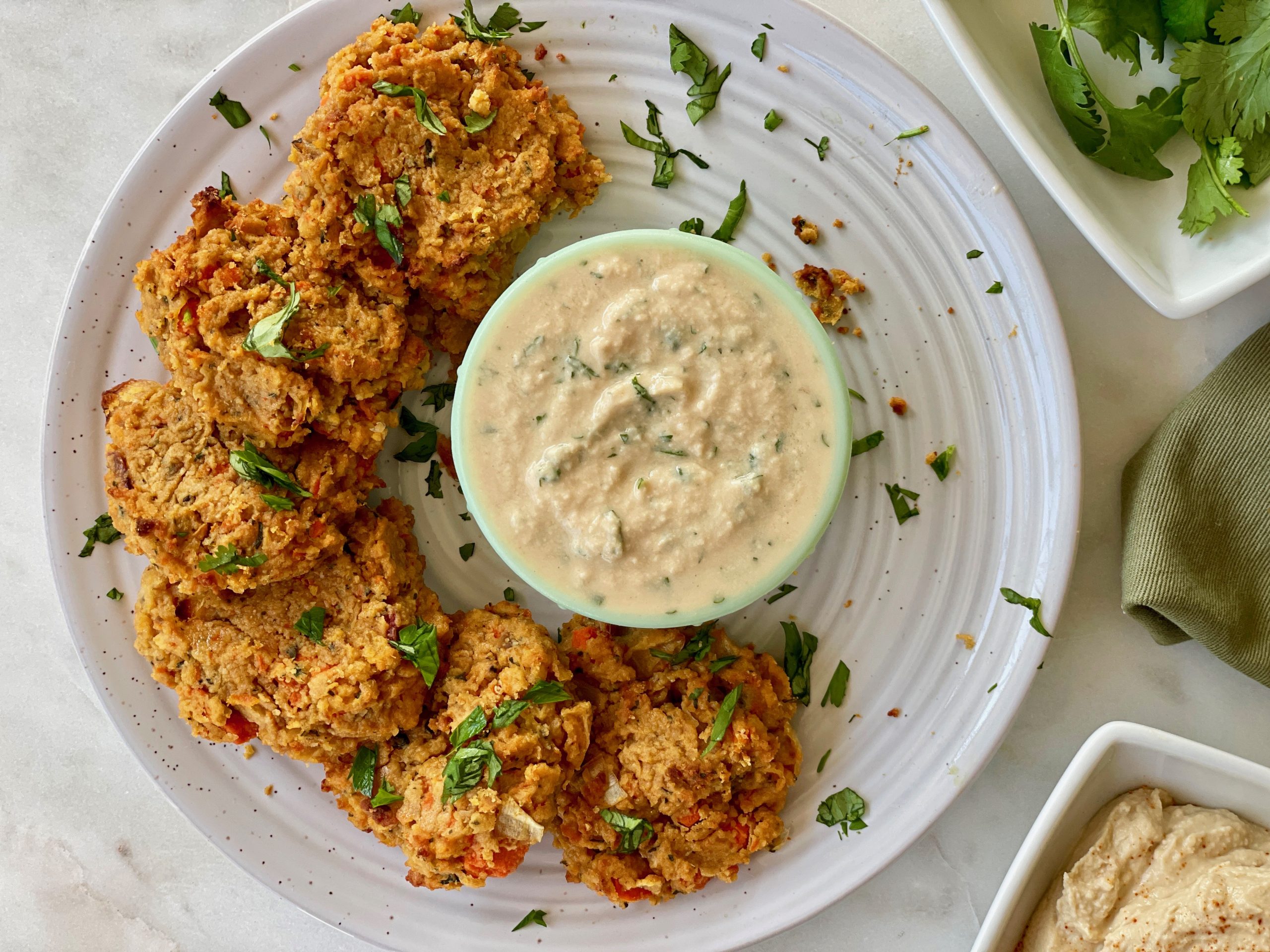 Save on Red Lentil Falafel Ingredients
I made this recipe for Vitacost, using a variety of organic and wholesome ingredients. I buy all of my non-perishables on vitacost.com. They offer the healthiest brands at 20 to 50% less than what you'd pay at a health food store. This saves me literally thousands of dollars a year.
For fresh, organic produce, you can order Whole Foods directly from Amazon in most major cities.
Red Lentil Falafel with Lemon Herb Tahini
Instructions
Add the lentils to a pot with the water. Bring to a boil over medium heat, then cover, reduce to low, and simmer for 15 minutes. All the water should be absorbed.

Meanwhile, preheat the oven to 400 degrees Fahrenheit. Line a baking sheet with parchment paper.

Heat a medium-sized pan over medium heat. Add one tablespoon of olive oil then the onions, carrots, and garlic. Cook for 10 minutes, until carrots are soft and onions are translucent.

Add the onion-carrot mixture and the red lentils to a food processor, along with the lemon juice, paprika, cumin, salt, black pepper, and fresh herbs. Process on low until all ingredients are well incorporated and it starts to make a paste, although you can keep it a little chunky for texture, if desired.

Transfer the mixture to a large mixing bowl, and stir in the almond flour. The mixture should be damp but able to hold its shape. If not, add more almond flour.

Form the mixture into about 1½ to 2-inch patties, and transfer to the lined baking sheet. You should have about 20-22 falafel.

Bake the falafel for 25-30 minutes, or until golden-brown on the top. Remove from the oven and let them cool a few minutes to firm up before serving.

While that cooks, make the herb tahini sauce. In a bowl, first combine the tahini and water. Whisk vigorously with a fork for a minute or two, until they are fully incorporated. Then add the lemon juice, herbs and salt. Stir again until fully incorporated.

Serve the falafel over a salad or roasted veggies with a drizzle of tahini sauce.
Recipe Notes
*Makes about 20-22 falafel

Did you make this recipe?
Tag @mariamarlowe on instagram and hashtag #healthybymarlowe for a chance to be featured and win awesome prizes each month.
Love falafel? Try out my Air-Fried Sweet Potato Falafel and Beet + Carrot Falafel (Juice Pulp Recipe) too!
Clearer Skin in Just 3 Days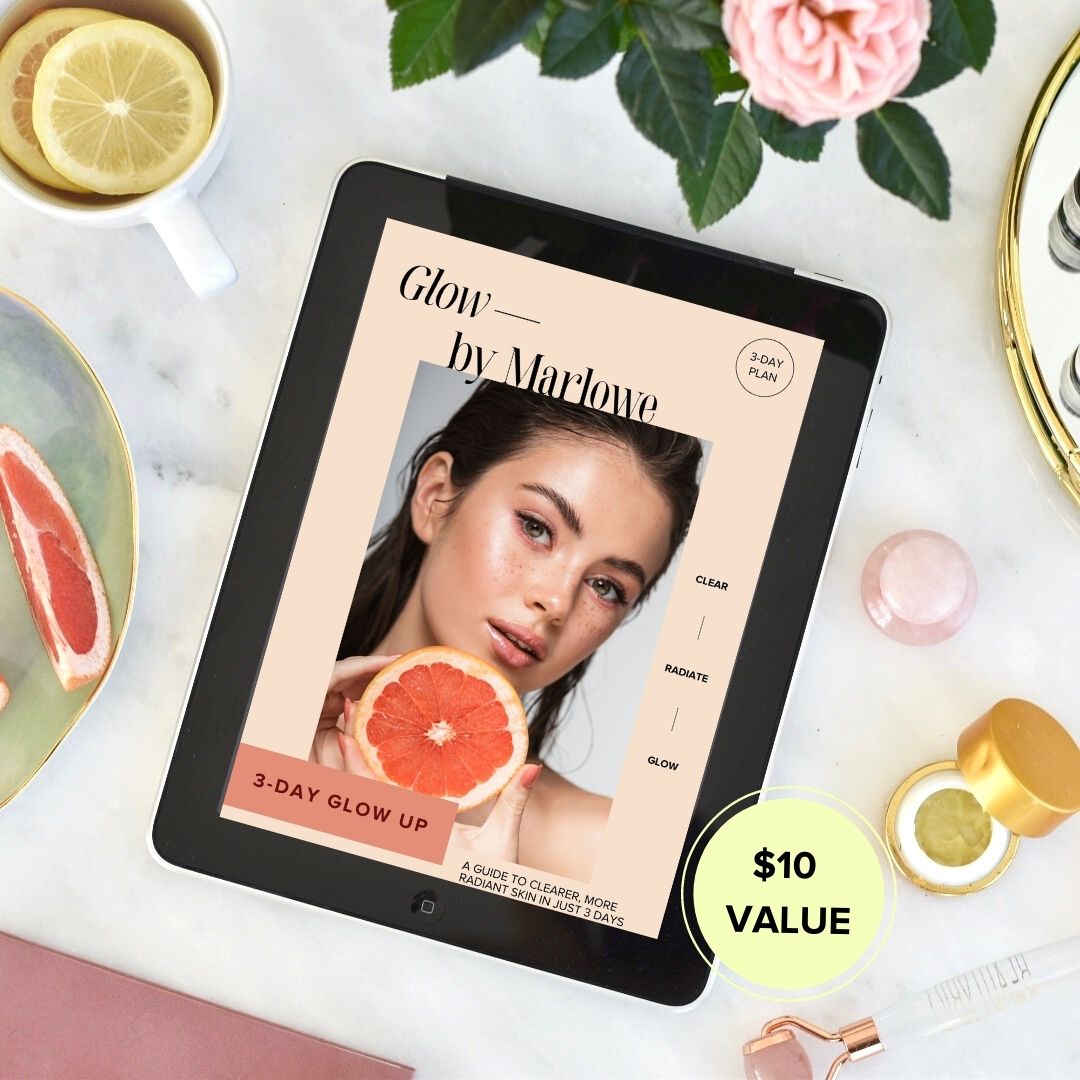 Sign up for my weekly newsletter to get the latest recipes, articles, & podcasts delivered to your inbox.

Plus, you'll receive The Glow Up Guide right away, a delicious 3-day meal plan to reduce redness and bumps, fast.