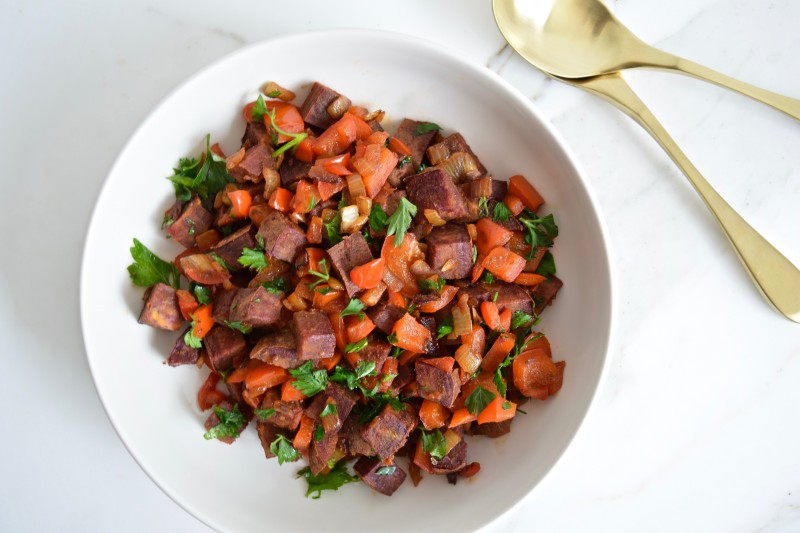 Anything purple and anything sweet potato has my name written all over it, so this purple sweet potato hash recipe is a new favorite in my kitchen.
The Benefits of Purple Foods
Purple, deep blue, and black foods, such as purple potatoes, blue corn, and eggplant contain a particularly potent type of antioxidants called anthocyanins. Anthocyanins are plant-pigments, which give fruits, veggies, and even grains like rice their rich dark purple, blue, and black hue. They also provide a variety of benefits.
Anthocyanins may help slow cognitive decline: As powerful antioxidants that prevent oxidative damage, it has been found that high intake of anthocyanins is associated with slower cognitive decline. For example, a six year study published in the Annals of Neurology looked at the effects of eating anthocyanin-rich foods (namely strawberries and blueberries) on cognitive function in women over 70. After studying 16,000 patients, the researchers discovered that higher intake of anthocyanins can delay mental aging by up to two and a half years.
Anthocyanins are being studied for their role in cancer prevention: Various animal, lab, epidemiological, and clinical studies suggest that anthocyanins may help prevent certain chronic diseases, including cancers. More research is needed, but here are a few promising examples:

A study published in 2010 in the journal Phytotherapy Research found that in test-tube experiments, anthocyanins extracted from blueberries helped inhibit the growth of breast cancer cells.
A 2014 study published in the Asian Pacific Cancer Prevention Journal found that anthocyanins extracted from black rice have the potential to stop tumor metastasis in breast cancer cells both in vivo and in vitro.
A study published in the journal Chemico-Biological Interactions found that anthocyanins from black rice showed a 'marked inhibition" on the spread of certain cancer cells.
Shop This Recipe
Avocado Oil
Avocado oil is great for cooking, as it has a neutral flavor and a hight smoke point.
Get it for 25% off at Vitacost.
Organic Produce
Amazon Fresh and Whole Foods are great national and international options for fresh, organic produce when you don't have time to shop.
Get organic sweet potatoes, bell peppers, and parsley from Amazon Fresh.
Simply Organic Spices
I love this brand of organic spices, they are always the freshest, most vividly colorful and most flavorful. Some of my favorites are oregano, basil, thyme, and rosemary (feel free to experiment with this recipe!).
Get them for 25% or more off at Vitacost.
Gold (Brass) Silverware
Because eating with gold silverware is more fun! These are heavy duty and really well constructed. Order on Amazon.

Try This Quick Purple Sweet Potato Hash
If you try this recipe, let me know! Leave a comment, rate it (by clicking the stars in the upper right of the recipe card, below), and don't forget to tag a photo @mariamarlowe or #mariamarlowe on Instagram or Facebook. I'd love to see what you come up with!
Quick Purple Sweet Potato Hash
Instructions
Heat a large pan over medium heat. Add the oil, and then the shallot and bell pepper. Cook for 3 minutes before stirring in the spices and the sweet potato, along with 2 tablespoons of water.

Cook an additional 5-7 minutes, adding a tablespoon of water at a time, as needed, to prevent sticking. When the potatoes are cooked through, stir in parsley and add pink salt and black pepper to taste.

Did you make this recipe?
Tag @mariamarlowe on instagram and hashtag #healthybymarlowe for a chance to be featured and win awesome prizes each month.
Clearer Skin in Just 3 Days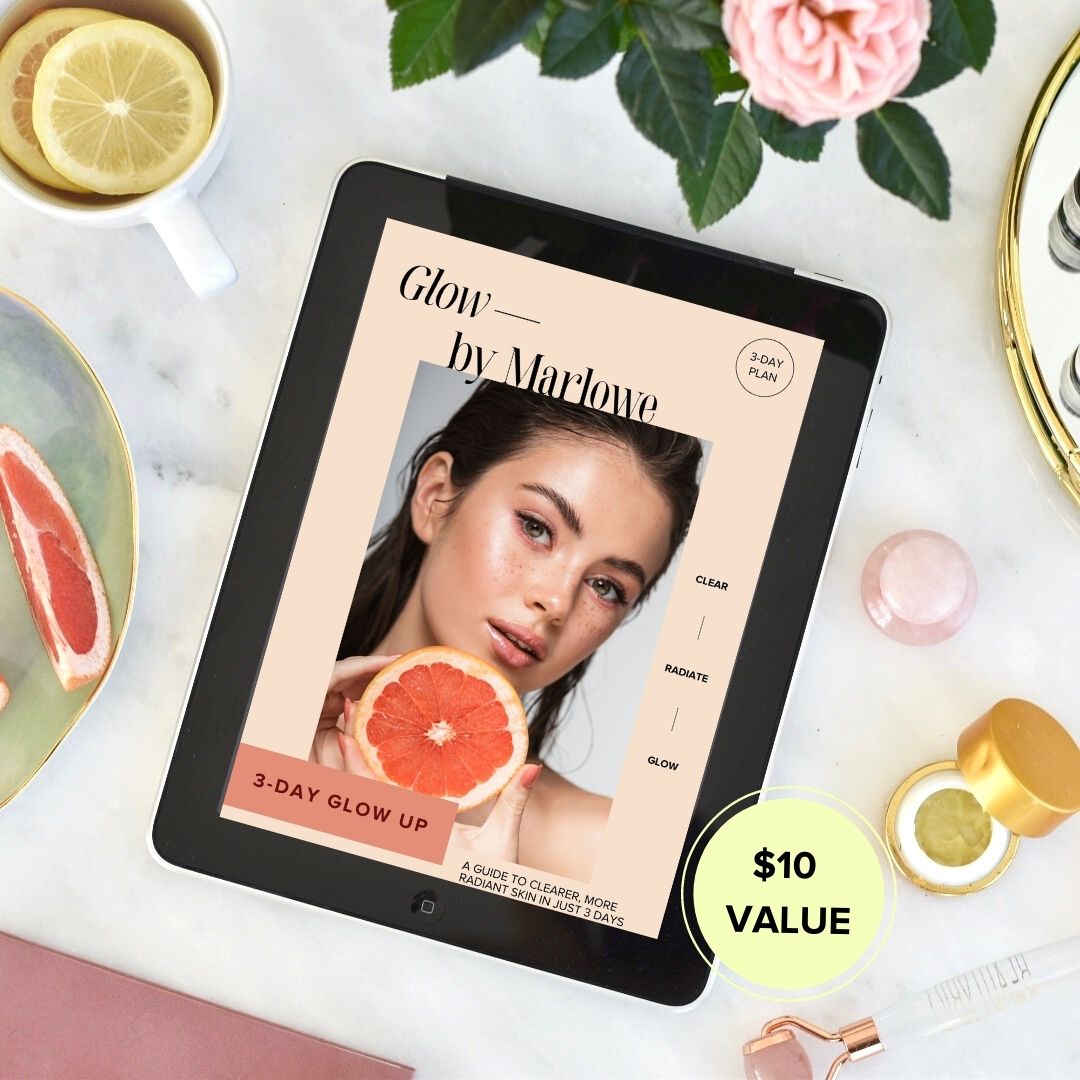 Sign up for my weekly newsletter to get the latest recipes, articles, & podcasts delivered to your inbox.

Plus, you'll receive The Glow Up Guide right away, a delicious 3-day meal plan to reduce redness and bumps, fast.