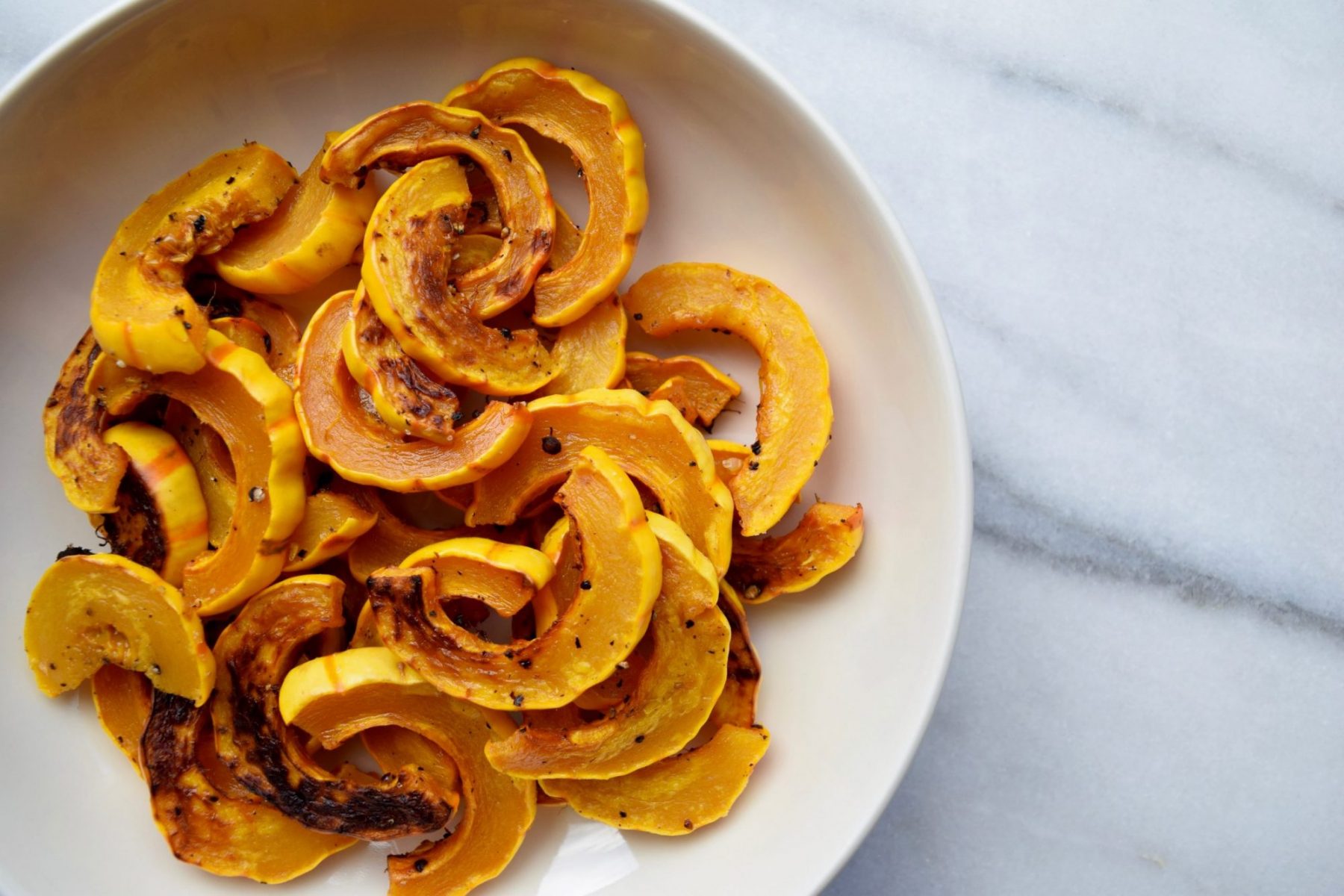 Roasted delicata squash is easy to cook, and is so damn delicious…which may make it a new winter favorite.
The better-known butternut squash may be more popular, but delicata is easier to prepare, which means less time in the kitchen.
It tastes good, is good for you, and is easy to cook…what's not to love?!
Delicata Squash Benefits
Supports Clear Skin: One cup delivers 90% DV Vitamin A, which is needed for clear, blemish-free skin.
Supports Eye Health: Vitamin A also supports your vision. A Vitamin A deficiency could lead to night blindness.
Supports a Healthy Immune System: One cup delivers 20% DV of Vitamin C, which supports immune system health.
Powerful Antioxidants: Vitamins A and C are powerful antioxidants, which protect your body from free radical damage, help prevent a range of illnesses and diseases, and support vibrant health.
How to Select Delicata Squash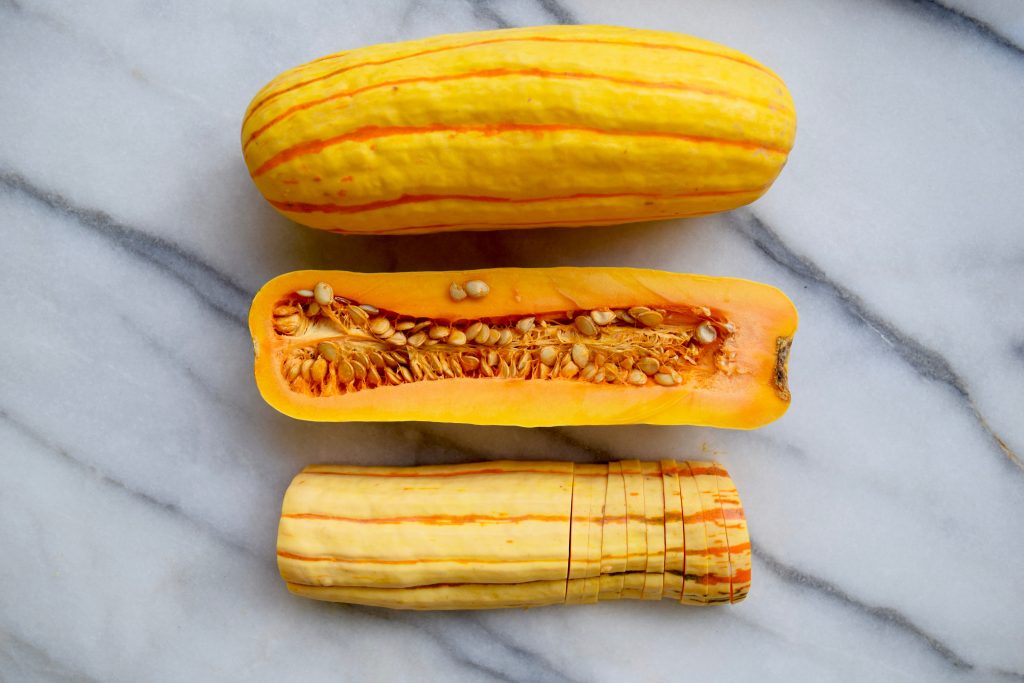 Look for squash that feels heavy for their size, with even, cream-colored skin with green or orange striations. They can be stored in a cool dry place for up to three months.
How to Prepare Roasted Delicata Squash
No need to peel, the skin is edible. Delicata squash tastes so good simply roasted with salt, pepper, and olive oil, there isn't much need to do anything else!
Roasted Delicata Squash
Ingredients
Instructions
Preheat the oven to 425 degrees Fahrenheit.

Chop the ends of the delicata squash, then slice in half lengthwise and scoop out the seeds and discard. Place the hollowed out part of the squash down on the cutting board, and slice into 1/4-inch thick pieces. Put on baking sheet.

Top the squash with oil, and a pinch of salt and pepper. Use your hands to toss and coat each piece well. Then, spread them out flat on the sheet.

Roast in the oven for 20 minutes, flipping over halfway through.

Remove from the oven and serve as a side dish or on top of a warm winter salad.
Recipe Notes
No need to peel the skin, it is edible.

Did you make this recipe?
Tag @mariamarlowe on instagram and hashtag #healthybymarlowe for a chance to be featured and win awesome prizes each month.
Enjoy getting to know what food can do for your health?
Pre-order my first book, The Real Food Grocery Guide, for a more in-depth look at why you are what you eat, and how to select the healthiest foods in every aisle of the grocery store!
Clearer Skin in Just 3 Days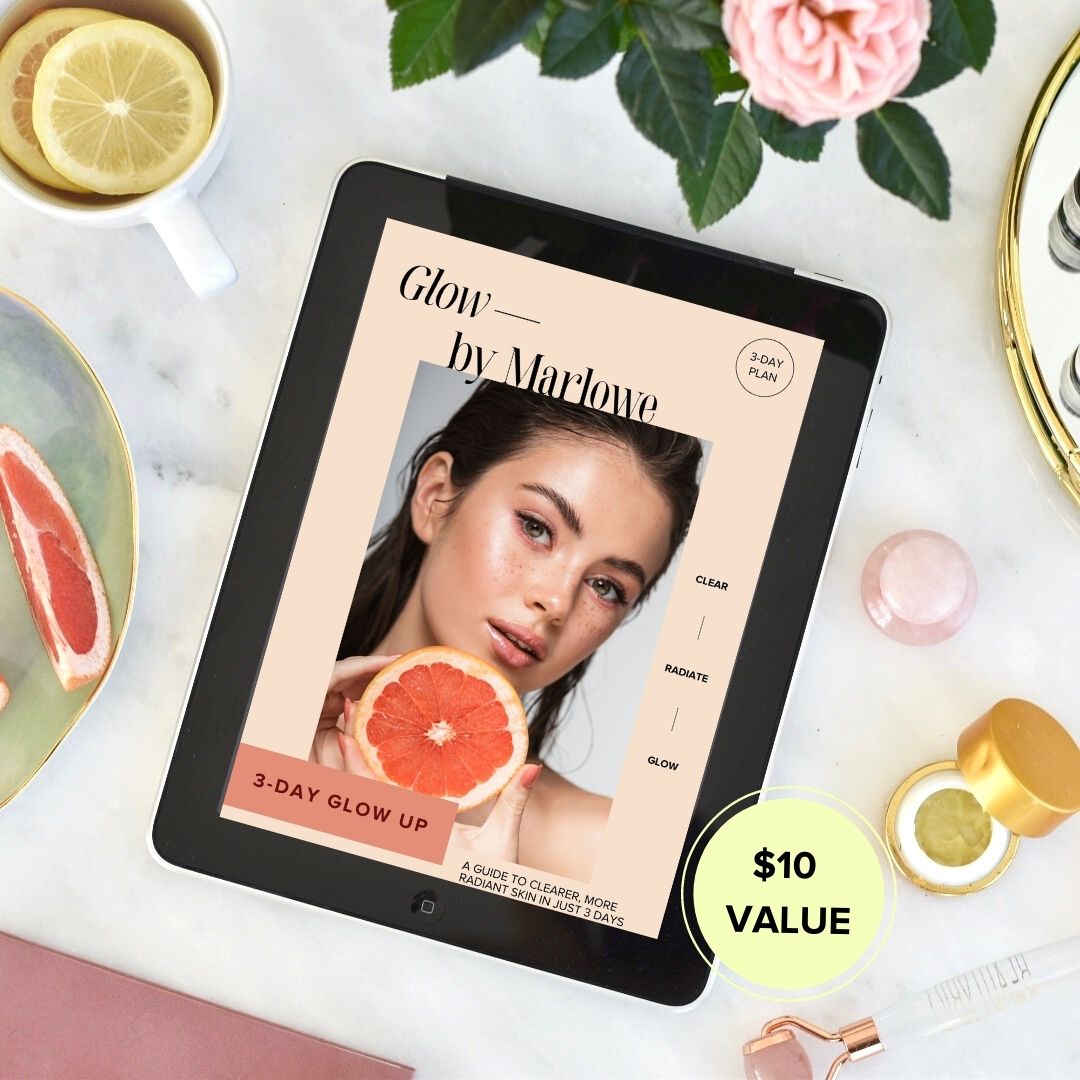 Sign up for my weekly newsletter to get the latest recipes, articles, & podcasts delivered to your inbox.

Plus, you'll receive The Glow Up Guide right away, a delicious 3-day meal plan to reduce redness and bumps, fast.