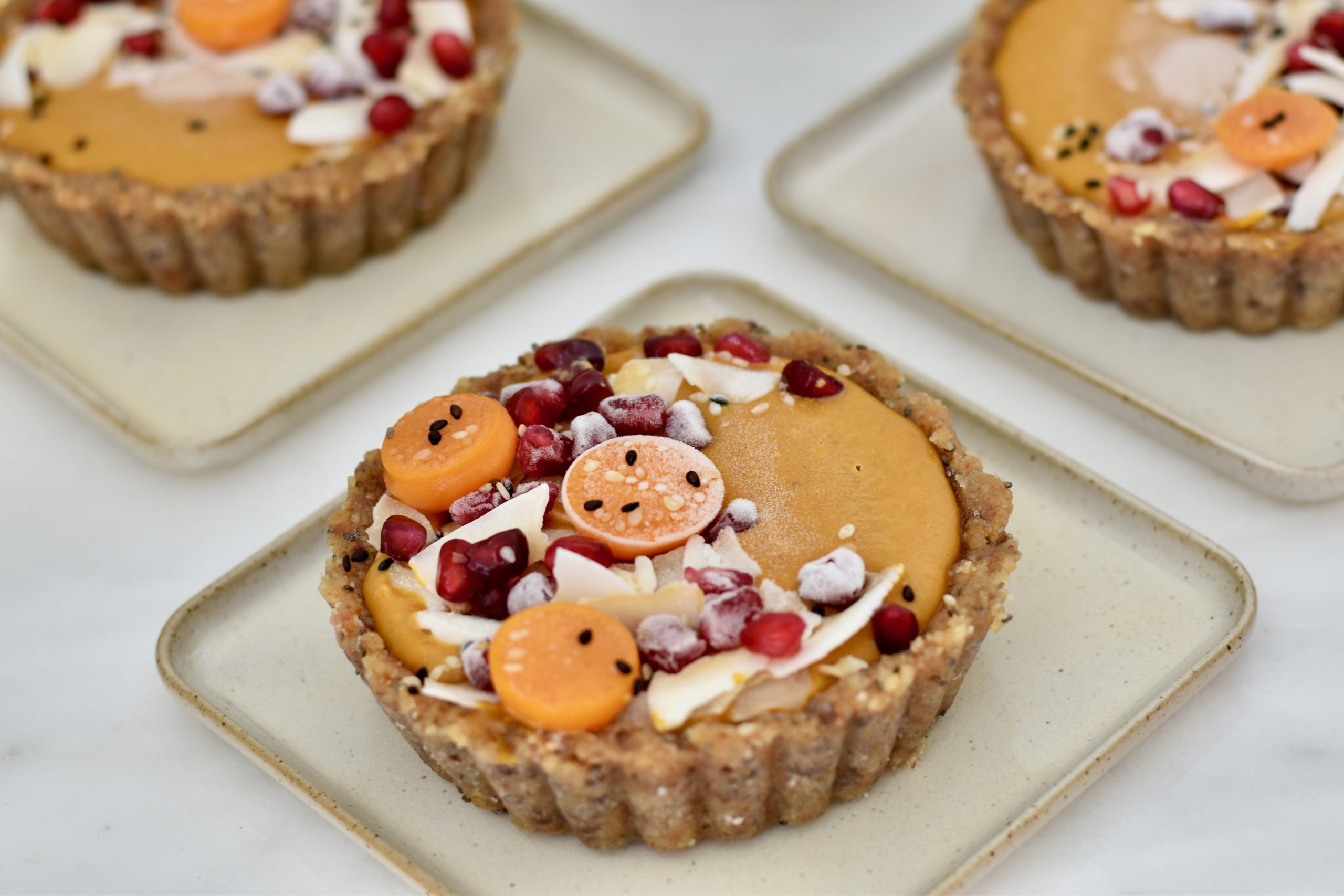 If you're looking for an easy fall-inspired dessert, try this mini Pumpkin Tahini Cream Pie. An omega-3 rich walnut-date crust envelopes a lusciously creamy pumpkin tahini center. The nuttiness of tahini pairs perfectly with the subtle sweetness of pumpkin, date, and pumpkin spice. It's gluten-free, dairy-free, and easily scales up. Consider this for a festive Thanksgiving dessert.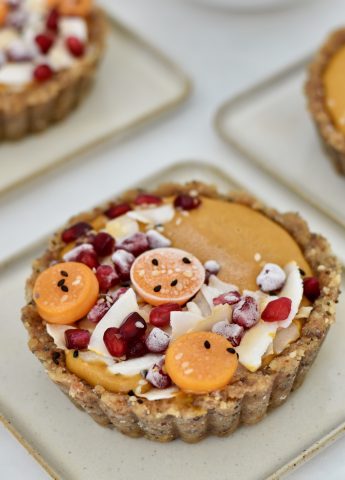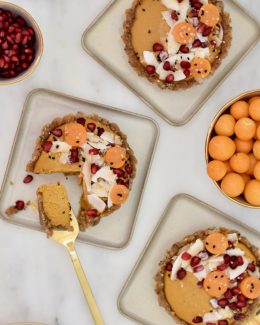 What makes this Pumpkin Tahini Pie a Healthy Indulgence?
Dates: Dates add sweetness without the need for refined sugar. They naturally contain fiber which helps keep your blood sugar stable and aids in digestion and regularity.
Walnuts: Instead of using refined flours for the crust, we use ground whole walnuts. Aside from protein and additional fiber, they also provide omega-3 which provides anti-inflammatory benefits and stress-busting magnesium.
Pumpkin: Pumpkin gives this pie a beautiful bright orange color, and plenty of beta-carotene, which our body converts into skin-clearing vitamin A.
Tahini: Tahini is a seed butter made solely from ground sesame seeds. It adds richness and nuttiness, while also providing antioxidants, protein, and fiber.
Almond Flour: Almond flour is one of my go-to gluten-free flours, made solely from ground almonds. It adds protein and fiber.
Cashew Butter: Cashew butter is lower in fat than other kinds of nut butter, and provides stress-busting magnesium – much needed around holiday time!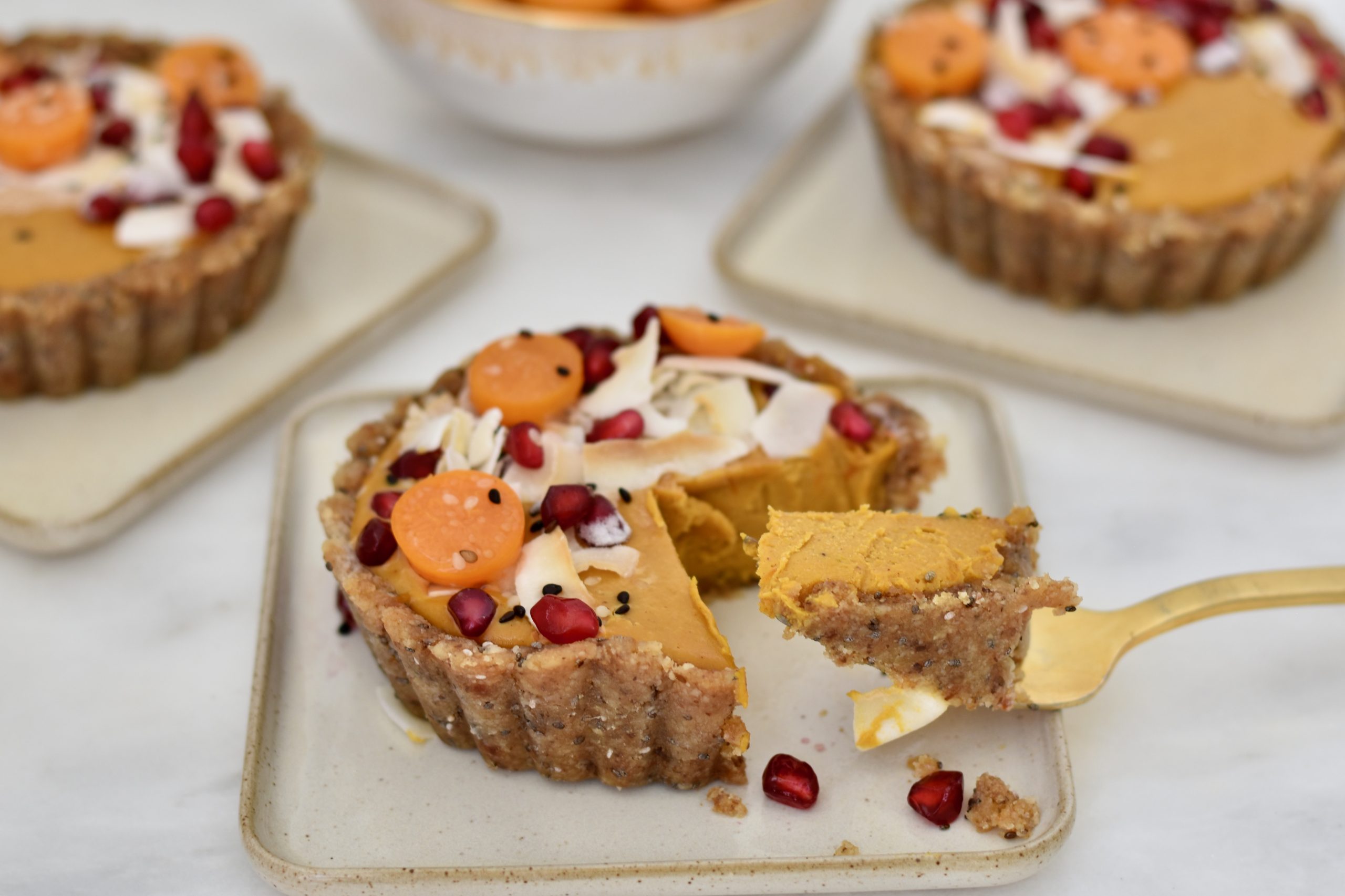 Save on Healthy Ingredients
You can shop all the dry good ingredients on Vitacost.com, which carries brand name organic and natural pantry staples at a fraction of the price you'd pay om the grocery store. Plus, they are delivered straight to your door!
Pumpkin Tahini Cream Pie
Ingredients
Toppings (choose a few)
Instructions
First, add the pitted dates to a small bowl of water to soak and plump up. Set aside.

Meanwhile, make the filling. Combine all pumpkin filling ingredients in a mixing bowl and stir until thoroughly combined. Set aside.

Then, back to the crust: Add walnuts, chia seed, and pumpkin spice to the blender. Pulse until a flour forms. Remove the dates from the water, and squeeze out any excess. Add the dates to the blender and pulse until a dough-like consistency forms. It will be oily and sticky. Then add the almond flour to the blender ¼ cup at a time until a dough-like texture forms. It will be a little crumbly, but stick when pressed together with your fingers.

Press the crust into three 4-¼-inch mini silicone tart molds.

Pour the filling evenly into the three tarts.

Top with desired toppings, such as pomegranate arils, sesame seeds, and shredded coconut.

Refrigerate until set, about 2 hours.

Did you make this recipe?
Tag @mariamarlowe on instagram and hashtag #healthybymarlowe for a chance to be featured and win awesome prizes each month.
Other Fall Inspired Desserts You'll Love
Clearer Skin in Just 3 Days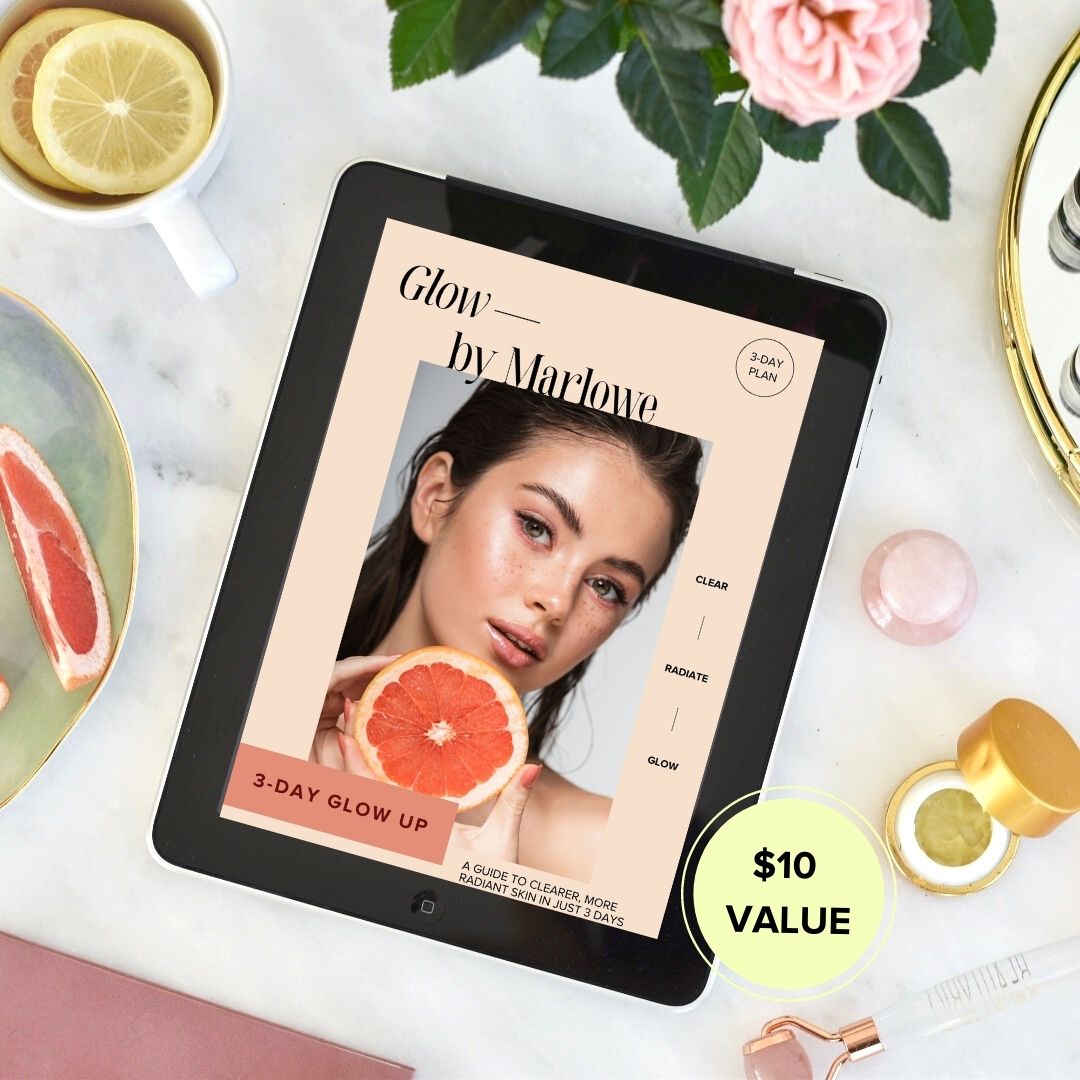 Sign up for my weekly newsletter to get the latest recipes, articles, & podcasts delivered to your inbox.

Plus, you'll receive The Glow Up Guide right away, a delicious 3-day meal plan to reduce redness and bumps, fast.