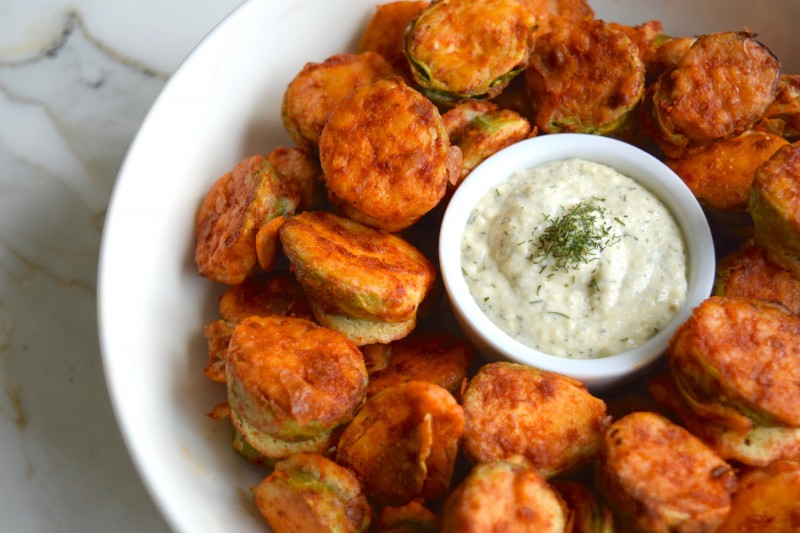 If you like it HOT, you'll love these fiery Buffalo Brussels Sprouts, enveloped in a dough-y chickpea batter, then doused in organic chipotle habanero sauce and baked to perfection. Be sure to dip it in the cashew dill sauce so your tongue doesn't go on fire.
The Ingredients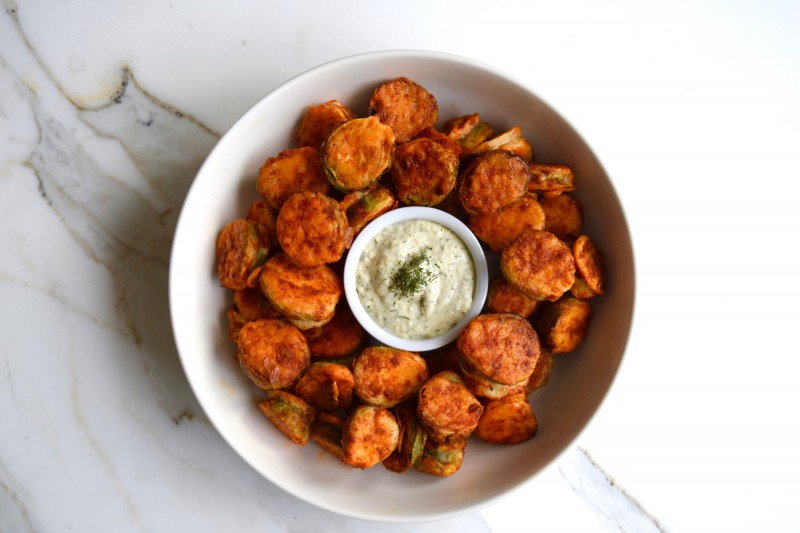 I picked up the Brussels sprouts at the farmer's market, but the rest I picked up at vitacost.com, my favorite online retailer to shop for healthy groceries at a fraction of the price you'd pay at the grocery store.
You can shop the recipe to order the exact brands and products I used in this one. Most notably:
Sprouted chickpea flour Sprouting the chickpeas before they are turned into flour, makes it easier to digest. Yes, please.
Organic hot sauce Conventional hot peppers are sprayed with some of the most controversial and toxic agricultural chemicals, landing them on the Environmental Working Group's Dirty Dozen Plus list, which makes them a food you ideally always want to consume organic. It's not easy to find organic hot sauce, but on vitacost, you've got options!
I love the Arizona Pepper Products brand, and tried this with both the habanero and chipotle habanero varieties. Both make you want to stick your tongue in the cashew dipping sauce. Just how I like it.
Liquid coconut milk I tried making this with homemade almond and hemp milk, but just didn't come out the same. They are too thin and watery. The So Delicious unsweetened coconut milk makes such a nice thick batter that really coats the Brussels sprouts well. (It's carageenan free, of course!)
Avocado oil or organic pasture-raised ghee – I LOVE avocado oil for its ability to withstand high heat and its neutral flavor. In this recipe it makes for vegan buffalo brussels sprouts. If you want a more traditional buffalo sauce, I prefer to use ghee. It nourishes the gut and is easier to digest than butter for many people.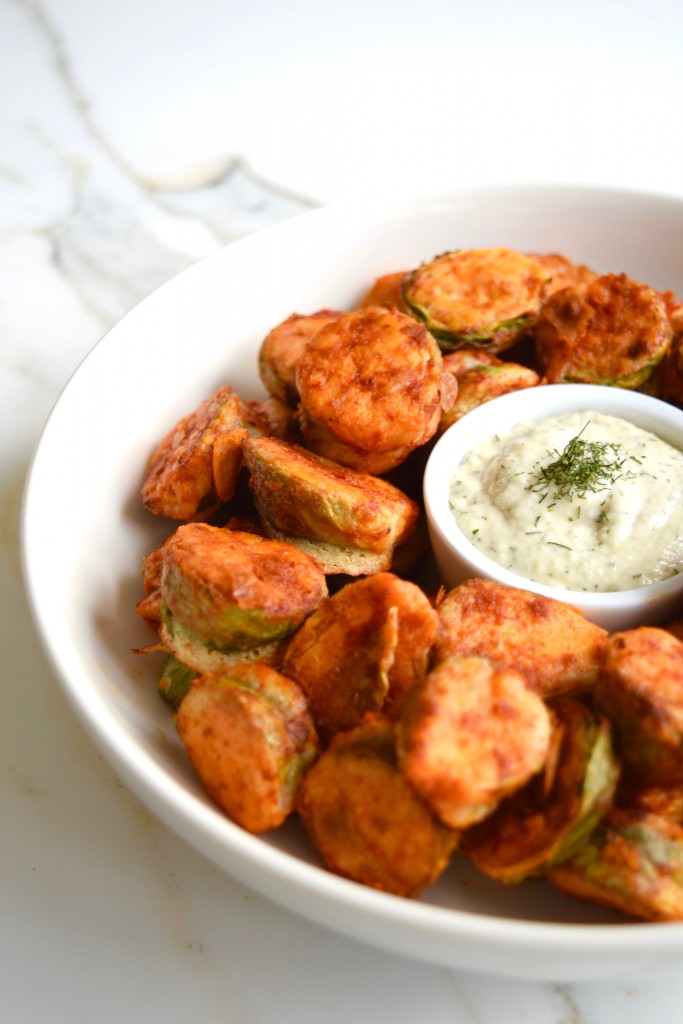 Try These Buffalo Brussels Sprouts
If you try this recipe, let me know! Leave a comment, rate it (by clicking the stars in the upper right of the recipe card, below), and don't forget to tag a photo @mariamarlowe or #healthybymarlowe on Instagram so I can share it. I'd love to see what you come up with!
Buffalo Brussels Sprouts
Ingredients
Cashew-Dill Dipping Sauce
Instructions
Set the oven to 425 degrees Fahrenheit.

Make the Brussels sprouts: Combine the coconut milk and chickpea flour in a medium sized bowl. Set aside to thicken up while you prepare the Brussels sprouts. Remove the stem end and any loose outer leaves, then slice in half.

Once all Brussels sprouts are cut, line a baking sheet with parchment paper. Dip each Brussels sprout in the batter to thoroughly coat, then place on the parchment paper, cut side up. Repeat until you're done, leaving a little space in between each sprout, so they don't stick. Cook for 22 minutes. (Add 1-2 minutes if using very large sprouts).

Meanwhile, make the buffalo sauce: If using avocado oil, simply add all ingredients to a bowl and whisk together with a fork until well combined. If using ghee, in a small saucepan over medium heat, heat the ghee until it melts, then stir in the rest of the ingredients and cook on low heat for 2-3 minutes. Set aside.

Make the cashew dipping sauce: Combine all ingredients in a bullet blender and blend until a uniformly thick and creamy consistency forms. You can thin it out, if desired, with a little extra water or oil, 1 teaspoon at a time.

When the Brussels are out of the oven, use a spatula to release them from the paper, and push them all towards middle of the pan. Pour the buffalo sauce over them, then use two spoons to mix well and make sure they are evenly coated. Then, lay them out flat again (it doesn't matter if they are touching at this point). Return to the oven for 7-8 minutes.

Serve the sprouts with the cashew dill dipping sauce.

Did you make this recipe?
Tag @mariamarlowe on instagram and hashtag #healthybymarlowe for a chance to be featured and win awesome prizes each month.
Clearer Skin in Just 3 Days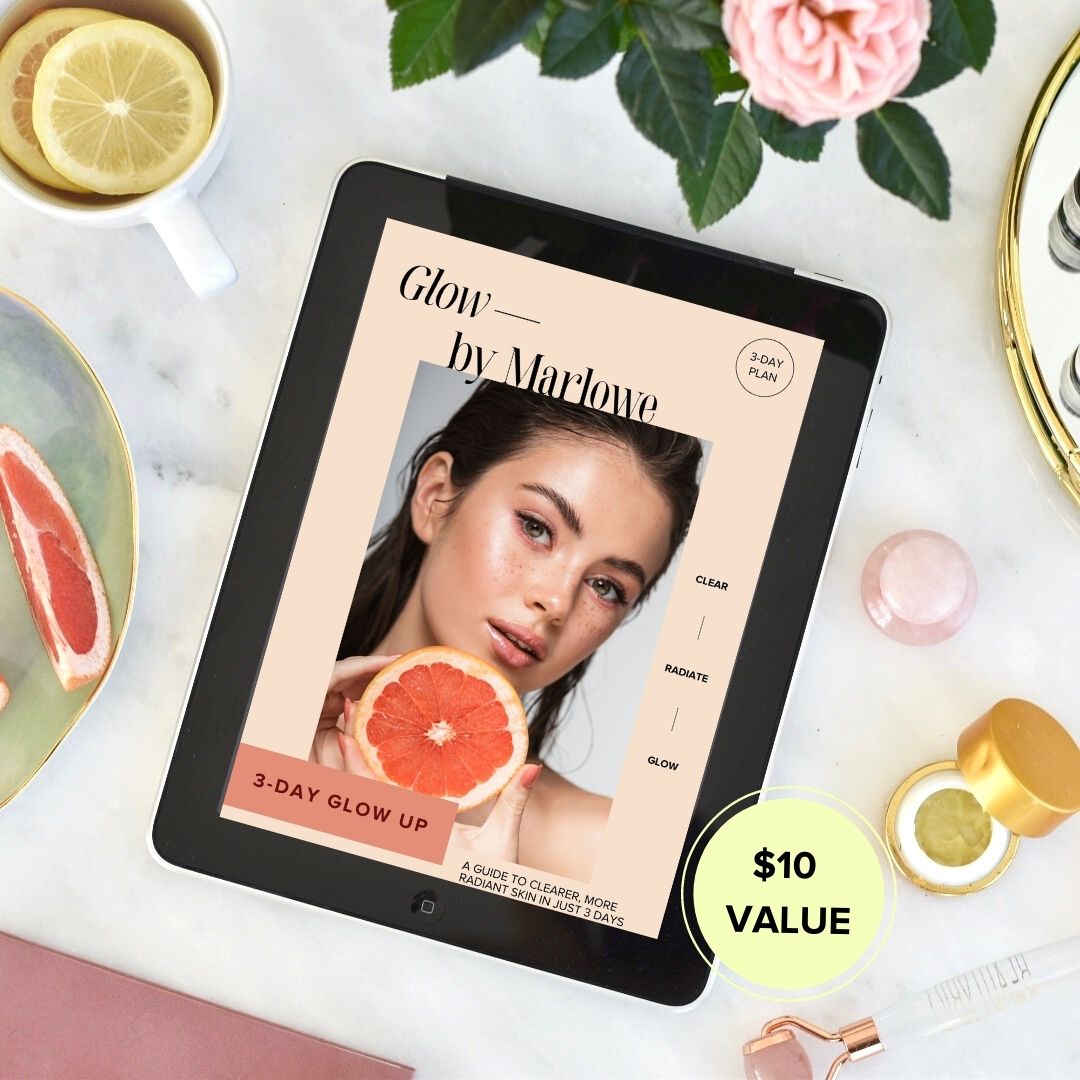 Sign up for my weekly newsletter to get the latest recipes, articles, & podcasts delivered to your inbox.

Plus, you'll receive The Glow Up Guide right away, a delicious 3-day meal plan to reduce redness and bumps, fast.