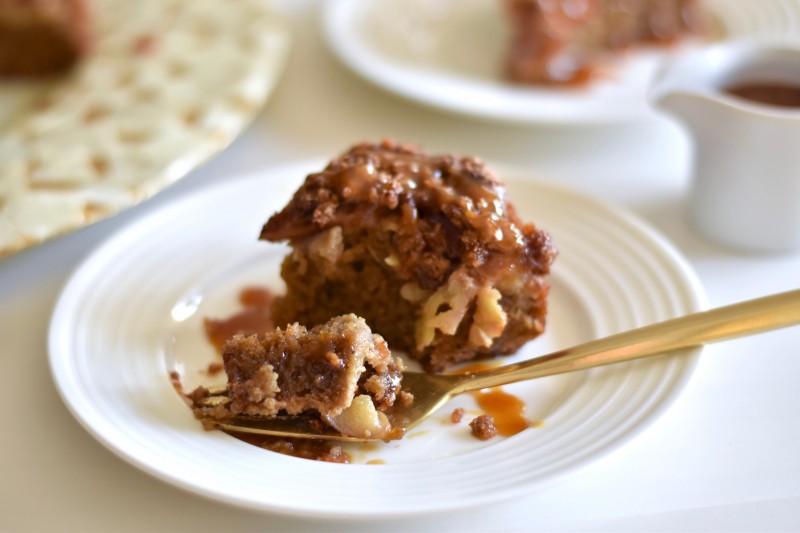 Curl up with a cup of tea and this gluten-free caramel apple crumb cake this fall.
What makes it a Healthy Indulgence?
Tigernut Flour
Oh how I LOVE tigernut flour. Tigernuts are not nuts, but rather a root vegetable. You can eat them on their own as a snack (tasty, but they will give your jaw a workout) or you can use the tigernut flour in recipes. It is naturally high fiber, yet not super dry, as some other high fiber flours can be. It's in heavy rotation in my kitchen at the moment.
Cinnamon
Cinnamon fights inflammation and may help lower blood sugar.
Coconut Oil
When using coconut oil, you always want to choose the unrefined version, as it is healthier than refined. I prefer oils bottled in glass, like this nutiva coconut oil from Vitacost, as fats absorb toxins and chemicals readily from plastic. I always buy my oils online from Vitacost, because they are so much cheaper than in stores. If you want to learn more about coconut oil you can read my latest post on the ingredient: Is coconut oil Bad for You?

Save on Healthy Ingredients
I made this recipe for Vitacost.com, my favorite place to shop for healthy ingredients at a fraction of the price of what I'd pay at the grocery store. Plus, I don't have to physically go to the grocery store, or schlep the bags home – it's a win-win.
Try this Caramel Apple Coffee Crumb Cake
If you try this recipe, let me know! Leave a comment, rate it (by clicking the stars in the upper right of the recipe card, below), and don't forget to tag a photo @mariamarlowe or #mariamarlowe on Instagram or Facebook. I'd love to see what you come up with!
For more dessert ideas check out this Pumpkin Cheesecake with Maple Cinnamon Soaked Pecans or this Crustless Vegan Apple Pie
Caramel Apple Coffee Crumb Cake (Gluten-Free)
Total Time
1

hour
8

minutes
Ingredients
Instructions
Preheat oven to 350 degrees Fahrenheit.

Grease a 9-inch springform cake pan with a little bit of coconut oil.

Make the cake batter by first combining the dry ingredients in a large mixing bowl: almond flour, tiger nut flour, baking soda, cinnamon, and salt. Mix well.

Then, in a small bowl, mix together the wet ingredients: eggs, applesauce, coconut oil, date syrup, and vanilla.

Add wet ingredients to dry ingredients, and mix well by hand. Set aside.

Next, make the crumble topping: In a small bowl, mix together the almond flour, coconut milk powder, cinnamon, date syrup, and coconut oil. Mix until a crumb texture is reached. Set aside.

Slice apples into quarters, remove the seeds and stem and then slice each quarter into 1/4-inch thick slices. Put in a bowl, squeeze fresh lemon juice over them and toss to coat.

Finally, pour the cake batter into the prepared pan. Top with the sliced apples, spreading them out evenly. Then, spread the crumbs out evenly over the apples.

Bake for 38 minutes. Let cool for about 10-15 before removing from the springform pan.

While that is baking, prepare the caramel sauce. Combine the date syrup, coconut cream, and salt in a small saucepan. Bring to a low boil over medium-low heat. Whisk every minute or so, while cooking for 7-10 minutes. Set aside.

When ready to serve, top each slice with a drizzle of caramel sauce.
Recipe Notes
*Do not substitute coconut flour. If you don't have coconut milk powder, simply use more almond flour.
**Refrigerate a can of coconut milk overnight. This will allow the milk and cream to separate. Open the can, spoon out the thick creamy layer on top, careful not to get any of the liquid below. You can use remaining cream and liquid in another recipe.

Did you make this recipe?
Tag @mariamarlowe on instagram and hashtag #healthybymarlowe for a chance to be featured and win awesome prizes each month.
Clearer Skin in Just 3 Days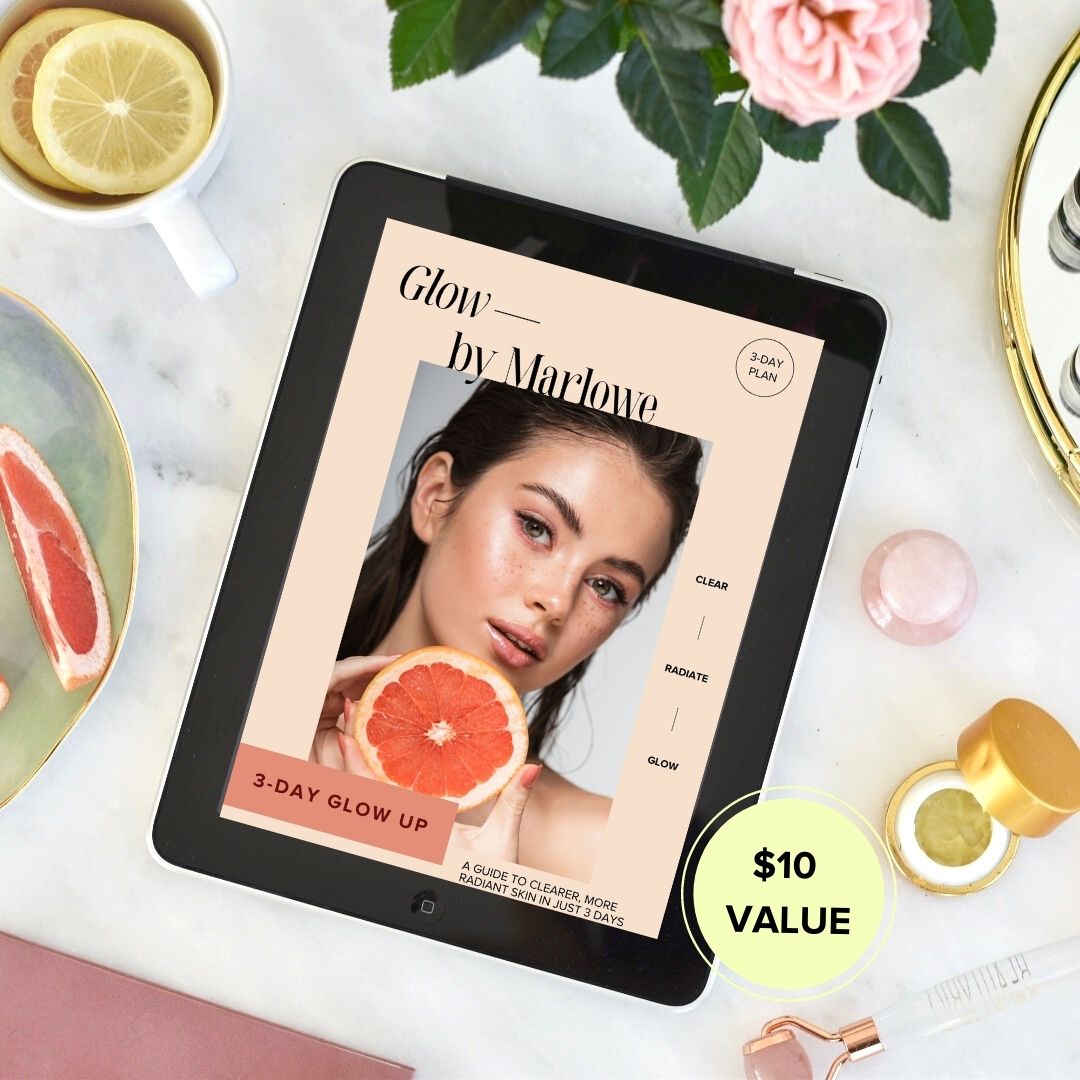 Sign up for my weekly newsletter to get the latest recipes, articles, & podcasts delivered to your inbox.

Plus, you'll receive The Glow Up Guide right away, a delicious 3-day meal plan to reduce redness and bumps, fast.