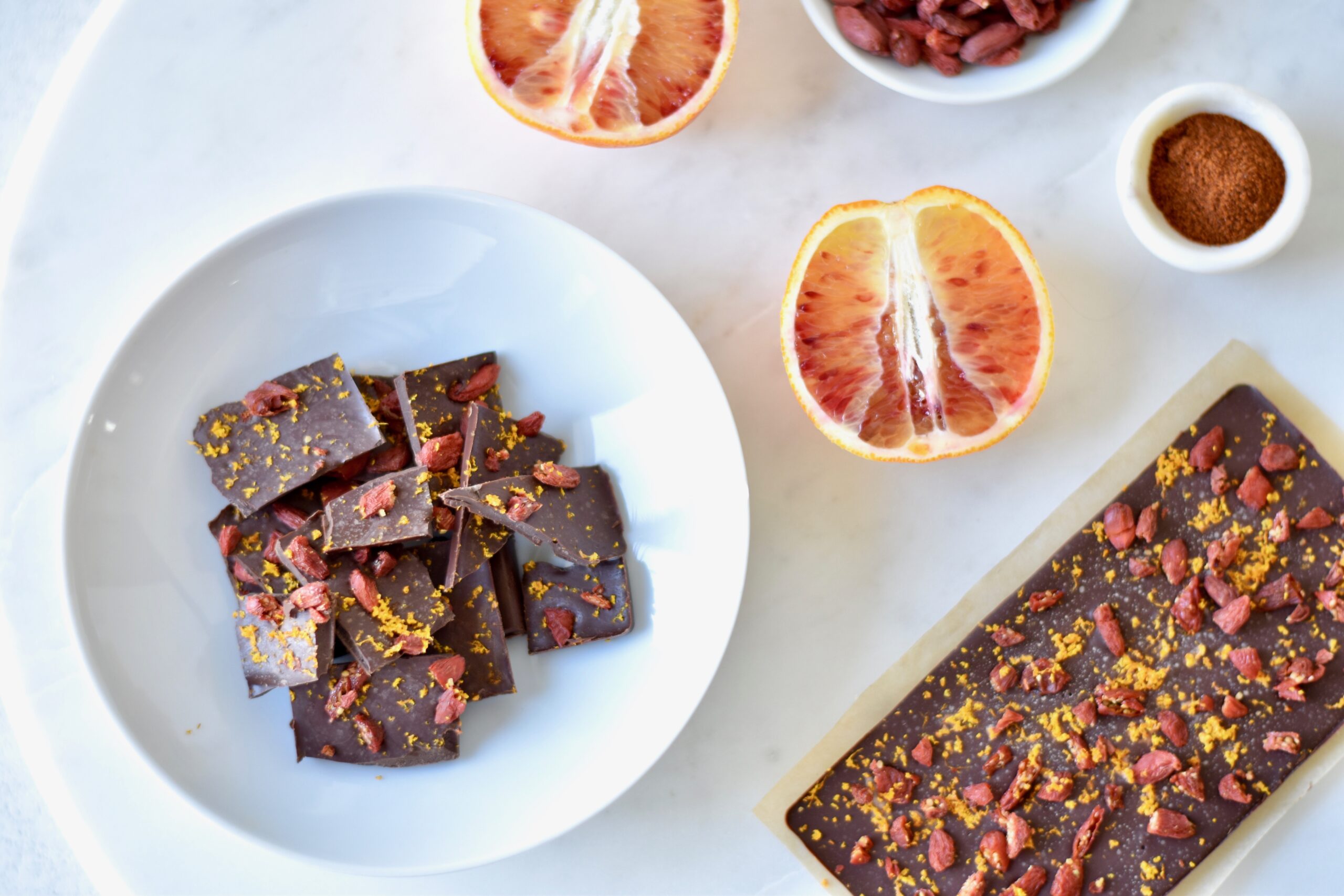 This Orange and Goji Dark Chocolate is super simple to make, yet bursting with complex flavor: Bright orange, tart goji berry, and a kick of spicy cayenne.
Jump to Recipe
Ingredient Benefits
Orange Peel: Orange peel adds an uplifting and fresh flavor, and perhaps surprisingly, is more nutrient-dense then the fruit inside. Just 1 tablespoon provides 14% of the Daily Value (DV) of vitamin C, nearly 3 times more than the inner fruit. The same serving also packs about 4 times more fiber. It also contains various other nutrients, like provitamin A, folate, riboflavin, thiamine, vitamin B6, and calcium. (1, 2) Citrus peel is also a unique source of limonene, a powerful antioxidant being studied for its anti-cancer effects. (3, 4)
Be sure to choose organic oranges when using the peel to avoid pesticide residue or waxes.
Goji Berries: Goji Berries are another rich source of antioxidants, and provide anti-inflammatory benefits. They are an excellent source of provitamin A, a nutrient well-recognized for its role in maintaining clear skin. Just 3 tablespoons of goji berries provide 140% DV of Vitamin A.  The same amount provides 15% DV of iron and 4g of protein. Pretty impressive for a tiny berry! In Traditional Chinese Medicine, they are used for eye disorders. A recent small study found that eating a small serving – about 1 oz or 28 g – of goji berries daily supports vision and may prevent or delay age-related macular degeneration.
Cayenne: Cayenne adds a little warming and spicy kick to this chocolate. You could omit it if desired, but it's kind of different and nice. Cayenne is rich in antioxidants and aids in digestion. It increases gastric juices and digestive enzyme production, which helps to break down food. There is also evidence that cayenne may promote a healthy gut microbiome, supporting the growth of good bacteria, while inhibiting bad bacteria. (5)
Dark Chocolate: Dark chocolate is rich in antioxidants and minerals like magnesium, iron, manganese, and copper. Manganese supports the production of collagen while magnesium helps to de-stress. It also boosts our mood thanks to serotonin and other phytochemicals. When serotonin is at normal levels, you feel more focused, emotionally stable, happier and calmer.
Look for dark chocolate that is 70% or higher (I love 85%) and sweetened with better sweeteners, like dates, coconut sugar or pure monkfruit. Here are two of my favorites: Dark Chocolate Chips sweetened with dates and Dark Chocolate Chips sweetened with coconut sugar. If you don't have chocolate chips on hand, you could chop up a dark chocolate bar instead. I like this Dark Chocolate sweetened with Coconut Sugar.
Orange Goji Chocolate
Instructions
Melt chocolate chips in a double boiler.

Stir in 1/4 teaspoon each of cayenne and orange extract.

Pour into a silicone chocolate mold, or on a parchment lined baking sheet.

Top with goji berries and grate some fresh orange zest on top.

Refrigerate until hard, about 5 minutes.

Did you make this recipe?
Tag @mariamarlowe on instagram and hashtag #healthybymarlowe for a chance to be featured and win awesome prizes each month.
Clearer Skin in Just 3 Days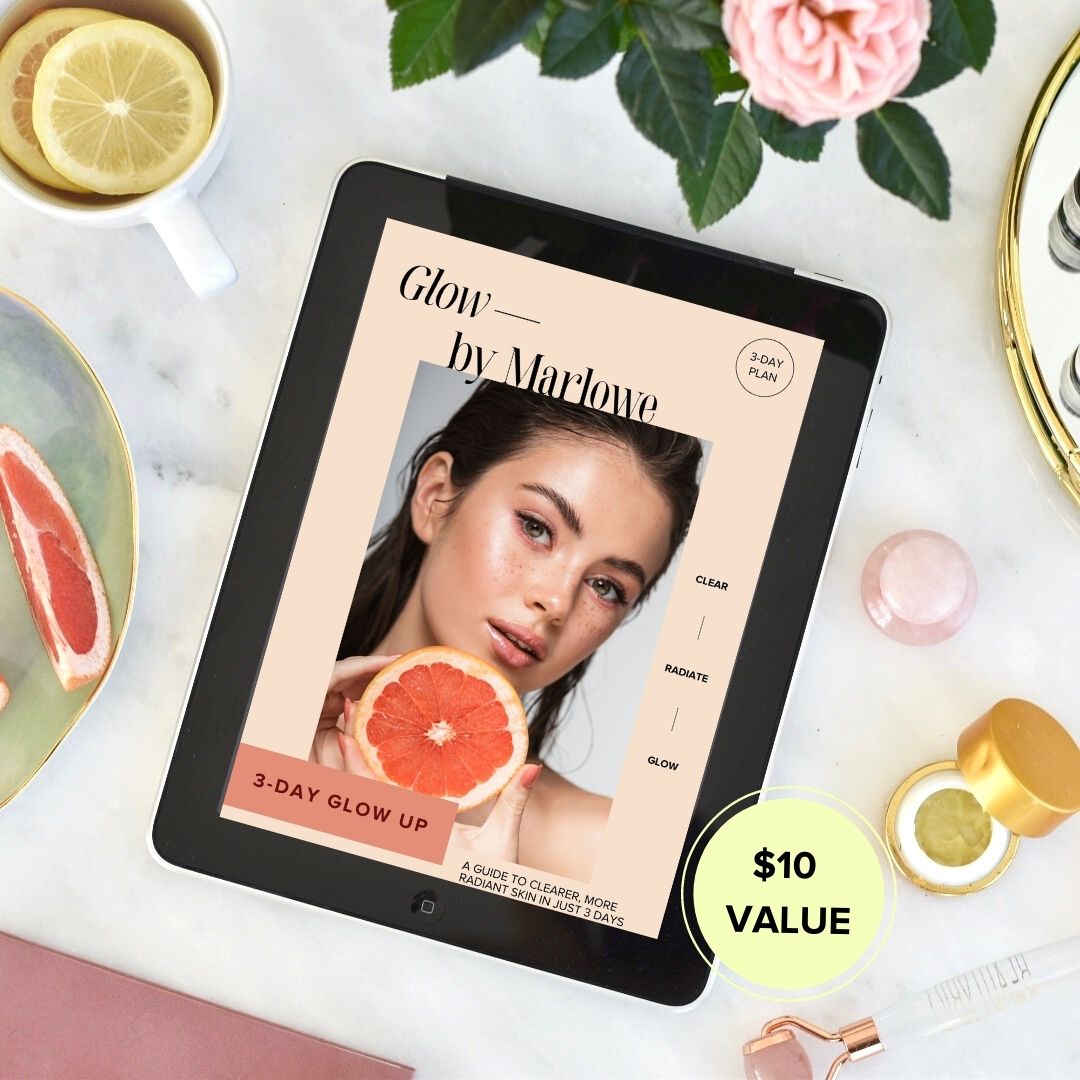 Sign up for my weekly newsletter to get the latest recipes, articles, & podcasts delivered to your inbox.

Plus, you'll receive The Glow Up Guide right away, a delicious 3-day meal plan to reduce redness and bumps, fast.