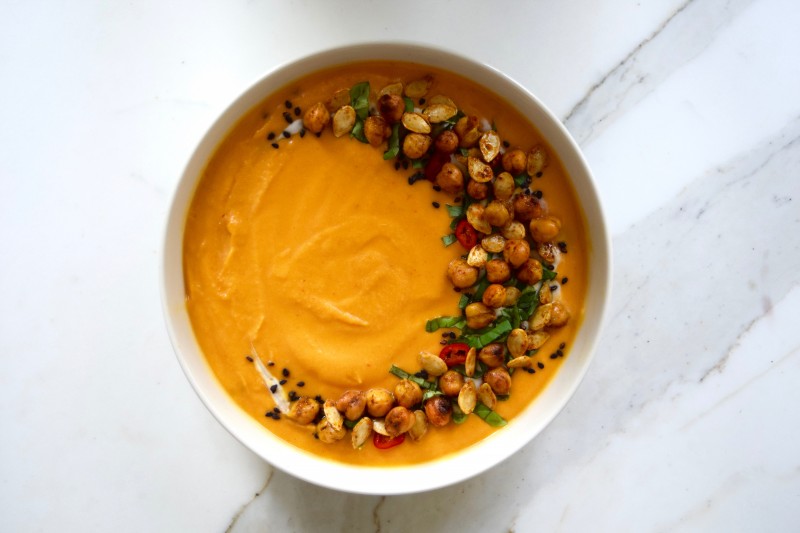 This creamy roasted butternut squash curry soup is WOW. You'll want to batch cook this healthy soup recipe all autumn long.
The colors, the flavors, the creaminess, the toppings…there is just so much to love about this one.
I originally tried making it with pumpkin, and it was good, but the roasted butternut squash was even better. (You can of course try it with pumpkin puree – but try roasting the pumpkin instead of steaming it for added flavor. Or you can buy pre-made). Additionally, the roasted butternut squash seeds have such a nice, unique flavor, too.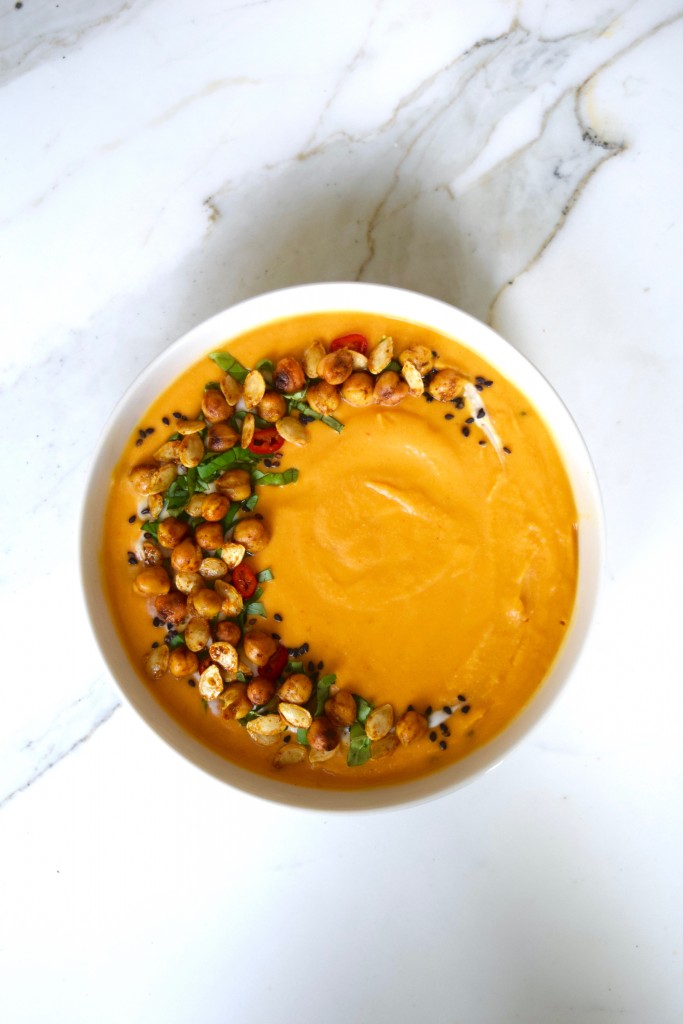 Chew Your Soup
I love adding toppings to the soup, as they not only add some beautiful color and crunch, they also force you to chew your soup. Chewing prepares the rest of your body for digestion, so it's a good to get into the habit of chewing your soup (and smoothies for that matter), to set you up for better digestion.

Try this Roasted Butternut Squash Curry Soup
If you try this recipe, let me know! Leave a comment, rate it (by clicking the stars in the upper right of the recipe card, below), and don't forget to tag a photo @mariamarlowe or #healthybymarlowe on Instagram or Facebook so I can share it. I'd love to see what you come up with!
Roasted Butternut Squash & Curry Soup
Total Time
1

hour
15

minutes
Ingredients
Crispy Curry Chickpea Croutons
Roasted Butternut Squash Puree
Instructions
First, make the crispy curry chickpea croutons
Preheat the oven to 400 degrees Fahrenheit. Turn your oven fan on.

Line a large baking sheet with parchment paper. Pour the chickpeas on top and spread them flat.

Add the oil and spices, and use spoons to mix and roll all the chickpeas around, so they are evenly coated in the spices. Make sure the chickpeas are flat in a single layer before putting into the oven, on the top rack.

Bake for 20 minutes, carefully shake the pan or use tongs to move the chickpeas around, and then continue baking for another 20 minutes or so, until crisp.
Next, make the roasted butternut squash puree
Line another baking sheet with parchment paper. Put the butternut squash cubes on the pan, and toss with a couple teaspoons of oil, then lay out flat, and cook in the oven on the bottom rack for 20 minutes.

When it's done, weigh out 16 oz of squash, and puree it in a blender. If you have a larger squash and have leftover cubes, you can reserve the rest for other uses.
To make the soup
Chop 1 cup of onion, 2 cloves of garlic, and a 1-inch piece of peeled fresh ginger.

Heat a large stockpot over medium heat, then add 1 tablespoon of oil.

When hot, add the onion, garlic, and ginger. Cook for 5 minutes, stirring occasionally, careful not to burn.

Add one can of coconut milk, 2 tablespoons of curry paste, 1 teaspoon of maple syrup, and the butternut squash puree. Bring to a boil, then reduce heat to low and cook for 20 minutes. Add salt.

Next, carefully pour the soup into a blender, and blend until a uniform creamy texture is achieved. Taste, and add more salt if needed, then blend again.

To serve, top with your favorite garnishes.
Recipe Notes
To save time, you can use 16 oz of frozen or pre-chopped butternut squash instead of a whole butternut squash.
Don't throw away your butternut squash seeds! They are delicious roasted: Set the oven to 200 degrees Fahrenheit, line a baking sheet with parchment paper, and place the seeds on top. Drizzle with a touch of olive oil, and a small pinch of whatever spices you like and have on hand, such as pink salt, garlic powder, chile powder, cumin, paprika, smoked paprika, turmeric, etc.

Did you make this recipe?
Tag @mariamarlowe on instagram and hashtag #healthybymarlowe for a chance to be featured and win awesome prizes each month.
.
Clearer Skin in Just 3 Days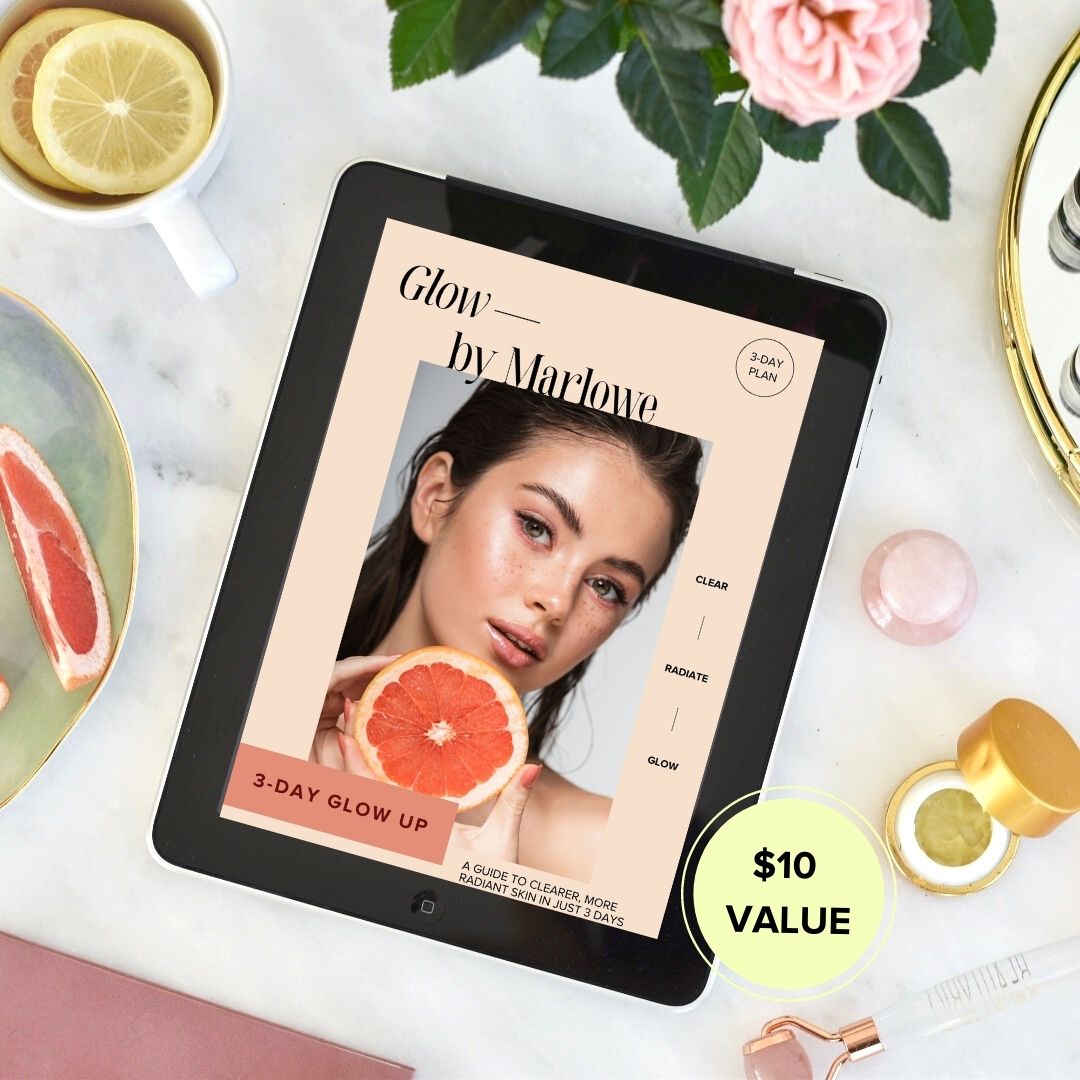 Sign up for my weekly newsletter to get the latest recipes, articles, & podcasts delivered to your inbox.

Plus, you'll receive The Glow Up Guide right away, a delicious 3-day meal plan to reduce redness and bumps, fast.