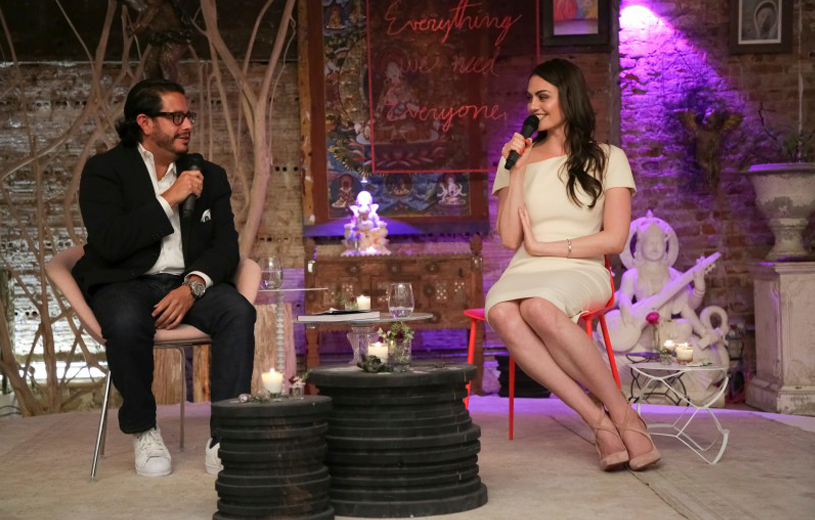 Maria is available for public speaking engagements and healthy cooking demos.
Who can benefit:
A business that wants more productive employees who get sick less often
A school looking to enrich their curriculum with an engaging
presentation on healthy foods, establishing healthy habits, or body
confidence
A fitness studio that wants to offer a fun event as a perk for their clients
A doctor wishing to stage an event or cooking demo on healthy foods
and healthy habits, or eating for a specific condition
Maria will tailor her presentation to meet your audience's needs. For further information or to schedule a talk, please use the contact form.
Previous Events Include:
Massachusetts Conference for Women
WellBe
Physiqu57 Dubai
Physique57 New York
The Metrowest Conference for Women
The Seed Festival (Cooking Demo)
Williams Sonoma
Net-a-porter.com
& more
Testimonials

" Maria is an excellent communicator and did an outstanding job connecting with the audience and national media. Her knowledge of health and wellness is only surpassed by her ability and ease in which she enlightens the crowd. Maria is truly an ally and asset in our work to make the world happier and healthier. "

" Maria's presentation for our event at Williams Sonoma was exceptional. She created a customized menu solely using ingredients that can help prevent migraines. Her dishes were amazing and enthusiasm infectious. She carefully explained not only what to eat, but why to eat it. Most importantly, our patients enjoyed the event immensely. I believe the information we imparted can make a significant difference in the nutrition habits and well-being of our patients. "
"Maria's talk was extremely informative and impactful. It sparked a new conversation and perspective amongst staff, who have been talking about it long after. She creates a very open and lighthearted atmosphere, which encouraged a lot of great questions (and answers!), and we thoroughly enjoyed it. "
"We hired Maria to speak at Wellness Meet Up NYC, and loved her presentation. She packed the house and the audience was very engaged. She is a wonderful public speaker, extremely knowledgable, and has a great poise about her. We are so happy to have worked with Maria and we would gladly invite her back to host another event with Wellness Meet Up NYC."
"As the co-owner of two growing boutique fitness studios, I was delighted to have Maria come in and speak with our clients. Her "bikini body" presentation was so well-received that we immediately scheduled another session. Her talk was perfectly tailored to the needs of our mostly female client base and each client left with a notecard full of easily implemented suggestions to achieve a bombshell body! Maria's program is the perfect complement to any fitness or lifestyle service and we hope to continue to provide her services!"
"Quite simply, Maria had the most well received workshop at the Live Smart Series. The attendees were taking notes aggressively during the workshop and following it, they were coming up to all of us on the conference development team, telling us how amazing it was. Three months later and I'm still getting emails telling me how much they liked it! If that doesn't say how great of a speaker she is, I don't know what does. She impacted our attendees on such an incredibly deep level–something very hard to do in 45 minutes."
"It was a true pleasure to have Maria come speak to our fifth grade students. She clearly aligned her presentation to concepts we have been discussing in class. Our students found her presentation highly engaging, and they were eager to learn more, try out recipes, and reflect on their current habits. We will gladly have her back!"