If quarantine has got you stress eating, feeling down, sedentary, or on the roller coaster of emotions, check out these 5 tips (plus recipes!) to get back to feeling healthy, happy, and fit.

Eat Nutrient-Packed Meals
We do indulge in healthy comfort foods from time to time, like this Sweet Potato Mac & Cheese, oven baked French fries, and Crispy Orange Sesame Cauliflower . But, we're primarily keeping to our regular nutrient-packed meals to keep our immune systems strong, our bodies energized, and our brains happy.
BREAKFAST
For breakfast we usually have cauliflower oatmeal or a superfood scramble. When we want something super quick, we'll just throw some blueberries and flaxseed over one of our fave coconut yogurts.
LUNCH/DINNER
For lunch and dinner I've been preferring cooked food, so we'll usually have 1-2 veggie dishes with a protein. For example, Roasted Broccoli, Golden Turmeric Cauliflower, or Garlic Sauteed Chard paired with 5 Spice Salmon or Lemon Pepper Cod (we stocked up on frozen wild seafood from here).
Or we like these complete meals – Garlic Ginger Beef Bowl with Cauliflower Fried Rice or Shirataki Basil Pesto Pasta with Garlic Shrimp.
Sometimes we'll add a fully loaded salad like this Sweet & Salty Antioxidant Salad or this Spicy Blueberry Arugula Salad with Hemp Crusted Avocado.
Check out my 28-Day Paleo Meal Plan for more ideas, or if you need help finding the right diet for your unique body, check out my 8-week, science-backed, doctor-approved online nutrition course.
Order Healthy Food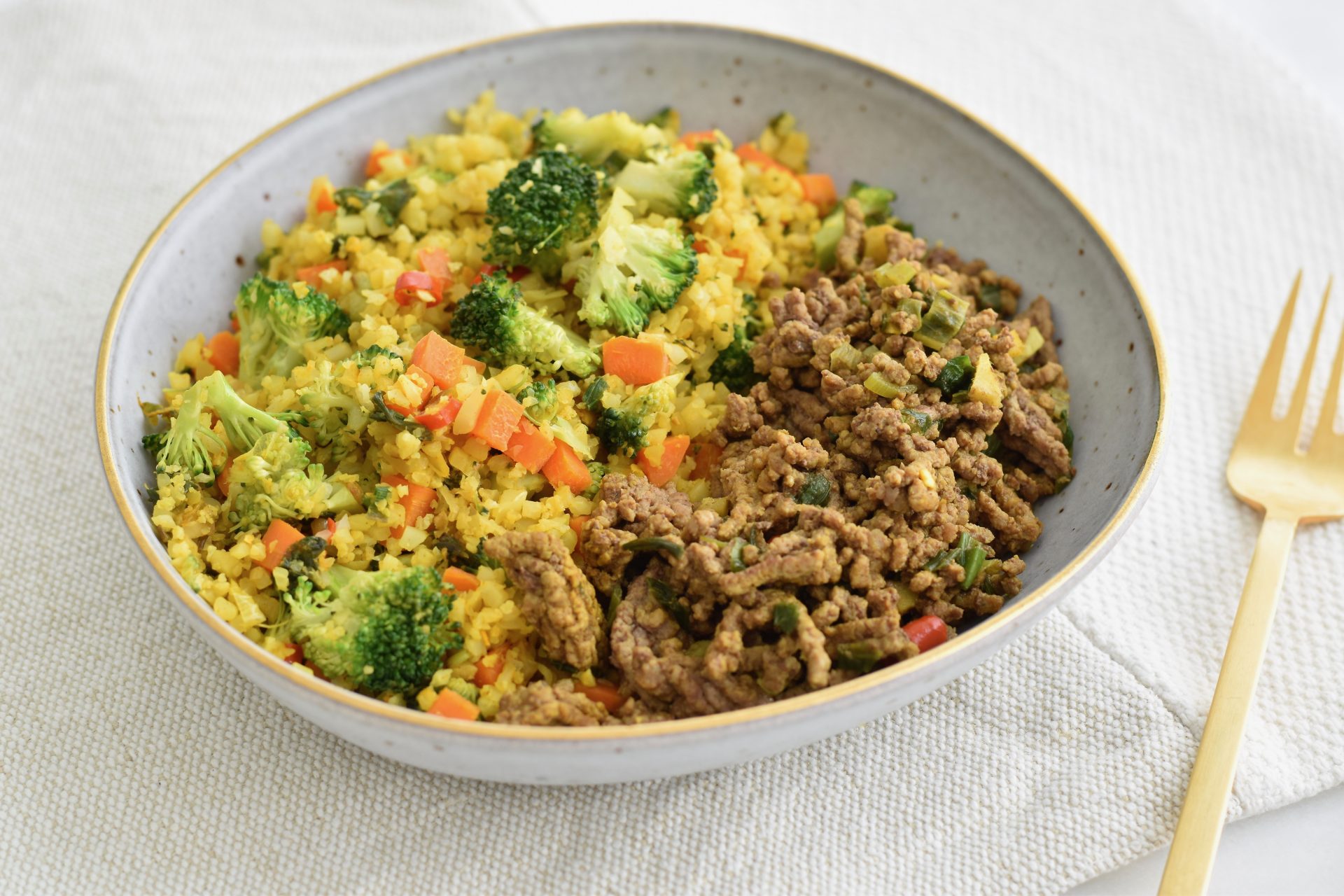 Like usual, we don't bring any junk food in the house – so we're not tempted to eat it.
I know in certain places in the US options may be limited – do the best you can. I've linked my favorite places to order healthy food online – for everything from healthy dry goods to organic meat and wild fish below:
Workout at Home
There are millions of FREE online workout videos on youtube, or if you have a favorite instructor or method, they probably have a paid digital option by now. If you don't have a lot of space, choose workouts that don't require a ton of space – like mat pilates, yoga, or resistance band training. I've made my tiny 4 ft x 6 ft sliver of carpet in front of the TV my new at home gym, where I do youtube or Zoom workout videos. It has been keeping me fit and sane- 8 weeks strong!
Top Picks:
Lilly Sabri – Hands down my favorite YouTube Channel – Her workouts are INSANE – you'll be dripping sweat during her banded resistance trainings, but done in just 30 minutes.
Bryan Kest's Power Yoga Online – My absolute favorite yoga teacher. I used to attend his classes live in LA, and I would leave walking on a cloud. If you think yoga is boring, or can't find a yoga class you LOVE, trust me, try his.
Keep Normal Work Hours
We start at 8 and wrap up around 5-6. Maintaining a normal work day has kept us busy and sane. And this also prevents any boredom snacking.
Laugh as Much as Possible
We only watch comedies on Netflix (my idea) and have taken to learning Tik Tok dances to keep our selves entertained (Kush's idea ????).
What are you doing to stay healthy?