This 5 Spice Salmon recipe is one of the most requested by my soon-to-be hubby. A light crust is formed from searing the salmon with a blend of turmeric, cumin, coriander, paprika, and cayenne, and then you simply finish it in the oven.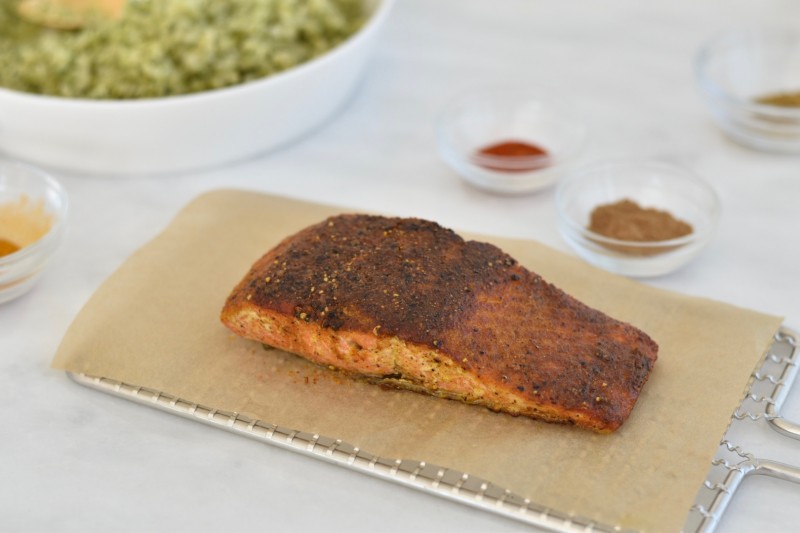 Any veggie sides will do, but I love to serve it with broccoli jalapeno rice, another super simple and quick dish.
This entire meal can be ready in 20 minutes or less.
Printable recipe below the video. Enjoy!
Preheat oven to 400 degrees Fahrenheit. Season fillets on both sides with salt and pepper.

Combine spices and press the mixture onto the top of each fillet.

Preheat a large nonstick skillet over medium-high heat for 2 to 3 minutes. Add the oil and when it simmers, place the fillets, coated side down, in the pan.

Cook about 2 minutes, or until the spice mixture forms a nicely browned crust. Turn the fillets and cook for a minute more.

Transfer fillets to the oven and cook for 5-6 minutes for medium rare, or 8 minutes for well-done.
First, rice the broccoli, either by hand, or cut the florets into 1-inch pieces and the stems into matchsticks, then throw into a food processor or blender and process on low until a rice-like consistency is formed. Set aside.

Heat a medium-large skillet over medium heat. Add the olive oil.

Add the garlic and jalapeno, cooking for 2 minutes before adding the broccoli rice.

Add 1-2 Tbsp. water to the pan, and then let it cook for 5 minutes, stirring occasionally. Season with pink salt to taste.
Any fish can be substituted here. Roasting time may change. You can put the spices on at the same time, but cook the fish when you're going to have it, so only cook one for the first dinner, and cook the second one just before eating later in the week.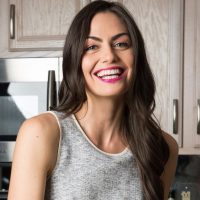 Maria Marlowe
Maria Marlowe is a holistic nutrition and wellness coach who uses real food to help her clients improve their health, weight, and skin. She offers a 28-day healthy eating meal plan that teaches you how to batch cook, as well as one to clear up acne. Her most popular program is EatSLIM, a 10-week online group glass that guides participants to develop healthy eating habits that stick – and lose weight, boost their metabolism, improve their digestion, and quit sugar.
She writes healthy and delicious plant-based recipes for her popular blog. She is also the author of the #1 New Release on Amazon, The Real Food Grocery Guide, the most practical guide to selecting the healthiest foods, without going broke, which has been praised by Dr. Oz and InStyle magazines. You can find her on instagram @mariamarlowe.