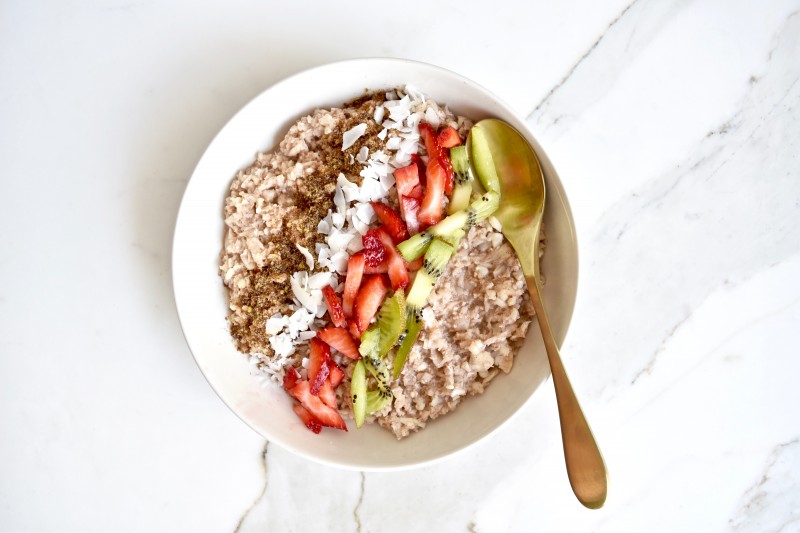 As you may be aware by now, cauliflower can be anything, including cauliflower oatmeal. This relatively easy to prepare and quick recipe may become a staple in your morning rotation.
Why Cauliflower Oatmeal?
Most people can use more vegetables in their diet, so why not sneak some in at the breakfast table, a place where they are often absent?
Grains -even gluten-free grains – can be problematic for some people. I am one of those people, and I find I feel better without them. I'll occasionally have rice, but I'm currently experimenting without them.  Oatmeal used to be one of my favorite breakfasts, but I find I can no longer tolerate it and it makes me sick. So, cauliflower to the rescue.
It's vegan, paleo, AIP, & Whole30 compliant, so you can please everyone at the table. 
It keeps your blood sugar stable. Unlike oatmeal, which causes a blood sugar spike, this is a low glycemic meal. There are no refined ingredients, nor sugar or sweeteners added. The creamy coconut milk, warming cinnamon and vanilla, and a pinch of salt are all you need. You can top it with your favorite berries or fruit for a little sweetness, and nuts or seeds for a little crunch.
Shop This Recipe
I get my produce from my local farmer's market, but Amazon Fresh and Whole Foods are great options to save time and have organic produce shipped to your door!
Coconut Milk
Coconut milk is a staple in my kitchen, and I use it in a variety of recipes, from smoothies, to desserts, to my favorite quick 20-min veggie curry. I was using the So Delicious brand culinary coconut milk for a while, which comes in a BPA-free tetrapack, but it seems to (sadly) be discontinued.
Traditionally I have used the Thai Kitchen Organic Coconut Milk, but it does come in a BPA-lined can, which I generally avoid as much as I can. Although it is less than ideal to consume it, I rationalize that I have a healthy enough diet and lifestyle that a little BPA here and there won't cause an issue.
BUT, in an effort to be more proactive, and avoid exposure, my new thing is coconut milk powder. which you can then add hot water to to make coconut milk. You would use 1 Tbsp. coconut milk powder per 1/2 cup water. So, to make a can equivalent, you'd want to use about 3 Tbsp coconut milk powder + 1 1/2 cups hot (almost boiling) water.

Try This Cauliflower Oatmeal (grain-free, vegan, paleo, AIP, Whole30)
If you try this recipe, let me know! Leave a comment, rate it (by clicking the stars in the upper right of the recipe card, below), and don't forget to tag a photo @mariamarlowe or #mariamarlowe on Instagram or Facebook. I'd love to see what you come up with!
Cauliflower Breakfast Porridge
Instructions
Combine coconut milk, water if using, vanilla, and cinnamon in a medium saucepan over medium heat. Stir and let heat up for 3 minutes.

Add cauliflower and turn heat down to medium low. Let simmer for 5 minutes, stirring occasionally.

Once cauliflower is cooked through, remove from heat and stir in pink salt to taste. Remove to serving bowls. Top with any desired toppings, such as flax, coconut flakes, fruit, nuts or seeds, as you wish.
Recipe Notes
*You can thin out the coconut milk with water if desired: instead of 1 1/4 cups coconut milk, use 1 cup coconut milk and 1/4 cup water.
**To rice the cauliflower, you can either throw small pieces of it into a food processor or high speed blender, or manually chop it by hand into small, rice-size pieces. Conversely, you can sometimes find pre-cut riced cauliflower in the fresh section of health food stores or frozen.
***This is great without added sweetener, but if you prefer more sweetness, add 2 pitted and sliced dates to the top and stir in, or to the coconut milk at the beginning.
**** Cauliflower Oatmeal saves well, and can be re-heated throughout the week. Simply store leftovers in air-tight container in the fridge. When ready to reheat, add a portion to a dry pan with 1 tablespoon of water and heat over medium low heat for about 3 minute or so, until warmed through, stirring occasionally throughout. Add the toppings after reheating.

Did you make this recipe?
Tag @mariamarlowe on instagram and hashtag #healthybymarlowe for a chance to be featured and win awesome prizes each month.
Clearer Skin in Just 3 Days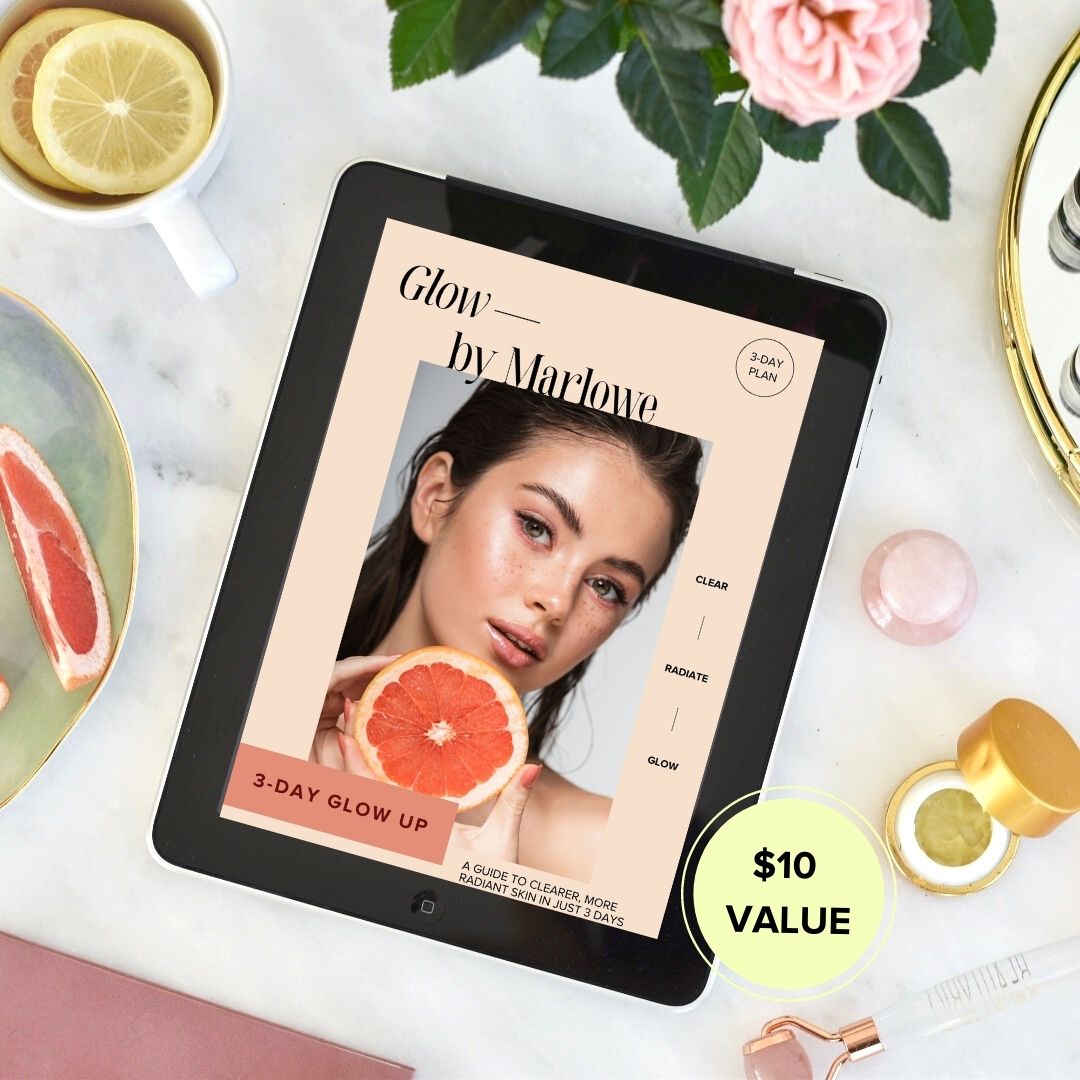 Sign up for my weekly newsletter to get the latest recipes, articles, & podcasts delivered to your inbox.

Plus, you'll receive The Glow Up Guide right away, a delicious 3-day meal plan to reduce redness and bumps, fast.