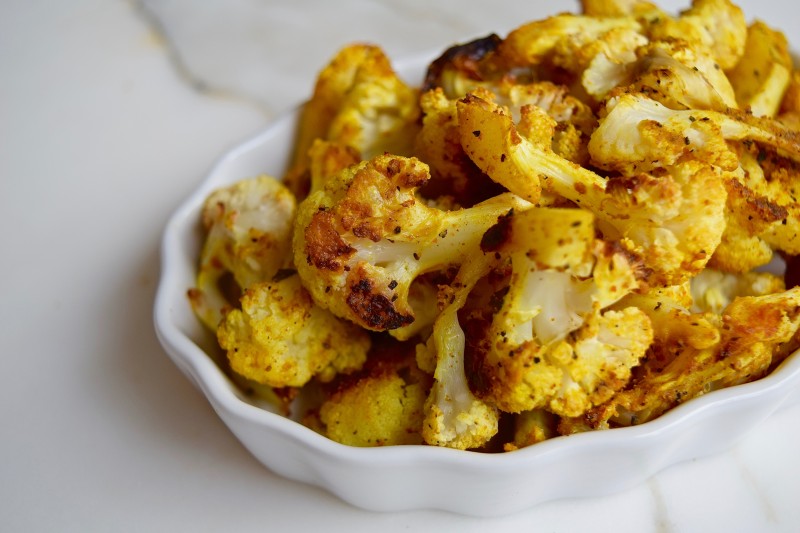 This simple golden turmeric cauliflower is spiced and roasted to perfection, making for a delicious side or colorful component of a buddha bowl.
If you're looking for a new variation of how to roast cauliflower, try this one out. It's super simple:  chop cauliflower, season with a fragrant blend of spices and oil, then roast. Easy, breezy.
It reheats well, so I often roast it along with a variety of other veggies to batch cook for the week.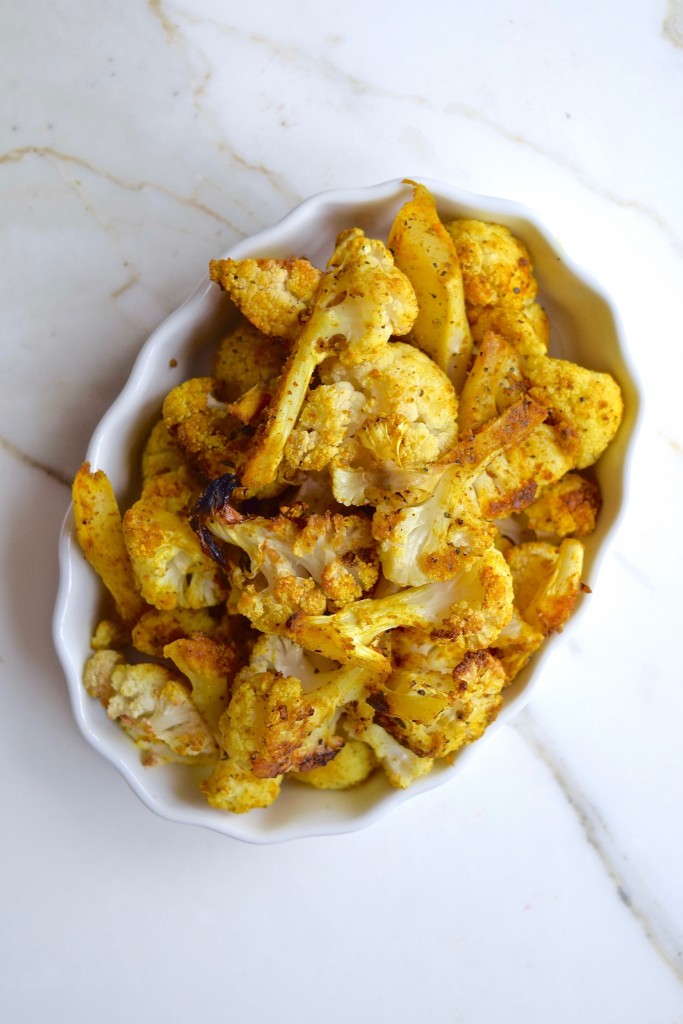 Shop This Golden Turmeric Cauliflower
Organic Cauliflower
While cauliflower doesn't have to be organic, choosing organic is the ideal choice, as you not only reduce or limit your exposure to pesticides, but our environment as well. You can find it at your local grocer or farmers market, or get it shipped straight to your door by grocery shopping online, for example via Amazon Fresh.
Avocado Oil
Avocado oil is better suited for high-heat cooking like roasting versus coconut oil and olive oil, as it can better withstand the higher temperatures. It's virtually flavorless making it a versatile oil that can be used in a variety of dishes.
It's always on sale at Vitacost for 36% off.
Simply Organic Spices
I love this brand of organic spices, they are always the freshest, most vividly colorful and most flavorful. This particular recipe calls for turmeric, cumin, garlic powder, and cayenne, but I also love oregano, basil, thyme, and rosemary.
Get them for 25% or more off at Vitacost.
Non-Toxic Parchment Paper
Parchment paper makes clean up so much easier – but conventional brands are bleached and could contain the toxic chemical dioxin, a result of chlorine bleaching of the paper. Dioxin is considered a known human carcinogen by The World Health Organization (WHO). According to the World Health Organization, once dioxins enter the body, they last 7-11 years because of their chemical stability and their ability to be absorbed by fat tissue, where they are then stored in the body, to take them out of circulation and away from key organs.. There is a theory, although not well studied, that having chemical buildup causes easy weight gain and makes it harder to lose weight, as your body holds on to the toxic fat is has stored until those toxins can safely be broken down and/or removed from the body without causing damage.
For this reason, I prefer to only use non-toxic chlorine-free parchment paper.

Try This Golden Turmeric Cauliflower Recipe
If you try this recipe, let me know! Leave a comment, rate it (by clicking the stars in the upper right of the recipe card, below), and don't forget to tag a photo @mariamarlowe or #mariamarlowe on Instagram or Facebook. I'd love to see what you come up with!
Golden Turmeric Cauliflower
Instructions
Preheat oven to 425 degrees Fahrenheit (218 degrees Celsius).

Line a baking sheet with parchment paper.

In a bowl, toss the cauliflower with the oil and spices. Lay out on the baking sheet in a flat layer.

Roast for 30-35 minutes until cauliflower is just starting to brown.

Did you make this recipe?
Tag @mariamarlowe on instagram and hashtag #healthybymarlowe for a chance to be featured and win awesome prizes each month.
Clearer Skin in Just 3 Days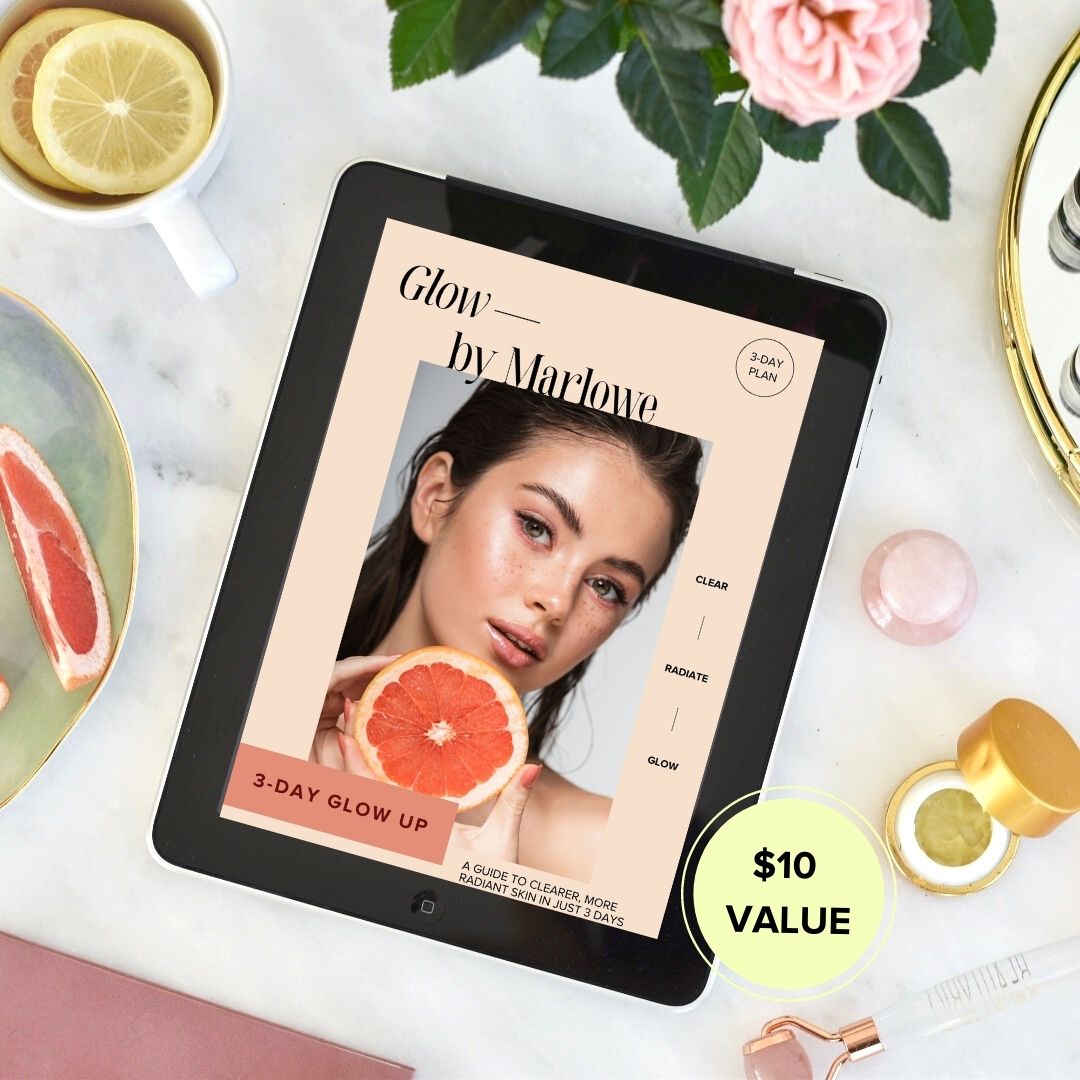 Sign up for my weekly newsletter to get the latest recipes, articles, & podcasts delivered to your inbox.

Plus, you'll receive The Glow Up Guide right away, a delicious 3-day meal plan to reduce redness and bumps, fast.