A Superfood Scramble is one of my favorite ways to start my morning. Made with whatever veggies I have on hand, plus spices, herbs, and organic pasture-raised eggs, its easy, quick, versatile, and delicious.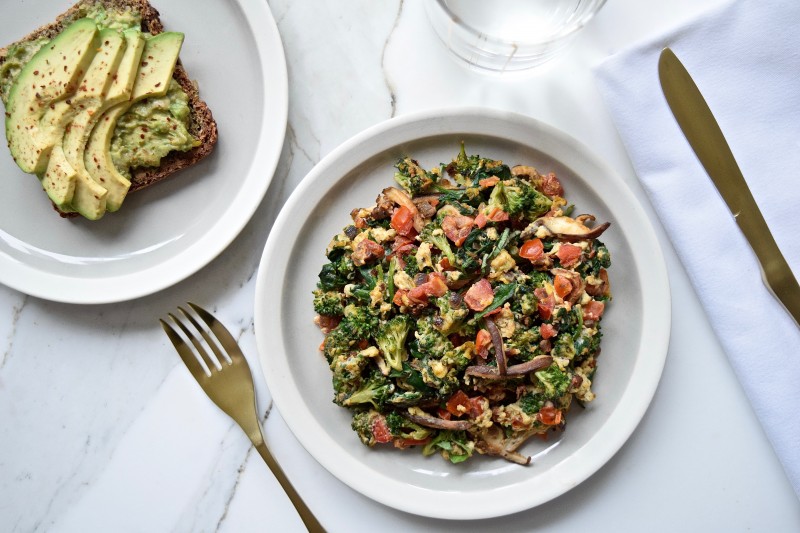 If you stay chez Marlowe, this is most likely what I'm cooking you for breakfast.
My personal favorite combos for a Superfood Scramble include:
okra + red onion
Swiss chard + red onion
broccoli + jalapeno
fresh herbs like basil, parsley, dill, and cilantro
broccoli, basil, mushrooms, and tomato – which happen to be packed with nutrients that encourage healthy hair growth.
Other ingredients I love – spinach, cauliflower, zucchini, peppers, tomatoes, mushrooms, sweet potato, purple potato…pretty much anything that can be sauteed. I often combine 2-3 veggies at a time. You don't really need to measure the veggies out, put as many as you want in there.
How to Make a Superfood Scramble
The key to making it taste good no matter what you put in it, is to always use aromatics (onions/garlic) and spices you like (for example, I often turn to turmeric + chile powder or dried oregano + basil + thyme). These add flavor, so it won't matter what veggies you put in it, it should taste good.
To get you started here is a simple version using mushrooms and chard. This is a great option if you're trying to lose weight as the mushrooms and chard are filling yet very low cal.

Crack both eggs into a mixing bowl. Whisk the eggs until completely combined, and season with salt and pepper.

In an 8-inch skillet over medium heat, add just enough oil to cover the bottom of the pan. Add onion, turmeric, cayenne, and mushrooms. Cook for 5 minutes, stirring occasionally.

Add the chard, and cook another 2 minutes or so, until chard is wilted.

Pour the eggs into the skillet. Immediately tilt the pan so the eggs coat the entire bottom, and mix in with the veggies. Season with a pinch of salt and pepper. Stir occasionally, until eggs are completely cooked through, about 3-4 minutes or so.

Remove to a plate. Taste and add additional salt or pepper as needed.
Feel free to throw in any leftover vegetables or herbs into this scramble! It's a great way to "clean out" the fridge at the end of the week. Don't be scared to pile on the veggies - the more, the better.
Vegan Option: Omit the eggs, increase the veggies, and add a cup of chickpeas or white beans to make this a vegan superfood breakfast sauté.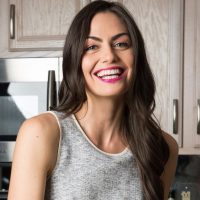 Maria Marlowe
Maria Marlowe is a holistic nutrition and wellness coach who uses real food to help her clients improve their health, weight, and skin. She offers a 28-day healthy eating meal plan that teaches you how to batch cook, as well as one to clear up acne. Her most popular program is EatSLIM, a 10-week online group glass that guides participants to develop healthy eating habits that stick – and lose weight, boost their metabolism, improve their digestion, and quit sugar.
She writes healthy and delicious plant-based recipes for her popular blog. She is also the author of the #1 New Release on Amazon, The Real Food Grocery Guide, the most practical guide to selecting the healthiest foods, without going broke, which has been praised by Dr. Oz and InStyle magazines. You can find her on instagram @mariamarlowe.