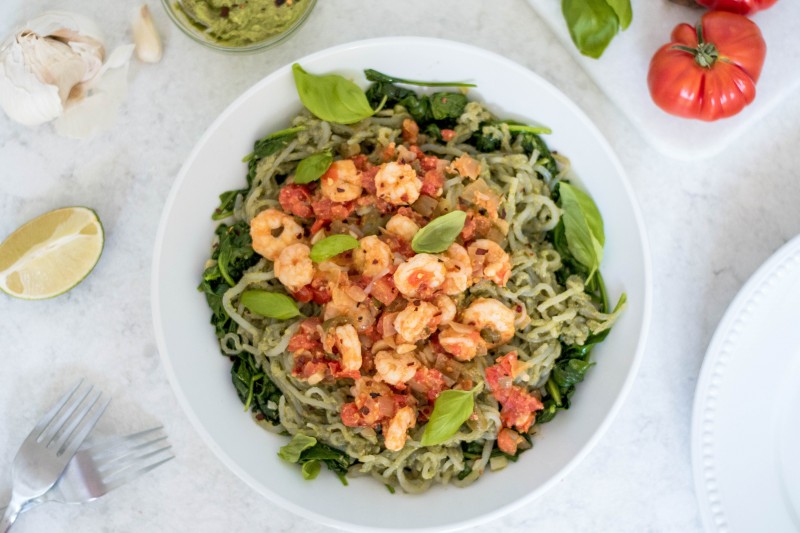 This Shirataki Basil Pesto Pasta with Garlic Shrimp is quick and easy to throw together on a busy weeknight. It's simple, flavorful and filling. You can't go wrong!
What makes it a healthy option?
Shirataki Noodles are a fantastic, high fiber, low carb, 0-calorie substitute for regular pasta. (I recently named it as one of my top picks for healthiest gluten-free pastas). It's made from a Japanese yam. You'll be amazed at how quickly this pasta satisfies you. Shirataki noodles are a great weight-loss food because they fill you up fast on minimal calories.
You can find them at health food stores or on Vitacost.com, my favorite place to shop for healthy ingredients, at the best prices.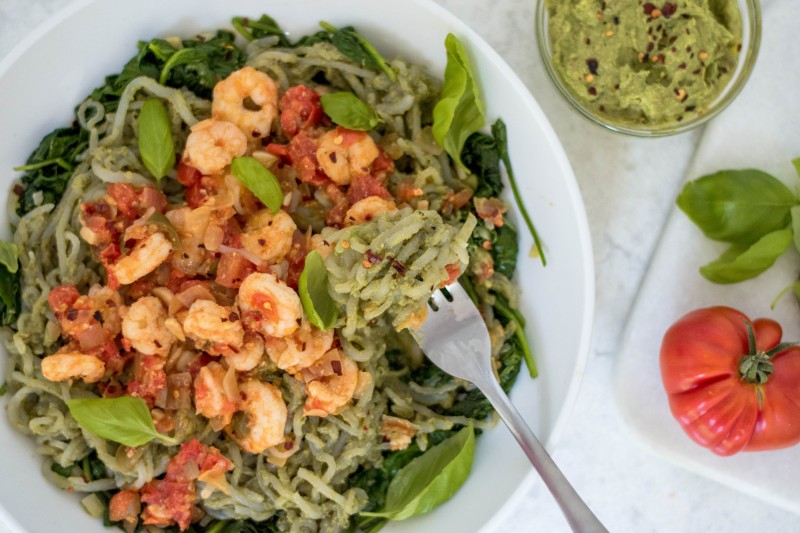 Try this Shirataki Basil Pesto Pasta with Garlic Shrimp
If you try this recipe, let me know! Leave a comment, rate it (by clicking the stars in the upper right of the recipe card, below), and don't forget to tag a photo @mariamarlowe or #mariamarlowe on Instagram or Facebook. I'd love to see what you come up with!
Shirataki Basil Pesto Pasta with Garlic Shrimp
Ingredients
Instructions
Bring a small pot of water to boil on the stove over medium-low heat.

First, make the pesto: Add garlic to a food processor or blender and process until chopped. Next, add basil and process again until it's broken down nicely. Add the cashews and salt, and process on low (speed 1-2 on blender) or pulse on low on food processor, until cashews are chopped finely, but still retain some texture. With the motor running on low, slowly drizzle in the olive oil until fully combined. Remove to a bowl and set the pesto aside.

Next, make the noodles: Cut the bag of shirataki noodles open and drain into a colander. Run cool water over the noodles for one minute.

Add the noodles to the pot of boiling water and cook for 2-3 minutes. Drain noodles.

Dry the now empty pan and return to the stove top over low heat. Add the noodles back in (without any liquid or oil) to dry roast them for 1 minute. After 1 minute, you may hear a squeaking noise when you move the noodles around the pan, which is a sign they are done drying. Cover + remove from heat. This crucial step ensures your pesto will stick to your pasta.

Finally, make the shrimp. Heat a medium saucepan over medium heat. Add the oil. When hot, add the garlic and red chile flakes. Cook for 1-2 minutes until fragrant, then add the shrimp. Cook for about 3-4 minutes, flipping the shrimp halfway through. Shrimp should be opaque and pink when ready.

Pour the pesto over the shirataki noodles and stir well until thoroughly coated. Put into a serving dish, and top with the shrimp. Garnish with fresh basil, and a touch of pink salt, if desired.
Recipe Notes
*Soaking cashews bring out the creamiest of textures. Simply put them in a bowl, cover with water, place a cover on the bowl, and let sit on the counter overnight or for at least 4 hours. (If you let them sit longer than overnight, refrigerate). When ready to use, simply drain. If you forget to soak them, you can still make the pesto, but note that it won't be as creamy.

Did you make this recipe?
Tag @mariamarlowe on instagram and hashtag #healthybymarlowe for a chance to be featured and win awesome prizes each month.
Clearer Skin in Just 3 Days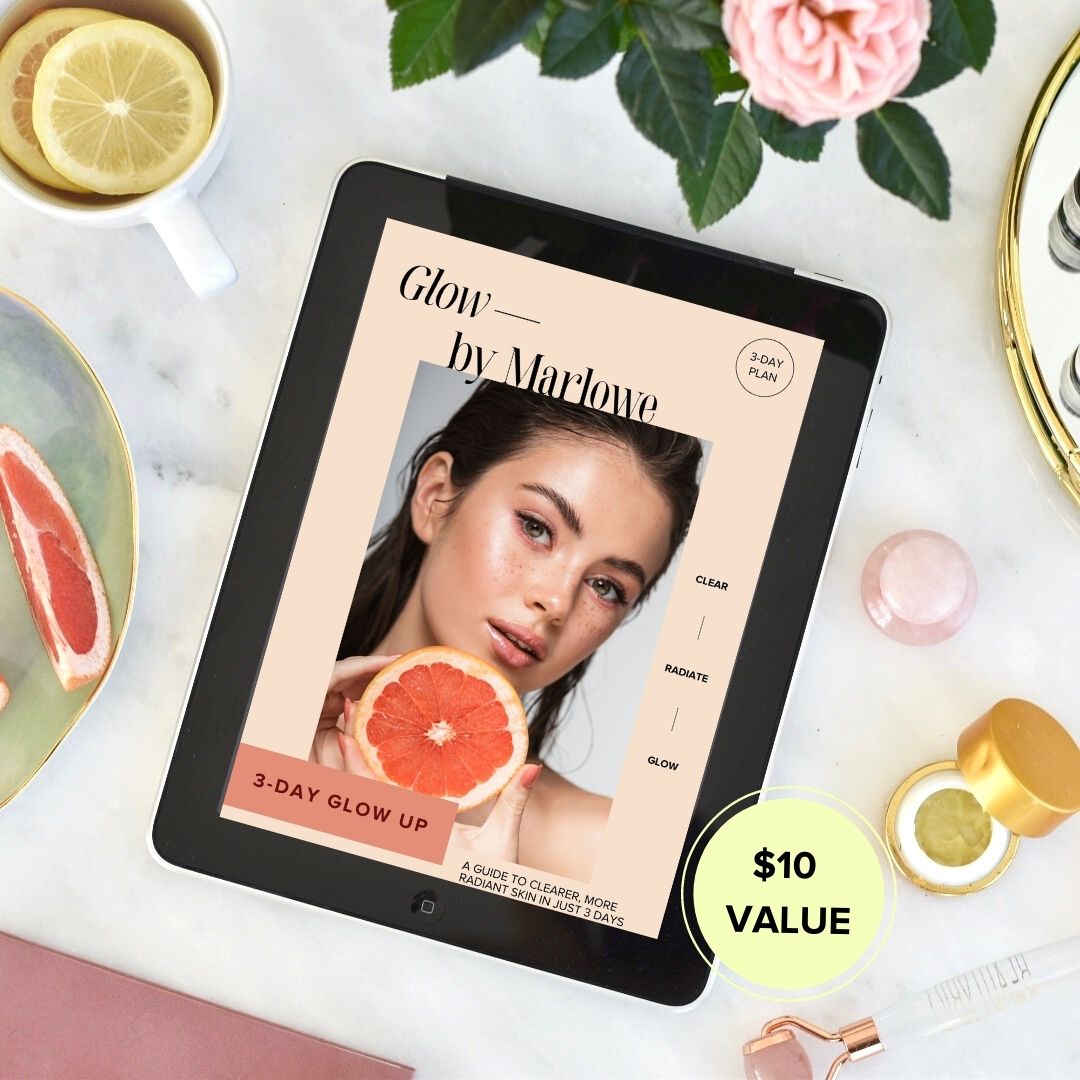 Sign up for my weekly newsletter to get the latest recipes, articles, & podcasts delivered to your inbox.

Plus, you'll receive The Glow Up Guide right away, a delicious 3-day meal plan to reduce redness and bumps, fast.