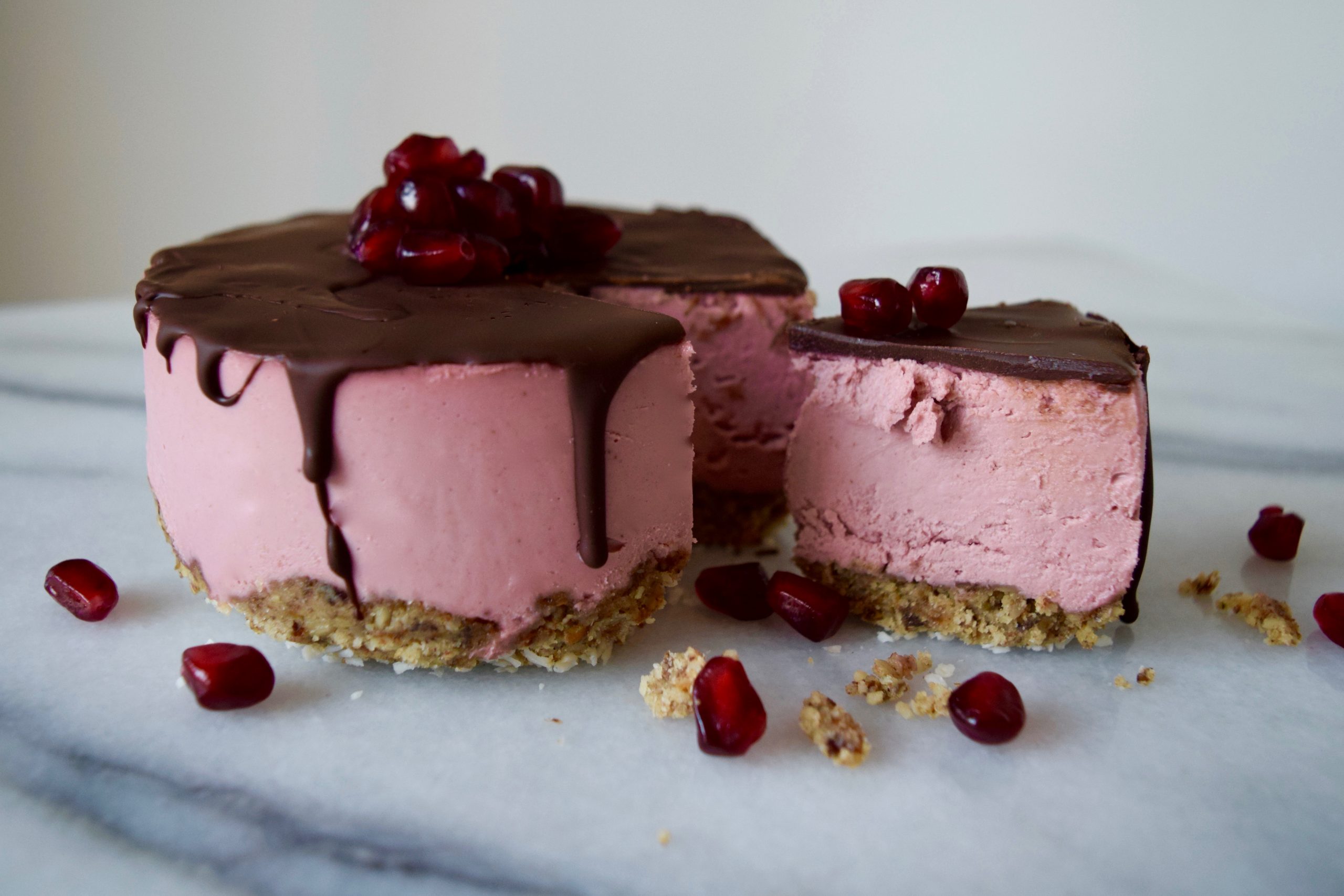 This Valentine's day dessert recipe, a Pomegranate & Dark Chocolate Cream Cake, delivers all the rich, creamy, decadent goodness we desire, without the dairy, gluten, or refined sugar.
A Healthified Dessert Recipe
Healthy food does NOT have to be boring, and you can still get all the flavors and textures you desire with a little creativity in the kitchen. For this Valentine's Day Pomegranate Cream Cake for Two, here are the main components:
Cashews and coconut oil make the cake rich and creamy.
Walnuts and dates make up the gluten-free crust.
My new favorite, go-to natural sweetener, monk fruit sugar, makes it sweet without spiking your blood sugar or adding calories. (Check out my full review of monk fruit sweetener here.)
Beet powder is used to color it naturally, although, that is admittedly hard to find, so you could use other superfood powders (note goji powder will turn it more of an orange, dragon fruit will turn it bright pink…pomegranate powder didn't work and made a muddy color).
Or, you could use a natural food dye, like Color Kitchen, which happens to be made from beet powder. You can easily find it online at Thrive Market or health food stores for about $2-3 bucks. You could of course omit it, your cake would just be colorless, yet equally delicious.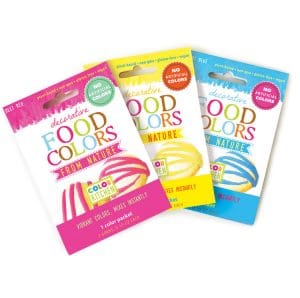 For the chocolate topping, check out my top picks for best dark chocolate brands.
This cake is incredibly easy to whip up, so grab your blender and get going!
Try this Recipe
If you try this recipe, let me know! Leave a comment, rate it (by clicking the stars in the upper right of the recipe card, below), and don't forget to tag a photo @mariamarlowe or #mariamarlowe on Instagram. I'd love to see what you come up with!
Pomegranate Cream Cake
Instructions
First, make the crust: Sprinkle a small amount of coconut flakes in the bottom of a 3-inch springform pan. (This is to help it easily come out of the pan). Blend the walnuts and dates in a bullet blender until a dough like consistency is formed. Press it into the bottom of the pan until completely covered, to make a crust.

Next, make the cream cake: In a high speed blender, combine all the ingredients except the beet powder or natural food coloring, and blend on high for 30-60 seconds. Once a smooth, creamy consistency is formed, you can add in the beet powder or food coloring. You can adjust the red color by adding more or less, so use as much as you want to get your desired color. Pour it into the cake pan. Put in the freezer to set for at least one hour, or overnight.

Make the topping: When the cake is frozen, you can add the topping. In a double boiler, melt about 3/4 of the chocolate bar or 1.5 oz. Meanwhile, remove the cake from the springform pan and put it on a plate. When the chocolate is melted, spoon or pour it onto the top of the cake, using a spatula to spread it across evenly, and push some over the sides to make "drips." This must be done quickly, as the chocolate will quickly harden.

When the chocolate has set, top with pomegranate aarils. If not serving right away, you can keep it in the refrigerator for up to 3 days.

Enjoy.
Recipe Notes
You can omit the beet powder/food coloring, and be left with a colorless, yet equally delicious cake.
The PREP TIME is minimal, about 10-15 minutes, but you do have to let it freeze at least an hour before you can put the topping on.

Did you make this recipe?
Tag @mariamarlowe on instagram and hashtag #healthybymarlowe for a chance to be featured and win awesome prizes each month.
Clearer Skin in Just 3 Days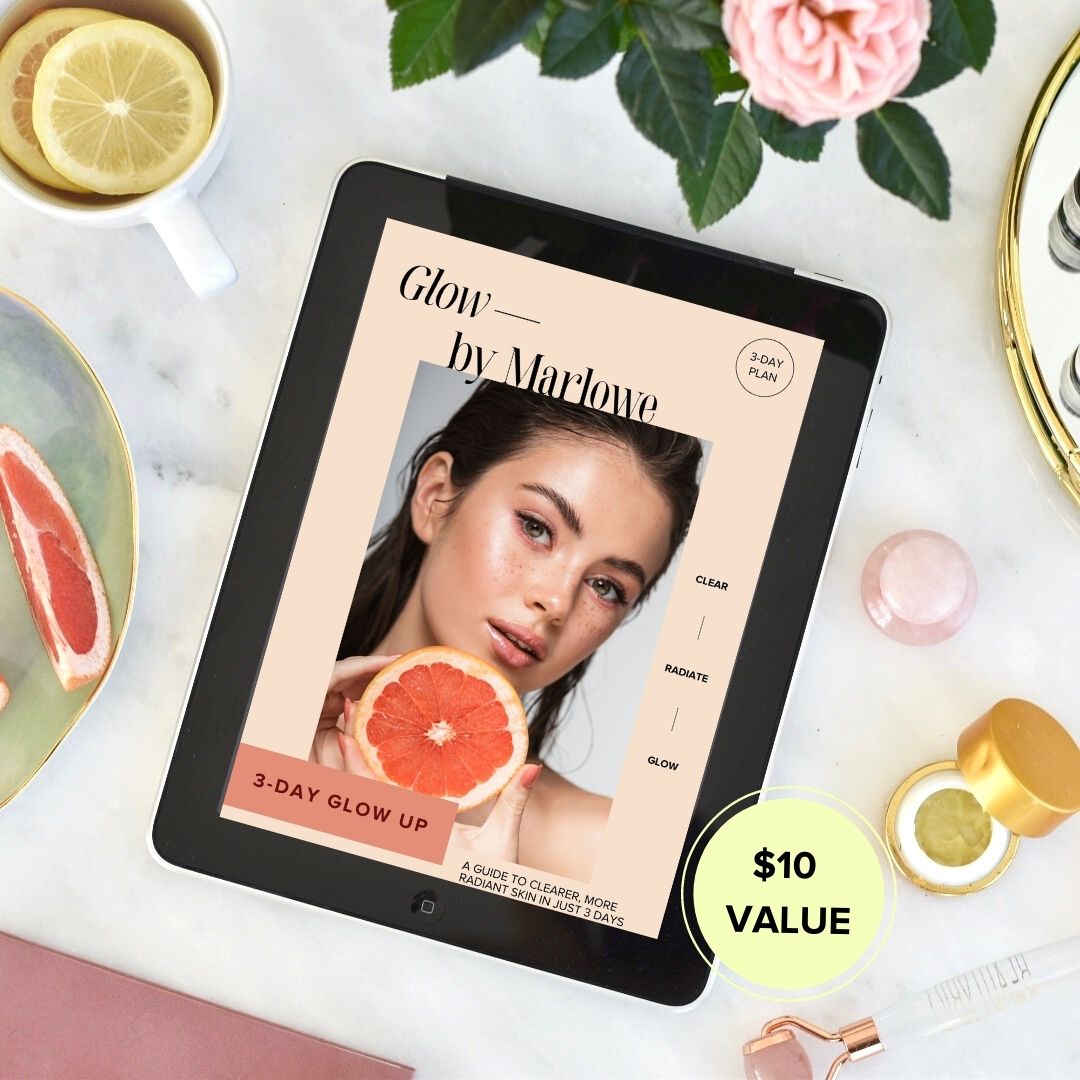 Sign up for my weekly newsletter to get the latest recipes, articles, & podcasts delivered to your inbox.

Plus, you'll receive The Glow Up Guide right away, a delicious 3-day meal plan to reduce redness and bumps, fast.