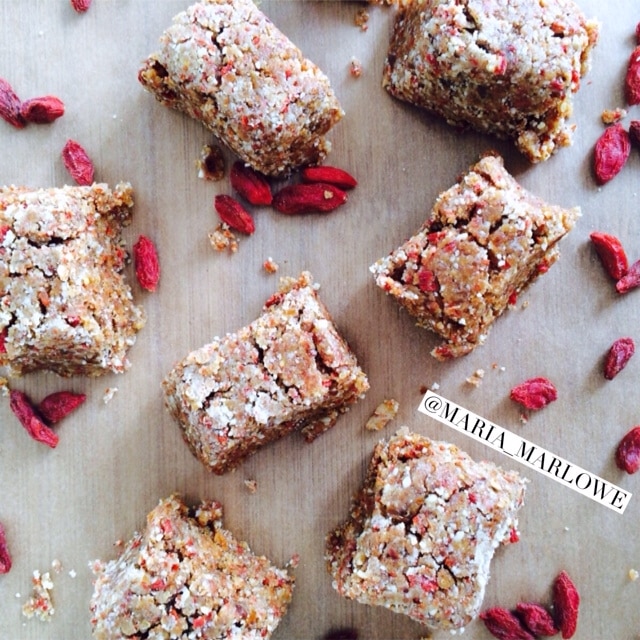 These taste just as scrumptious as the look.
Whip up a batch of these babies and keep them near your desk, and you'll never have to go on a 3 pm cookie run again.
In addition to healthfully satisfying your sweet tooth, they make a great pre-or post-workout snack, for those days when you're rushing from the office to the gym and need something light but that will squash the hunger pangs.
Just a square or two is hearty enough to leave you feeling satisfied. With 3 simple ingredients and a prep time under 5 minutes, there's no reason not to keep a batch of these on hand.
In a blender, blend almonds into a flour. (A bullet blender works well here).

Add the dates and goji berries, and then blend again until a smooth paste forms. Press it into a small rectangular tupperware, and then flip upside down onto plate. (Use a butter knife to release the sides if you need to, but it should pop pretty easily out of the tupperware.

Finally, cut the almond date block into squares or bars. Enjoy!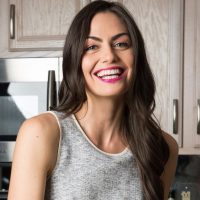 Maria Marlowe
Maria Marlowe is a holistic nutrition and wellness coach who uses real food to help her clients improve their health, weight, and skin. She offers a 28-day healthy eating meal plan that teaches you how to batch cook, as well as one to clear up acne. Her most popular program is EatSLIM, a 10-week online group glass that guides participants to develop healthy eating habits that stick – and lose weight, boost their metabolism, improve their digestion, and quit sugar.
She writes healthy and delicious plant-based recipes for her popular blog. She is also the author of the #1 New Release on Amazon, The Real Food Grocery Guide, the most practical guide to selecting the healthiest foods, without going broke, which has been praised by Dr. Oz and InStyle magazines. You can find her on instagram @mariamarlowe.