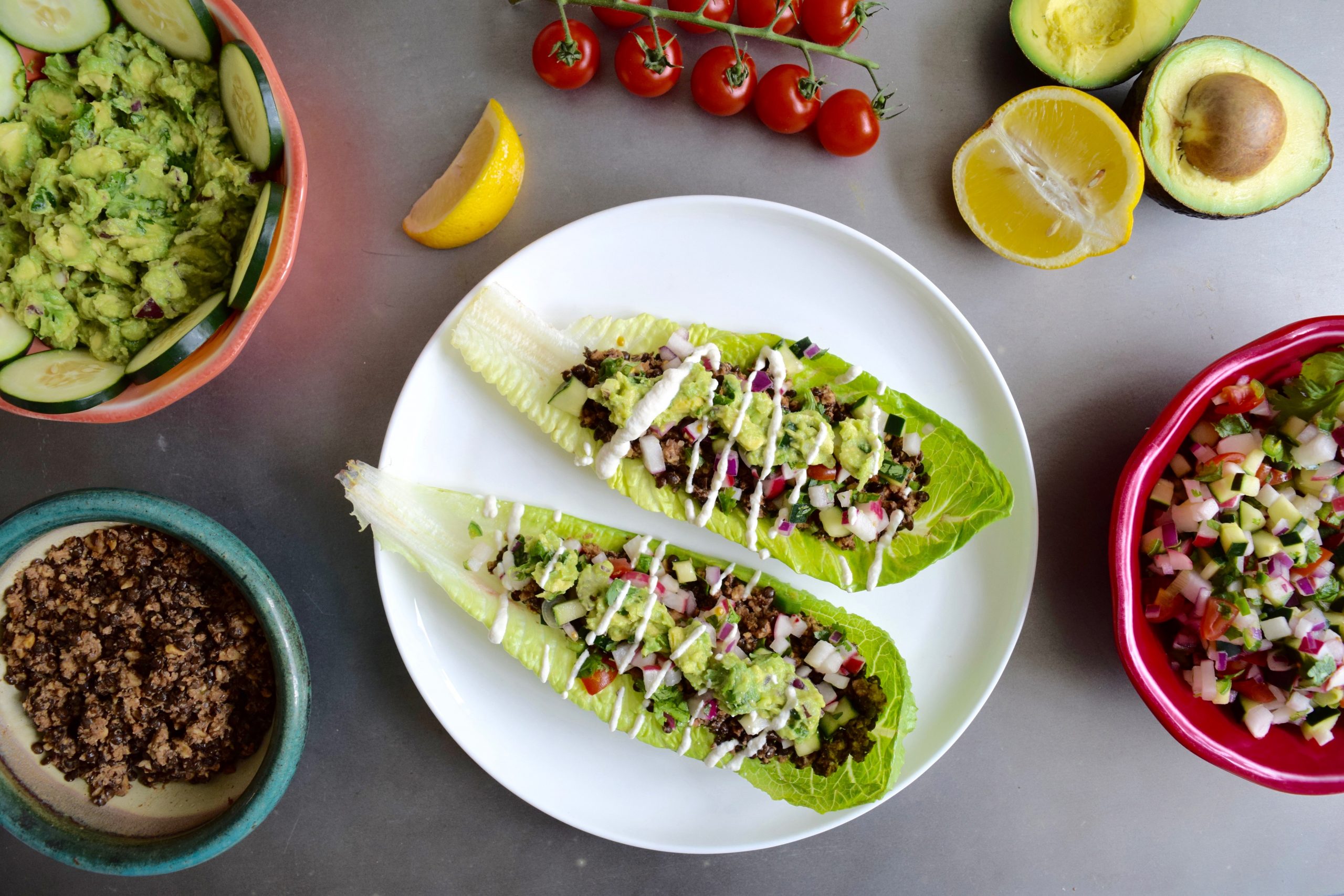 Who says you can't get full off of plants? These fully loaded slimming veggie tacos will fill you up, without filling you out!
Fully loaded and slimming seems like an oxymoron, but when you're talking plant food, it totally makes sense. The high fiber, water, and protein content makes these hard to overeat. The ingredients are nutrient dense and contribute to satiety and maintaining an ideal weight. With just two of these fully loaded slimming tacos, you'll feel satisfied, but not overly full.
They definitely take a little longer to put together than most of my recipes, but if you make them on the weekend, you'll have leftovers for a few days, and it's definitely worth it.
Fully Loaded Slimming Taco
This is probably the healthiest taco recipe. The "shell" is a romaine lettuce leaf, and it's topped with a delicious walnut lentil taco "meat", along with my slimming radish salsa, guacamole, and cashew sour cream.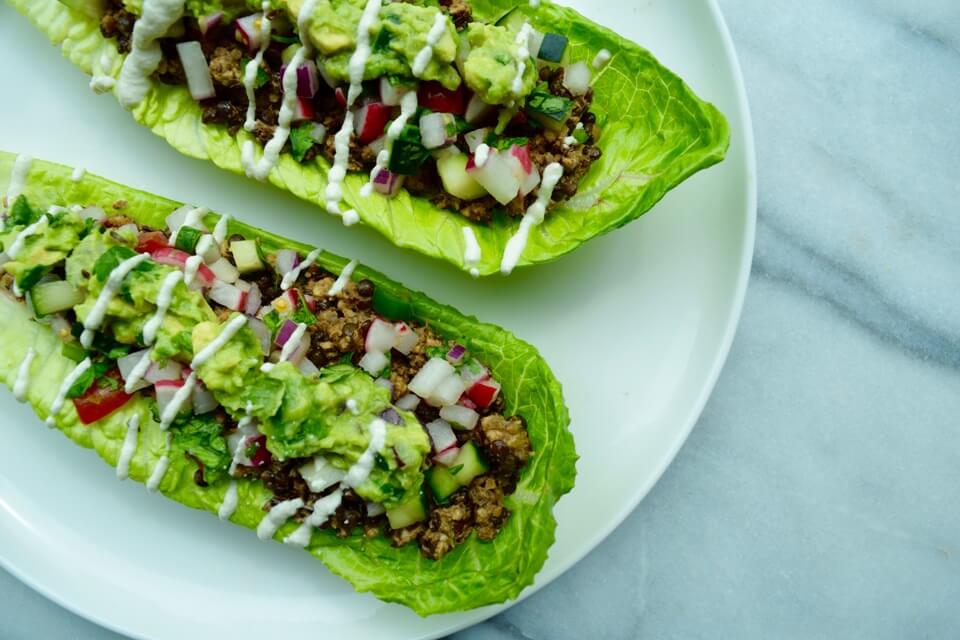 Fully Loaded Slimming Tacos
Ingredients
Instructions
Cook the lentils: In a saucepan, combine lentils with 4 cups water, bring to a boil, reduce heat to medium, and simmer for 20 to 25 minutes until tender (cook time will vary depending on the type of lentils you use—see package). Drain excess water.

Toast the walnuts: Preheat oven to 300°F. Add walnuts onto a rimmed baking sheet and toast for 10 to 13 minutes, watching closely, until lightly golden and fragrant. Set aside to cool for a few minutes.

Make the salsa: Combine all salsa ingredients in a bowl, and toss well.

Make the guacamole: Combine all guacamole ingredients in a bowl and mash with a fork until well combined. Leave a little chunky.

Make the Cashew Sour Cream: Drain the cashews. Then, place all cashew sour cream ingredients in a bullet blender, and blend on high until smooth. You can add additional water to thin it out as desired.

Prepare the taco meat: Add cooked lentils and all the toasted walnuts into a large bowl, along with the spices salt, and oil. Mix and mash with a fork, until thoroughly combined, add in a tablespoon of water at a time until combined.

Assemble: Add a large lettuce leaf onto a plate, top with taco meat, radish salsa, guacamole, and a drizzle of cashew sour cream.
Recipe Notes
*Can use green lentils as well. Cook according to package instructions.
Leftovers can be stored in the fridge. Store each element (taco meat, salsa, guac, etc.) in separate sealed containers. For guac, be sure to press all air out of container when storing, or if eating over 4 days, halve the guac recipe, and make it fresh for meals 3 + 4.

Did you make this recipe?
Tag @mariamarlowe on instagram and hashtag #healthybymarlowe for a chance to be featured and win awesome prizes each month.
Clearer Skin in Just 3 Days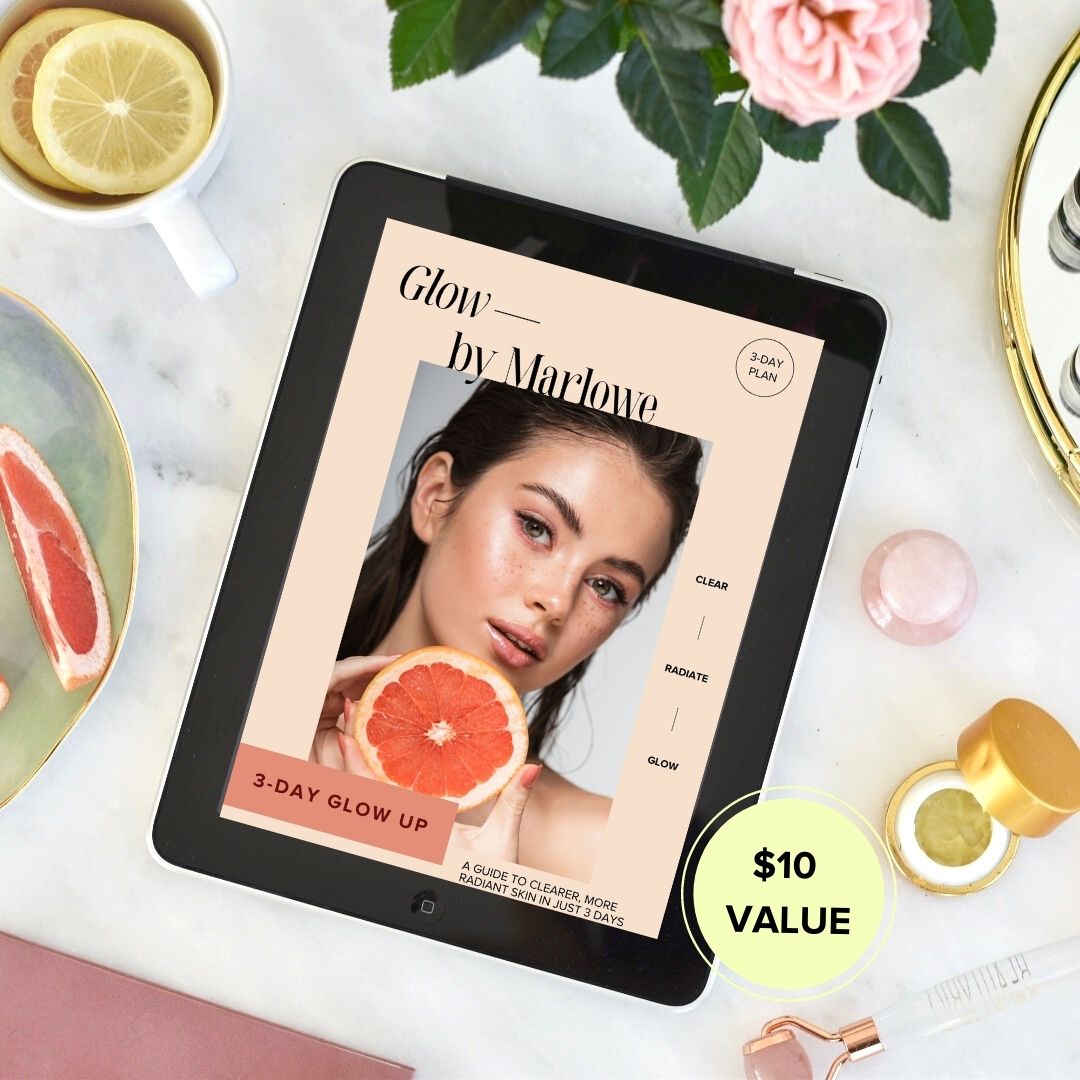 Sign up for my weekly newsletter to get the latest recipes, articles, & podcasts delivered to your inbox.

Plus, you'll receive The Glow Up Guide right away, a delicious 3-day meal plan to reduce redness and bumps, fast.