Anything wrapped in rice paper is automatically better in my book. These cute and colorful Veggie Spring Rolls with Almond Butter Dipping sauce are divine.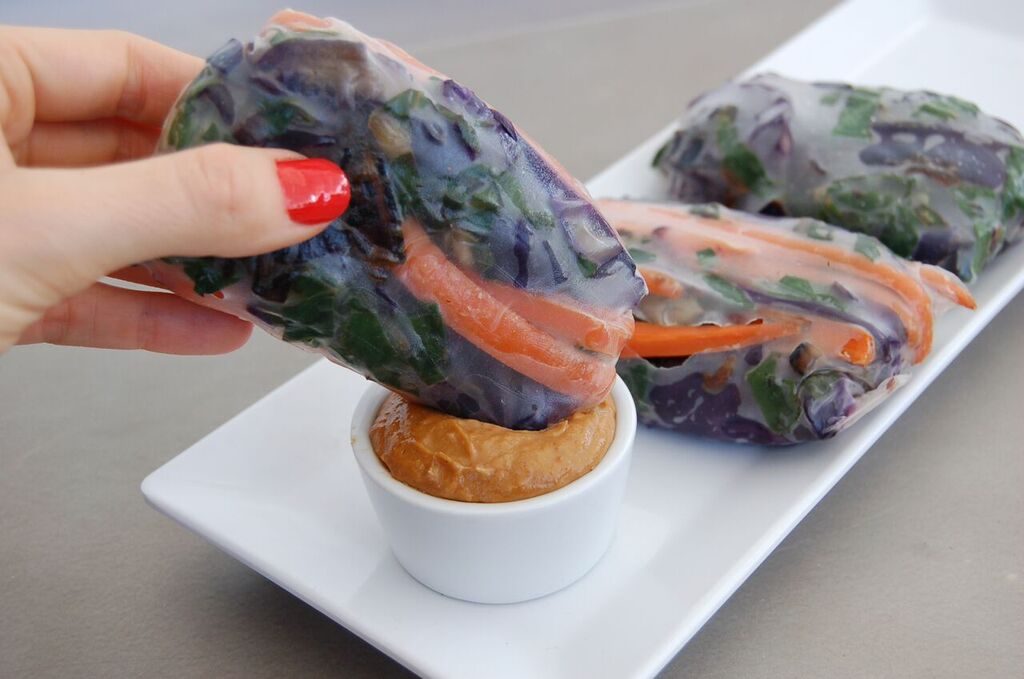 Rice paper adds a unique (and delicious) chewy texture, and allows you to turn just about anything into a handheld roll or wrap.
These can be made ahead, and even though the filling is cooked, you can eat the final product cold, making it great to bring to work for lunch.
Why Handheld Food is Better
I particularly love handheld foods for lunch, because it forces you to close the computer and eat in peace, instead of shoveling forkfuls of food into your mouth in between emails. (Yes, I'm guilty of this, too…however after a recent kombucha spill on my laptop, resulting in the death of my beloved macbook air, I have vowed to separate meal time and work time, indefinitely!)
If you eat when you're stressed or distracted, it's infinitely easier to overeat, so it's important to be mindful and pay attention, and even savor your meals.
This recipe makes it easy to do just that, as the flavors of the savory filling mixed with the creaminess of the almond butter sauce really make you want to slow down and enjoy each bite!
If you try this veggie spring roll recipe, leave a comment below and let me know how you like them, or snap a photo and tag me on instagram @Maria_Marlowe.
xo
Maria
Dipping Sauce (makes approximately 4 servings)
First, sauté the cabbage: Heat a tablespoon of olive oil in a pan over medium low heat. Add ginger, cook for about 30 seconds. Then add the purple cabbage, 2 tablespoons of water and a pinch of salt. Cook for about 7 minutes.

Next, add the greens on top and give it a good stir. Cook an additional 2-3 minutes, until everything is wilted and tender. Cabbage should still be slightly crisp, yet tender. (If your pan is small, you can do this in batches).

Meanwhile, steam the carrots. Place them in a steamer basket over a pot of boiling water and cover, allowing to steam for 4 minutes, or until tender.

Remove from heat, transfer to the bowl with the cabbage and greens. Mix everything well. Allow to cool before assembling the pockets.

While the vegetables are cooling, make the dipping sauce: Place all ingredients in a bullet blender and blend until smooth. (If using a standard size blender, continue to add water 1 tablespoon at a time to help it blend.)

To make the pockets, place a baking sheet in your sink and fill with hot water. Quickly submerge one rice paper sheet for about 3-5 seconds, until it becomes soft and translucent, but it should still hold its shape.

Transfer the rice paper to a cutting board and lay it out flat. Spoon about 1 cup of veggies into the center. Roll the bottom edge up over the veggies, then the two sides, and finally the top. Repeat with the other two sheets.

Refrigerate until ready to serve, and eat cold.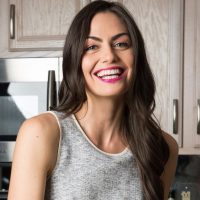 Maria Marlowe
Maria Marlowe is a holistic nutrition and wellness coach who uses real food to help her clients improve their health, weight, and skin. She offers a 28-day healthy eating meal plan that teaches you how to batch cook, as well as one to clear up acne. Her most popular program is EatSLIM, a 10-week online group glass that guides participants to develop healthy eating habits that stick – and lose weight, boost their metabolism, improve their digestion, and quit sugar.
She writes healthy and delicious plant-based recipes for her popular blog. She is also the author of the #1 New Release on Amazon, The Real Food Grocery Guide, the most practical guide to selecting the healthiest foods, without going broke, which has been praised by Dr. Oz and InStyle magazines. You can find her on instagram @mariamarlowe.