These hearty and satisfying vegan cabbage rolls are full of flavor and packed with protein, thanks to a hearty blend of well-seasoned lentils, walnuts, and sundried tomatoes. Because the filling is pre-cooked, if you're short on time you could eat them raw like a burrito. But for a more traditional, warming cabbage roll dish, pop them in the oven for just 30 minutes.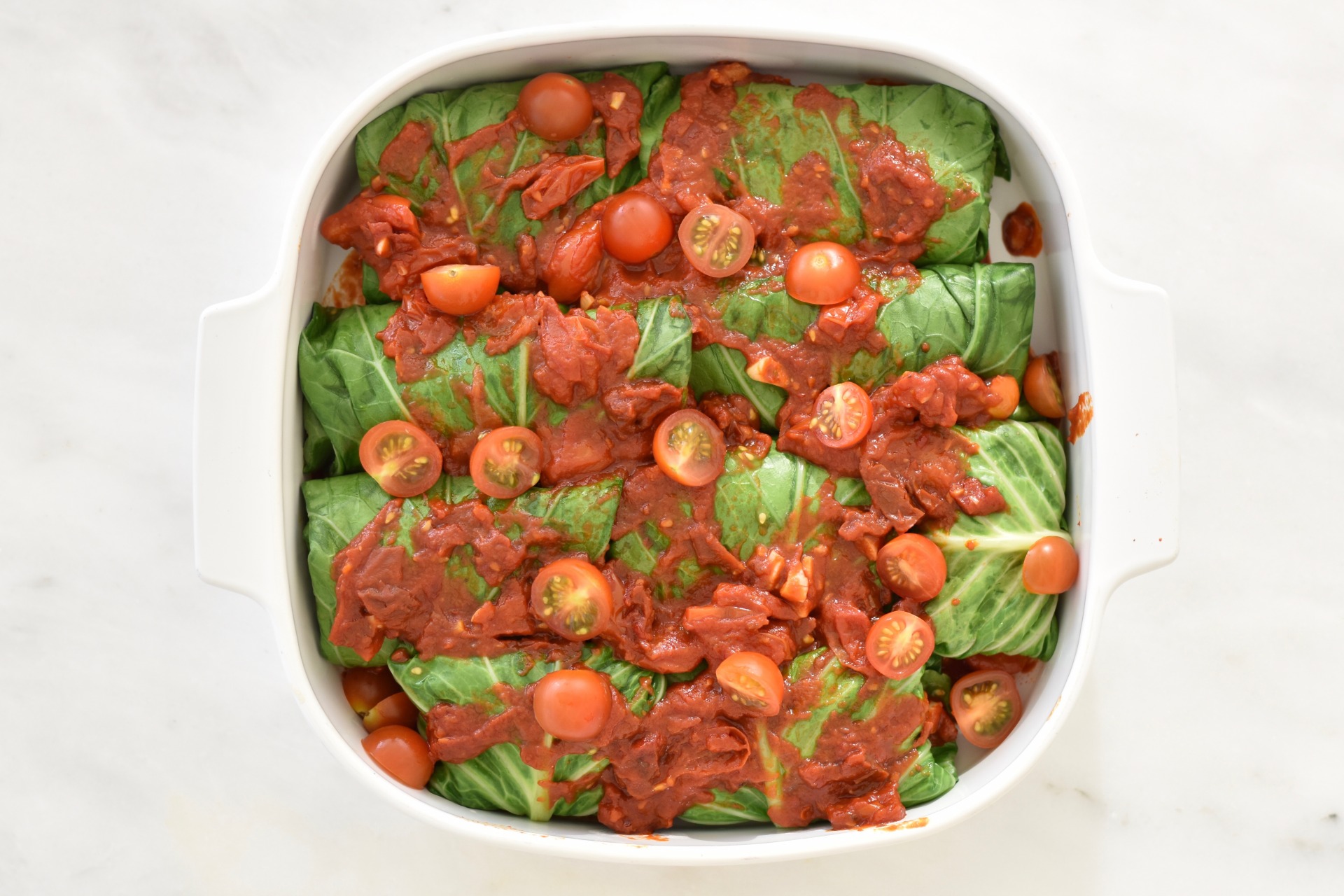 Sundried Tomato & Lentil Stuffed Cabbage Rolls
Ingredients
Wraps
1

green cabbage

medium sized, bottom stem sliced off, leaves separated
Instructions
Preheat the oven to 400F. Fill a shallow pan with 1 to 2 inches of water and bring to a boil while you prepare the filling.

To make the filling: First, cook the lentils. Combine 1/2 cup lentils with 1 1/2 cups water, bring to a boil, and cook covered until all the water is absorbed, about 20 minutes.

Add the walnuts to a food processor or blender and pulse into small chunks (about the size of rice). Don't over process. Transfer walnuts to a medium mixing bowl, add the cooked lentils, and set aside.

Put the sundried tomatoes in the food processor or blender, along with the garlic, spices, and water or tomato sauce. Blend until a smooth paste is formed.

Add sundried tomato mixture to the walnut/lentil mixture and stir well to combine. Taste and add salt or spices if needed.

Prepare cabbage leaves: One by one, place each cabbage leaf stem side up on a cutting board. Run your knife along the stem (parallel to cutting board) to shave off the stem so it's thin and pliable (this helps ease the rolling process). At this point, the water should be boiling. Reduce the heat to a simmer and one at a time, dip each leaf in the water until just softened, about 10-15 seconds, or until bright green and pliable. Set aside.

Prepare the baking dish: Spread half of the tomato sauce on the bottom of a medium baking dish with a lid.

Make the cabbage rolls: Lay one leaf out flat on a cutting board, and top with 2 tablespoons of filling for smaller leaves, and about 3 tablespoons for larger leaves. Roll the side closest to you over the fillings. Then fold the left and right sides in, and roll. Place the roll seam-side down into the baking dish. Repeat with the remaining cabbage rolls. Once they are all in the dish, top with the remaining sauce, sundried tomatoes, and tomatoes. Top with lid.

Bake in the preheated oven for 30 minutes, until thoroughly warmed through.
Recipe Notes
*If using sundried tomatoes that come dry (not in oil), soak in water for 5 minutes while you prepare everything else, and use the soak water as the water in the recipe.

Did you make this recipe?
Tag @mariamarlowe on instagram and hashtag #healthybymarlowe for a chance to be featured and win awesome prizes each month.