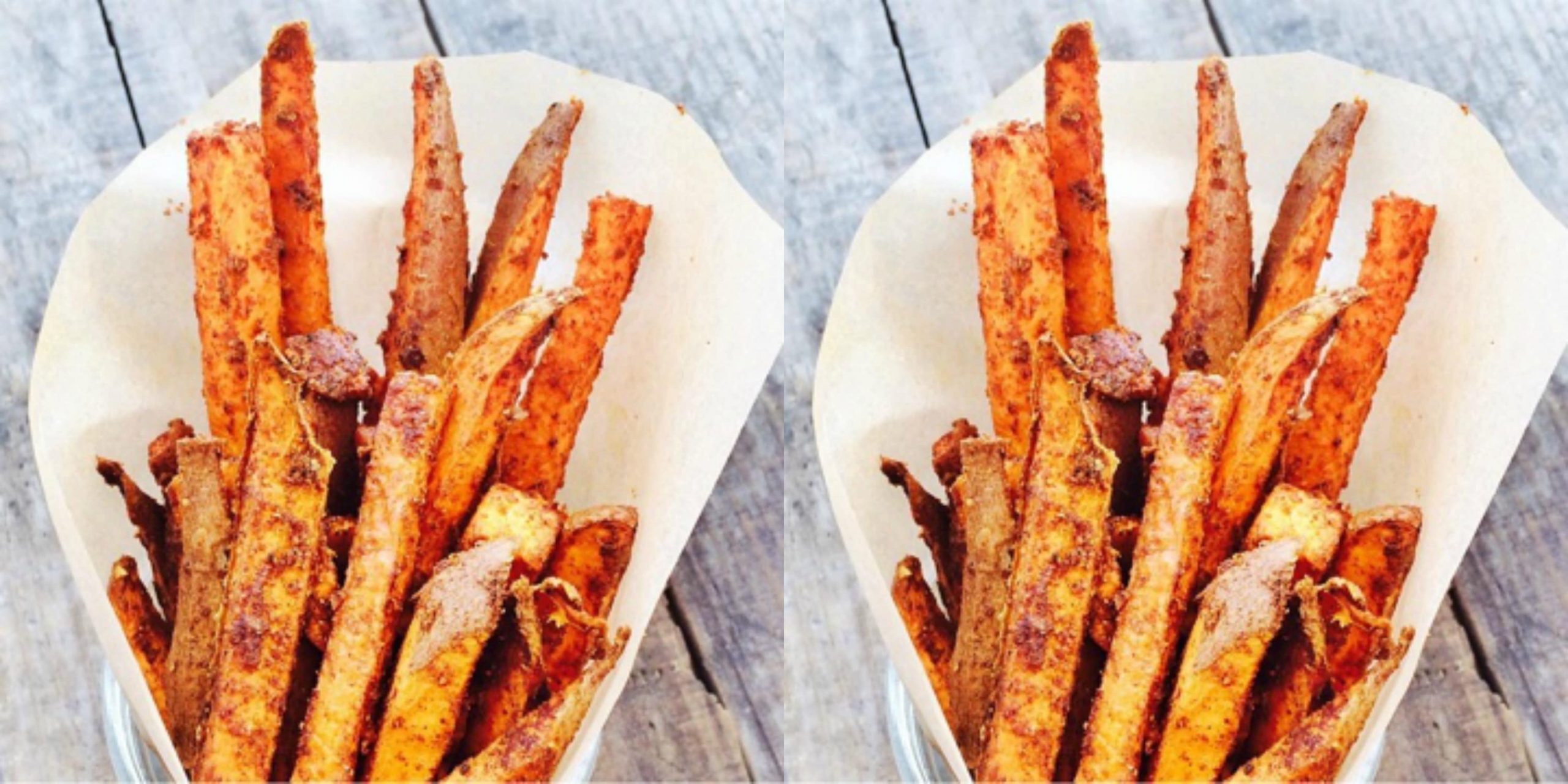 These spicy sweet potato fries are the best (and easiest!) way to get in some Vitamin A.
If you've been following me on instagram, you know I'm slightly sweet potato obsessed. Whether they're spiralized into spaghetti, blended into a creamy mac & cheese, or cubed and sauteed into hash browns (or as I like to call them, mash browns), I can't seem to get enough sweet potato.  Out of all the ways to make sweet potatoes, this sweet potato fries recipe is probably the simplest: chop, season, and roast.
The spice mix is what makes these special, and dare I even say, turns them into a Superfood Sweet Potato Fry recipe. While you can use whatever blend of spices you like, I chose these for not just taste, but benefits, too, since I like to treat my spice cabinet as my medicine cabinet.
Remember, every morsel of food you put in your mouth has an effect on your health…so why not eat more of the good stuff?
Spices in particular are incredibly powerful and healing, (not to mention they have the ability to talk a dish from blah to BAM with just a sprinkle or two).
In doing research for my forthcoming Grocery Store Guide, I was blown away by many of them. For a complete breakdown of the benefits of over 100 spices and vegetables, be sure to order the Grocery Guide through that link.
Benefits
Cinnamon: Balances blood sugar
Cayenne: Boost metabolism
Turmeric: Reduce inflammation and prevents many types of cancer
Cumin: Provides iron for energy
Paprika: Provides iron as well as Vitamins A and C, for clear skin
Sweet Potato: High in Vitamin A for clear skin
#HealthyHack:
Save time in the kitchen and get MORE nutrients by choosing organic sweet potatoes and leaving the skin on. The skin contains the highest concentration of antioxidants. If you can't find organic, always peel to avoid about 70% of of the toxic residue (the other 30% seeps inside 🙁 ).
The Key To Crisp Baked Sweet Potato Fries
There are a few tricks to getting crisp baked sweet potato fries. Although they won't be as crisp as if you fried them, they will be firm enough so that you feel like you're eating a fry, not a limp baked potato stick.
1. Cut sweet potato into shoestring pieces, not wedges. The thicker you cut them, the softer they will be in the middle.
2. Use enough oil to coat the fries and roast in a hot enough oven (I like 450).
3. Score your sweet potatoes with a fork. This increases surface are, so there is more space to crisp up. See exactly how to do this below.
How to Make Sweet Potato Fries
(Full, printable recipe follows below)
1. Slice (Chop off the ends, then in half into two 3-inch long pieces. Stand each half up, then slice into 1/2 inch slices.)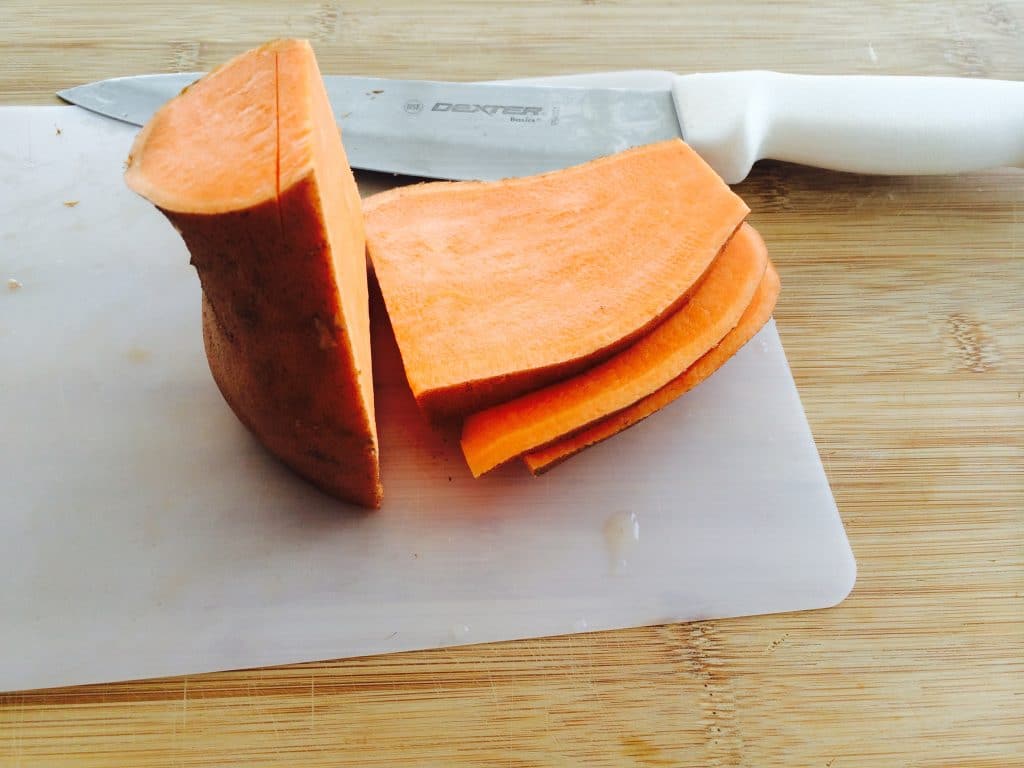 2. Score (Use a fork to create striations and more surface area in the sweet potato for a crispier fry.)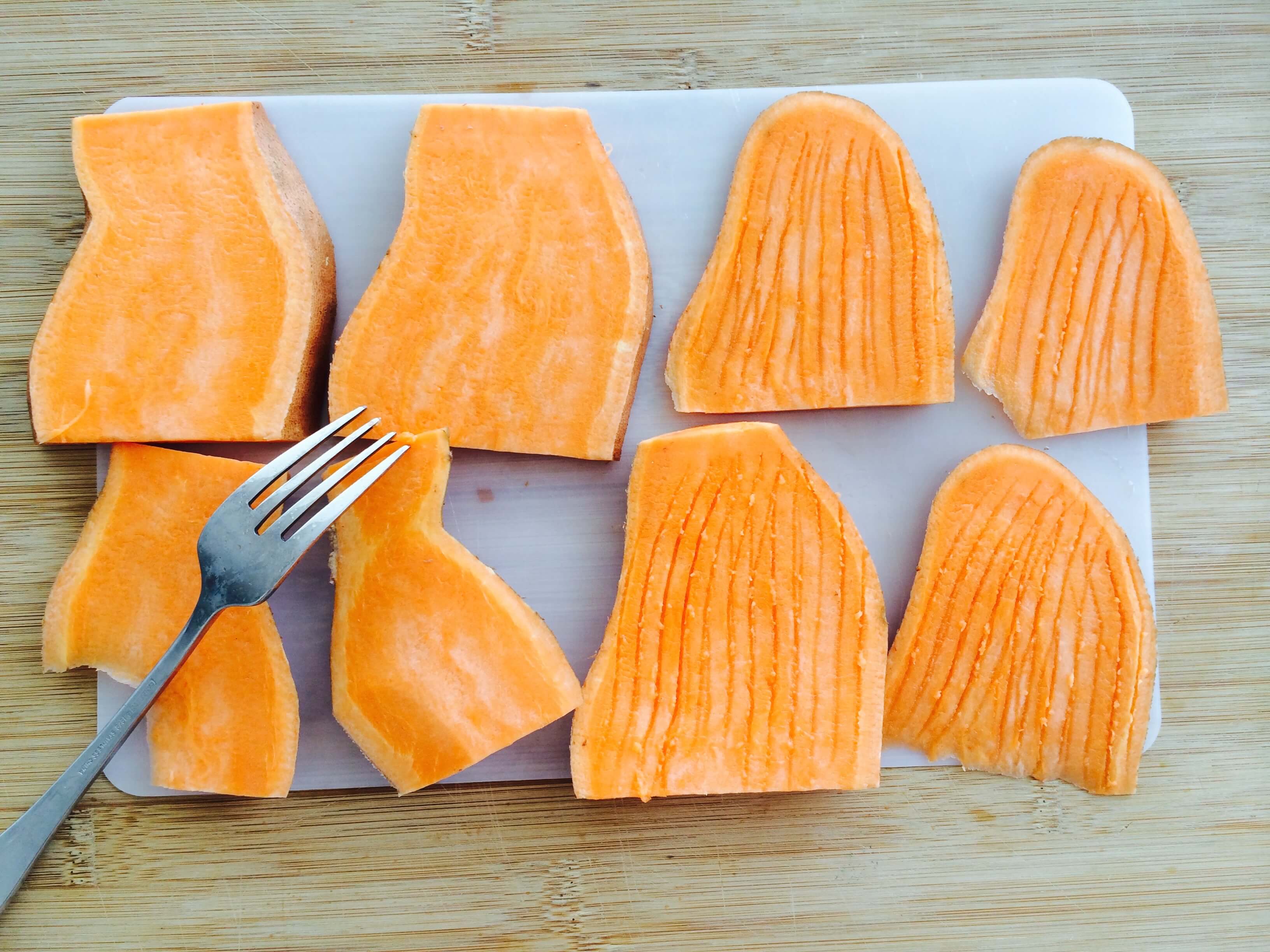 3. Chop (Chop into shoestring thin pieces.)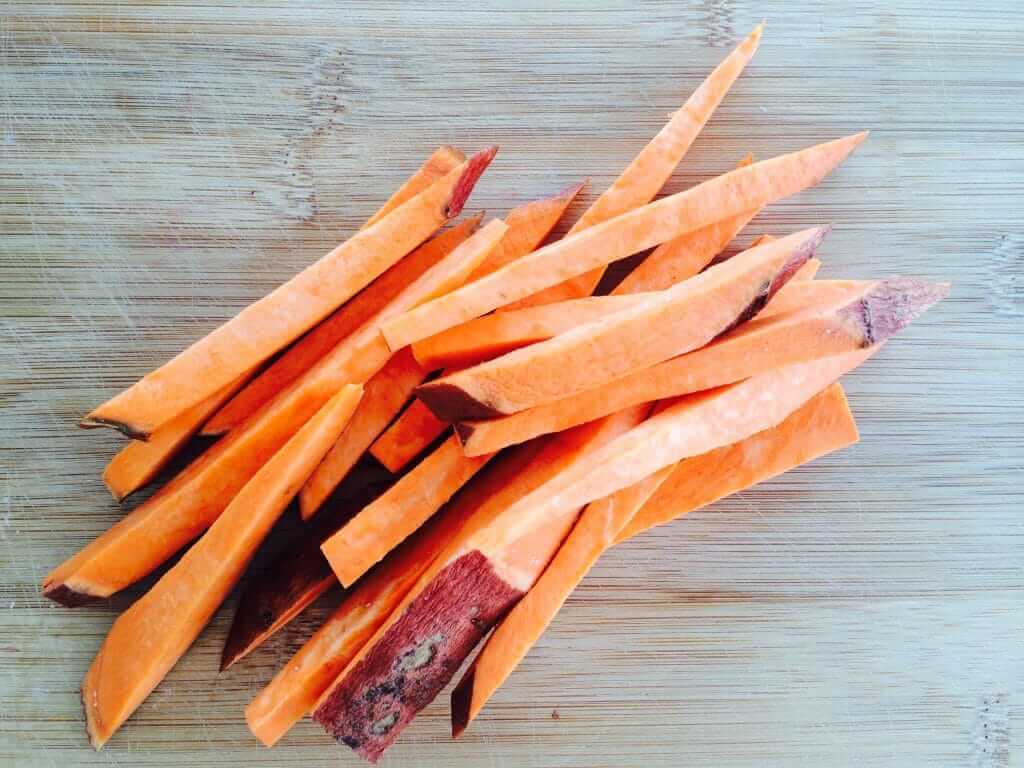 4. Season (Use approximately 2 tbs. oil per pound of sweet potato and copious amounts of spices of your choice.)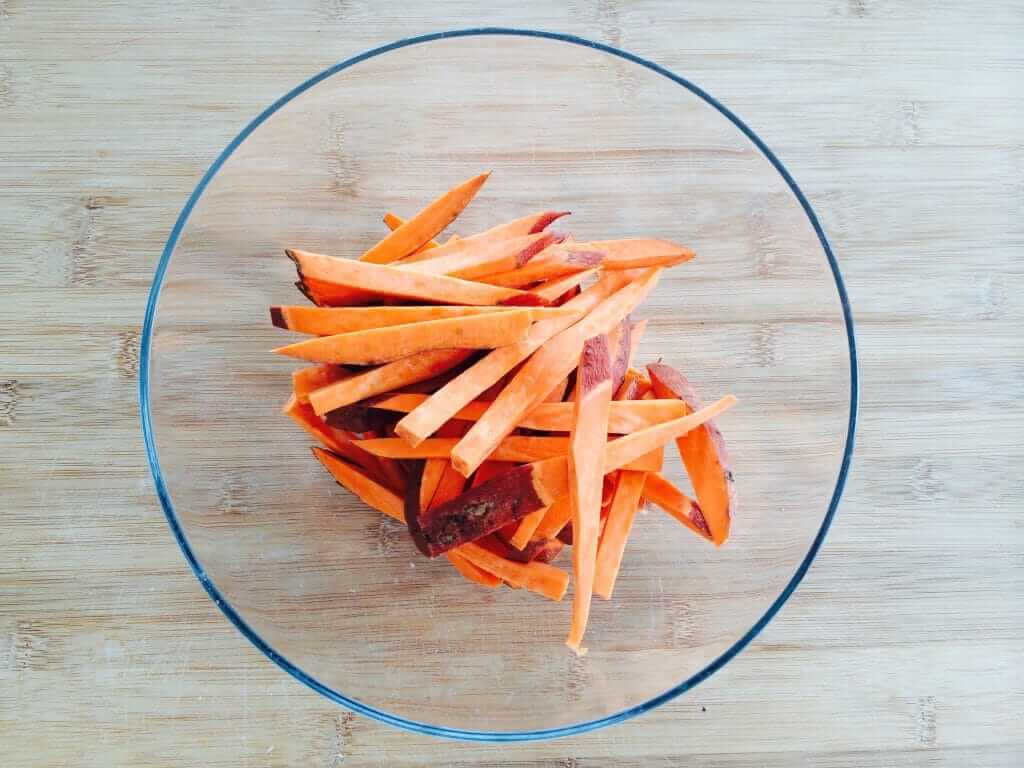 5. Bake (appx. 20 minutes at 450, flipping halfway through.)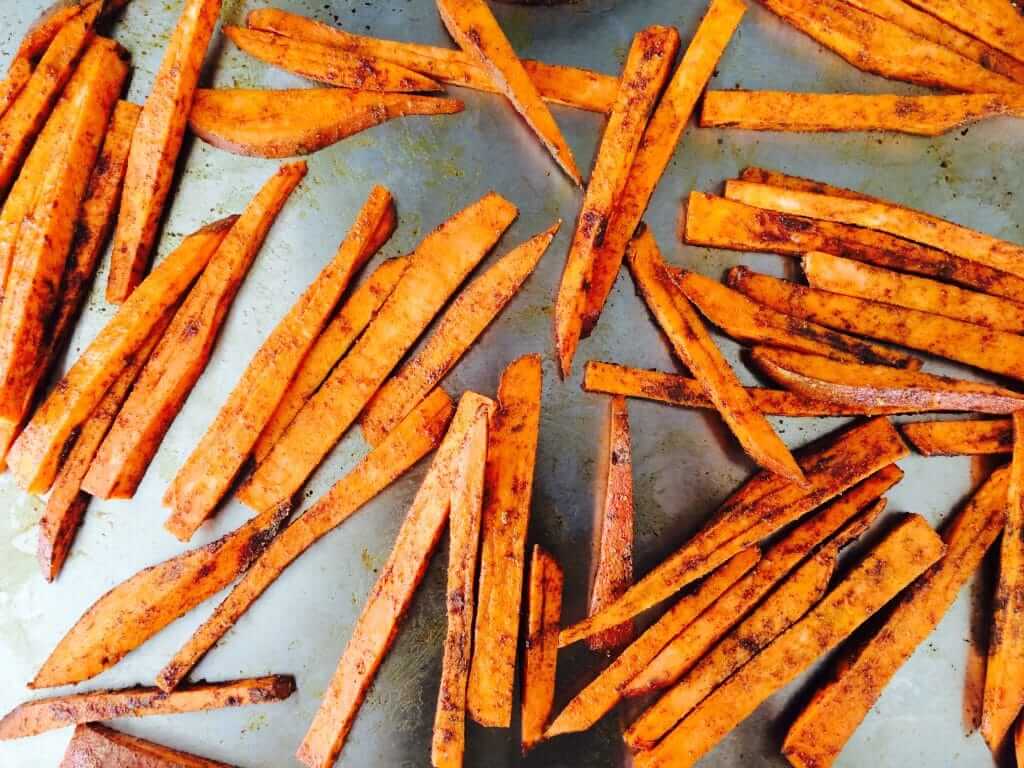 6. Voila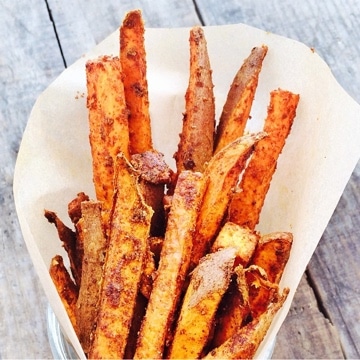 Spicy Sweet Potato Fries
Instructions
Preheat oven to 450.

If using an organic sweet potato, simply chop into shoestring pieces. If non-organic, peel and then chop. The easiest way is to chop off the ends, cut in half into two approximately 3-inch long pieces, then stand up the two halves, and slice into 1/2 inch thick pieces.

Next, lay down the slices, use a fork to score them, then chop into 1/2 inch thick shoestring pieces.

Put the chopped sweet potato into a large mixing bowl. Coat thoroughly with oil, so that all pieces are coated (use a little bit more oil if necessary). Next, add all spices and mix again, until all pieces are thoroughly coated.

Arrange sweet potato in a single layer on a baking sheet, giving them as much space in between as possible to ensure best crisping.

Roast for 20-25 minutes, turning the fries halfway in between to ensure even cooking.

When desired crispness is reached, remove, let cool slightly, and serve.
Recipe Notes
*Choose long thin sweet potatoes, they will be easier to chop into uniform shoestring pieces. A large sweet potato is about 1 pound.

Did you make this recipe?
Tag @mariamarlowe on instagram and hashtag #healthybymarlowe for a chance to be featured and win awesome prizes each month.
Clearer Skin in Just 3 Days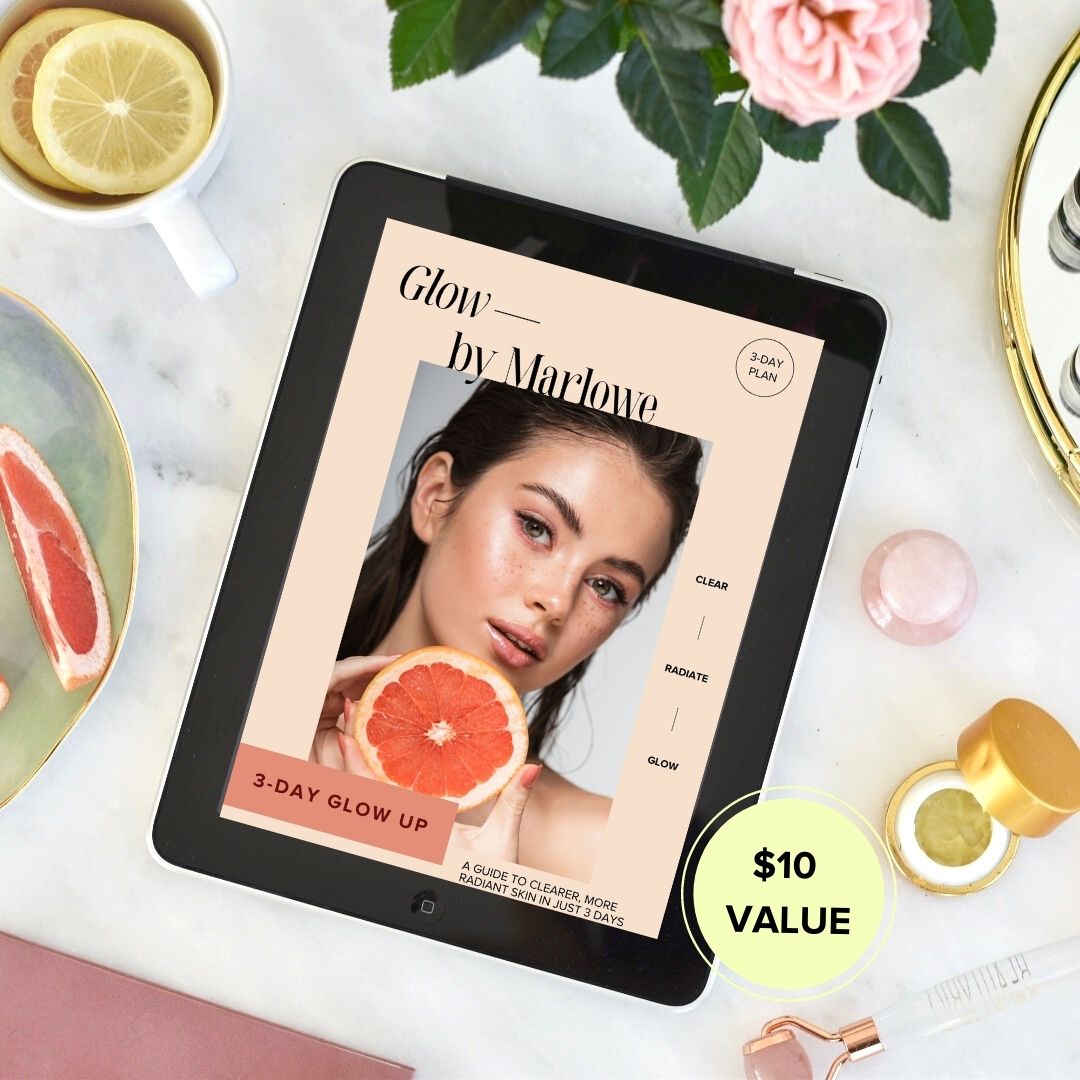 Sign up for my weekly newsletter to get the latest recipes, articles, & podcasts delivered to your inbox.

Plus, you'll receive The Glow Up Guide right away, a delicious 3-day meal plan to reduce redness and bumps, fast.