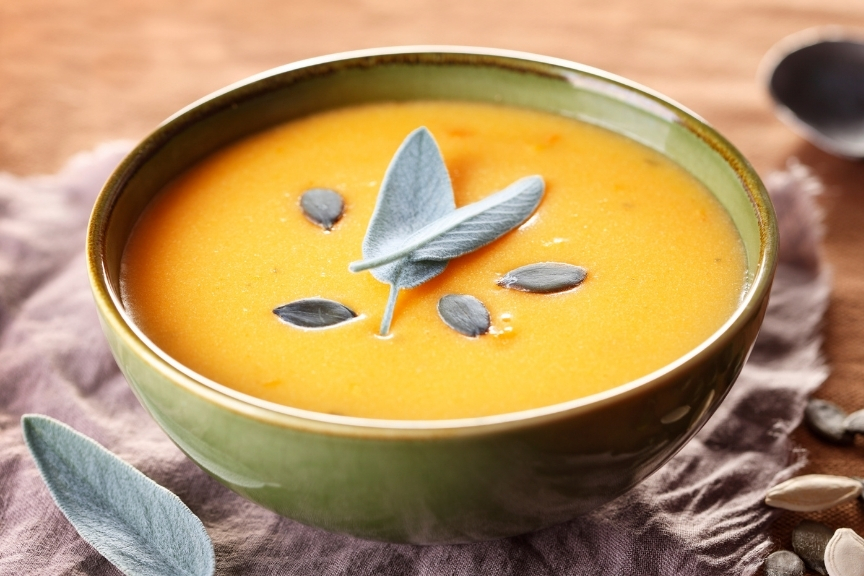 A bowl of this Savory Pumpkin Sage Soup hits the spot on a cold fall evening. Packed with fiber and nutrients, this is one recipe that will help you feel good and look good, too.
Pumpkin Benefits
Fresh pumpkin, while easy to come by and easy to cook, is often neglected in American kitchens. Growing up – I was taught pumpkins were for carving and painting – and that pumpkin pie was made with the dark orange mush that came in the can.
But, in other parts of the world, notably Australia, parts of Asia, and parts of Europe – pumpkin is used as a vegetable (although it's technically a fruit) in a variety of savory dishes.
Clear Skin and Clear Eyesight: Like other bright orange foods, pumpkin is an excellent source of Vitamin A, a nutrient needed for clear, acne-free skin and sharp eyesight. One cup of boiled, mashed pumpkin delivers 245% of your recommended daily Vitamin A intake.
Aids Digestion & Weight-Loss: Fiber is a crucial component of a healthy diet, yet a whopping 97% of the American population isn't eating enough. (1) Fiber aids in digestion and elimination and it helps you feel satisfied and full longer. Pumpkin adds fiber – about 3 grams per cup – on a minimal amount of calories – 50 for that same cup. It has an extremely low glycemic load – a 3 – which means it will not spike your blood sugar, and instead, will help keep it stable. If you're trying to lose weight, consider adding more fresh pumpkin to your diet.
Is Pumpkin Sweet?
When most people think of pumpkin, what they're probably actually thinking of is pumpkin pie spice – the fragrant blend of cinnamon, nutmeg, clove, ginger, and often allspice and mace, too- that impart a distinct flavor that everyone now associates with pumpkin.
But the truth is…pumpkin isn't actually sweet. It's the spices – and inevitable the added sweetener – that turn pumpkin-flavored foods and beverages sweet. (As cinnamon and allspice add a sweet flavor, even though they don't contain sugar).
Pumpkin tastes like butternut squash – but less sweet. It also has a different – and even better – texture in my opinion. It gets soft yet is still firm and dense – it mashes and purees well, but can be eaten roasted or stir-fried, as well.
In this recipe, it is not sweet at all. Instead, this savory pumpkin sage soup packs some serious deep, rich umami flavor.
Sage Benefits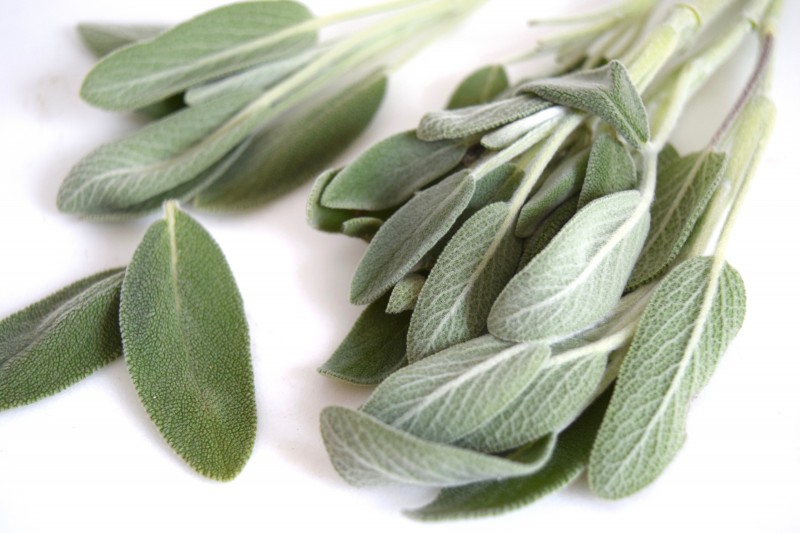 Sage is another delightful addition to the kitchen, that is also often underused. Besides adding distinct flavor, it may also:
Improve Memory: Sage has been noted for its ability to "quicken the brain" and improve memory for centuries.  Modern science is starting to prove it. A placebo-controlled, double-blind, crossover study found that when participants were given sage they significantly improved their ability to recall words in a memory test. (2) In Chinese Medicine, it has been used for centuries to help restore lost or declining mental functions such as in Alzheimer's disease. (3)
Boost Mood: In addition to improving memory and cognition, sage has also been found to elevate the mood. One study showed that with an increased dosage of sage, alertness, calmness, and contentedness increased. (3)
You can simply steep the leaves in hot water to make a sage tea (dubbed "Thinker's Tea") or slice them and use them in cooking, like in this savory pumpkin sage soup.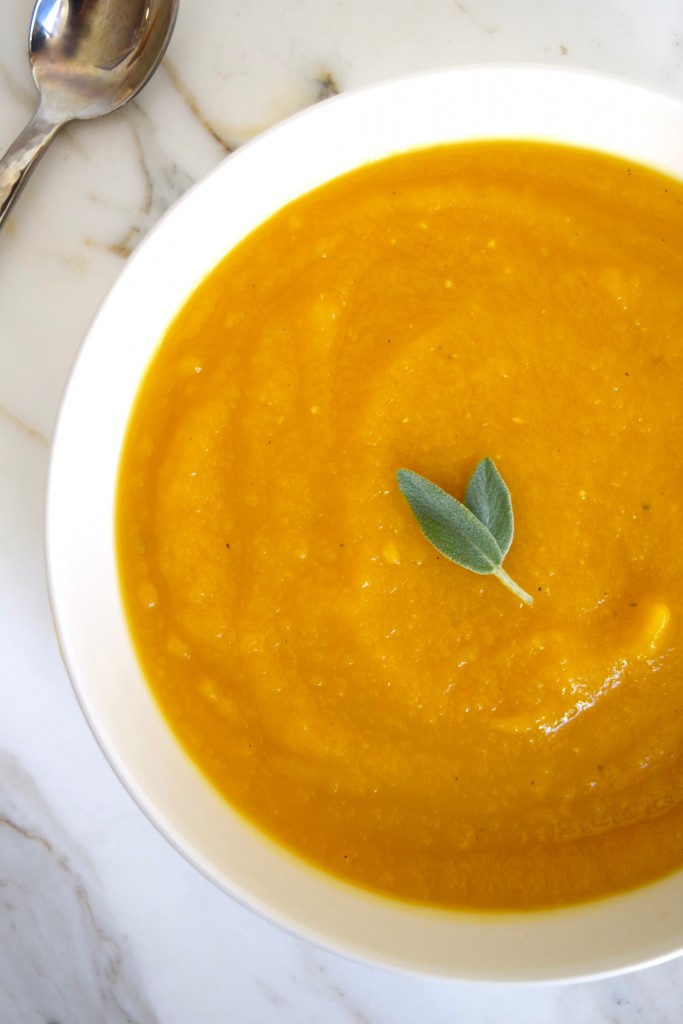 Try This Pumpkin Sage Soup Recipe
Note: if you make the pumpkin soup from scratch using fresh pumpkin, this recipe will take about an hour. I do recommend this route, as it tastes infinitely fresher! If you're short on time, canned is an option, or consider steaming the pumpkin ahead of time. This will reduce it to about 40 minutes.
If you try this recipe, let me know! Leave a comment, rate it (by clicking the stars in the upper right of the recipe card, below). And don't forget to tag a photo @mariamarlowe or #healthybymarlowe on Instagram or Facebook. I'd love to see what you come up with!
Savory Pumpkin Sage Soup
Instructions
If using fresh pumpkin: Fill a pot with a steamer basket with a couple inches of water and set it on the stovetop over high heat to boil. Cut off and discard the top stem of the pumpkin, slice in half, scoop out and discard (or reserve for another use) the seeds. Slice each pumpkin half into 1-inch thick pieces. Arrange pumpkin pieces flat in steamer basket, place in the pot over the boiling water, reduce to medium heat, cover, and cook for 15 minutes, or until pumpkin is easily pierced with a fork. (You may have to do in two batches, depending on size of pumpkin and steamer basket). Allow to cool, then peel and discard skin. Chop into chunks. Measure out 30 oz. If you have excess, reserve the rest for another use.

Make the soup: In a large pot over medium heat, add the olive oil. When hot, add the onion and cook for 5 minutes, stirring occasionally. Next, add the garlic, ginger, and sage, allowing to cook for another 5 minutes, stirring occasionally.

Then, add in the chopped pumpkin or pumpkin puree and vegetable broth. Stir well. Bring to a boil, then reduce heat to medium low, cover, and simmer for 20 minutes.

Stir in lemon juice, salt and pepper, then use an immersion blender, or in batches, a regular blender, to puree into a soup. Add additional salt and pepper as needed, to taste.
Recipe Notes
*Sugar pumpkin is not sweet, but that is what the "cooking" version is called in stores.
**Pour soup into pint size mason jars for an easy, single serve grab and go lunch. Pair it with a salad or rainbow bowl.
Soup should last up to 7 days.

Did you make this recipe?
Tag @mariamarlowe on instagram and hashtag #healthybymarlowe for a chance to be featured and win awesome prizes each month.
Clearer Skin in Just 3 Days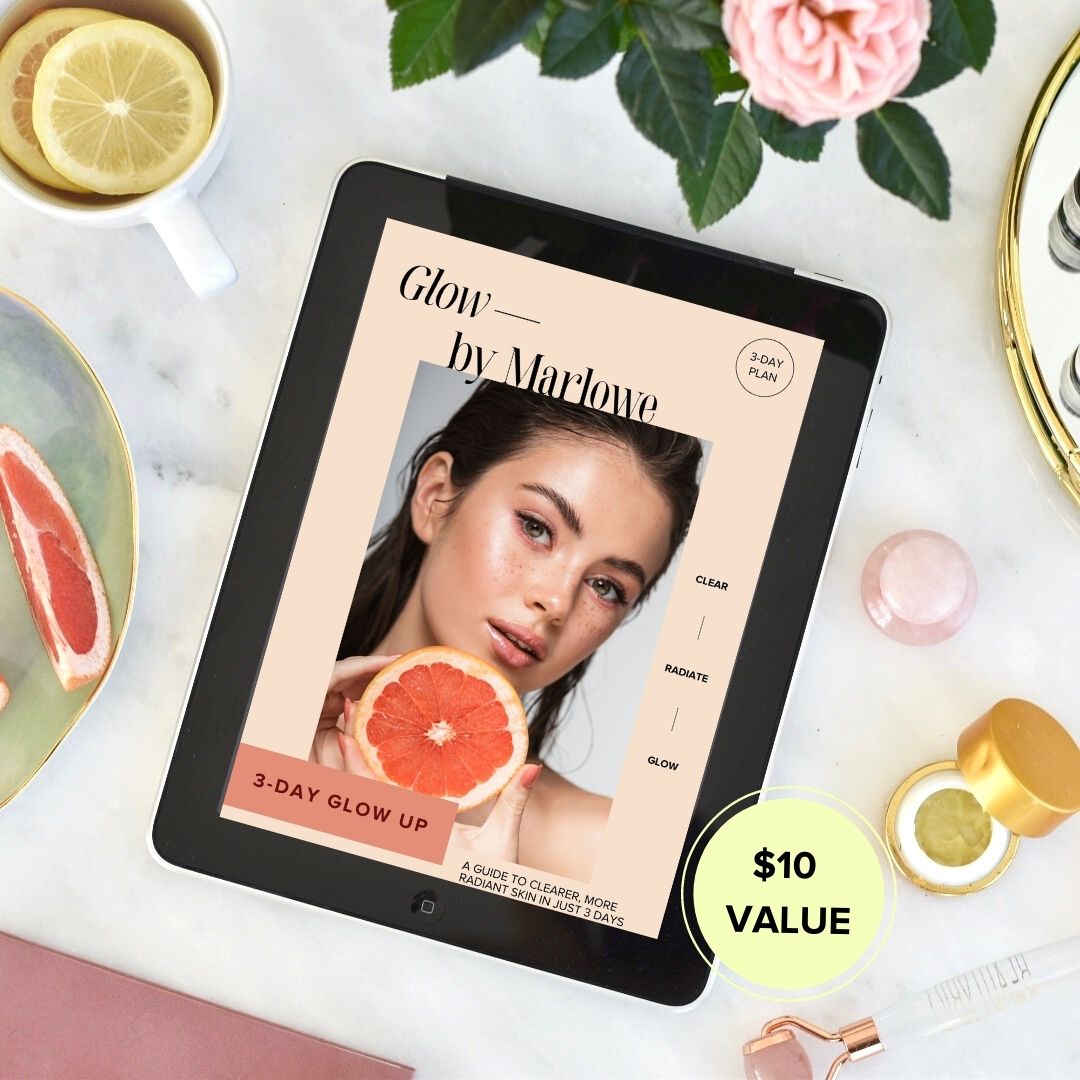 Sign up for my weekly newsletter to get the latest recipes, articles, & podcasts delivered to your inbox.

Plus, you'll receive The Glow Up Guide right away, a delicious 3-day meal plan to reduce redness and bumps, fast.