This delicious creamy pea and dill soup has a few secret ingredients that up the nutrition without detracting from the taste.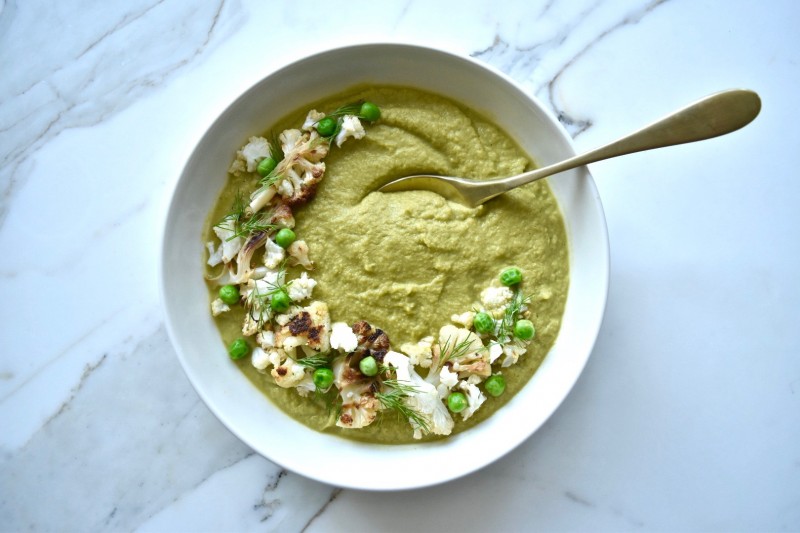 You won't detect they're in there, but hiding inside is roasted cauliflower and dark leafy greens. Enjoy a bowl of this fresh soup on its own as an entree, pair a cup with a protein-packed salad (since both are filling, I'd halve the salad), or serve it as an appetizer before this umami chickpea burger.
Preheat oven to 425 degrees Fahrenheit.

On 2 parchment lined baking sheets, toss cauliflower with about a tablespoon of oil and a pink of salt. Bake for 30 minutes.

Meanwhile, in a large stockpot over medium heat, add 2 tablespoons of oil and the onion and garlic. Cook for 7 minutes, stirring occasionally, before adding the peas and broth. Cook another 7 minutes.

When the cauliflower is done, carefully add it to a blender, along with the onion/pea/broth mixture, dill, baby spinach, lemon, and salt. You may have to do this in two batches, in which case, put half of everything into the blender at a time. When blending hot liquids, always remove the center piece and hold a dish towel over the opening when blending, to let steam out. Blend until smooth.

Pour into bowls, or if batch cooking for the week, four pint-sized mason jars. If not eating right away, cover and refrigerate.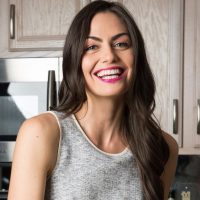 Maria Marlowe
Maria Marlowe is a holistic nutrition and wellness coach who uses real food to help her clients improve their health, weight, and skin. She offers a 28-day healthy eating meal plan that teaches you how to batch cook, as well as one to clear up acne. Her most popular program is EatSLIM, a 10-week online group glass that guides participants to develop healthy eating habits that stick – and lose weight, boost their metabolism, improve their digestion, and quit sugar.
She writes healthy and delicious plant-based recipes for her popular blog. She is also the author of the #1 New Release on Amazon, The Real Food Grocery Guide, the most practical guide to selecting the healthiest foods, without going broke, which has been praised by Dr. Oz and InStyle magazines. You can find her on instagram @mariamarlowe.