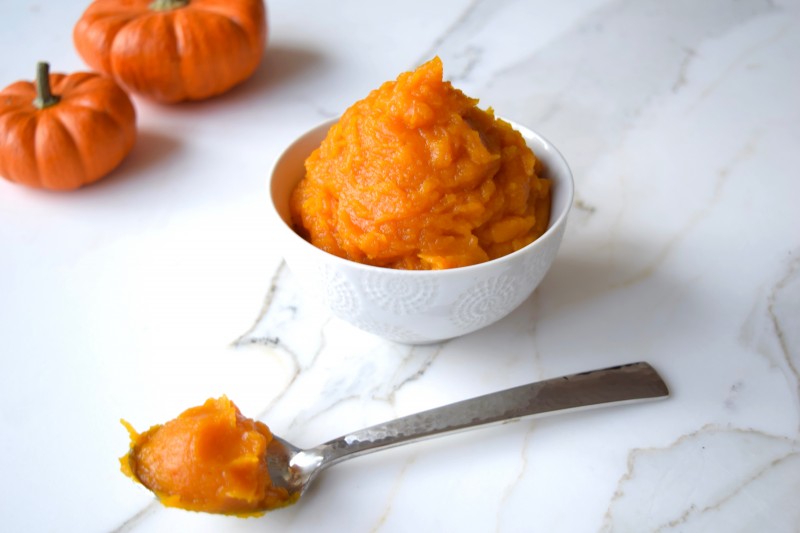 Skip the canned pumpkin with this easy pumpkin puree recipe, ready in less than 30 minutes. (Video demo below!)
Why not Canned Pumpkin?
Canned foods are convenient, but fresh is best. If you plan to use pumpkin in your baking or cooking this fall, consider making your own fresh pumpkin puree. It's simple and is much more vibrant and flavorful versus canned, plus, you don't have to worry about the concerns associated with canned foods.
Tip from The Real Food Grocery Guide: 
Most canned foods contain BPA, an endocrine disruptor associated with hypertension and other health problems. But, don't pick up the BPA-free can so fast! The chemicals commonly used as an alternative in BPA-free cans, typically BPS and BPC, have been found to have a similar (or worse) effect as BPA. So, you may want to avoid canned food when you can!
How to Use Pumpkin Puree
This pumpkin puree recipe is super versatile. You can use it anywhere you would use canned pumpkin, such as pies, sauces, and desserts. But it doesn't stop there. I've found even more uses for it, like adding it to curry, turning it into pasta sauce, and sneaking it into breakfast bowls. (All coming soon to the site). One old fave is this pumpkin cheesecake, and I love sautéing pumpkin puree simply with onion and chillis then stuffing it in an organic sprouted corn tortilla for a vegan quesadilla (inspired by my fave LA restaurant, Gracias Madre.
Pumpkin Benefits
One cup of mashed, cooked pumpkin provides well over 200% of your daily recommended Vitamin A intake. Vitamin A is a beauty food that helps combat acne and supports healthy vision.
It also provides 11% of your recommended daily value of fiber.
Pumpkin Puree can be used as a replacement for butter or oil in baking recipes.
Sugar Pie Pumpkins
Be sure to purchase sugar pie pumpkins, not the huge decorative ones. Sugarpie pumpkins aren't really very sweet, but they are intended for and better suited to cooking.
How to Make Pumpkin Puree from Scratch
Check out this 60-second video tutorial. I'll be doing many more recipe tutorials and videos on my Youtube channel, so if you enjoy this video, be sure to give it a thumbs up and subscribe to my channel for more!
Pumpkin Puree
Instructions
Fill a large steamer pot with 1-2 inches of water and bring to a boil.

Meanwhile, slice off the stem of the pumpkin, then cut in half and scoop out the seeds. Discard or use the seeds in another recipe.

Slice the pumpkin into evenly sized pieces, about 1 cm wide. Place in the steamer basket on top of the pot, cover, and let steam for 20 minutes. Depending on the size of your pumpkin and steamer basket, you may have to steam in two batches.

When the timer is up, the pumpkin flesh should be evenly colored and easily pierced with a fork. Wait for it to cool slightly so it's easy to handle, then peel or slice off the skin and discard.

Place the pumpkin flesh in a bullet blender and blend until puree is formed, which should only take a few seconds.

If not using right away, store in an airtight container in the fridge. Should last up to 5 days.

Did you make this recipe?
Tag @mariamarlowe on instagram and hashtag #healthybymarlowe for a chance to be featured and win awesome prizes each month.
Clearer Skin in Just 3 Days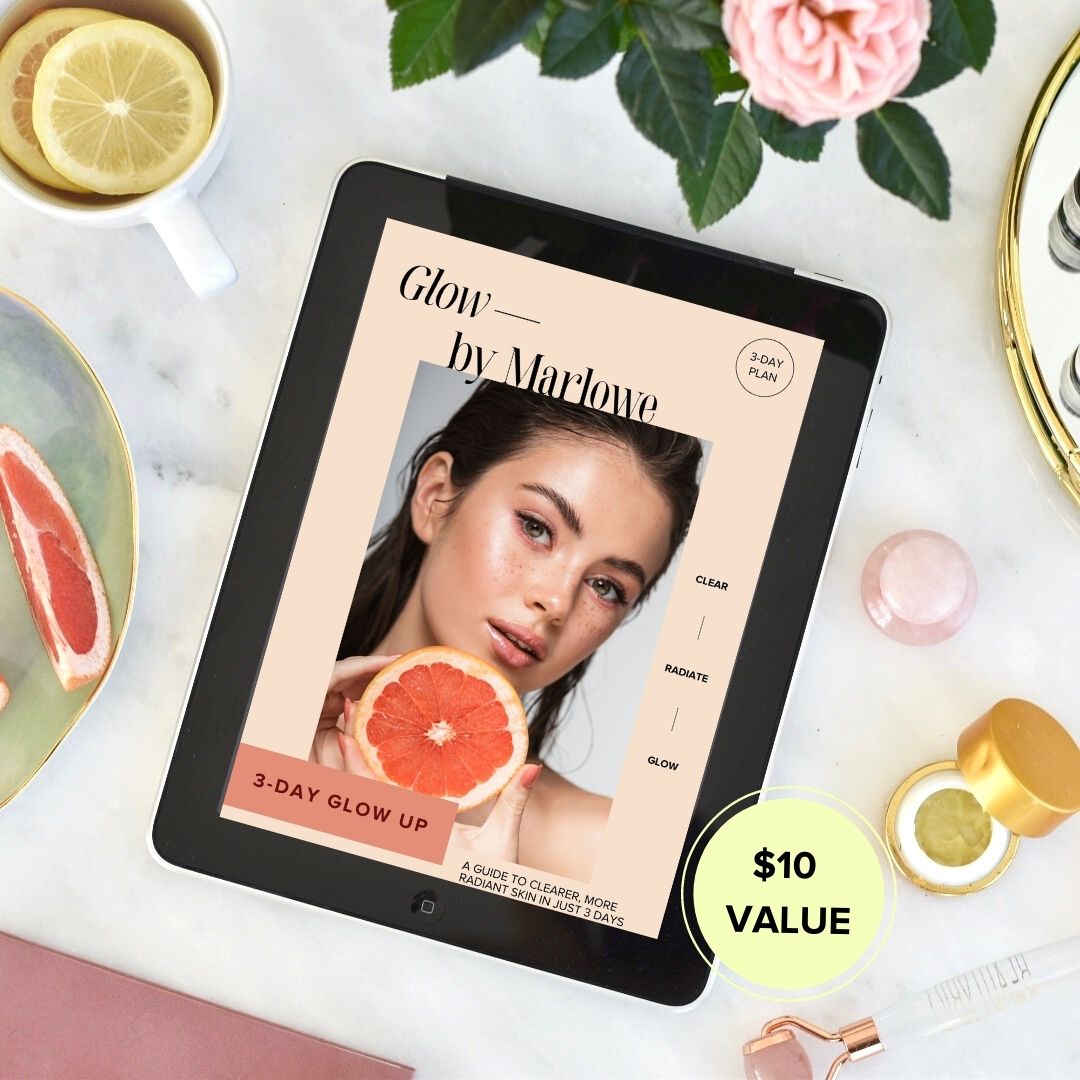 Sign up for my weekly newsletter to get the latest recipes, articles, & podcasts delivered to your inbox.

Plus, you'll receive The Glow Up Guide right away, a delicious 3-day meal plan to reduce redness and bumps, fast.