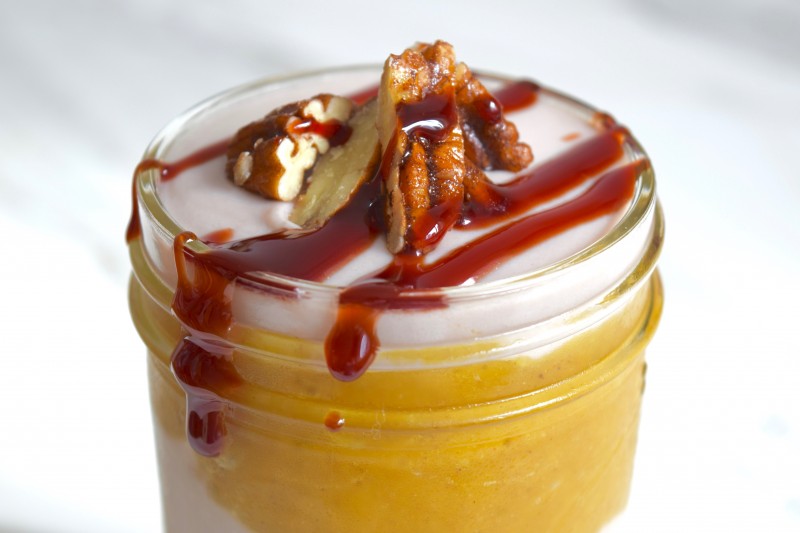 It's that time of year for Pumpkin Spice everything…ditch the store-bought treats with artificial flavors and refined sugar for this real food Pumpkin Parfait, sweetened with dates plus loaded with fiber (and real pumpkin!).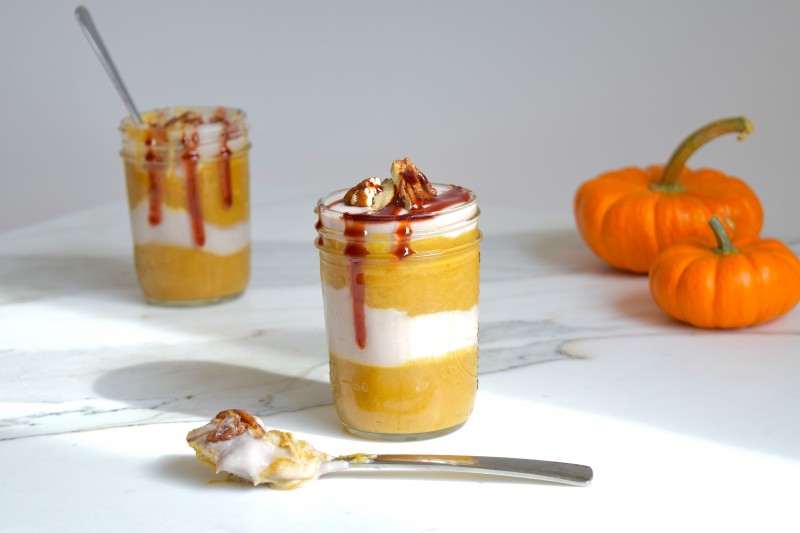 Breakfast with Benefits: Fiber
Fiber is such a necessary part of a diet, yet most people- literally 90% of the US population- is currently not eating enough. To put that in perspective, that means 9 out of 10 people reading this blog are probably not eating enough.
This parfait is a delicious way to get some much needed fiber! The fiber comes primarily from:
pumpkin puree which delivers 8g or 32% of the recommended Daily Value (DV) per cup
avocado which is a surprisingly good source of fiber – provides about 13 g or 52% of the recommended DV per avocado
Hyperbiotics 100% food-based Prebiotic Fiber Blend which is made simply from organic acacia fiber, organic jerusalem artichoke fiber, and organic green banana fiber. Prebiotic fiber is essentially "food" for the healthy bacteria in your gut. While all plant-based foods contain fiber, only certain foods, like those contained in this blend, contain prebiotic fiber. Other food based sources of prebiotic fiber include, asparagus, chicory root, dandelion greens, bananas, onions, and garlic. While this is an optional ingredient, I do recommend it if you're currently taking probiotics or have digestive issues. You can order it here: Hyperbiotics Prebiotic Fiber Blend and use code HYPERMARIA for 25% off your first order.
Make-Ahead Fall Breakfast (or Dessert)
This fall-inspired breakfast is perfect to make ahead so you can grab and go throughout the week (it should last up to 3 days). There is no refined sugar in this pumpkin parfait, and instead it's sweetened with date syrup (plus optionally maple syrup on the pecans).
While you can use canned pumpkin in the recipe, I much prefer this simple make-your-own pumpkin puree recipe.
Ingredient Benefits
Spices do more than just season our food…they are like nature's medicine cabinet. (I wrote all about their specific benefits in The Real Food Guide to Spices & Superfoods, available as a free download when you purchase The Real Food Grocery Guide. Here is how to access it.)
In the meantime, here are a few excerpts from The Real Food Grocery Guide and The Real Food Guide to Spices & Superfoods:
Cinnamon: In Ayurveda, cinnamon is used to treat indigestion, colds, and diabetes. It possesses both antibacterial and anti-fungal properties and lower bad (LDL) cholesterol. Because it aids in stabalizing blood sugar, it is a great idea to include it in with any sweet or higher glycemic foods, like dates.
Ginger: Ginger is a powerful anti-inflammatory that also aids in digestion and supports a healthy immune system.
Nutmeg: Studies show that nutmeg may help prevent or reverse anxiety or depression. Nutmeg imparts an intensely sweet flavor, making it a perfect spice to use for breakfast, especially when mixed with cinnamon—so you can eliminate or reduce the need for sugar or other sweeteners.
Cloves: Cloves are a powerful antibacterial and antiviral, and they may help speed recovery from colds and flu. Plus, they can help ease a host of digestive issues—from nausea and gas to diarrhea and bloating.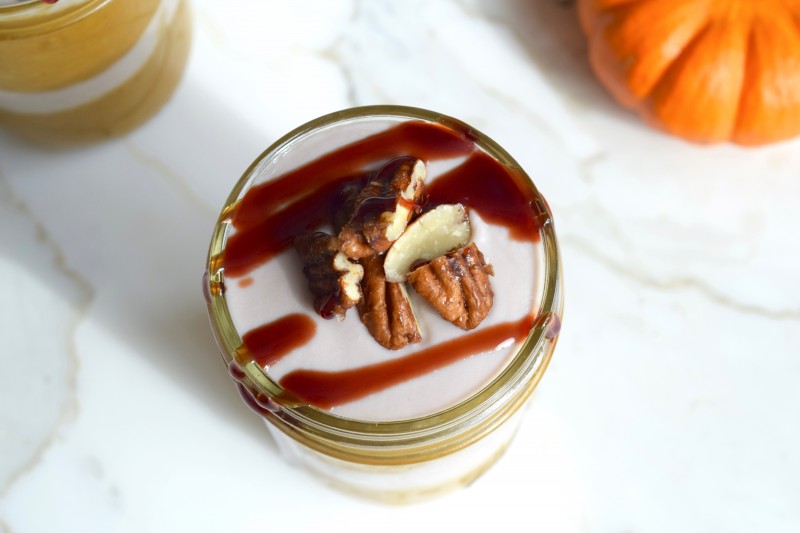 Try This Pumpkin Parfait
If you try this recipe, let me know! Leave a comment, rate it (by clicking the stars in the upper right of the recipe card, below), and don't forget to tag a photo @mariamarlowe or #healthybymarlowe on Instagram or Facebook. I'd love to see what you come up with!
Pumpkin Pie Parfait with Coconut Caramel
Ingredients
Coconut Caramel Layer (optional)
Instructions
First, bake the pecans: Pre-heat the oven to 200 degrees F. In a small bowl, combine maple syrup and cinnamon, and mix well until combined. Add pecans in bowl, and mix well until thoroughly coated. Lay out the pecans flat on a baking sheet, and drizzle any remaining syrup mix over them. Bake for 15 minutes.

Make the pumpkin layer: Combine all ingredients in a blender (a bullet works well) and blend until combined, about a minute. Don't leave out the pinch of salt. Taste, and mix in more pumpkin pie spice if desired.

Make the coconut caramel layer: Flip the coconut milk can upside down and open it. Pour out the liquid part into a separate container, to be reserved for another use. Spoon out the thick white cream and put into a bowl. Add the vanilla and date syrup. Use a hand mixer to whip it all together into a cream (You could also put it in the bullet blender instead. It will be more liquid-y, less fluffy, but equally delicious.)

To assemble the parfait: Spoon alternating layers of pumpkin and coconut caramel into 2 pint glasses/jars or 4 mini jars. Top with pecans, and a drizzle of date syrup, if desired.
Recipe Notes
*You can use raw chopped pecans or nuts in place of the maple cinnamon baked ones if you wish.

Did you make this recipe?
Tag @mariamarlowe on instagram and hashtag #healthybymarlowe for a chance to be featured and win awesome prizes each month.
Clearer Skin in Just 3 Days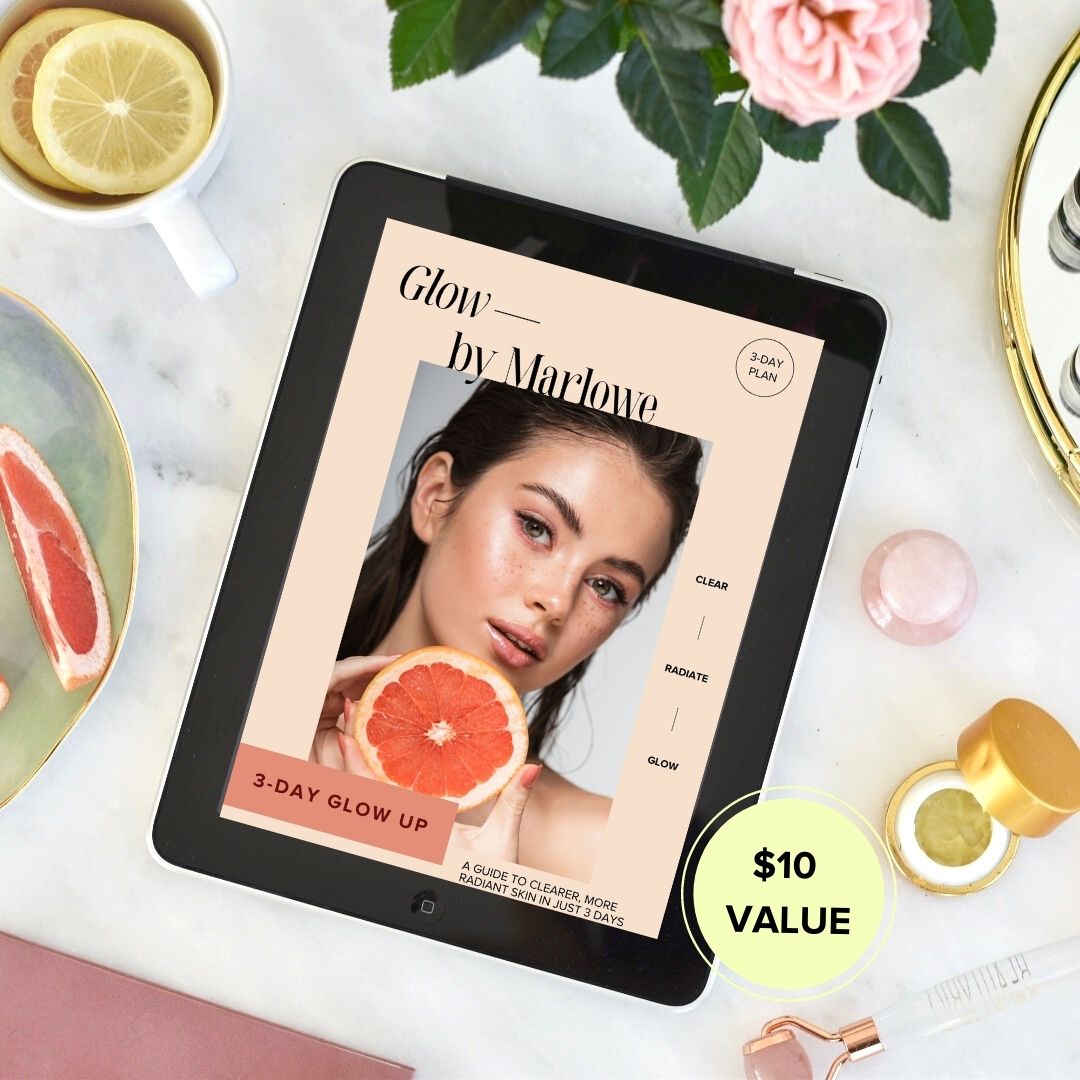 Sign up for my weekly newsletter to get the latest recipes, articles, & podcasts delivered to your inbox.

Plus, you'll receive The Glow Up Guide right away, a delicious 3-day meal plan to reduce redness and bumps, fast.