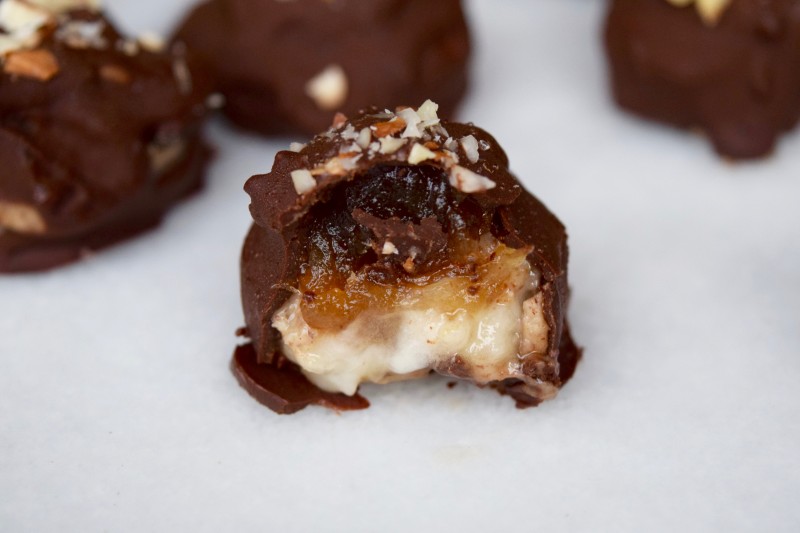 Get ready for a flavor explosion. Sweet, salty, and (healthy) fatty – these dessert bombs have it all.
If you're looking for a new summer dessert recipe, try these Almond Butter Date Caramels.
Made with simple, pure ingredients, primarily, almonds, dates, and high quality dark chocolate, they don't have to have any refined sugar! So this is one way better for you way to satisfy a sweet craving.
Benefits
(Excerpts from The Real Food Grocery Guide)
Almonds/ Almond Butter: Almonds are an excellent source of Vitamin E. One ounce (28 g) provides 37% of your recommended DV–which supports skin, eye, cardiac, and immune system health. Additionally, as a great source of plant-based protein and healthy fat, they help keep you satiated, and may even help you lose more weight.
 Dates: Mineral and fiber rich dates support the digestive system. They are excellent choice to sweeten desserts over refined sugar, as they have a low glycemic load. While they are commonly thought of being "too sugary" numerous studies have indicated that despite their sweetness, they don't significantly spike blood sugar. (Including this study in Nutrition Journal, and this one in The European Journal of Clinical Nutrition). 
Dark Chocolate: The primary issue with chocolate is the amount of sugar most typical chocolate bars contains. But, if you choose one with a hight cocoa/cacao content (over 85%) and one sweetened with dates, monk fruit, or stevia, you can avoid refined sugar. Coconut sugar is another better option, as has a lower glycemic load than regular white sugar. Check out my dark chocolate brand picks.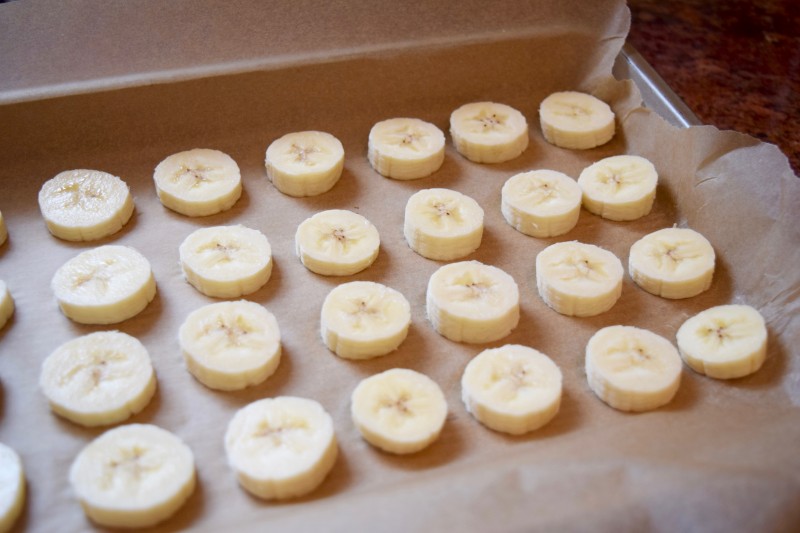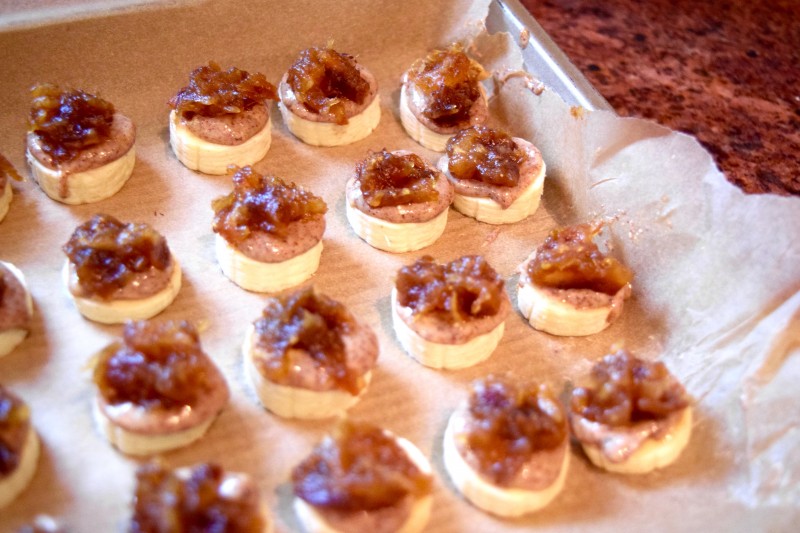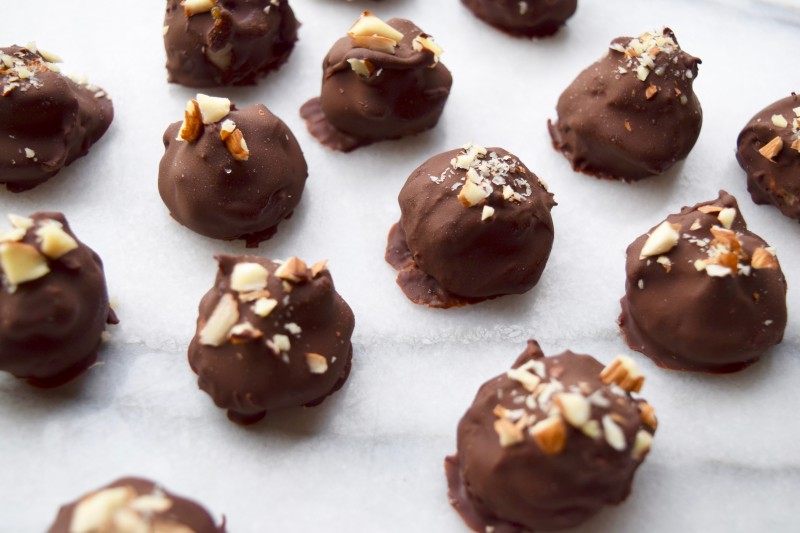 Try these Almond Butter Date Caramels
If you try this recipe, let me know! Leave a comment, rate it (by clicking the stars in the upper right of the recipe card, below), and don't forget to tag a photo @mariamarlowe or #healthybymarlowe on Instagram or Facebook. I'd love to see what you come up with!
Almond Butter Date Caramels
Total Time
2

hours
20

minutes
Instructions
First, make the date caramel. To a bullet blender, add 2 teaspoons of the date soaking water plus the dates (you can drain the rest of the water). Add the vanilla and salt, too. Blend until a paste forms. Set aside.

Slice bananas into 1/4 inch – thick slices, and lay flat on a small, parchment lined baking sheet. To each slice, add a dollop of almond butter (about 1/2 teaspoon) to cover the top. Then add a scoop of the date caramel (about 1/2-1 tsp).

Once all bananas slices are topped, place the sheet in the freezer for 1 hour.

A few minutes before you're ready to take the banana slices out of the freezer, heat a double boiler and melt the chocolate.

Remove the banana slices from the freezer, and carefully dip each into the chocolate to coat completely. Tap off excess, and return to the baking sheet. Immediately sprinkle with chopped almonds and salt, before the chocolate hardens. Repeat with remaining slices.

Put in the freezer to set another hour.

Before serving, let the truffles sit at room temperature for 5 minutes or so to slightly soften.

Did you make this recipe?
Tag @mariamarlowe on instagram and hashtag #healthybymarlowe for a chance to be featured and win awesome prizes each month.
Clearer Skin in Just 3 Days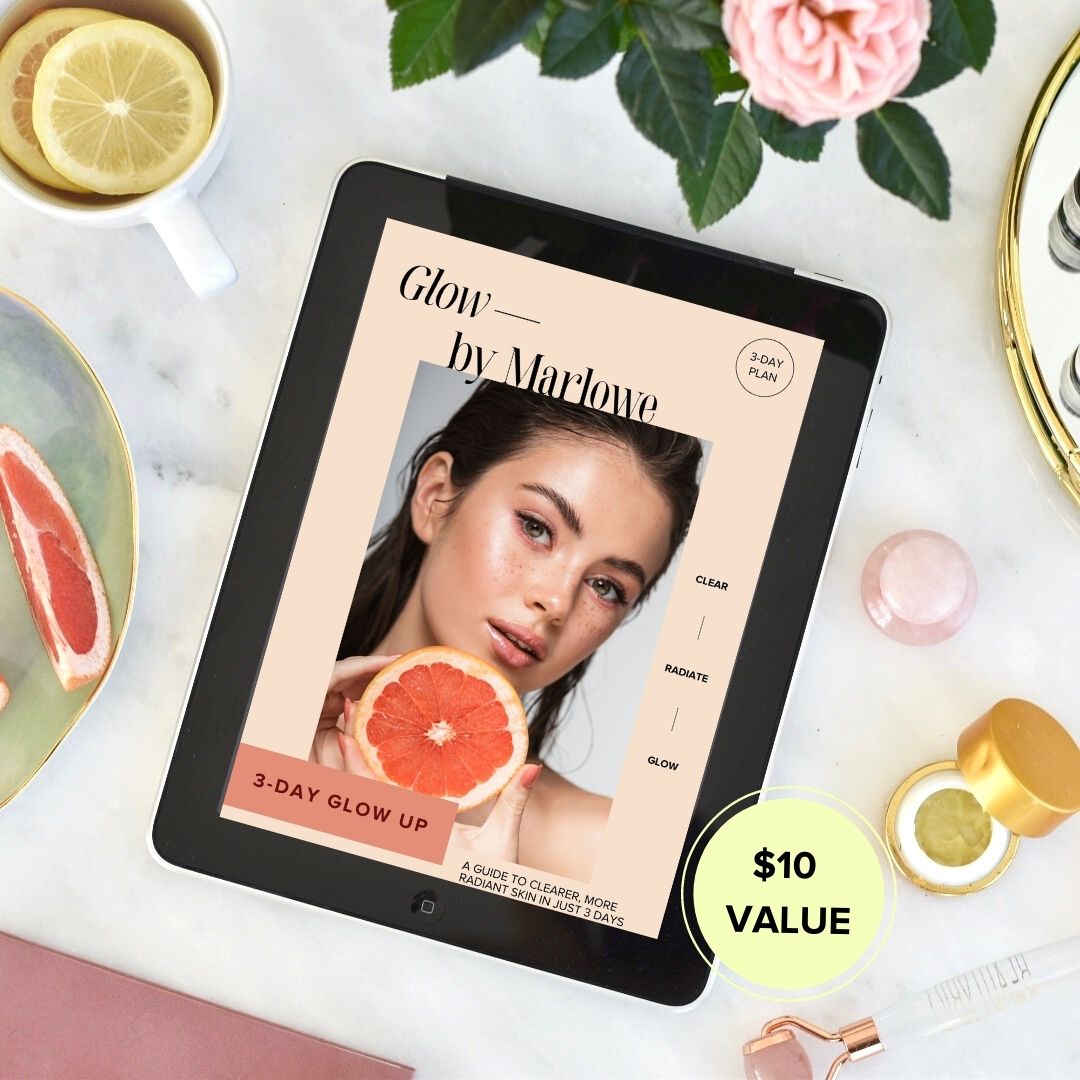 Sign up for my weekly newsletter to get the latest recipes, articles, & podcasts delivered to your inbox.

Plus, you'll receive The Glow Up Guide right away, a delicious 3-day meal plan to reduce redness and bumps, fast.