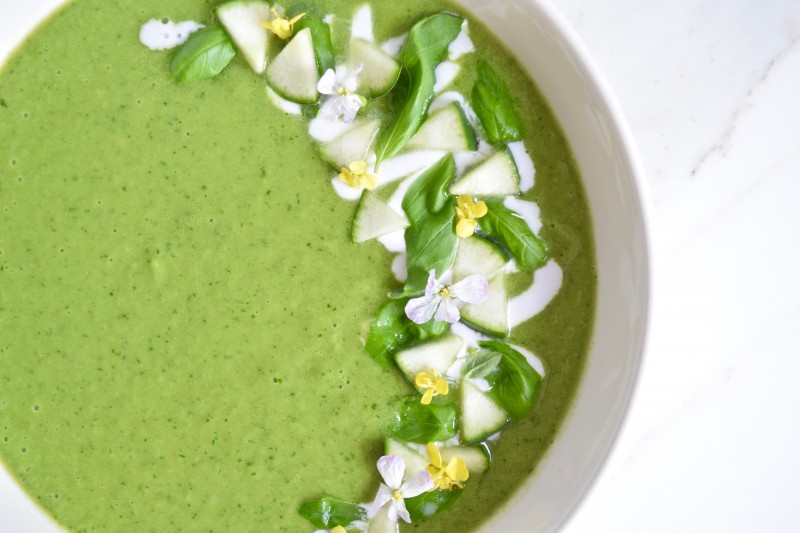 For hot summer days, turn to this refreshing green gazpacho recipe to cool you down and re-hydrate you in the most delicious way possible.
Green Gazpacho Benefits
Cucumbers support digestive health, elimination, and help reduce bloating from water retention. They are traditionally used in Ayurveda to treat constipation. Cucumbers also contain a number of antioxidants, including cucurbitacins, glucosides, lignans, apigenin and flavanols like firestin. These are known to have strong cancer-fighting abilities since they can protect DNA and cells from damage due to oxidative stress.
If you're worried about bone health, add more cucumbers to your diet. One cup provides 22% of the recommended daily value of Vitamin K, which is needed for strong and healthy bones.
Celery is another green to add to your diet if you want to soothe and support the digestive system. It helps reduce inflammation body-wide, including our gut, and also supports liver health.
This Celery Lemonade is another easy, quick, delicious way to get more celery in your diet.
Basil adds fresh fragrance and flavor, as well as anti-inflammatory and anti-microbial benefits. If you love basil, you'll love this cashew basil pesto.
Fennel is another veggie to add to the diet if you want to keep your bones strong. It contains calcium, magnesium, phosphorus, and Vitamin K, which all play a role in bone health.
It's also contains potassium, which can help lower blood pressure. (About 10% of RDV per cup).
But, fennel is probably best known for its role in supporting digestive health. Besides being a source of fiber (11% RDV per cup), eating fennel or fennel seeds stimulate the secretion of digestive juices, aiding in digestion. Fennel can also be helpful in dealing with indigestion, as it helps neutralize the acid in your stomach after meals.
Shop This Recipe
Fresh produce
I typically get my produce at the farmer's market, but Amazon Fresh has fast delivery on organic produce in a pinch.
The edible flowers add a fun little pop of color, but of course are not crucial for the recipe if you can't find them. I get them at the farmers market, they are very inexpensive. The yellow flowers are brassica or broccoli flowers, and the pinkish ones are radish flowers.
Packaged goods
For the coconut milk, salt, olive oil, and any other dry goods, I always get them at vitacost, which is typically 25-50% cheaper than grocery store prices, for the same organic and natural brands. I've linked to my preferred brands below:
For coconut milk, I prefer this Thai Kitchen Coconut milk or this culinary coconut milk.
For salt, I primarily use Himalayan pink salt, which contains dozens of trace minerals, and adds beautiful flavor to every dish.
For olive oil, I have tried so many, and find this Gaea olive oil to be my favorite. I like that it is in a dark glass bottle to protect the antioxidants in the oil, its a nice deep yellow color, and it is very tasty. I find compared to other olive oils, it's truly high quality at a good price.

Try This Green Gazpacho Recipe
If you try this recipe, let me know! Leave a comment, rate it (by clicking the stars in the upper right of the recipe card, below), and don't forget to tag a photo @mariamarlowe or #mariamarlowe on Instagram or Facebook. I'd love to see what you come up with!
Green Gazpacho
Ingredients
Garnish (optional)
Instructions
Place all ingredients in a blender, and blend until smooth. Salt to taste. You can serve as is, but for a colder, more refreshing soup chill for at least 2 hours.

When ready to serve, divide into two bowls. If desired, garnish with your preferred toppings.
Recipe Notes
*For the creamiest texture, use the cream on the top of a chilled can of coconut milk.
VARIATIONS
You can add a little heat, by adding 1-2 tsp. chopped jalapeno.
You can make the soup heartier and more filling by adding a cup on white beans, like cannellini or navy beans.

Did you make this recipe?
Tag @mariamarlowe on instagram and hashtag #healthybymarlowe for a chance to be featured and win awesome prizes each month.
Clearer Skin in Just 3 Days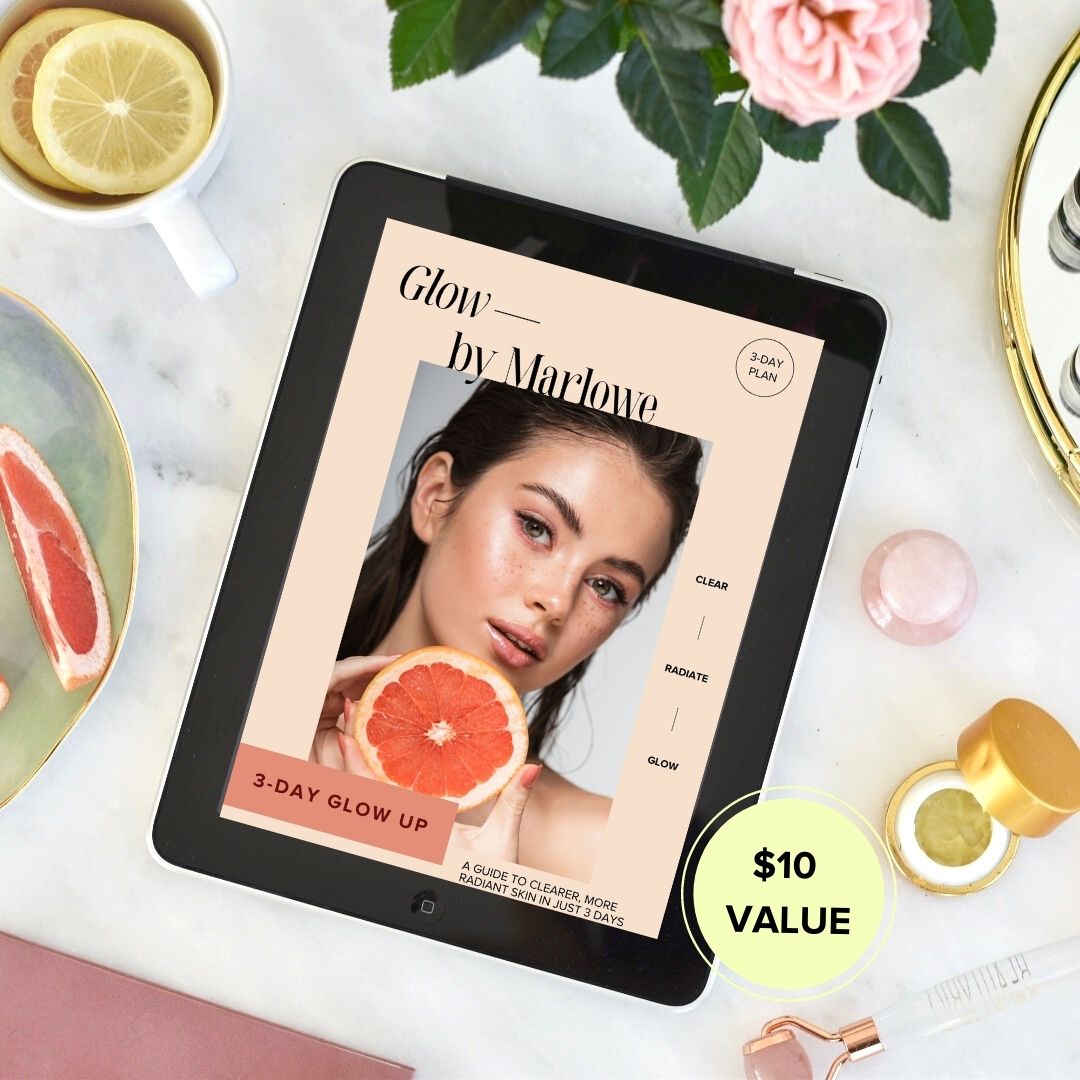 Sign up for my weekly newsletter to get the latest recipes, articles, & podcasts delivered to your inbox.

Plus, you'll receive The Glow Up Guide right away, a delicious 3-day meal plan to reduce redness and bumps, fast.