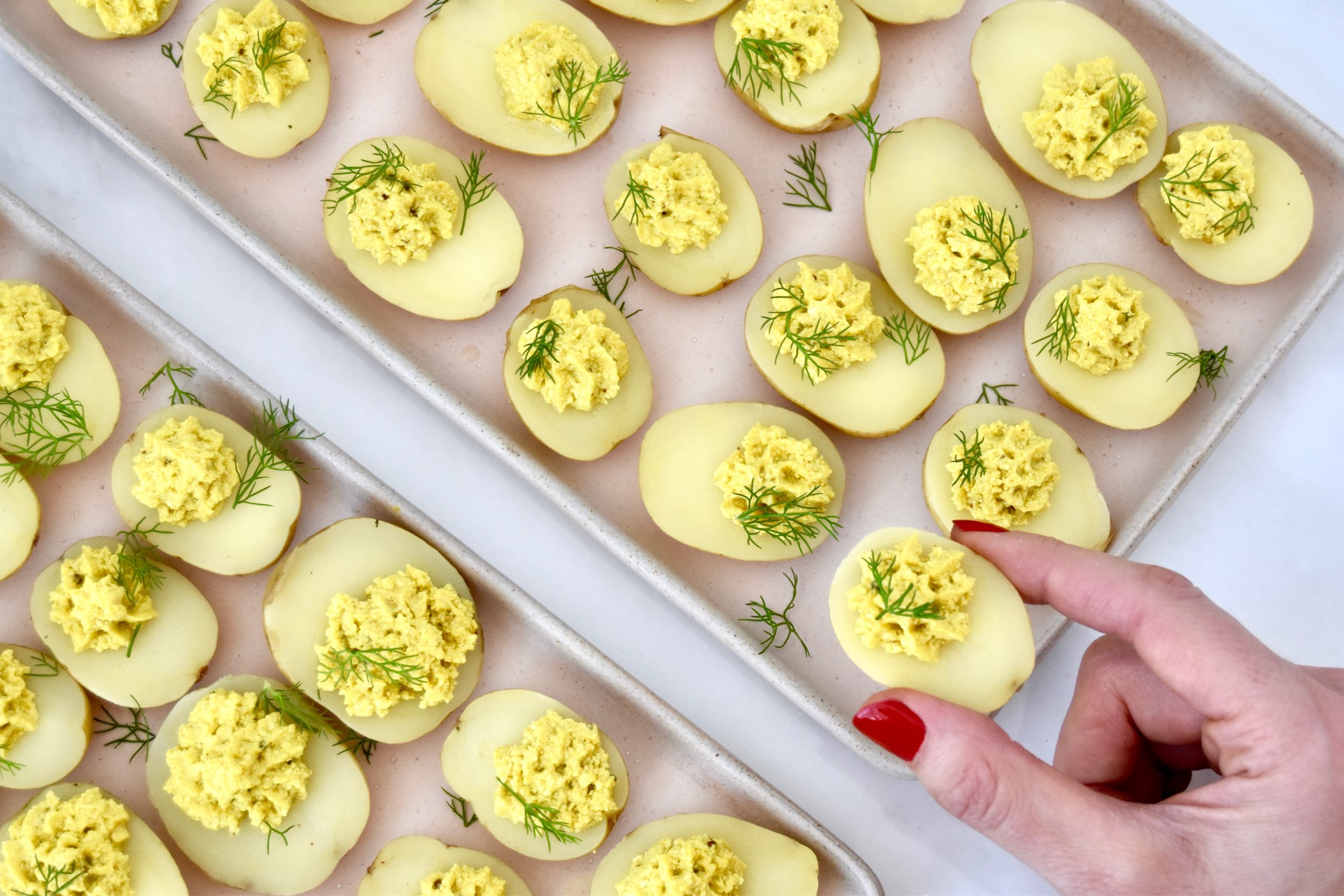 Deviled potatoes are a fun and tasty alternative to deviled eggs. They also happen to be vegan, so if you're looking for a vegan deviled eggs recipe, this is it.
What do Deviled Potatoes taste like?
Deviled potatoes look just like deviled eggs, but the base is a baby golden potato instead of a hard-boiled egg, and the yolk is replaced by a creamy and tangy tofu-turmeric cream. In other words, delicious.
When to Serve Deviled Potatoes?
Deviled potatoes are the perfect finger food for a party. Not only are they bite-sized, delicious, and acceptable for most dietary restrictions, they are also easy to make. I love eggs, but shelling hard-boiled eggs is a pain, especially if you need a lot of them.
Plus, you can even make them the day before, as they hold up wonderfully.
For an added wow factor to your appetizer spread, use baby purple potatoes if you can find them. They are just as tasty, but much more vibrant.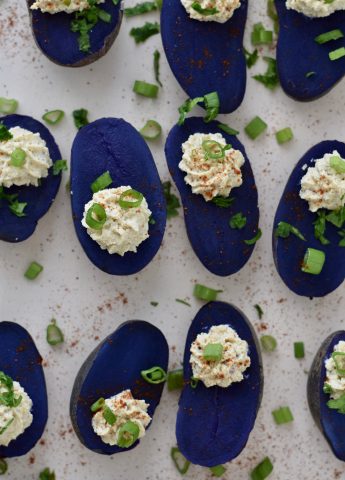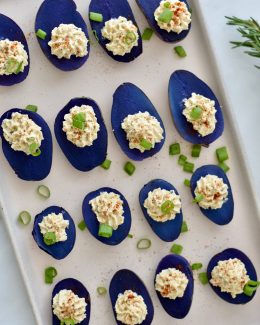 How to Make Your Potatoes Healthier
Potatoes are an incredibly versatile root vegetable but often have a bad rap because of their high glycemic load. While, the most common ways to consume potatoes –  as fries or chips – aren't healthy (thanks to the oil, salt, and high heat), whole potatoes can indeed be a healthy part of the diet.
Whole potatoes contain a variety of nutrients, as well as fiber and antioxidants. If you can find them, choose the brightly pigmented potatoes, such as purple potatoes, as studies have shown they have three to four times more antioxidants than white potatoes. (1, 2) Potatoes also contain resistant starch, which may contribute to digestive health, nutrient absorption, and satiety.
When consumed in moderation, potatoes can be a healthy addition to your diet. However, the way you prepare them makes a difference.
A few ways to make potatoes healthier include:
choose organic potatoes to avoid ingesting pesticides that are usually sprayed on regular potatoes.
consume both the skin and flesh, as the peel of the potato contains a higher amount of fiber, vitamins, and minerals.
bake, boil, roast, or steam potatoes. These are healthier choices compared to frying.
Cool or chill your potatoes after cooking them, as we do in this recipe, as it reduces the glycemic load of the potatoes by increasing the amount of resistant starch. One study found that cooling potatoes overnight after cooking them tripled the amount of resistant starch content. (3)
Deviled Potatoes (Vegan Deviled Eggs)
Instructions
First bring a pot of heavily salted water to a boil. Add the potatoes, and cook for 12-15 minutes, until they are cooked through. Test one by slicing it in half, it should slice easily and cleanly. Drain them in a colander, and let them cool down for a few minutes before placing them in the fridge until chilled, about an hour or so.

Meanwhile, make the filling. Combine all ingredients in a blender, and blend until smooth and creamy. Use the tamper to scrape down the sides. Remove to a bowl and chill until ready to assemble.

When the potatoes are chilled through, remove from the fridge, slice each in half, and lay them out on a serving platter, cut side up. Then use a piping bag (or a ziploc with a corner cut off) to pipe the "yolk" filling in a circle on one end of the potato, to resemble an egg. Garnish with a pinch of paprika and fresh herbs.
Recipe Notes
*Makes about 48 deviled potatoes

Did you make this recipe?
Tag @mariamarlowe on instagram and hashtag #healthybymarlowe for a chance to be featured and win awesome prizes each month.
If you enjoyed these vegan deviled potatoes be sure to also check out my Moroccan Potato Salad.
Clearer Skin in Just 3 Days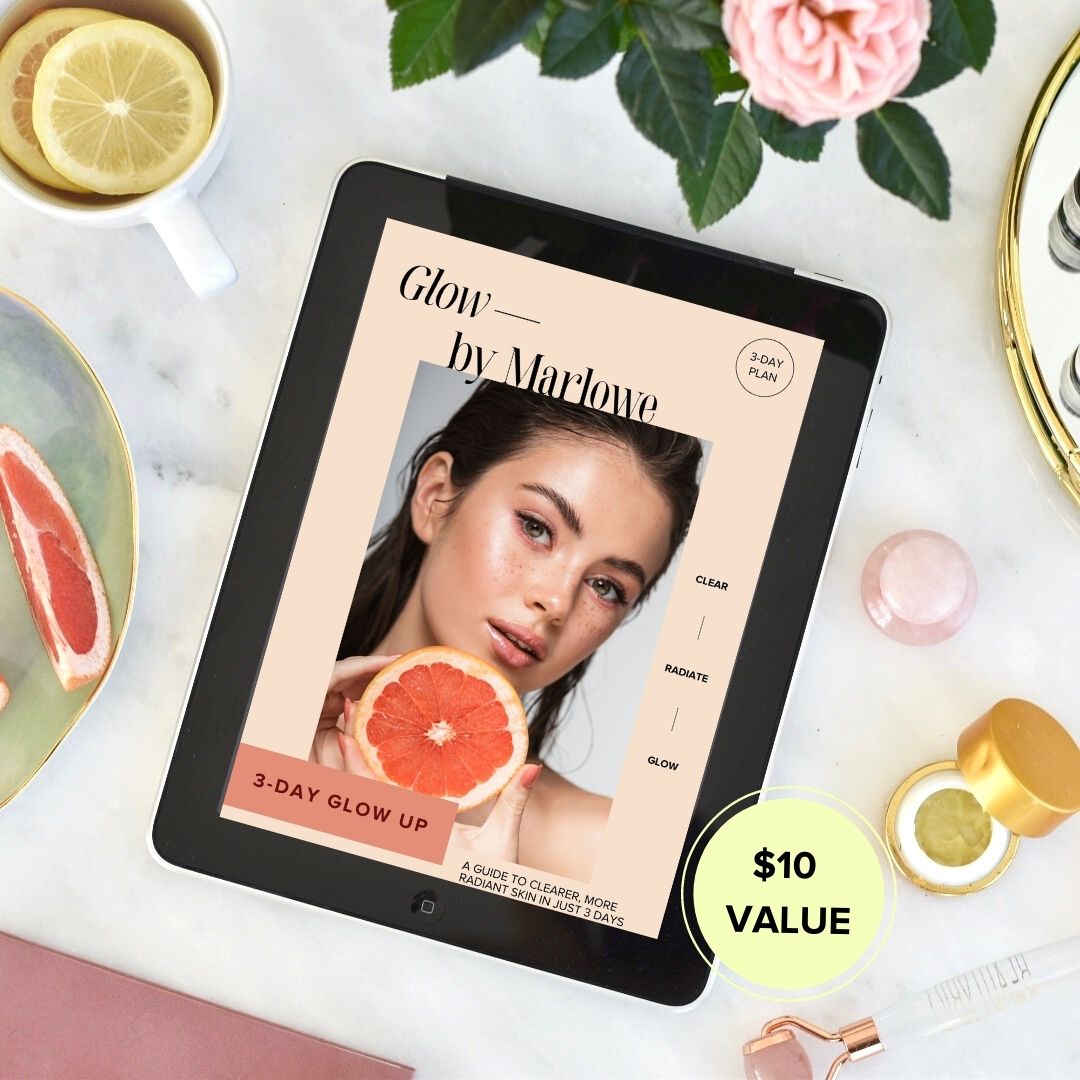 Sign up for my weekly newsletter to get the latest recipes, articles, & podcasts delivered to your inbox.

Plus, you'll receive The Glow Up Guide right away, a delicious 3-day meal plan to reduce redness and bumps, fast.