This is not your average tabouli. Made with cauliflower and broccoli rice instead of grains, this refreshing salad is loaded with cruciferous veggies which support your body's natural detoxification processes.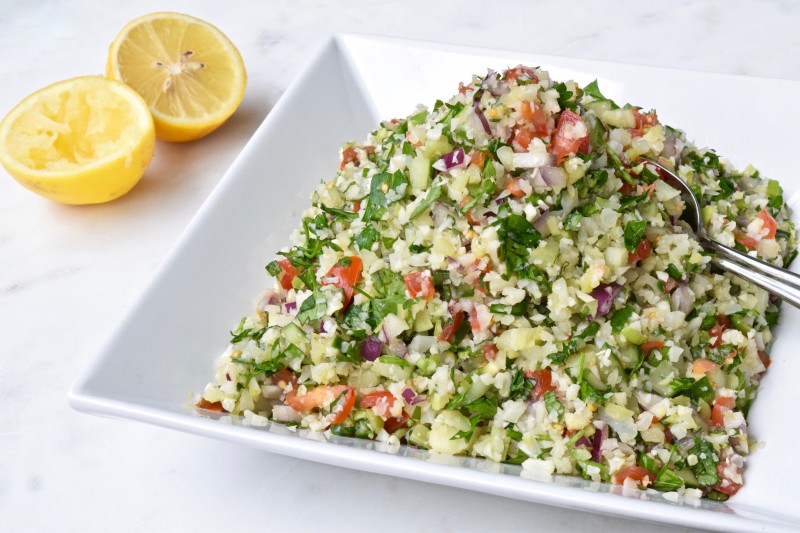 Recipe Notes
You can use solely cauliflower rice in this recipe, however, if you have broccoli stems on hand, throw them in! I'm a huge fan of broccoli stems – they are absolutely delicious when "riced" (put in a food processor until finely chopped into a rice like texture) and especially when spiralized.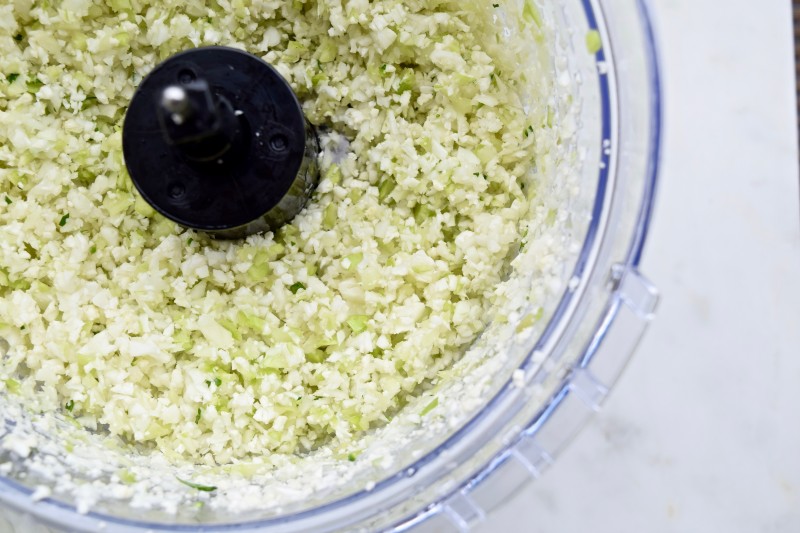 I don't like to let food go to waste, so I would include the broccoli stems in this recipe if you have them on hand, but you don't have to specifically go out and buy them (unless you also want to make something with the broccoli florets, which is always a good idea – like this roasted broccoli or broccoli basil soup.)
This makes six servings, so it will last you for days, and stores well in an airtight container in the fridge. While you can eat it on its own as a side salad, you may also want to add a heaping spoon or two on top of a regular salad, as a salsa on a taco, or dip gluten-free crackers or cassava chips into it. You can even use crisp romaine leaves as a scoop. (I've done them all).
Shop this Detox Tabouli Recipe
The best place to buy all these fresh groceries is your local farmers market. A local health food store or grocery store, is great, too, but if you don't have the time to shop in person, get it delivered!
You can also try Amazon Fresh, which has a huge assortment of organic produce, as well as Whole Foods brand products that will be delivered straight to your door.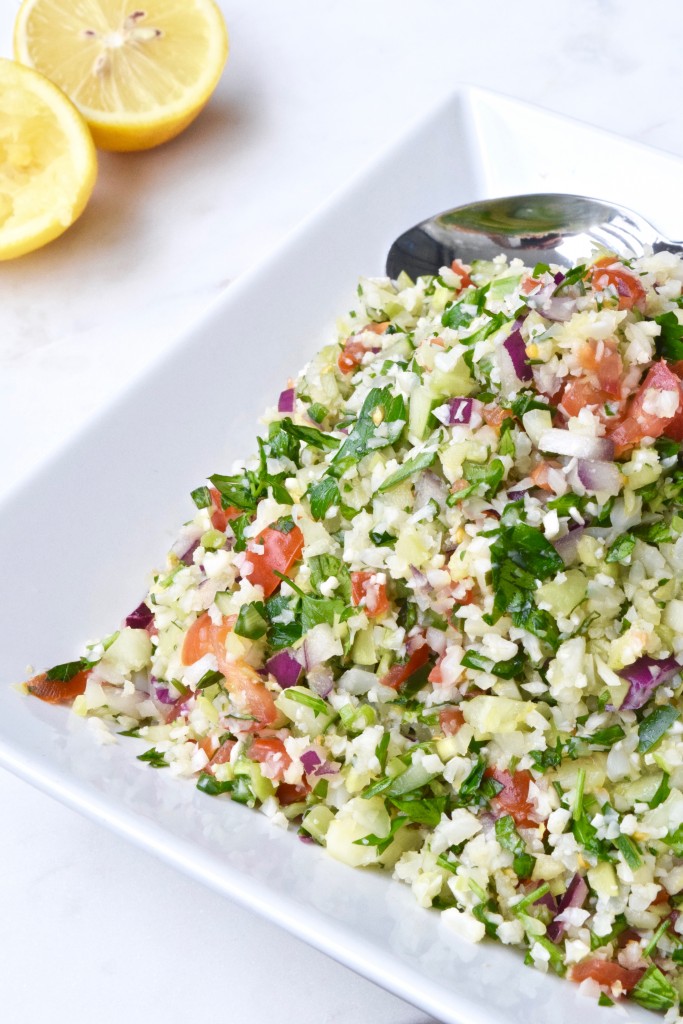 Try This Detox Tabouli Recipe
You can easily print this recipe with the little printer icon, below. If you try this recipe, let me know! Leave a comment, rate it (by clicking the stars in the upper right of the recipe card, below), and don't forget to tag a photo @mariamarlowe or #mariamarlowe on Instagram or Facebook. I'd love to see what you come up with!

First, use a food processor to "rice" of chop cauliflower and broccoli stem if using, into small, rice-like pieces. In a dry skillet, cook them for 5-7 minutes, stirring occasionally. When done, add to large mixing bowl.

Meanwhile, add the remaining ingredients to the large mixing bowl: tomatoes, cucumber, red onion, scallions, garlic, parsley, and mint. Once the Cauliflower is added, add all of the dressing ingredients and toss well, until thoroughly combined. Season with additional pepper, to taste.
Nutrition Facts
Detox Tabouli
Amount Per Serving
Calories 62
Calories from Fat 27
% Daily Value*
Total Fat 3g 5%
Sodium 228mg 10%
Potassium 471mg 13%
Total Carbohydrates 9g 3%
Protein 3g 6%
* Percent Daily Values are based on a 2000 calorie diet.
Tabouli is traditionally served cold or room temperature, which you can certainly do, but feel free to heat this up in a skillet as well. Eat it on it's own, or use it on top of salads, in tacos, or scooped up in fresh romaine leaves.
*Measure the parsley and mint leaves before you chop them.
VARIATION: Add some fresh chopped jalapeno or serrano chile or cayenne powder to add a little heat.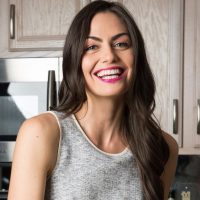 Maria Marlowe
Maria Marlowe is a holistic nutrition and wellness coach who uses real food to help her clients improve their health, weight, and skin. She offers a 28-day healthy eating meal plan that teaches you how to batch cook, as well as one to clear up acne. Her most popular program is EatSLIM, a 10-week online group glass that guides participants to develop healthy eating habits that stick – and lose weight, boost their metabolism, improve their digestion, and quit sugar.
She writes healthy and delicious plant-based recipes for her popular blog. She is also the author of the #1 New Release on Amazon, The Real Food Grocery Guide, the most practical guide to selecting the healthiest foods, without going broke, which has been praised by Dr. Oz and InStyle magazines. You can find her on instagram @mariamarlowe.