NY Union Square Farmers Market
I'm a bit like a dog: you can feed me the same thing for breakfast, lunch, and dinner, for months on end, and I wouldn't mind.
And I don't mean this hypothetically. When I go to the grocery store I just go on auto-pilot, picking up nearly the same exact items from week to week with minimal variation. Does that scenario ring a bell?
To prep for my Food Revolution Day celebration, though, I decided to venture out to Union Square Farmers Market to get an idea of whats fresh and in-season.
While my original plan was just to prepare a menu for my party, I left the market with a whole new outlook. Here is what I learned:
1: Eat Local The locavore debate has been going on for quite sometime. While I don't believe in being ideological about anything, I can confidently say, food just tastes better when it's freshly picked. It's easy to get into the grind of only shopping at grocery stores. If you have a local farmers market (and in NYC, we have plenty) shop it as often as you can.
2: Eat Seasonal Mother Earth is a lot smarter than us, believe it or not. She provides certain food during certain seasons to protect you from the weather and nourish you properly. In modern grocery stores, everything seems to be available year-round. So, how do you even know what's in season nowadays? Easy, check out this guide, or simply visit your local farmers market! Food also tastes better when it's in season, and it's just better for your body.


3- Try something new once a week! My favorite lesson from this trip, that cross my heart, hope to die,  I will implement, is trying something new each week. I came across Japanese Turnips while I was there, which look like white radishes, in the picture above. They are divine! The root is excellent raw, sliced and dipped in tapenade, or chopped in salads. It is not as crisp as a radish, with a mild flavor. And the greens make great soup (so I hear). So glad I have something new to add to my repertoire.  
Just FYI- also picked up some gorgeous asparagus, mushrooms, rhubarb, and heirloom radishes. All delish. Oh, and the flowers were to die for. If you have a terrace, head here, stat.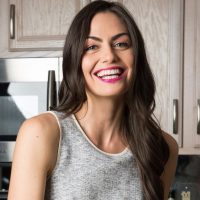 Maria Marlowe
Maria Marlowe is a holistic nutrition and wellness coach who uses real food to help her clients improve their health, weight, and skin. She offers a 28-day healthy eating meal plan that teaches you how to batch cook, as well as one to clear up acne. Her most popular program is EatSLIM, a 10-week online group glass that guides participants to develop healthy eating habits that stick – and lose weight, boost their metabolism, improve their digestion, and quit sugar.
She writes healthy and delicious plant-based recipes for her popular blog. She is also the author of the #1 New Release on Amazon, The Real Food Grocery Guide, the most practical guide to selecting the healthiest foods, without going broke, which has been praised by Dr. Oz and InStyle magazines. You can find her on instagram @mariamarlowe.