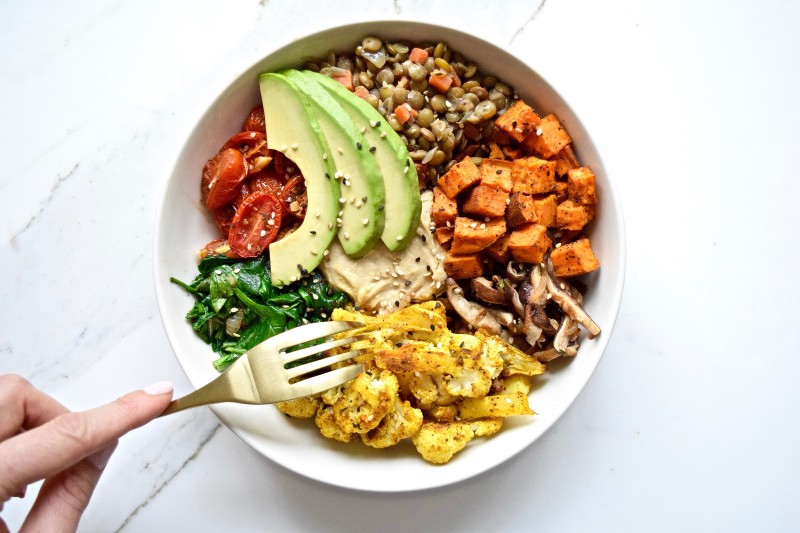 This Rainbow Veggie Bowl is bursting with nutrients that support overall health and will give you a beauty boost, too, as the nutrient-dense ingredients support healthy hair, skin, and nails.
Healthy Hair Foods
Healthy hair starts with a healthy body, and a healthy body is created through a healthy diet and lifestyle. I partnered with Nioxin to create three delicious recipes that nourish your hair from within. The best part, is that many of the nutrients that support healthy hair, also support healthy skin and nails, too.
When it comes to hair health and hair loss, research shows that one possible cause for thinning, slow growing, and lackluster hair is certain nutrient deficiencies. So, I combined ingredients rich in a variety of nutrients known to support a healthy scalp and hair, including the B-vitamins, iron, zinc, Vitamin A, Vitamin C and more.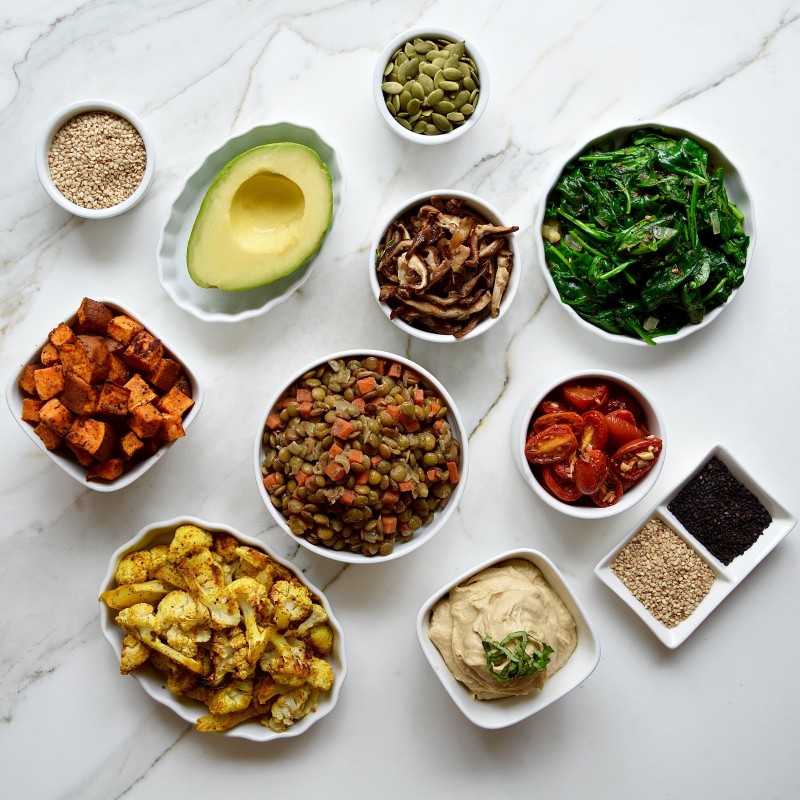 #MeatlessMonday
This plant-based veggie bowl is perfect for #meatlessmonday (or #meatlessanyday 🙂
Try This Rainbow Veggie Bowl
If you try this recipe, let me know! Leave a comment, rate it (by clicking the stars in the upper right of the recipe card, below), and don't forget to tag a photo @mariamarlowe or #mariamarlowe on Instagram or Facebook. You can also use the hashtag #mindbodyhair and tag @nioxin. We''d love to see what you come up with!
Veggie Bowl
Ingredients
Instructions
Preheat oven to 425 degrees Fahrenheit (218 degrees Celsius).

Line 2 baking sheets with parchment paper. On one sheet, lay out the tomatoes in a flat layer. Top evenly with garlic, salt, and thyme.

In a bowl, toss the sweet potato cubes with the oil and spices. Lay out on the same baking sheet in a flat layer. Set aside.

In the same bowl, toss the cauliflower with the oil and spices. Lay out on the second baking sheet in a single flat layer. Place both sheets in the oven and bake for 30 minutes, tossing/flipping everything about half way through. Veggies should be soft and just starting to brown when done.

Meanwhile, make the lentils. In a medium stockpot over medium heat, add the oil, onion, garlic, and carrot. Cook for about 7 minutes, until fragrant. Then, add the lentils, thyme, and water. Bring to a boil, then cook over medium low for about 25 minutes, or until all water is absorbed. (You can drain off excess water if needed). Squeeze fresh lemon juice over the lentils and season with salt to taste if desired.

While that is cooking, saute the mushrooms. In a pan over medium heat, heat the oil, then add the mushrooms, onions, and thyme. Saute 5-7 minutes, stirring occasionally and adding water if needed to avoid sticking, until mushrooms are soft. Transfer the mushrooms to a bowl and return the pan to the stove (no need to wash, you can use any remnants of oil for the spinach).

Heat the pan again over medium heat. Add oil if needed (or use oil already there), then add garlic and spinach. Cook, stirring occasionally, 3-5 minutes, until wilted.

When all of the components are done. You can assemble the bowls. Split all of the veggies in half, and put one half in each bowl. Add a scoop of hummus, sliced avocado, and a sprinkle of sesame seeds, hemp seeds, and or pumpkin seeds, if desired.

Did you make this recipe?
Tag @mariamarlowe on instagram and hashtag #healthybymarlowe for a chance to be featured and win awesome prizes each month.
Clearer Skin in Just 3 Days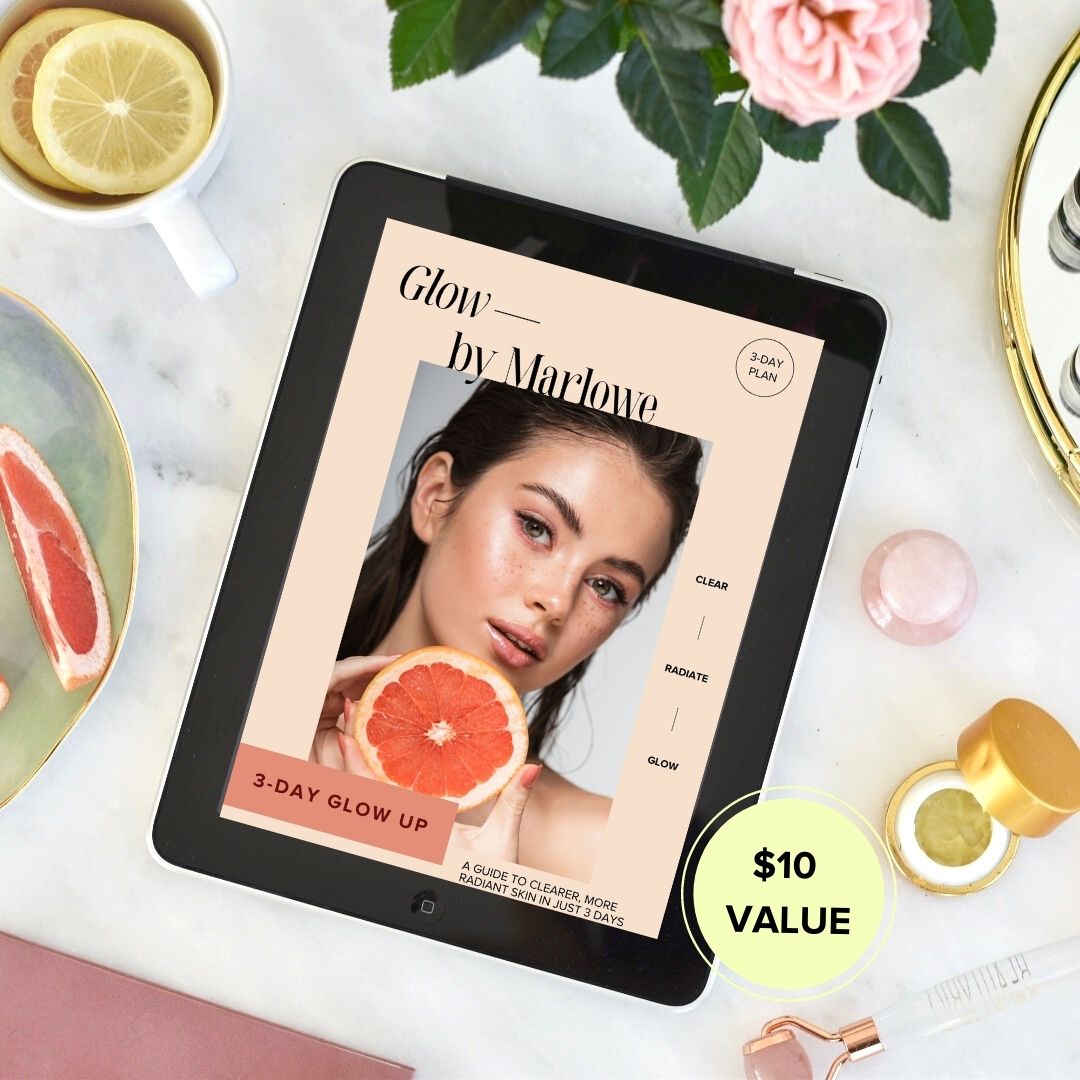 Sign up for my weekly newsletter to get the latest recipes, articles, & podcasts delivered to your inbox.

Plus, you'll receive The Glow Up Guide right away, a delicious 3-day meal plan to reduce redness and bumps, fast.