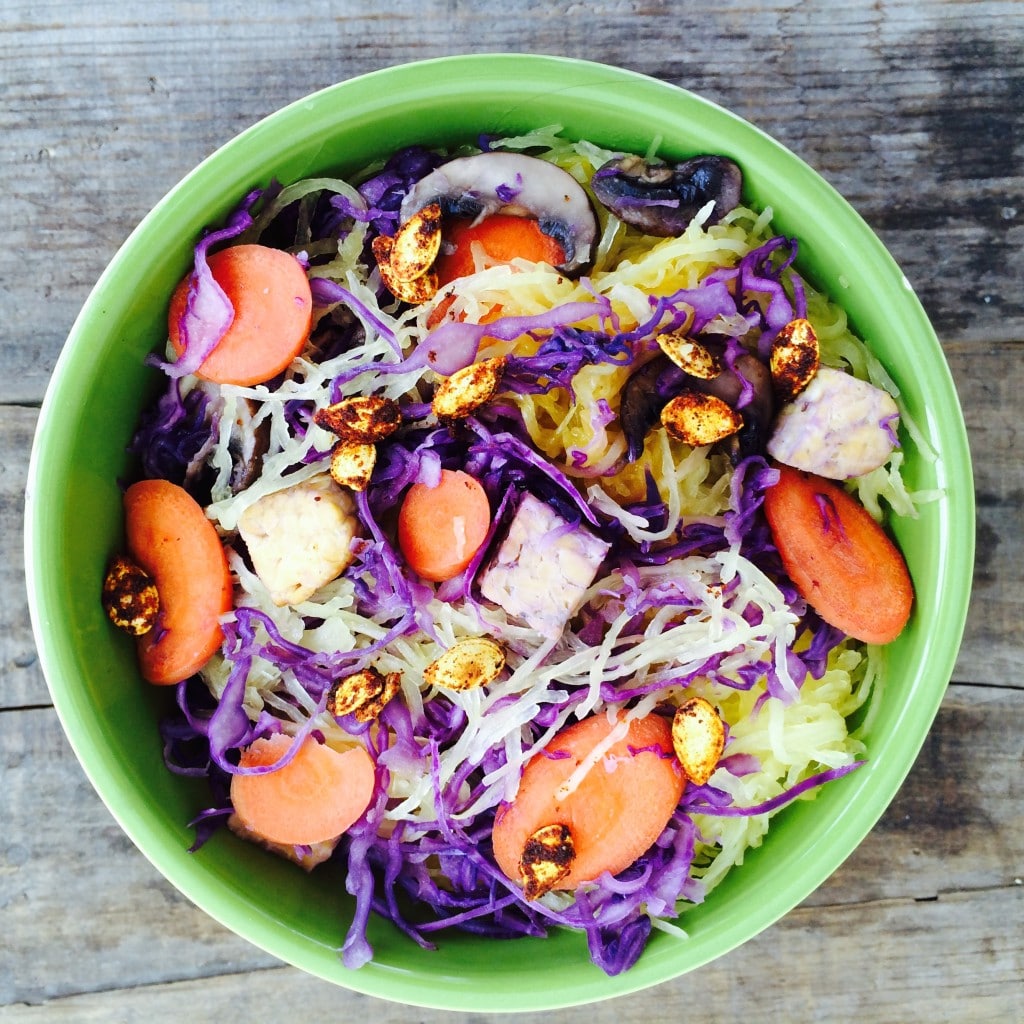 A fruit that doubles as spaghetti?
Spaghetti squash gets it name from the fact that when roasted, if you run a fork over the flesh it separates into spaghetti like strands. And while we tend to think of it as a vegetable, it's actually a fruit (since it has seeds).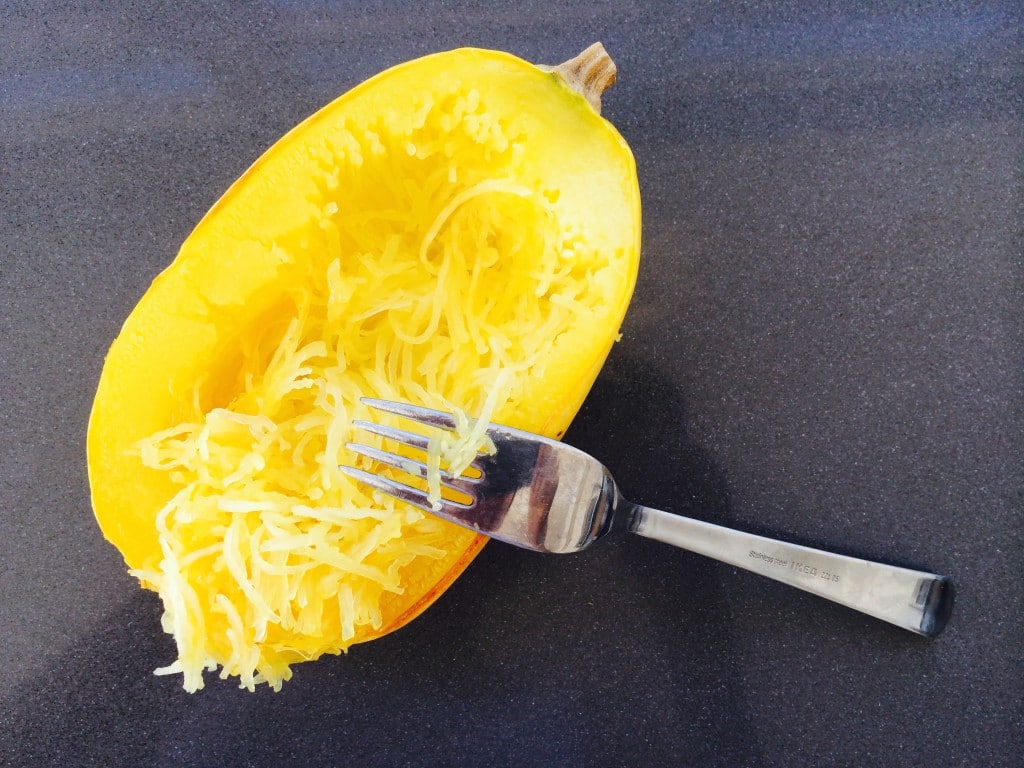 This spaghetti squash pad thai looks intricate and interesting, but is really quite easy to whip up. You don't have to add extra veggies, like cabbage and carrots, but I did for a pop of color and boost in nutrients. And the almond butter dressing? You'll want to eat it with a spoon.
I also don't like to waste anything, so I dry roasted the spaghetti squash seeds,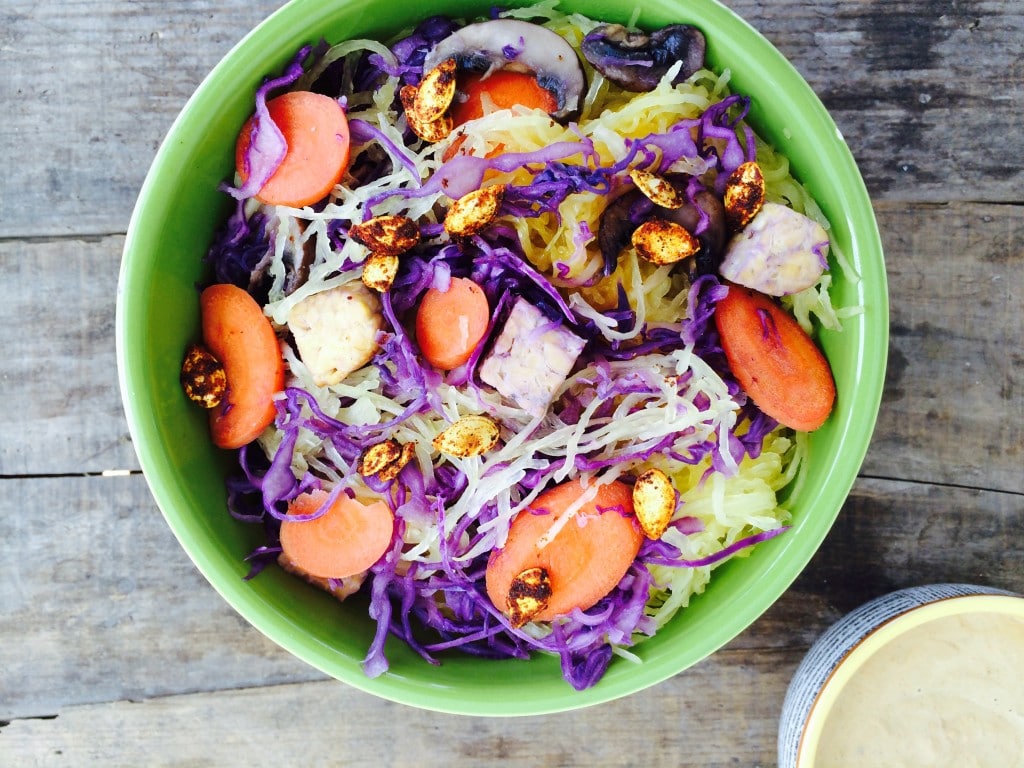 Preheat oven to 375 degrees.

Slice spaghetti squash in half, scoop out seeds, and place cut side down on a baking sheet. Bake 35-40 minutes, until a fork easily pierces the rind.

Remove from oven, and let cool slightly before using a fork to scrape the flesh into a bowl. (It will come out in spaghetti like strands).
Meanwhile, put all sauce ingredients into a bullet blender and blend on high until sauce is made. Can thin by adding more water if needed. Put aside.
Heat oil in a frying pan over medium low heat. Add tempeh cubes and mushrooms and stir occasionally for about 5 minutes, until mushrooms are wilted and tempeh is golden. Add carrots and cabbage, with a pinch of salt and 1-2 tbs water. Stir occasionally for another 5 minutes. If your spaghetti squash is cold, you can add it to pan to warm through.

Remove to serving bowl, top with Almond Butter Dressing. Can sprinkle with sunflower seeds or sesame seeds for extra crunch.
You can roast the squash seeds just as you would pumpkin seeds, and use them as a snack or to add crunch to this dish. Try this quick stove top version: combine 1/4 tsp turmeric, 1/4 tsp smoked paprika, 1/4 tsp chile powder, 1/8 tsp salt in a small bowl. Heat a skillet over medium low, lightly brush on sesame oil, then add seeds. Stir occasionally for 2 minutes and then add spices. Stir occasionally for another 3-4 minutes, until seeds are puffed up and crisp, but spices not burned.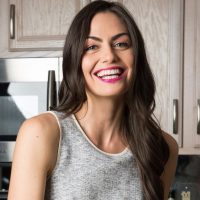 Maria Marlowe
Maria Marlowe is a holistic nutrition and wellness coach who uses real food to help her clients improve their health, weight, and skin. She offers a 28-day healthy eating meal plan that teaches you how to batch cook, as well as one to clear up acne. Her most popular program is EatSLIM, a 10-week online group glass that guides participants to develop healthy eating habits that stick – and lose weight, boost their metabolism, improve their digestion, and quit sugar.
She writes healthy and delicious plant-based recipes for her popular blog. She is also the author of the #1 New Release on Amazon, The Real Food Grocery Guide, the most practical guide to selecting the healthiest foods, without going broke, which has been praised by Dr. Oz and InStyle magazines. You can find her on instagram @mariamarlowe.