I went absolutely bananas at the Union Square Farmer's Market this weekend! Everything looked so good!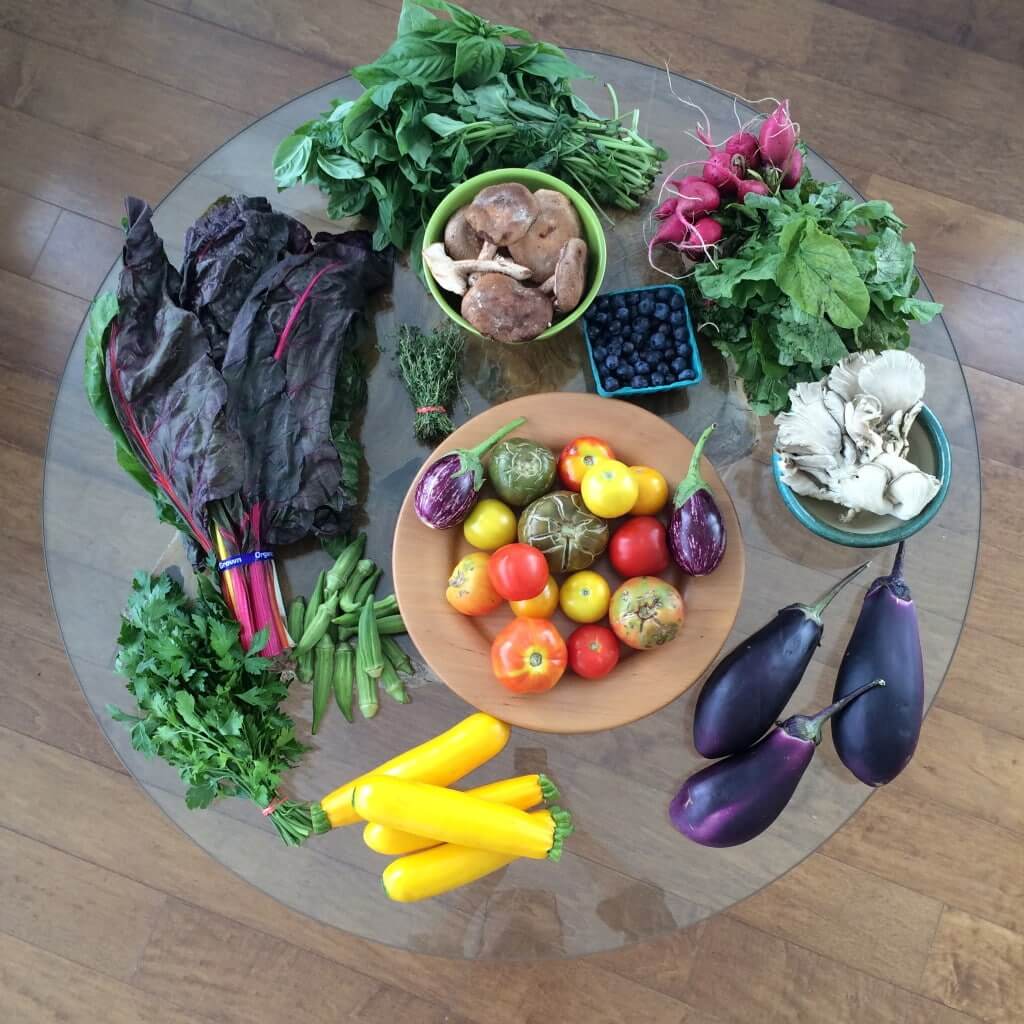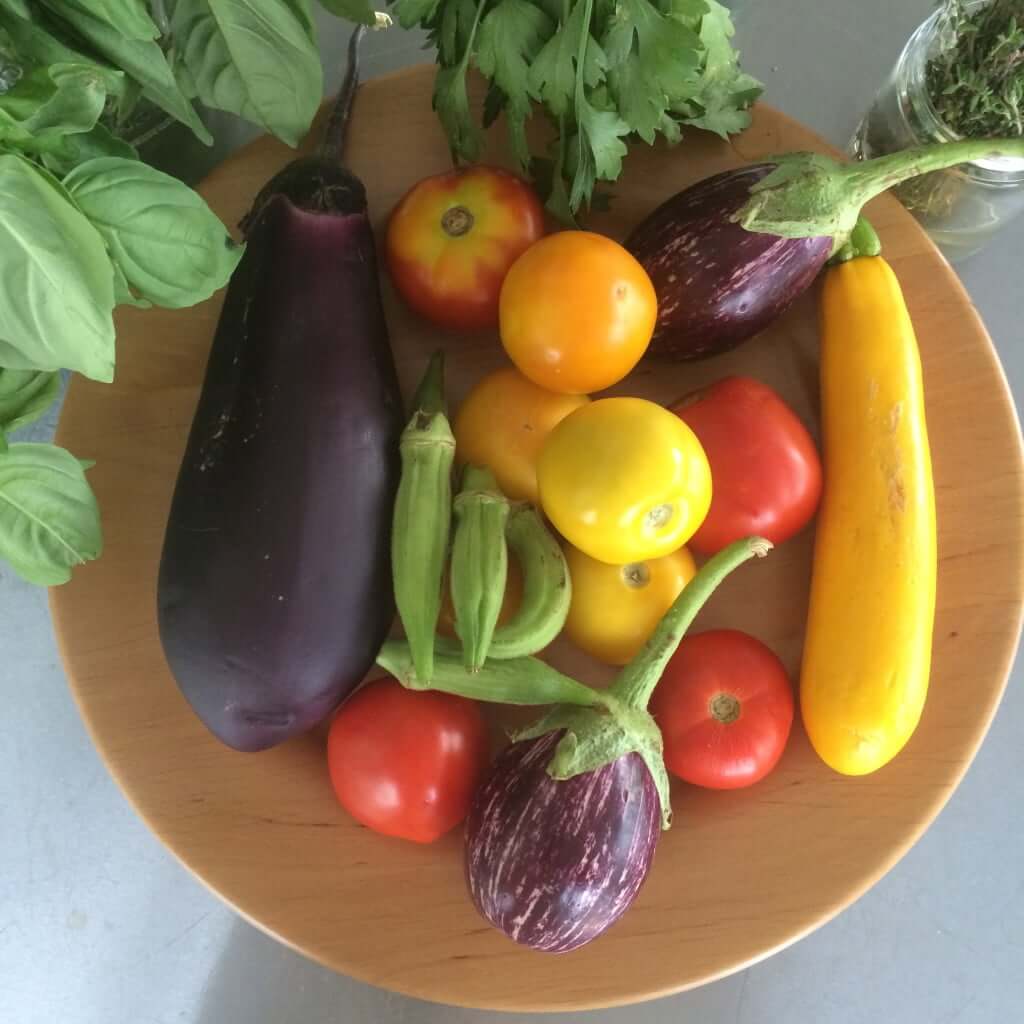 As I was stuffing my tote with all this seasonal goodness, I realized that absolutely everything that's in season also happens to be on the ingredient list for Ratatouille, one of my favorite dishes.
It smells amazing and instantly transports me back to my summers spent in the South of France. It's a classic French dish usually served as a side, but you know how I like my veggies, so I usually pile it on. I didn't this time, but you could add in chickpeas for protein and serve over brown rice or another whole grain for a complete and well balanced plate.
Every ingredient for this ratatouille recipe is currently in season in the Northeast, which means you'll find the tastiest (and often cheapest) at your local Farmer's Market. Eggplant, summer squash, onions, garlic, tomatoes, basil, flat-leaf parsley, thyme…just imagine how good your kitchen will smell! Traditionally, the recipe also calls for bell peppers, but I wasn't able to find any organic local ones, so I just subbed okra in, which happens to be abundant (and tasty) this time of year.
I will warn you, this recipe is a bit labor intensive. If you've ever had good ratatouille, though, you know it's worth it. On the plus side, it makes a ginormous batch, so it should last you a few days. It's also a great dinner party dish.
Cut an X in bottom of each tomato with a sharp paring knife and blanch together in a 4-quart pot of boiling water 1 minute. Transfer tomatoes with a slotted spoon to a cutting board and, when cool enough to handle, peel off skin, beginning from scored end, with paring knife.

Coarsely chop tomatoes and transfer to a 5-quart heavy pot with garlic, parsley, basil, and 1/3 cup oil. Simmer, partially covered, stirring occasionally, until tomatoes break down and sauce is slightly thickened, at least 30 minutes.

While sauce is simmering, toss eggplant with 1/2 teaspoon salt in a large colander and let stand in sink to drain until ready to use.

Meanwhile, cook onions in 2-3 tablespoons oil in a 12-inch heavy skillet over moderate heat, stirring occasionally, until softened, 10 to 12 minutes. Transfer onions with a slotted spoon to a large bowl, then add 2-3 tablespoons oil to skillet and cook 1 cup okra over moderate heat, stirring occasionally, until softened, about 6-8 minutes. Transfer peppers with slotted spoon to bowl with onions. Add 2-3 tablespoons oil to skillet and cook zucchini with 1/4 teaspoon salt over moderate heat, stirring occasionally, until just tender, 6 to 8 minutes. While zucchini are cooking, pat eggplant dry with paper towels. When done, transfer zucchini with slotted spoon to bowl with other vegetables.

Add 2-3 tbsp. oil to skillet and cook eggplant over moderate heat, stirring occasionally, until softened, 10 to 12 minutes. Add to vegetable bowl.

To the tomato sauce, add vegetables, and simmer, covered, stirring occasionally, until vegetables are very tender, about 30 minutes and up to 1 hour. Season with salt and black pepper to taste. Cool uncovered, and serve warm or at room temperature.
·Stew can be made 2 days ahead and chilled, covered. Bring to room temperature or reheat before serving.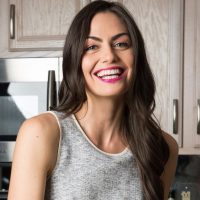 Maria Marlowe
Maria Marlowe is a holistic nutrition and wellness coach who uses real food to help her clients improve their health, weight, and skin. She offers a 28-day healthy eating meal plan that teaches you how to batch cook, as well as one to clear up acne. Her most popular program is EatSLIM, a 10-week online group glass that guides participants to develop healthy eating habits that stick – and lose weight, boost their metabolism, improve their digestion, and quit sugar.
She writes healthy and delicious plant-based recipes for her popular blog. She is also the author of the #1 New Release on Amazon, The Real Food Grocery Guide, the most practical guide to selecting the healthiest foods, without going broke, which has been praised by Dr. Oz and InStyle magazines. You can find her on instagram @mariamarlowe.