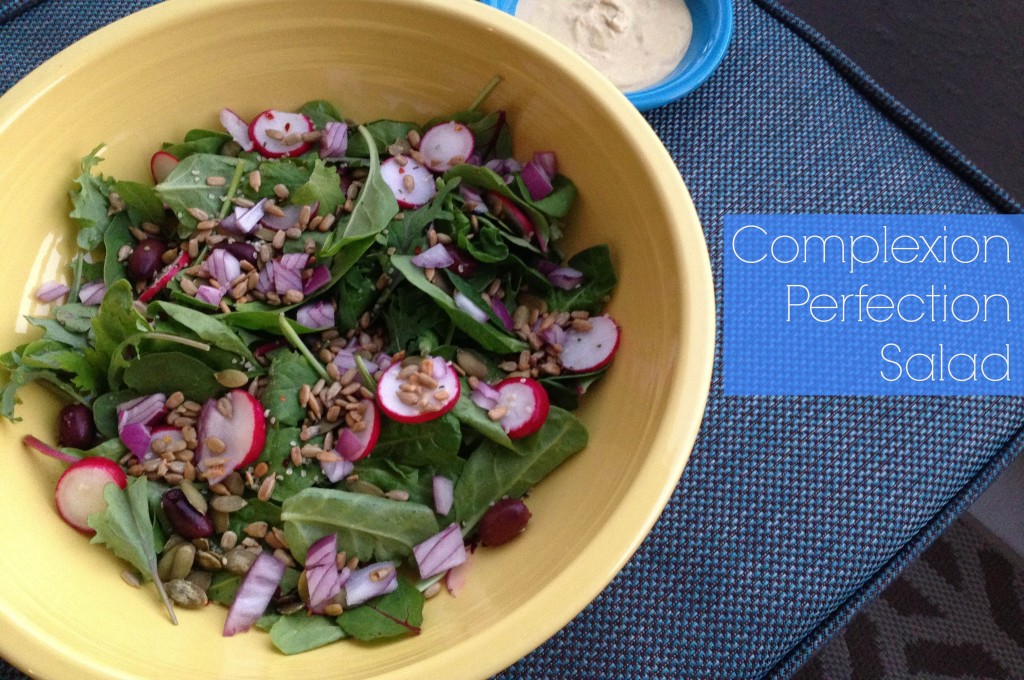 We have to eat 3 times a day, so why not make that time worthwhile? In case you missed it, you are what you eat. So, if you want glowing, radiant skin, long, shiny hair, and strong nails, then try my Complexion Perfection Salad.

Where does the Complexion Perfection come in?
Baby Kale: Packed with every vitamin known to man; High in anti-oxidant, anti-inflammatory, and anti-cancer nutrients.
Red Onion: Prevents inflammation, and are high in silica, a beauty mineral responsible for clear skin.
Kalamata Olives: Smooths Skin, protects against wrinkles, and more.
Radishes: Touted as the most beautifying of all foods, by creating luminous, wrinkle-free skin, and more.
Pumpkin Seeds: Detoxifies body, creates radiant, glowing skin, combats acne and wrinkles, and more.
Sunflower Seeds: Loaded with Vitamin E, Vitamin B1, and a number of anti-inflammatory nutrients.
Hemp Seeds: Helps burn excess fat, strengthens skin, hair and nails, and more.
Place all salad ingredients in a large bowl.

In a separate small bowl, whisk together dressing ingredients with a fork, or if you have a bullet blender, you can blend in there.

Pour over salad, mix well, and savor every bite!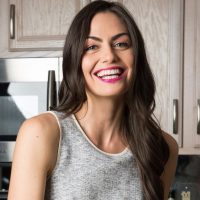 Maria Marlowe
Maria Marlowe is a holistic nutrition and wellness coach who uses real food to help her clients improve their health, weight, and skin. She offers a 28-day healthy eating meal plan that teaches you how to batch cook, as well as one to clear up acne. Her most popular program is EatSLIM, a 10-week online group glass that guides participants to develop healthy eating habits that stick – and lose weight, boost their metabolism, improve their digestion, and quit sugar.
She writes healthy and delicious plant-based recipes for her popular blog. She is also the author of the #1 New Release on Amazon, The Real Food Grocery Guide, the most practical guide to selecting the healthiest foods, without going broke, which has been praised by Dr. Oz and InStyle magazines. You can find her on instagram @mariamarlowe.