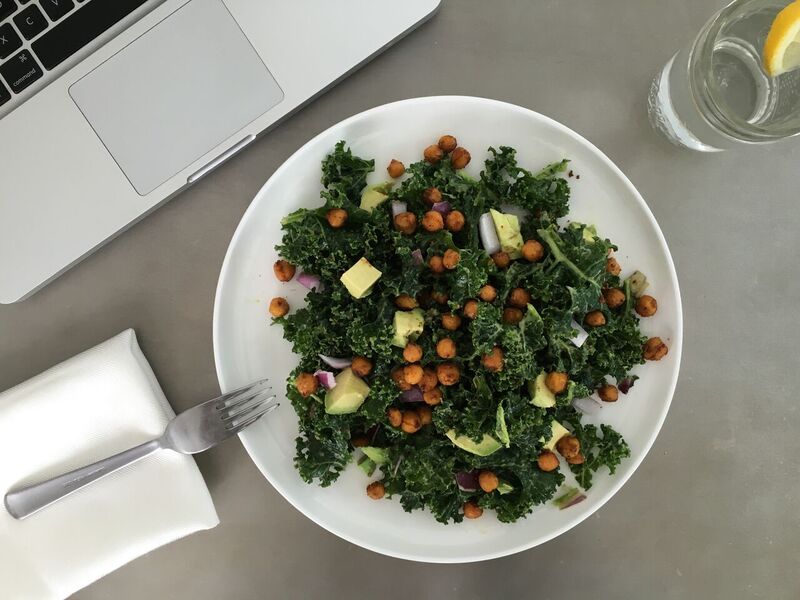 Most salad gets soggy overnight, but this amazing Avocado Kale Salad with Chickpea Croutons actually tastes better the next day, making it a perfect choice to prepare ahead and bring to work for lunch. 
Now, raw kale salads are hit or miss. Some are delicious, others, not so much, as raw kale on its own is not exactly appetizing, but here are three tips to make your kale salads crave-worthy:
Three Tips to Make Kale Taste Good
Slice, tear, or chop it thin. You can use a chiffonade cut for lacinto kale, and simply tear the curly kale into small bite-size pieces.
Marinate it. A marinade with some sort of acid in it, like vinegar or lemon, helps soften the leaves, so they are not quite so hard to chew.
Massage it. Like marinating, massaging kale softens it and creates a more delicious and chewable texture. You don't get the same effect from mixing it with spoons, you've got to get your hands dirty on this one, and really give your kale some love.
This recipe involves massaging the kale with avocado, which is really, just about the most delicious thing ever. While you can eat the salad right away, it does hold up well overnight, and maybe even tastes better, as it allows time for the flavors to blend.
You can pack it in a large mason jar, and you have a quick grab and go lunch the next day!
If you're tight on time, you can skip the chickpea croutons and instead use plain cooked chickpeas.
Avocado Kale Salad with Chickpea Croutons
Instructions
Put kale in a large bowl.

Top with avocado, salt and juice of lime.

Use your hands to "massage" and squeeze the avocado into the kale for 1-2 minutes. (Your hands will get messy, but it won't taste the same if you just mix it with utensils.) The kale will shrink in size and appear darker.

Top the kale with the remaining ingredients: red onion, cilantro, red pepper flakes, seeds and roasted chickpeas (optional). Mix well with utensils.
For the croutons
Preheat oven to 400 degrees.

In a bowl, mix chickpeas, oil and spices (you can add salt and black pepper to taste) until well coated.

Lay chickpeas out flat on a baking sheet. Bake for 20 minutes, give the pan a shake to move everything around, then bake for another 10-15 minutes. (You can pre-make a large batch of these and use them throughout the week. Store in an airtight container in the fridge).

Did you make this recipe?
Tag @mariamarlowe on instagram and hashtag #healthybymarlowe for a chance to be featured and win awesome prizes each month.
Clearer Skin in Just 3 Days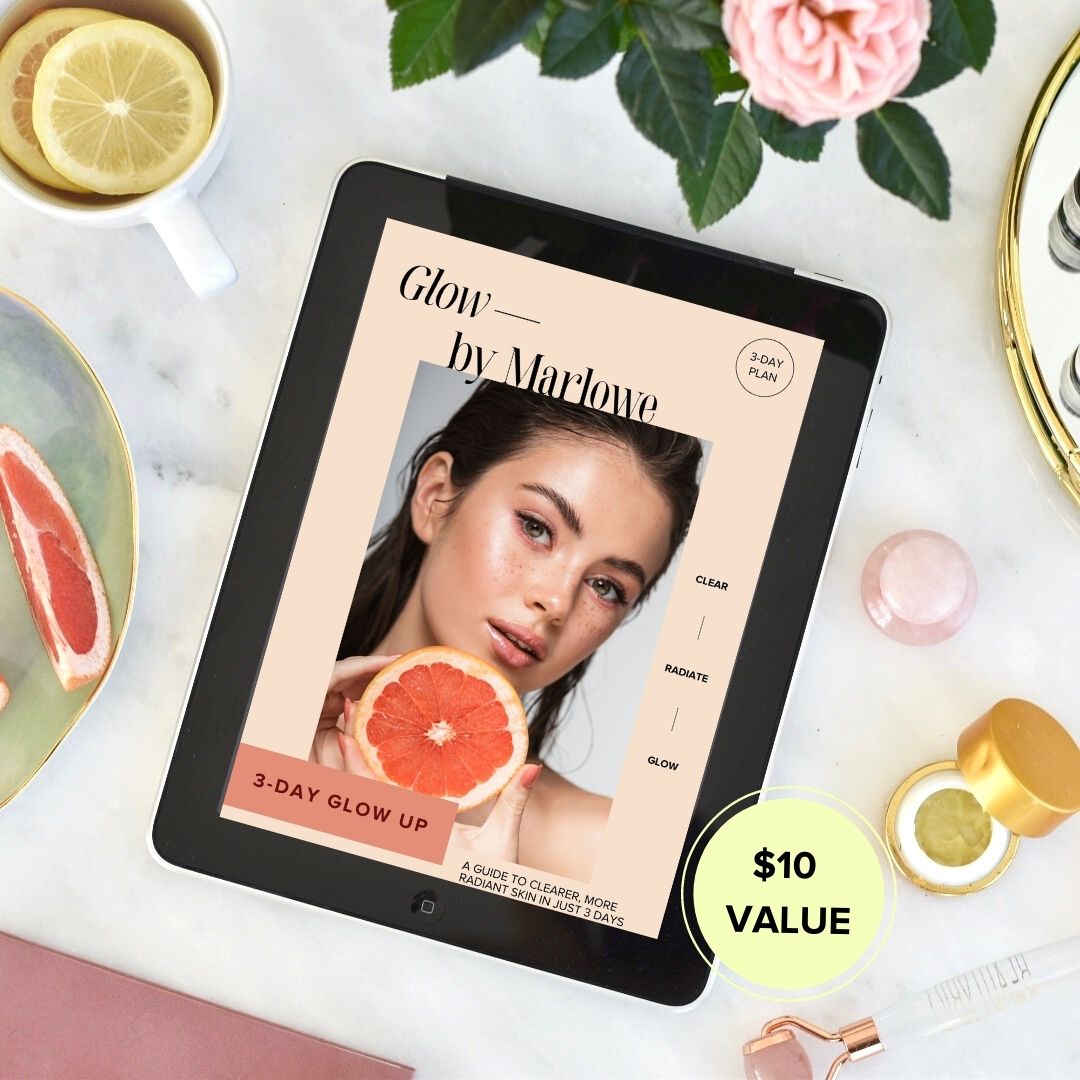 Sign up for my weekly newsletter to get the latest recipes, articles, & podcasts delivered to your inbox.

Plus, you'll receive The Glow Up Guide right away, a delicious 3-day meal plan to reduce redness and bumps, fast.