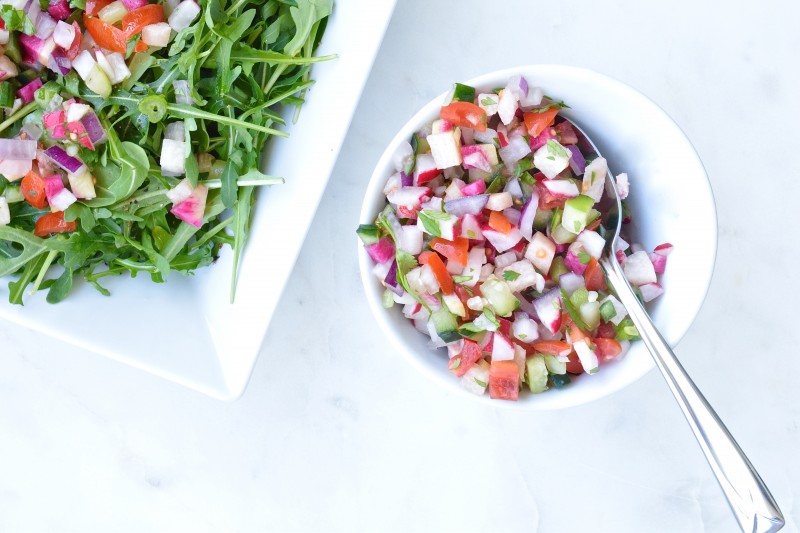 This delicious skinny salsa can go on top of just about anything, and is loaded with fiber-rich ingredients that will not only fill you up but aid in weight loss.
When it comes to weight loss, its all about the quality of your calories. Eating fiber and water rich fruits and vegetables can help you peel off the pounds, in part because they fill you up on minimal calories.

Key Skinny Salsa Ingredients
Radishes are considered a cruciferous vegetable, which is a family of vegetables that have been show to aid the body's natural detoxification processes and may help reduce the risk of certain cancers when eaten multiple times a week. (1)  Other cruciferous vegetables include, but are not limited to, kale, broccoli, cabbage, and cauliflower.
Radishes are an excellent weight loss food for many reasons:
They are high in water content, making them filling,
They are only about 1 calorie each, and
They contain flavanoids, plant chemicals believed to play a role in weight loss and maintaining a healthy weight, according to a Harvard study published in BMJ. (2)
Jicama is a refreshing rot vegetable you may have never tried, but will probably fall in love once you do. It is crisp, crunchy, and has a very mellow flavor. Almost like a cucumber, but somehow, better. This is an excellent food to add into the diet, especially if you're looking to lose weight.
It's great for digestion because it contains prebiotic fiber, which helps feed the probiotics in your gut. Studies have also shown that it helps control blood sugar, which is important when trying to lose weight.
The peel is not edible, so remove it with a vegetable peeler and discard.
Skinny Salsa Serving Suggestions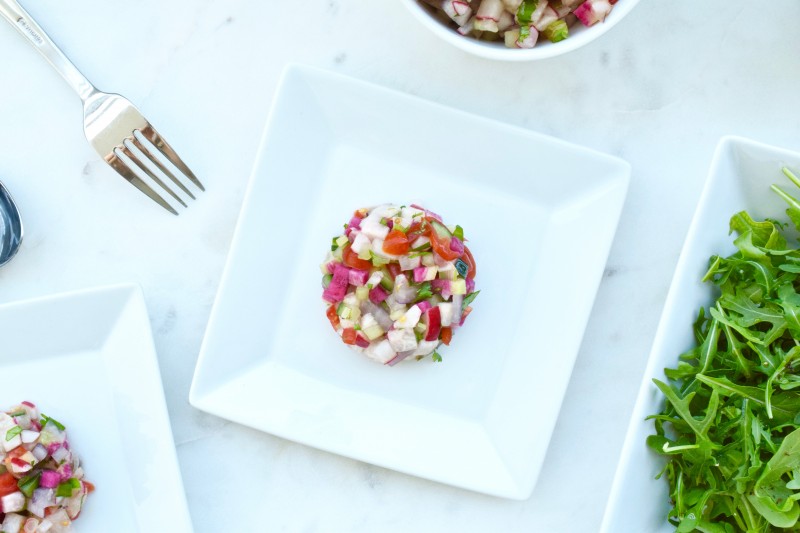 Pack the salsa into a half cup or one cup round measuring cup, than flip onto a plate for a skinny salsa "tartare" like pictured above. Or, spoon onto salads, tacos, seafood, or any dish that can use a little fresh flavor. It will help you feel full, so you'll likely end up eating less of whatever else is on your plate.
Shop This Skinny Salsa
I get my produce from my local farmer's market as often as possible, but Amazon Fresh and your local health food store are great options for organic produce, too. Ideally, everything should be organic, but if that's not feasible, I'd suggest at minimum choosing organic chiles, cucumber, and cherry tomatoes, as they are on the EWG's Dirty Dozen list of produce with the highest levels of or most harmful pesticides.
Pink Salt
Pink (Himalayan) salt contains dozens of trace minerals, and it's a staple in my spice cabinet. I prefer to get it in a grinder so I can freshly grind it into whatever I'm making.
Get it for 17% off at Vitacost.
Olive Oil
I prefer to use olive oil for salads and dressings instead of cooking because of its lower smoke point. Choose extra-virgin olive oil for the most phytonutrients and health benefits.
Get my favorite extra virgin olive oil for 20% off at Vitacost.

Try This Skinny Salsa
If you try this recipe, let me know! Leave a comment, rate it (by clicking the stars on the recipe card below, just below the image), and don't forget to tag a photo @mariamarlowe or #mariamarlowe on Instagram or Facebook. I'd love to see what you come up with!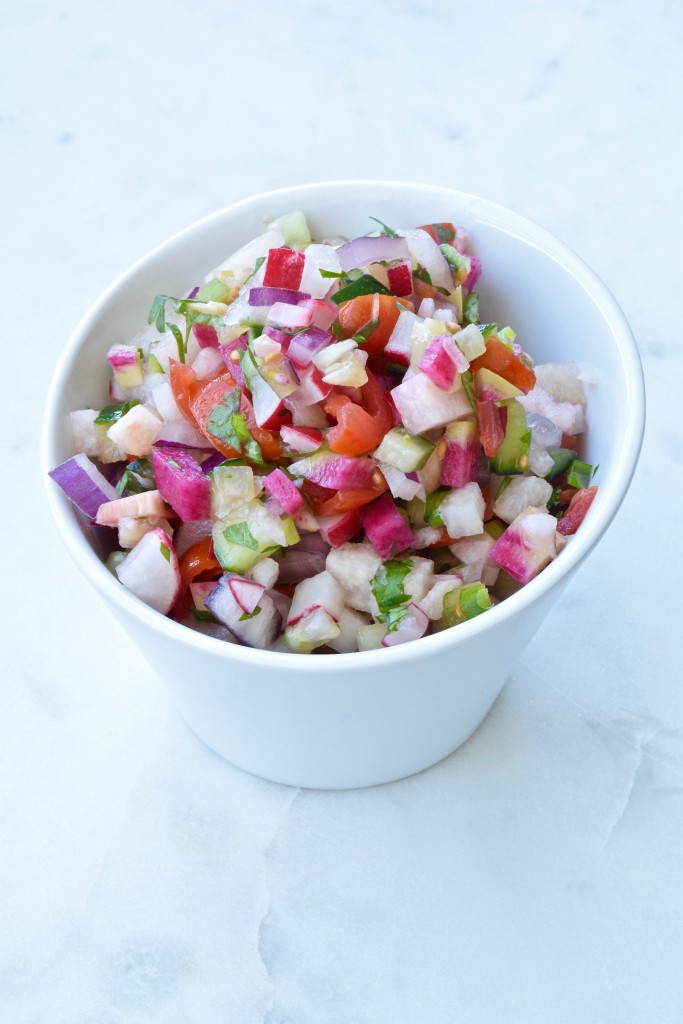 Skinny Salsa
Instructions
Combine all ingredients in a medium bowl, and toss well. Serve right away, or refrigerate in an airtight container. Should last 3-4 days if using fresh ingredients.

Did you make this recipe?
Tag @mariamarlowe on instagram and hashtag #healthybymarlowe for a chance to be featured and win awesome prizes each month.
Clearer Skin in Just 3 Days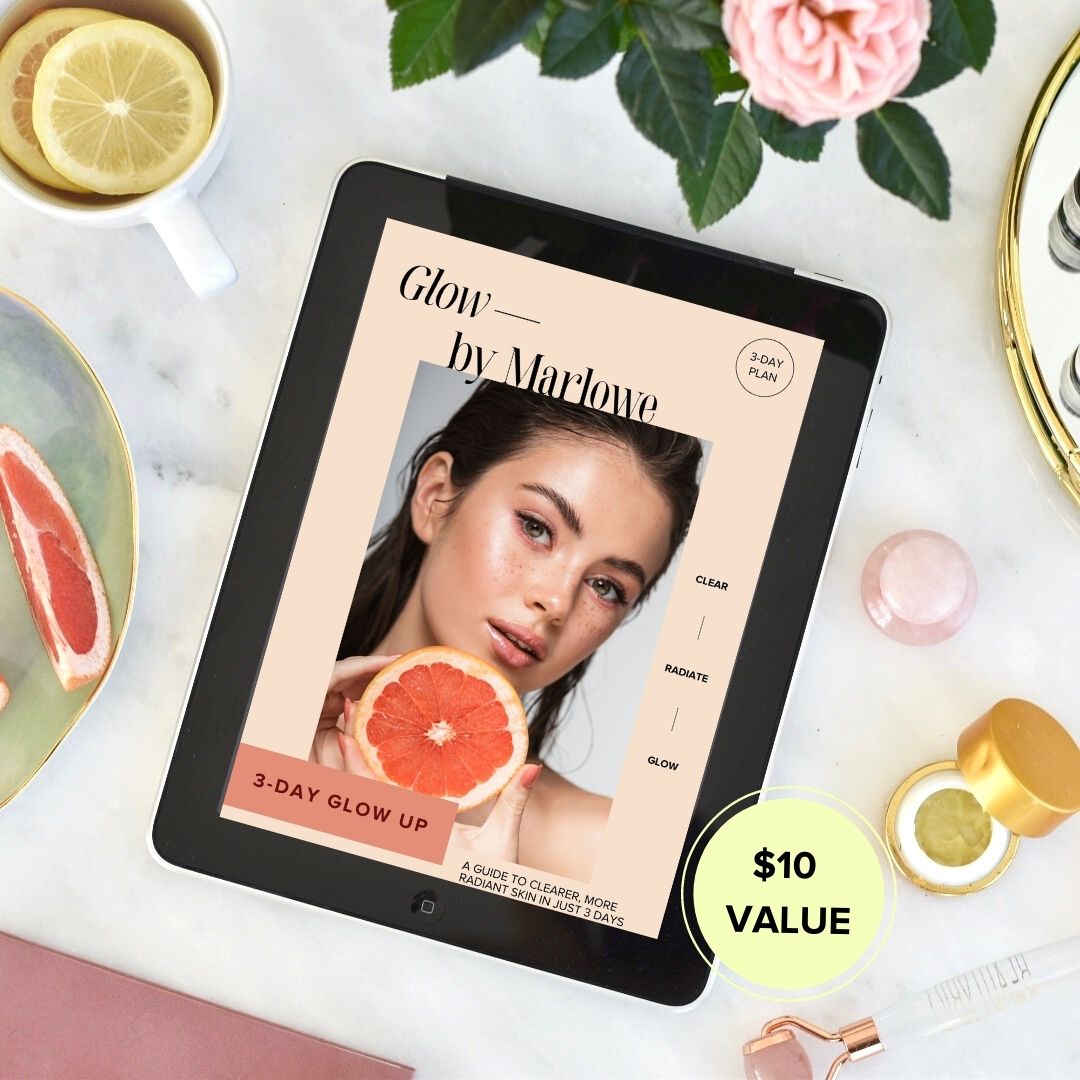 Sign up for my weekly newsletter to get the latest recipes, articles, & podcasts delivered to your inbox.

Plus, you'll receive The Glow Up Guide right away, a delicious 3-day meal plan to reduce redness and bumps, fast.