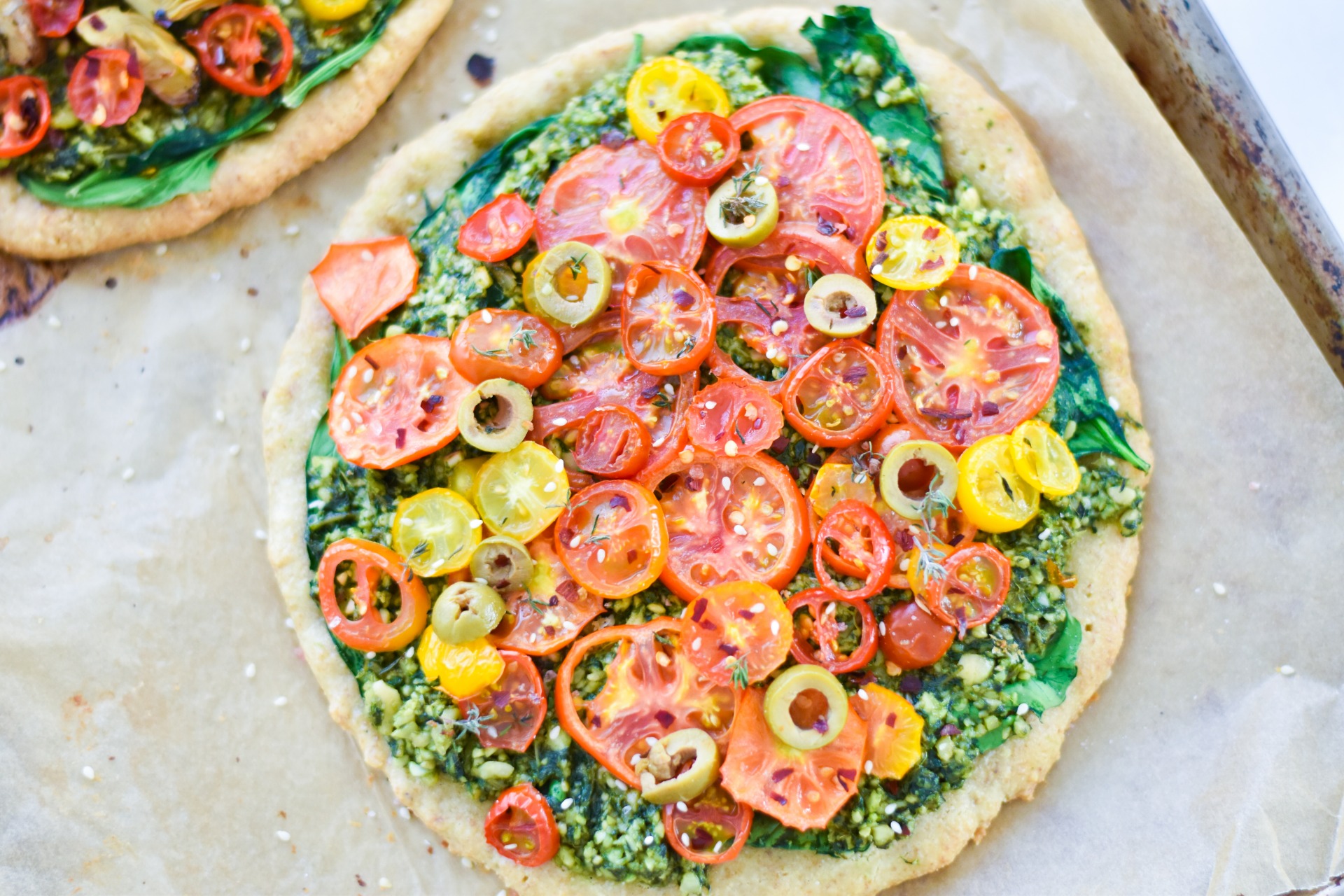 What could be better than a Roasted Tomato & Pesto Pizza (that happens to be gluten-free, dairy-free, and absolutely delicious?) Cooking said pizza with Good Morning America!
Watch the video clip here:

View this post on Instagram
Ingredient Tips
Choose heirloom tomatoes from your local farmers market if possible, for beautiful colors, intricate shapes, and more intense flavor
Swap cashews for pine nuts, walnuts, or pumpkin seeds, if desired. You can skip the soaking step for pine nuts and pumpkin seeds.
Order your dry goods, like oils, spices, nuts, olives, ACV, and Simple Mills Pizza Mix at vitacost.com – they have the best prices on healthy foods/brands and deliver straight to your door.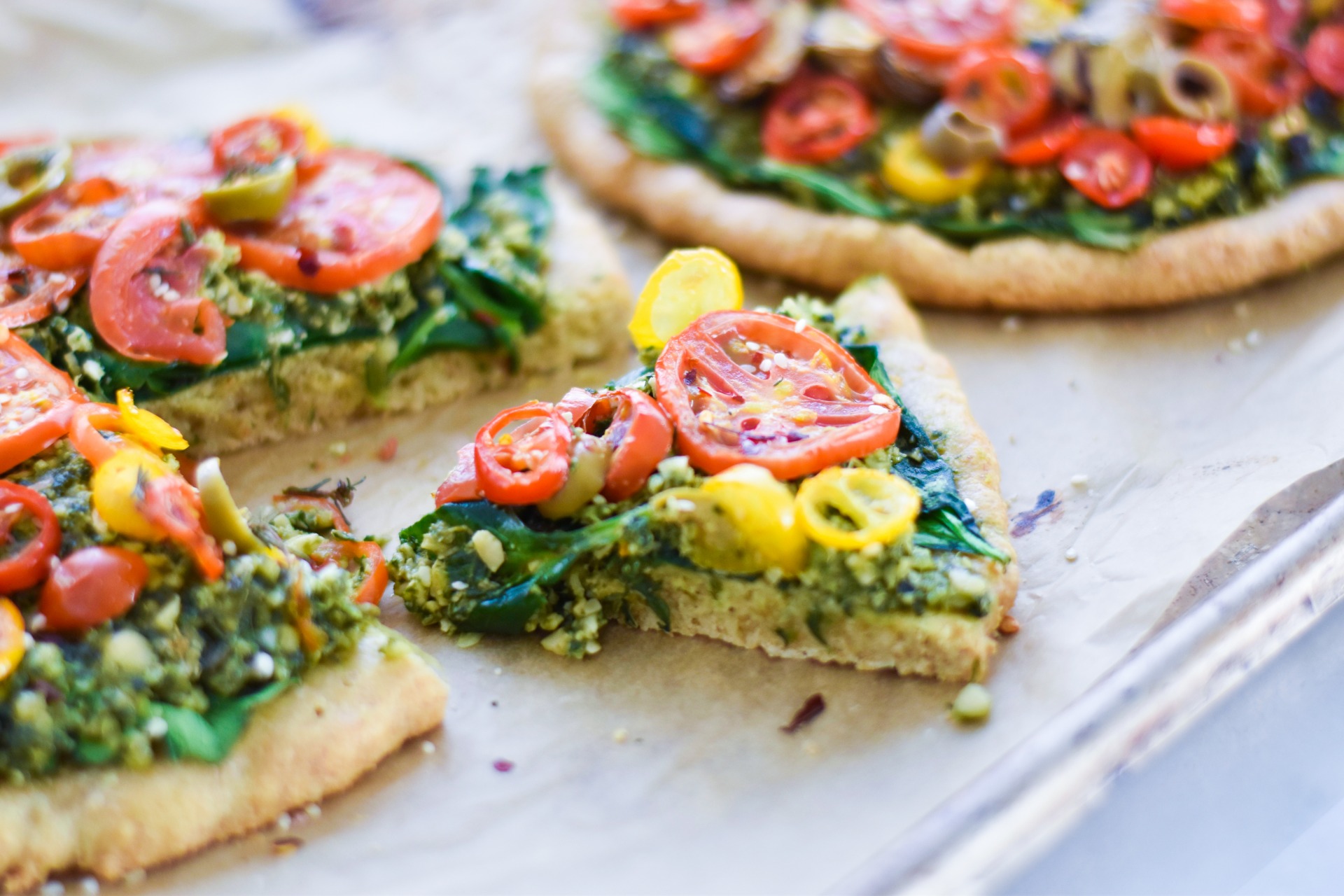 Roasted Tomato & Pesto Pizza [Gluten-Free + Dairy-Free]
Ingredients
Instructions
Preheat oven to 350°F. Line 2 baking sheets with parchment paper.

First, roast the tomatoes. Lay the tomatoes out flat on one of the trays. Drizzle with olive oil and pinch of salt. Toss to coat everything evenly. Put in the oven to roast on the top rack.

Next, make the pizza crust. In a large bowl, whisk apple cider vinegar, oil, and water together. Add pizza dough mix, stir well until a sticky dough forms.

Divide dough into two equal portions. Lightly oil hands to prevent sticking, roll into balls, then press out into two 8-inch circles on the second baking sheet. Bake for 10 minutes on the bottom rack.

Meanwhile, make the pesto. Add the garlic, cashews, lemon and salt to the food processor or blender and process until well chopped but a little chunky. Add the basil and process again until combined. Then, continue to pulse while drizzling the olive oil in until thoroughly combined. You can leave the cashews a little chunky, or continue pulsing for a smoother consistency. Set aside.

Take the pizza crusts and tomatoes out of the oven. Top the crusts with a layer of arugula/spinach, then pesto, tomatoes, and olives. Return the pizza to the oven an additional 5 minutes. When ready to serve, top with red pepper flakes, if desired.
Recipe Notes
*Pro-tip: Use a serrated knife to chop your tomatoes (the kind of knife used for bread with the wavy edge). It will prevent you from crushing the tomato and delivers nice clean slices. 

Did you make this recipe?
Tag @mariamarlowe on instagram and hashtag #healthybymarlowe for a chance to be featured and win awesome prizes each month.
Clearer Skin in Just 3 Days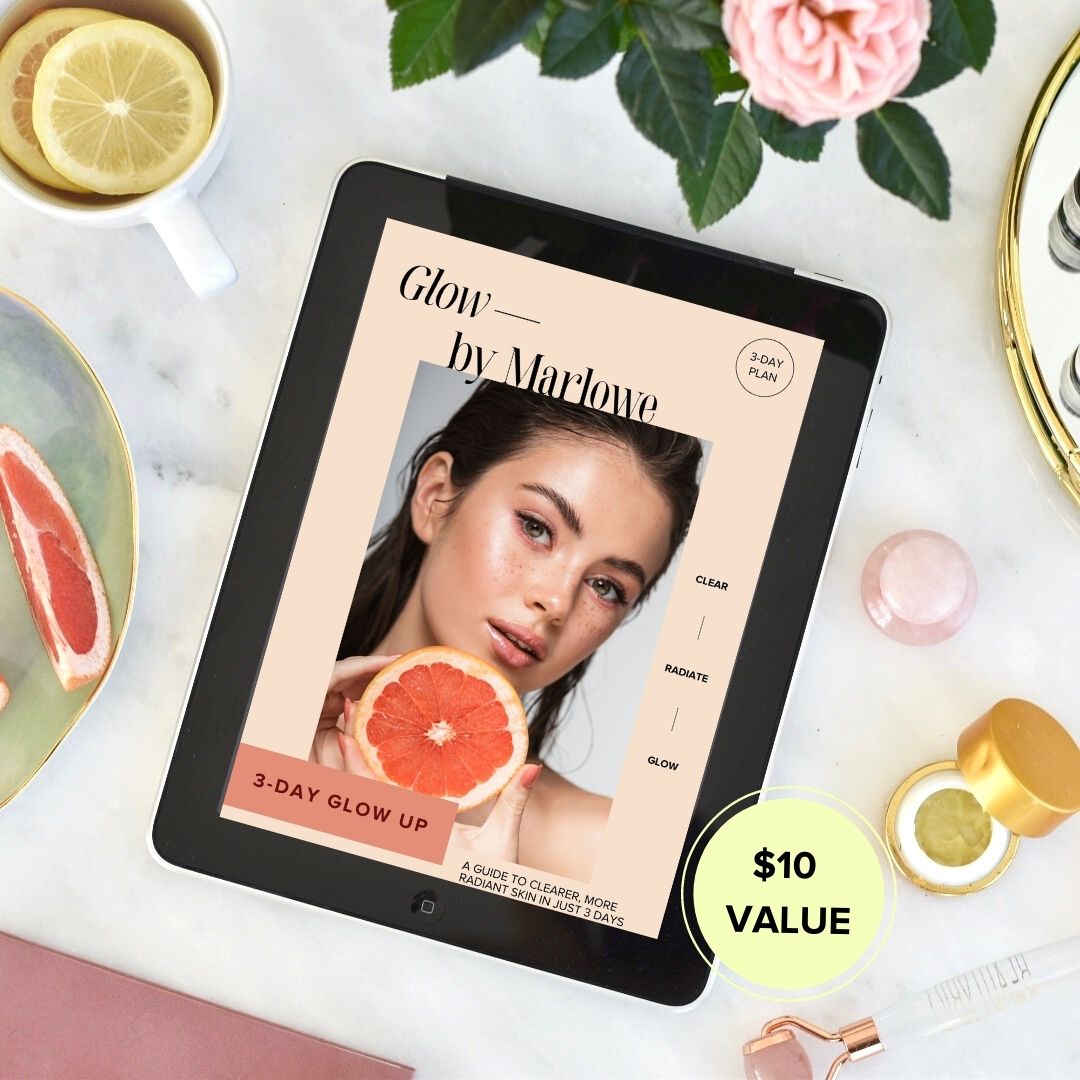 Sign up for my weekly newsletter to get the latest recipes, articles, & podcasts delivered to your inbox.

Plus, you'll receive The Glow Up Guide right away, a delicious 3-day meal plan to reduce redness and bumps, fast.