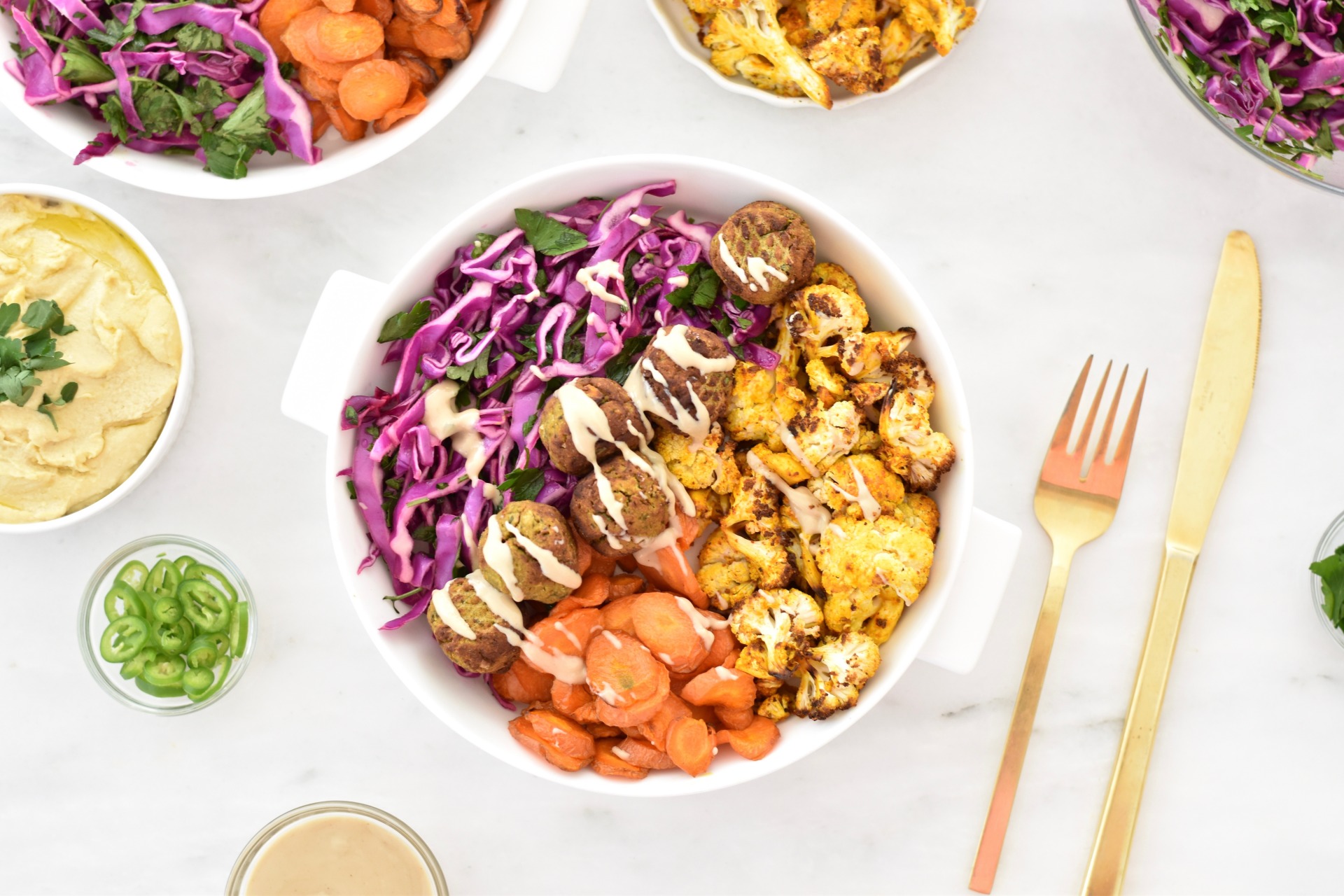 This air-fried sweet potato falafel recipe is a fun and healthy upgrade to traditional deep-fried falafel.
An air-fryer uses just air – not oil – to crisp up the outside of your food. So, it's not fried at all, it just tastes like it. Pair this air-fried sweet potato falafel with tahini, hummus, and your favorite roasted veggies or salads for a complete meal.
While authentic falafel calls for dried chickpeas that need to be soaked overnight, this quickie version can be made with canned chickpeas.
No air-fryer? No problem.
I don't have an air-fryer, so went to my in-laws to use theirs for the recipe. However, after doing some further research, I realized that an air fryer is essentially a convection oven with a brilliant name. So you can bake this in a convection oven, or regular oven, and still get a crispy exterior.
If using a regular oven, here are some tips to ensure the crispiest "fried" shell:
Use a pan with perforations in the bottom, like this stainless steel pizza pan. This allows maximum air circulation and a crisp crust.
Oven "fried" foods tend to be a bit drier, so to prevent the falafel from getting too dry, brush each falafel with a drop of oil.
Turn the fan inside your oven on – it helps the hot air circulate better resulting in a crispier finished dish.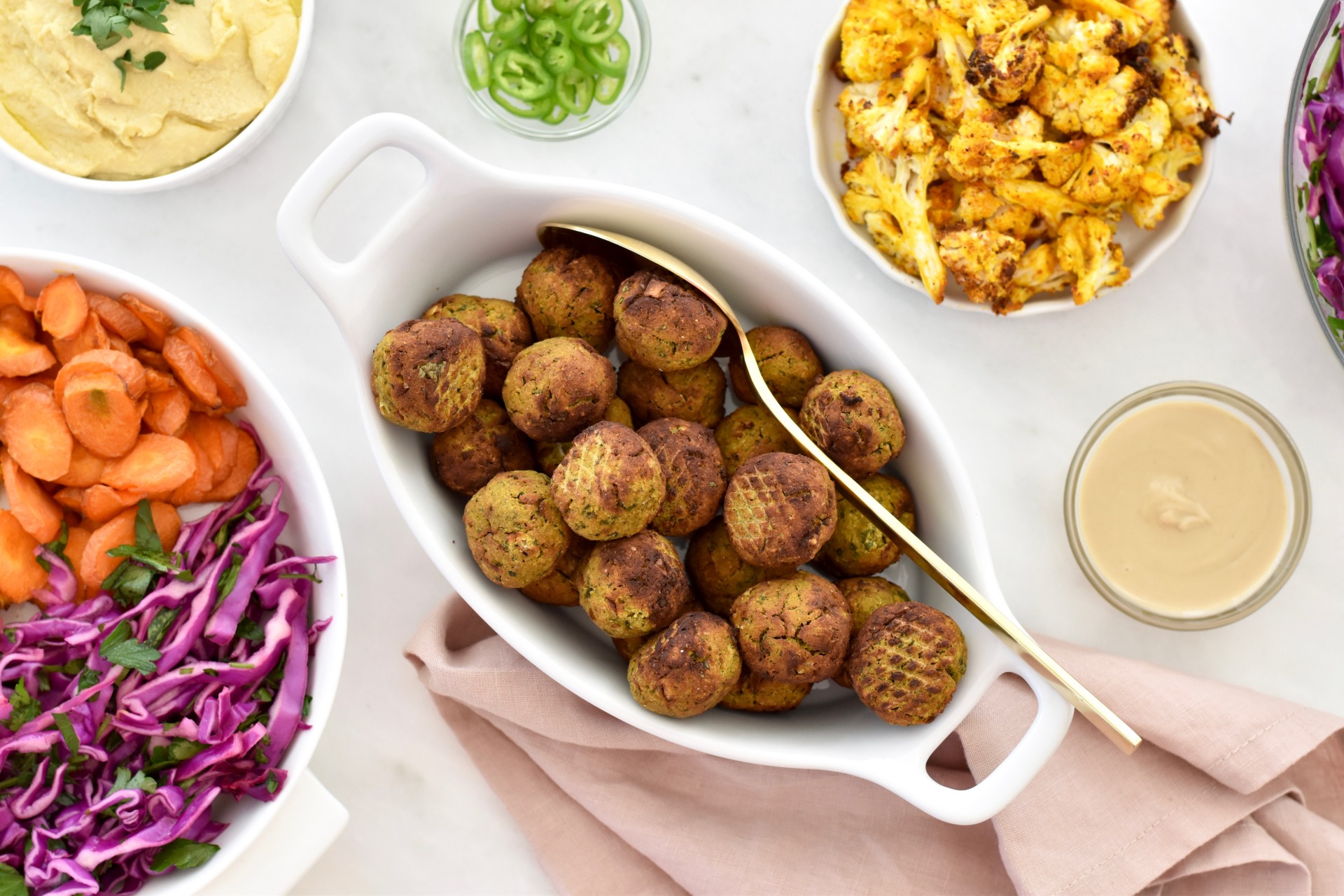 Sweet Potato Falafel
Total Time
1

hour
30

minutes
Instructions
Soften the sweet potato, either by microwave or steaming. To microwave, add the cubes to a microwave-safe dish, microwave about 3-5 minutes until soft. To steam, fill a pot with a steamer basket with one-inch of water. Bring it to a boil, add the sweet potatoes into the steamer basket, cover, and steam for about 10 minutes, until sweet potatoes are soft.

Next combine all ingredients in the blender, and blend until a you have a smooth-ish consistency. A little chunky is ok.

Remove to a bowl and refrigerate for at least 1 hour, to firm up.

Spoon about a tablespoon or so into your hand and roll into a 1-inch ball. Repeat with remaining dough.

Air fry at 375F for 15-18 minutes.

Serve with tahini, hummus, and your favorite veggies.
Recipe Notes
*Makes: 28 1-inch falafels
**

If using organic sweet potato, leave the skin on for added fiber and nutrients. If not, simply peel it before cubing.
No air-fryer? You can bake the falafel in the oven at 375F for 25-30 min. To ensure a nice crisp crunch and prevent drying out, brush each falafel with a drop of oil. If you have a fan in the oven turn it on. It helps the hot air circulate better resulting in a crispier finished dish. 

Did you make this recipe?
Tag @mariamarlowe on instagram and hashtag #healthybymarlowe for a chance to be featured and win awesome prizes each month.
Clearer Skin in Just 3 Days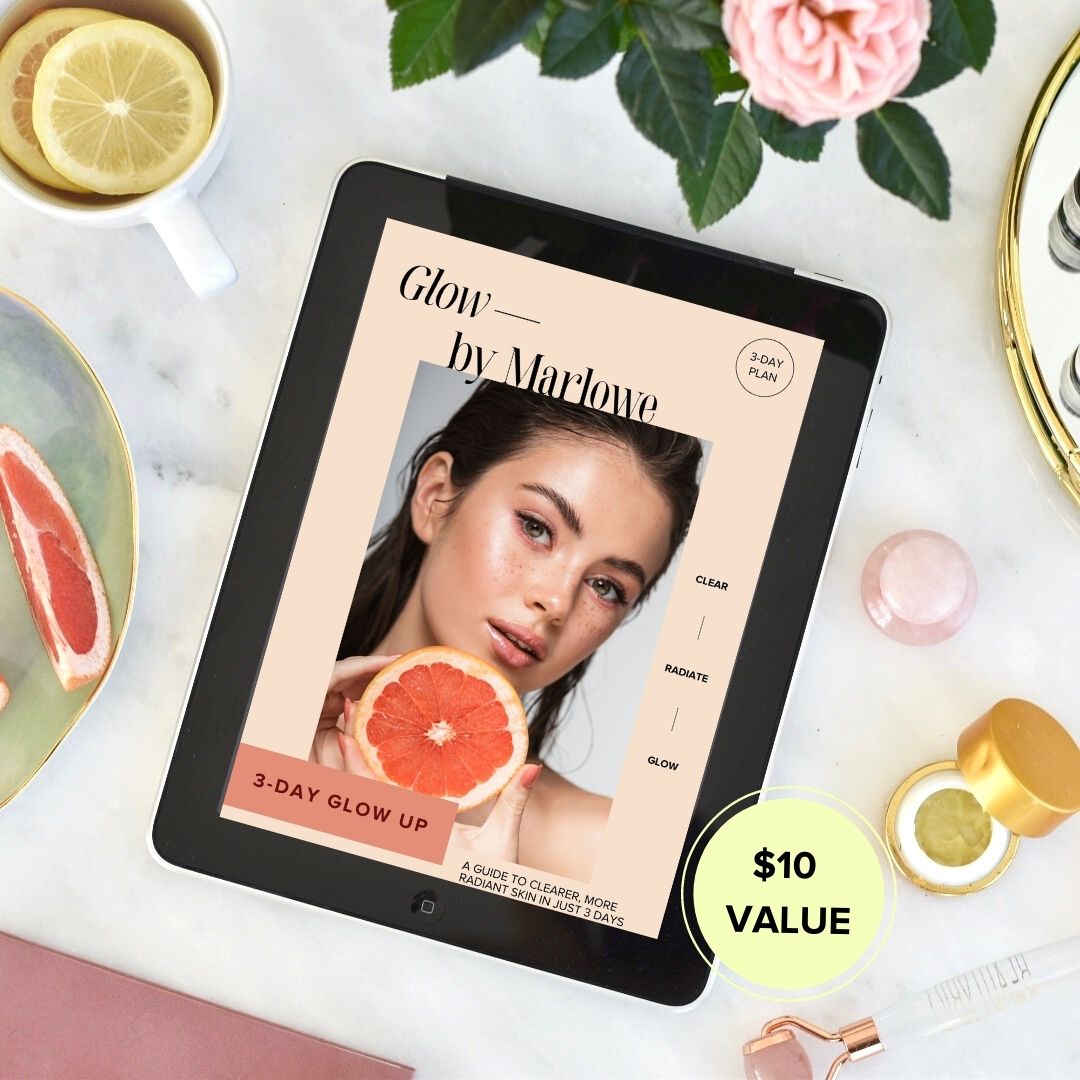 Sign up for my weekly newsletter to get the latest recipes, articles, & podcasts delivered to your inbox.

Plus, you'll receive The Glow Up Guide right away, a delicious 3-day meal plan to reduce redness and bumps, fast.