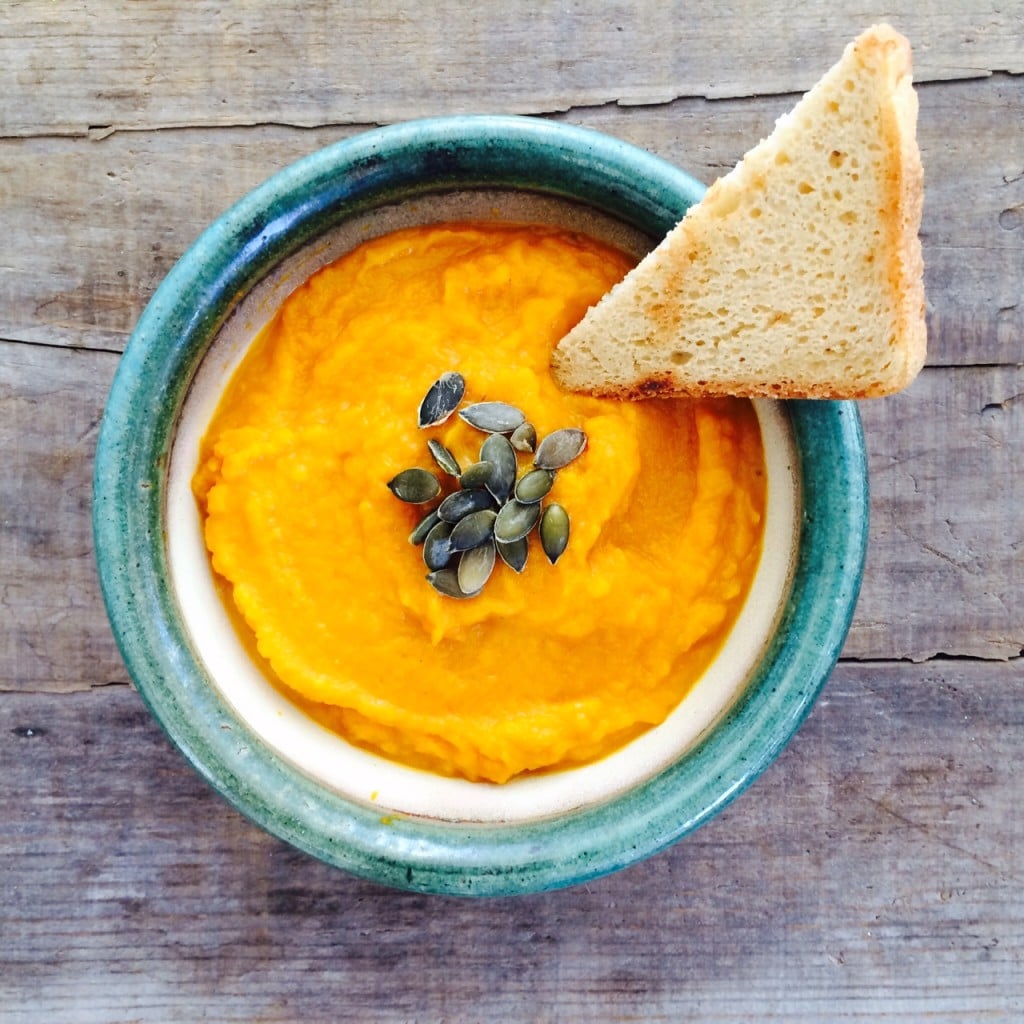 Is that not the most gorgeous soup you've ever seen?
Red Kuri Squash is the most luscious, vibrant orange-y red I've ever seen in a vegetable. And with its saturated color comes huge antioxidant power…basically the deeper the hue of any plant food, the higher the vitamin concentration. Anything orange is a sign of the antioxidant beta-carotene, the pre-cursor to Vitamin A, which is needed for clear, blemish-free skin.
I absolutely love the crisp fall weather that has hit NY pretty quickly, and it has gotten me excited to try all new winter vegetables. Last week I tried kabocha squash and this week, I picked up this red kuri squash. I've never seen or heard of it before, but I liked the way it looked, and thought it would be a good alternative to pumpkin, which is one of my favorite fall foods.
Red kuri squash becomes like butter when you roast it. It has a velvety mouth feel, making it excellent for creamy soups. It also has a wonderful sweet flavor that comes out when roasted. Some people compare its taste to a cross between chestnuts and pumpkin. I've never really had chestnuts, so I have no comment on that. All I can say, is day-um, it was good.
I love the texture of bread freshly melted in hot soup, so I dipped some gluten free toast in there, and it was divine. I use the Food for Life rice or millet bread, and I grill it in coconut oil to toast it, sometimes rubbing it with garlic first for extra flavor.
Without further ado, here is my Red Kuri Squash Recipe:
Preheat oven to 400 degrees.

Cut kuri squash in half, remove seeds, and place cut-side down on a baking sheet. Bake for approximately 30 minutes, or until a fork will easily pierce the skin.

Remove from oven and let cool until comfortable to handle.

Meanwhile, heat coconut oil in a large skillet over medium low. Add the onions and saute for 3-5 minutes, before adding the chile, ginger, and garlic. Saute another 3 minutes or so, before scooping the flesh of the red kuri squash into the pan. Add vegetable broth as well, and let cook together for about 10 minutes.

Carefully transfer veggie/broth mixture to a blender. When blending hot liquids, remove the center piece on the blender lid and hold a dish towel over the opening to allow the steam to escape without getting squash on your ceiling. Blend until velvety smooth. Add more broth (or water) for a thinner soup, or use less for a thicker one.*
*I use 4 cups liquid to appx. 4 lbs of squash, which results in a thick and creamy soup, as you can see in the photo. If you prefer a thinner soup, simply add more broth or water.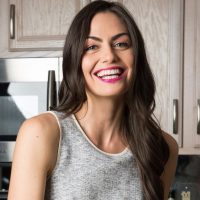 Maria Marlowe
Maria Marlowe is a holistic nutrition and wellness coach who uses real food to help her clients improve their health, weight, and skin. She offers a 28-day healthy eating meal plan that teaches you how to batch cook, as well as one to clear up acne. Her most popular program is EatSLIM, a 10-week online group glass that guides participants to develop healthy eating habits that stick – and lose weight, boost their metabolism, improve their digestion, and quit sugar.
She writes healthy and delicious plant-based recipes for her popular blog. She is also the author of the #1 New Release on Amazon, The Real Food Grocery Guide, the most practical guide to selecting the healthiest foods, without going broke, which has been praised by Dr. Oz and InStyle magazines. You can find her on instagram @mariamarlowe.