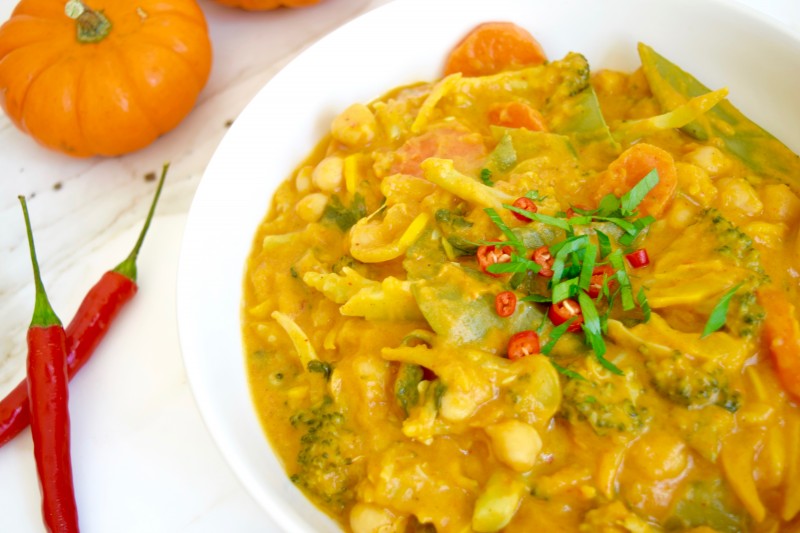 Curry is one of my fave fast and easy weeknight dinners, and here it gets fall-ified with this pumpkin curry recipe.
Curry veggie bowls come together really quickly, yet are extremely flavorful and satisfying. I'm a bit pumpkin-obsessed, so I've been sticking it in everywhere.
It goes well in curry, as it sort of just melts right into the curry sauce, while adding extra fiber and nutrients, of course. If you've never made your own curry, you'll be pleasantly surprised at how easy it is!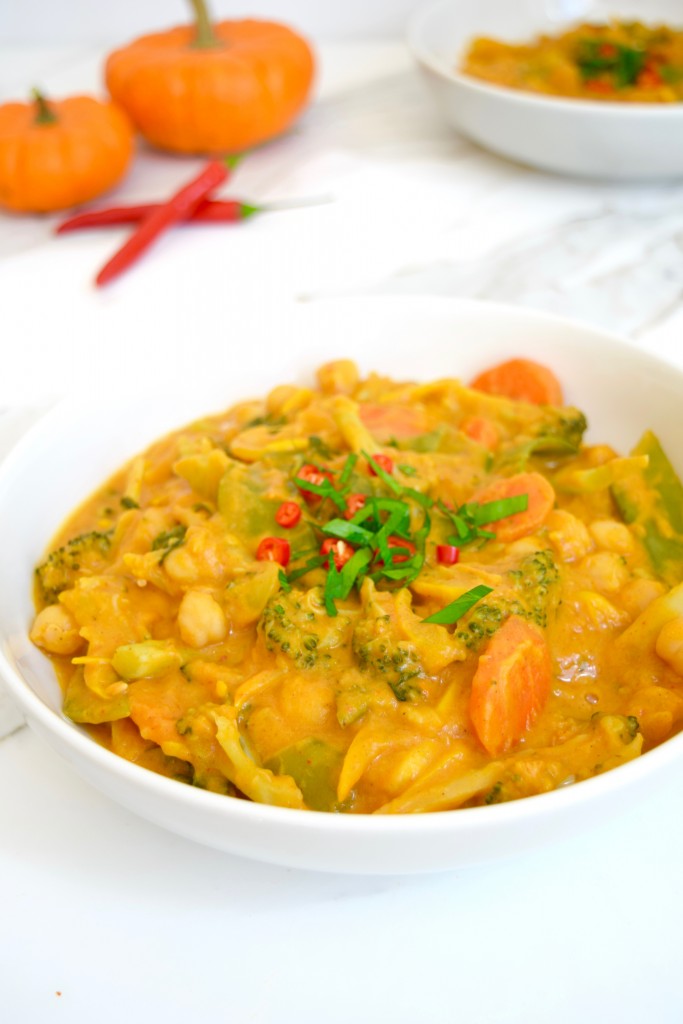 Kitchen Staples 
I like to always keep coconut milk and thai curry paste in the house, and then just use whatever veggies I have on hand to whip up a quick, fuss-free meal. My preferred brands are:
 Coconut Milk:
So Delicious Culinary Coconut – This is thicker and creamier which I prefer, and also comes in a tetrapak instead of a can. You can use it to replace canned coconut in recipes. Depending on what I'm cooking, I sometimes add a little water or veggie stock to thin it out.
Thai Kitchen Coconut Milk – I love the full fat version of this coconut milk, however I generally avoid canned foods so don't use this very often anymore. (This is the only canned food I still personally consume, although not regularly. It is really great for coconut whipped cream).
Curry Paste: 
Thai Kitchen Curry Paste  –  I have been using the Red Curry Paste for years, and love its clean ingredient list and glass bottle. It is easy to find online or in grocery stores. I recently started using the green curry paste too, but I'm personally more of a red curry gal.
Aroy-D Green Curry Paste – This brand is made in Thailand and is definitely authentic. It comes in a plastic bag inside that plastic container, which I'm not crazy about, but it does taste good and has a clean, real food ingredient list.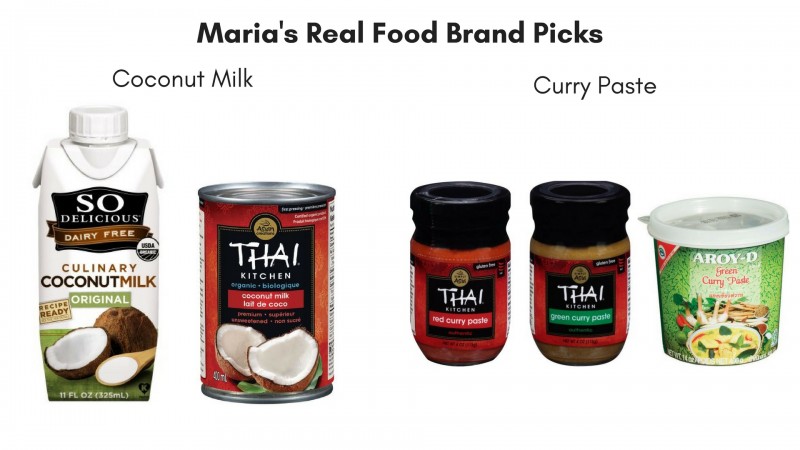 What to Serve with Pumpkin Curry
You can of course put this over rice, as curry is traditionally served, but you may want to try it over cauliflower rice or quinoa instead, for a new twist. I sometimes just eat it on its own, too.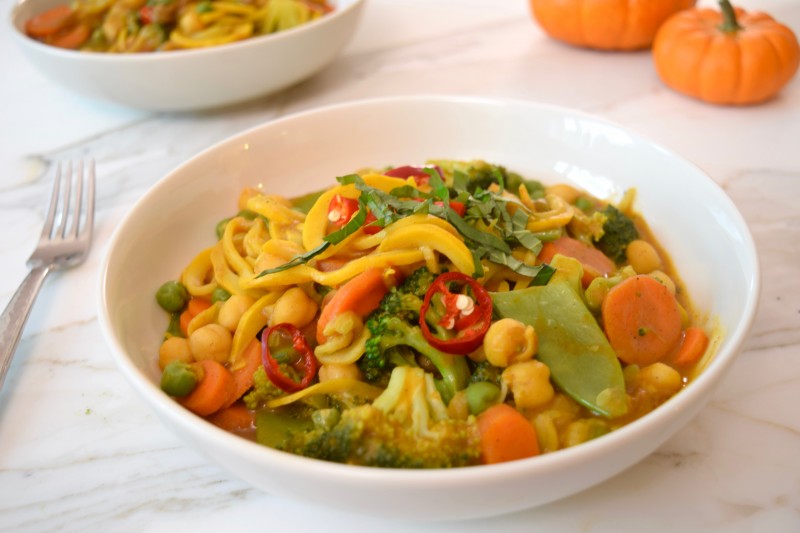 Try this Pumpkin Curry
You can use canned pumpkin, but I highly recommend making a batch of fresh pumpkin puree. It tastes infinitely better.
If you try this recipe, let me know! Leave a comment, rate it (by clicking the stars in the upper right of the recipe card, below), and don't forget to tag a photo @mariamarlowe or #mariamarlowe on Instagram or Facebook. I'd love to see what you come up with!
Pumpkin Curry Video Tutorial
Pumpkin Curry
Instructions
In a bullet blender, combine coconut milk, pumpkin, spice, and maple syrup. Blend until combined.

Heat a large pan or wok on stovetop over medium heat. Add the coconut/pumpkin blend and bring to a boil. Stir in the red curry paste, then reduce to low and cook for 5 minutes before adding in the veggies. Cover, and cook 5-7 minutes, until veggies are crisp-tender.
Recipe Notes
*You can use whatever veggies you have on hand...just chop them small and evenly, so they cook fast and evenly.
Curries are a great place to get a variety of veggies in. Other ideas: cauliflower, okra, bok choy, cabbage...
If you want it extra spicy, add in additional chopped chiles or an extra tablespoon of curry paste.
If at any point you feel the pumpkin curry sauce gets too thick, you can thin it out by adding 1/4 cup water or vegetable broth at a time.
If you refrigerate and reheat later, do it on the stovetop and add the water/ broth.

Did you make this recipe?
Tag @mariamarlowe on instagram and hashtag #healthybymarlowe for a chance to be featured and win awesome prizes each month.
Clearer Skin in Just 3 Days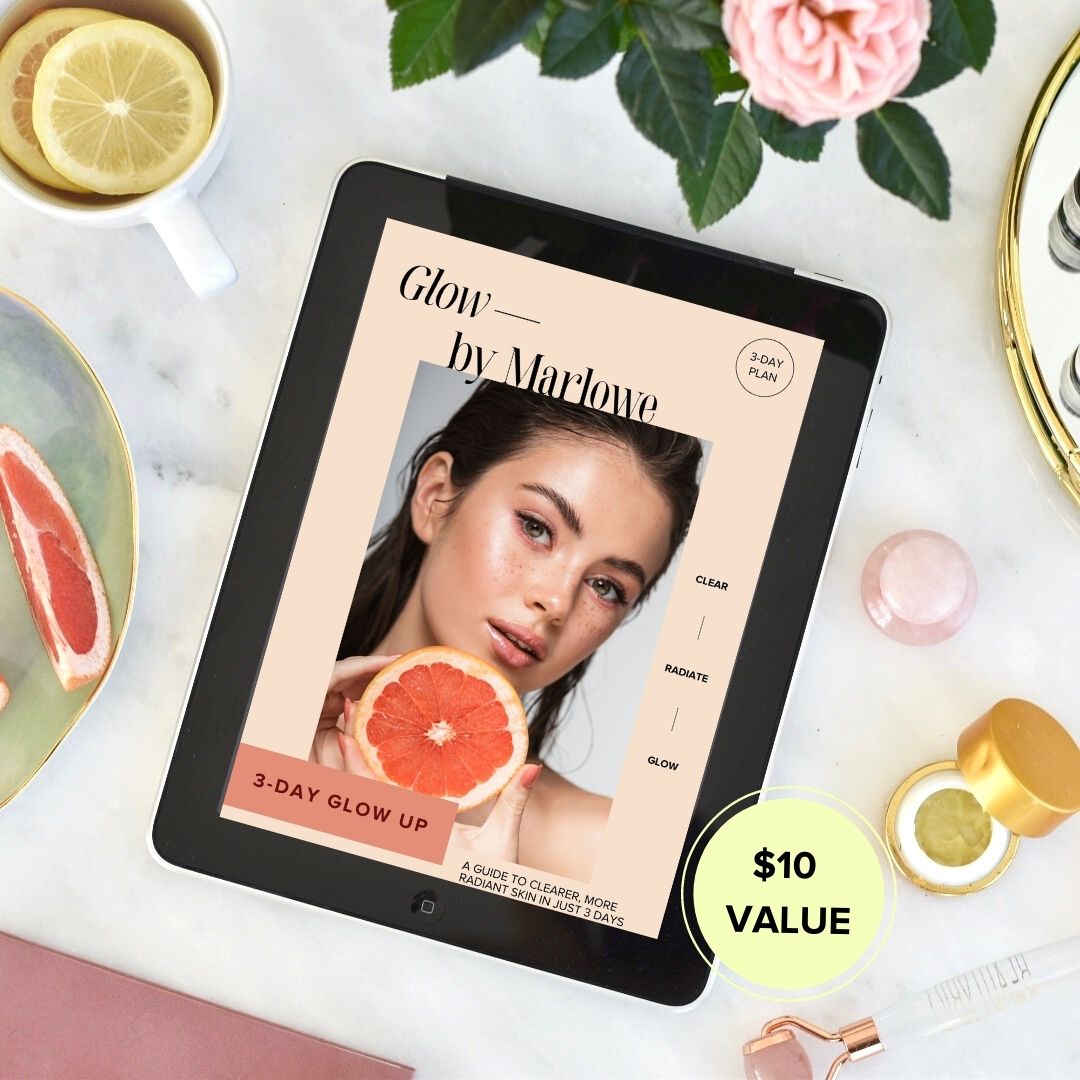 Sign up for my weekly newsletter to get the latest recipes, articles, & podcasts delivered to your inbox.

Plus, you'll receive The Glow Up Guide right away, a delicious 3-day meal plan to reduce redness and bumps, fast.