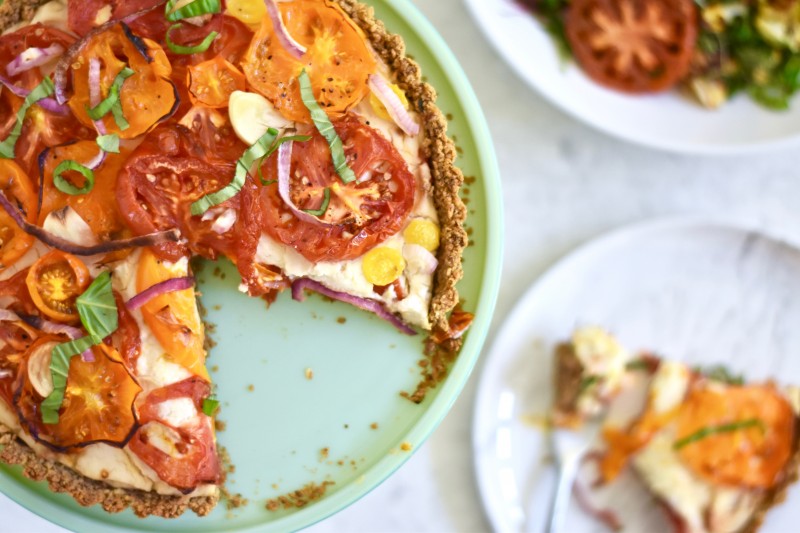 This tomato and garlic pie with rosemary cracker crust recipe is delicious hot or cold. Of course, like all the recipes on my site, it's gluten-free and dairy-free.
I must say, this has been my favorite summer recipe. I haven't seen or tasted anything like it.
Save on Healthy Ingredients
I made this recipe especially for Vitacost.com, my favorite place to shop for healthy ingredients at a fraction of the price of what I'd pay at the grocery store. Plus, I don't have to physically go to the grocery store, or schlep the bags home – it's a win-win.
Tomato & Garlic Pie with Rosemary Cracker Crust
Cook Time
1
hour
20
minutes
Total Time
1
hour
45
minutes
Ingredients
Roasted Tomatoes
1 1/2

lbs.

mixed heirloom tomatoes

sliced ¼-inch thick

1

Tbsp.

olive oil

1

tsp.

dried thyme

1/4

tsp.

pink salt

1/4

tsp.

black pepper

fresh ground, plus more to taste
Creamy Filling
1

head

garlic

small

2

cups

cauliflower

florets only (6 oz.)

8

oz

Kite Hill Vegan Cream Cheese

(1 container)
Crust
2

Tbsp.

flax seed

ground or milled

6

Tbsp.

water

2

boxes

Simple Mills crackers

rosemary or original
Toppings
1-2

rings

red onion

sliced thin

1

clove

garlic

sliced thin

3-4

leaves

fresh basil

sliced thin
Instructions
Preheat oven to 400 degrees Fahrenheit. Fill a large pot that has a steamer basket with about 2 inches of water. Set on the stove and heat over medium to bring to a boil while you continue the following steps.

For the crust, combine the milled flaxseed and water in a small bowl, and set aside for at least 10 minutes.

For the roasted tomatoes, line 1 large baking sheet with parchment paper. Arrange the sliced tomatoes on them flat (although it doesn't matter if there is a bit of overlap). Drizzle with olive oil and evenly sprinkle with thyme, salt and pepper. Set aside for a moment.

For the roasted garlic to be used in the filling, slice about ¼ inch off the bottom of the garlic bulb to expose the cloves. Make a parchment paper "tent" or loose packet around it, and put it on the tray with the tomatoes. Bake both the tomatoes and the garlic for 30 minutes.

Meanwhile, the water on the stove should just about be boiling. Place the cauliflower for the filling in the steamer basket, cover, and cook for about 10 minutes or until they are very soft and you can easily pierce with a fork.

Now, back to the crust. In a food processor, add the crackers from both boxes of the simple mills crackers and process into a sand like texture. Pour into a mixing bowl. Add the oil and the flax and water mixture from earlier. Mix well, until a "wet sand" texture forms. It will still be crumbly at this point. Press it into a 9-inch tart pan.

Once you remove the tomatoes and garlic from the oven, reduce heat to 375. Put the pie tart in and bake for 15 minutes.

With the tart in the oven, you can finish the filling. When the cauliflower is done, add it to the food processor with the entire container of vegan cream cheese. Pop all of the cloves of roasted garlic out of their papery shell, simply by squeezing each between 2 fingers. Add the roasted garlic to the blender. Process on high until a creamy smooth texture forms.

When the tart shell comes out of the oven, spread a layer of the cauliflower/cheese filling on top (about half of it). Then layer generously with half the tomatoes. Add another layer utilizing the rest of the filling, then add a top layer of the remaining tomatoes.

Top with some sliced red onion and garlic. Bake for 25-30 minutes.

When it comes out of the oven, top with some fresh basil. Can be served warm or chilled.

Did you make this recipe?
Tag @mariamarlowe on instagram and hashtag #healthybymarlowe for a chance to be featured and win awesome prizes each month.
Download Real Food Remedies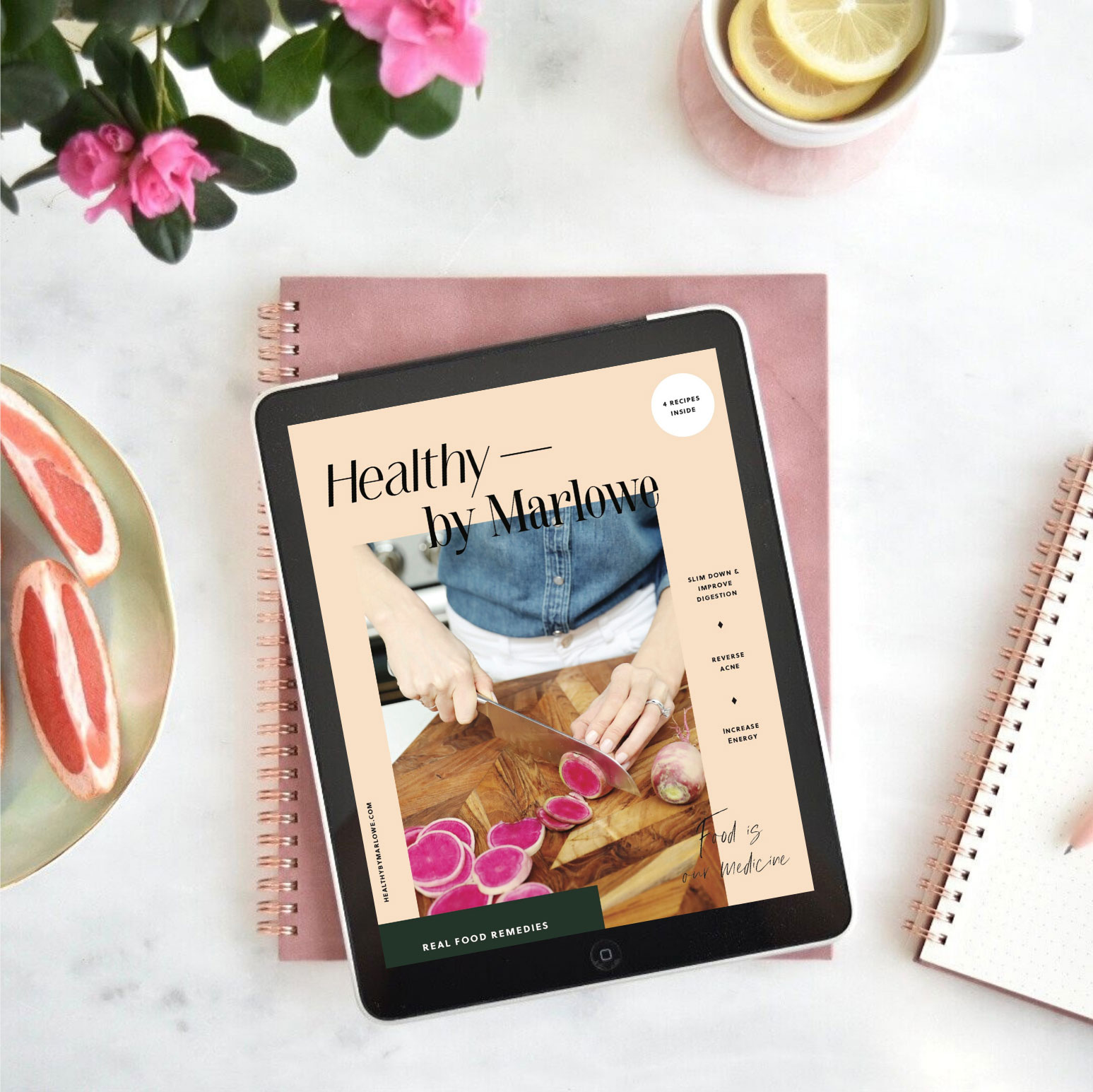 Sign up for my weekly newsletter to get the latest recipes, articles, & podcasts delivered to your inbox.

Plus, you'll receive Real Food Remedies right away, a guide to the top foods & recipes to help you slim down, banish digestive issues, reverse acne, & feel more energized.