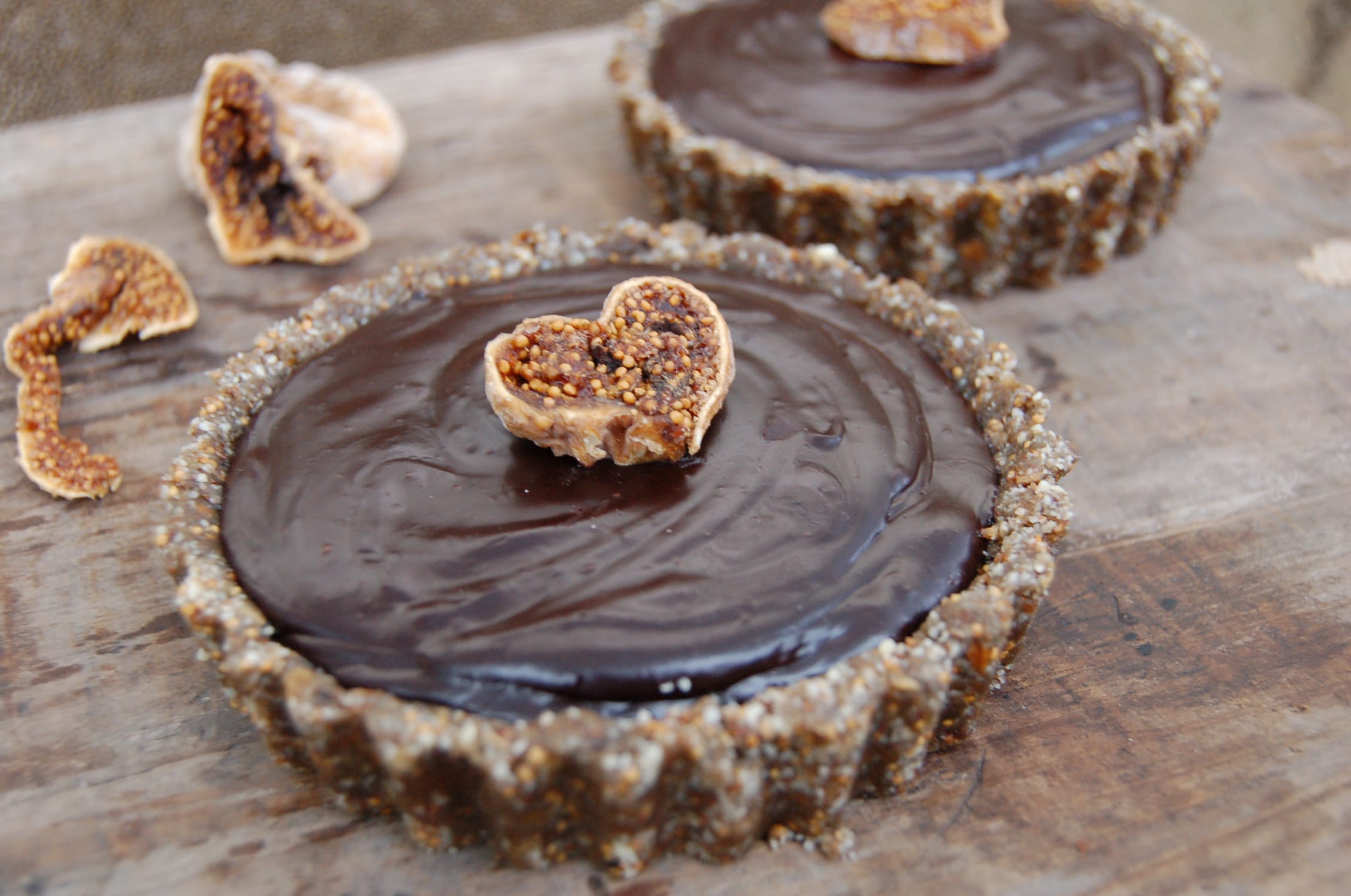 The perfect Valentine's Day dessert recipe.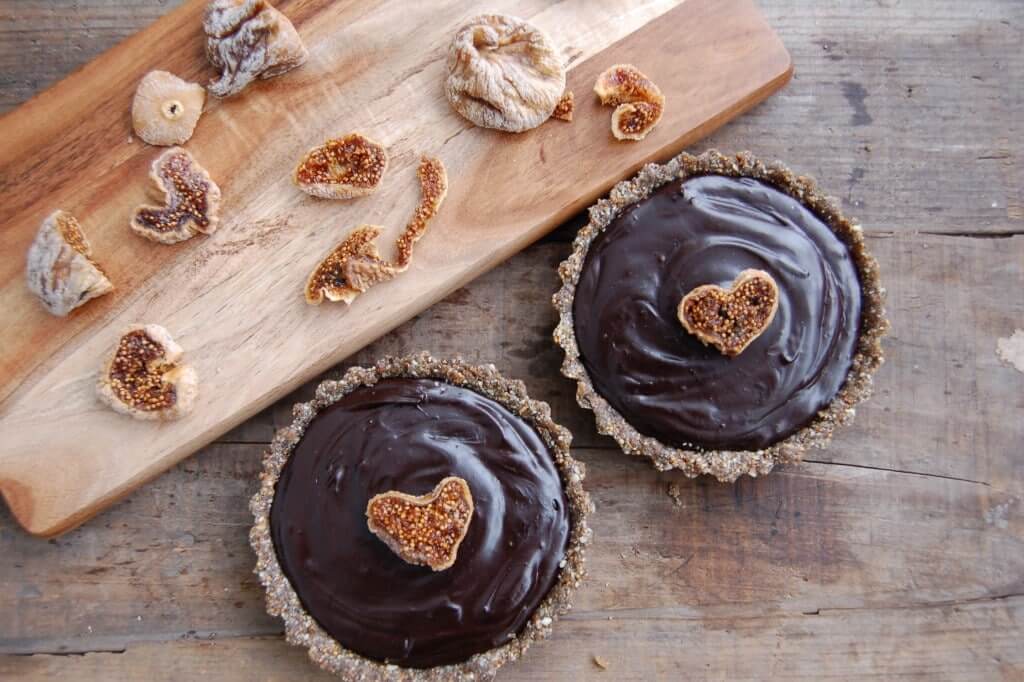 The creamy chocolate center of this decadent tart melts in your mouth and is so rich and satisfying, you'll want to slow down and savor every spoonful.
The easy no-bake crust is made from almonds and figs, which, like chocolate, are believed to be aphrodisiacs. This trifecta of ingredients makes it the perfect dessert to make for your hunny on V-day. (Or, maybe give it to your crush and hope he falls in love?)
Whether or not food actually has the ability to arouse passion is still debated but it's fun to learn the history of these so-called aphrodisiac foods:
Chocolate: Chocolate is inextricably linked with Valentine's Day, and for good reason. The chemicals in cacao help boost serotonin, the hormone that makes you happy, as well as phenylethylamine, the same chemical that's released when you fall in love. While researchers think you'd have to eat copious amounts to get any sort of physiological aphrodisiac effect, it could be that love and chocolate are so intertwined in our minds that it 's more the psychological association that turns us on. 
Figs: Lusciously sweet and juicy, figs get their aphrodisiac status for resembling the female reproductive organ.  Considering the fact that they are said to be the favorite fruit of one of the most well-known seductresses, Cleopatra, perhaps there is some truth to it?
Almonds: Almonds are high in vitamin E, which helps your body produce hormones like testosterone, estrogen, and progesterone, keeping your sexual interest and stamina up. They have been revered as a symbol of fertility throughout the ages, and some believe that their sweet smell arouses passion in women.
 So whether or not this little love tart can actually make anyone fall in love, it does taste really good. The recipe below is enough to make two 4-inch tarts, which is at least 4 servings, so in the spirit of love and giving, I suggest you make two and give one away. Everyone loves presents, especially delicious ones with hearts on top.
Chocolate Fig Ganache Tart
Instructions
For the crust, whiz almonds in a bullet blender for 30-60 seconds until a fine flour forms. Add figs, and process again until thoroughly combined. The mixture should stick together when pinched between two fingers. Press the dough into two 4-inch tart pans, making a thin layer on the bottom and sides of the pan to form the crust.

Next, make the ganache filling. Place cocoa powder, maple syrup, and liquid coconut oil into a blender, and blend on high until smooth, about 60 seconds. Pour into tarts.

To make a fig heart for the top, carefully slice fig into thin slices. Use your fingers to push it into a heart shape, filling it with extra seeds or the"jelly" like interior from another slice if needed.

Refrigerate for at least 3 hours to firm the ganache before serving. Can easily be made ahead, lasts for up to 1 week.
Recipe Notes
(Can simply half the recipe to make it two servings, in which case it will be 1 tart…If you want want to make friends fast, give one away 🙂

Did you make this recipe?
Tag @mariamarlowe on instagram and hashtag #healthybymarlowe for a chance to be featured and win awesome prizes each month.
Clearer Skin in Just 3 Days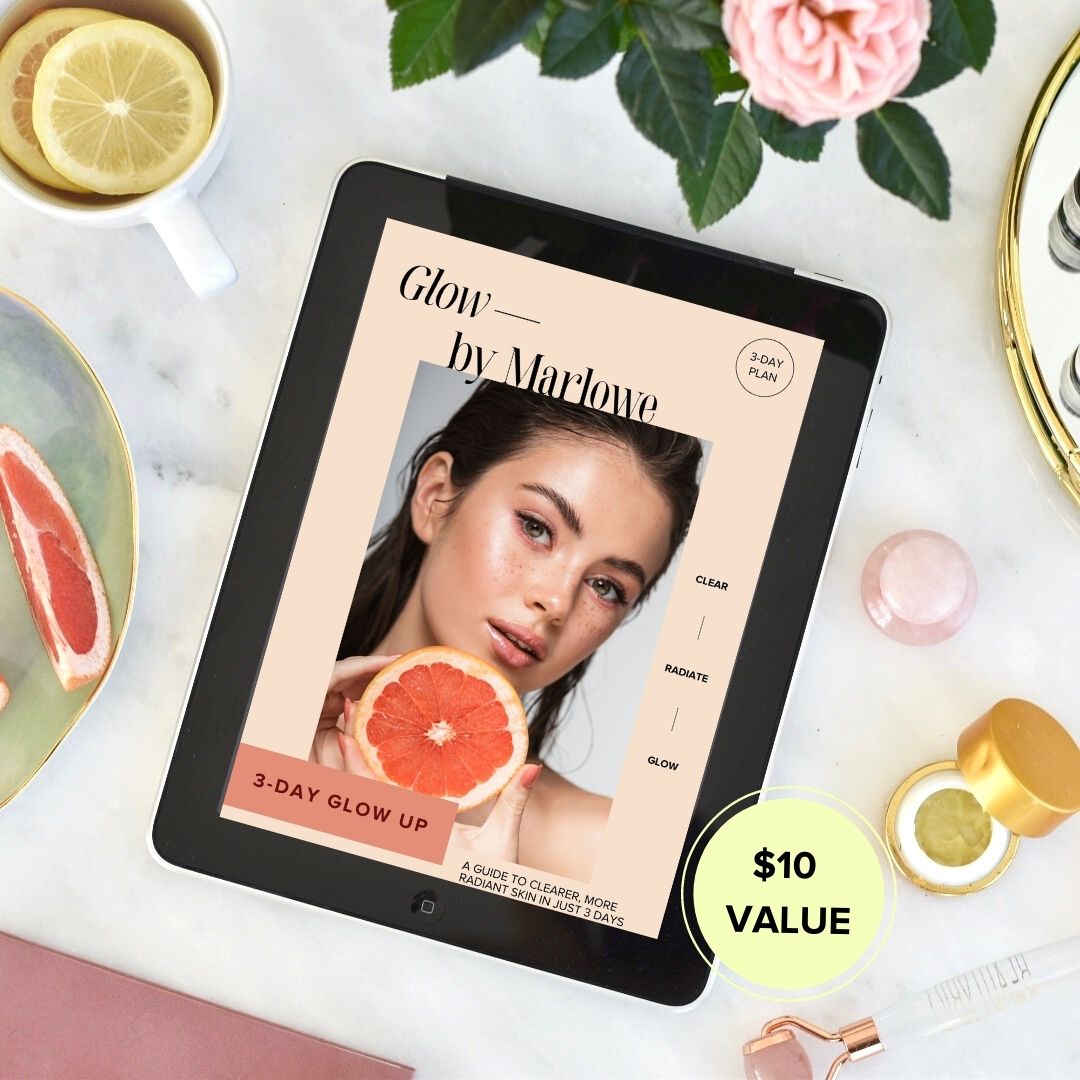 Sign up for my weekly newsletter to get the latest recipes, articles, & podcasts delivered to your inbox.

Plus, you'll receive The Glow Up Guide right away, a delicious 3-day meal plan to reduce redness and bumps, fast.