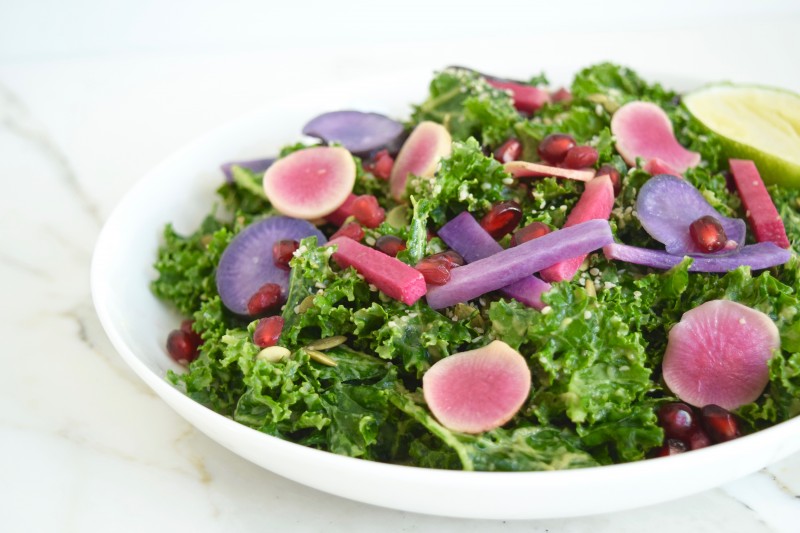 Try this fiber and nutrient-rich pink and purple detox salad.
I love curly kale that has been massaged with avocado (seriously, the best thing ever), so I decided to brighten up my usual all green salad with pops of red, pink, and purple thanks to in-season pomegranate and radishes.
I used watermelon radishes (for pink) and purple radishes, but any radish will work. If you want the colorful ones, try finding them at the Farmer's Market. I get mine at the union square or upper west side markets.
You can eat the radishes raw, but I prefer to bake them for 5 minutes. This mellows them out a little bit and warms up the salad.
Benefits Of Pink And Purple Detox Salad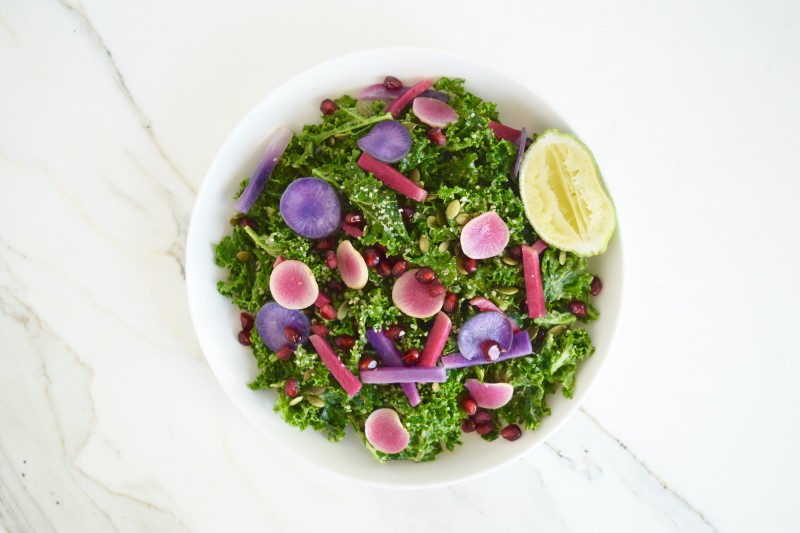 Hemp Seeds: Hemp seeds may be tiny, but they contain a massive amount of protein, including amino acids which are used to build strong hair, nails, muscle, and skin. In addition, they are high in omega-3, an essential nutrient that provides anti-inflammatory benefits.
Kale: One of the most nutrient-dense and anti-oxidant-rich foods available, this cruciferous vegetable supports our body's natural detox processes.
Lime is a source of powerful phytochemicals called limonoids, which have been shown in laboratory tests with animals and with human cells, to help fight cancers of the mouth, skin, lung, breast, stomach, and colon. 
Pink salt, also known as Himalayan salt, is an unrefined salt that contains dozens of trace minerals.
Pomegranates are best known for their connection to heart health, as they reduce inflammation and help lower cholesterol and blood pressure.
Pumpkin Seeds are a good source of zinc (they deliver 19% of the recommended daily value per ounce) a nutrient that supports clear, blemish-free skin and a strong immune system. Research shows that a lack of zinc can contribute to breakouts and acne. 
Radishes are high in water content, making them filling; They are only about 1 calorie each; and they contain flavonoids, plant chemicals believed to play a role in weight loss and maintaining a healthy weight, according to a Harvard study published in BMJ.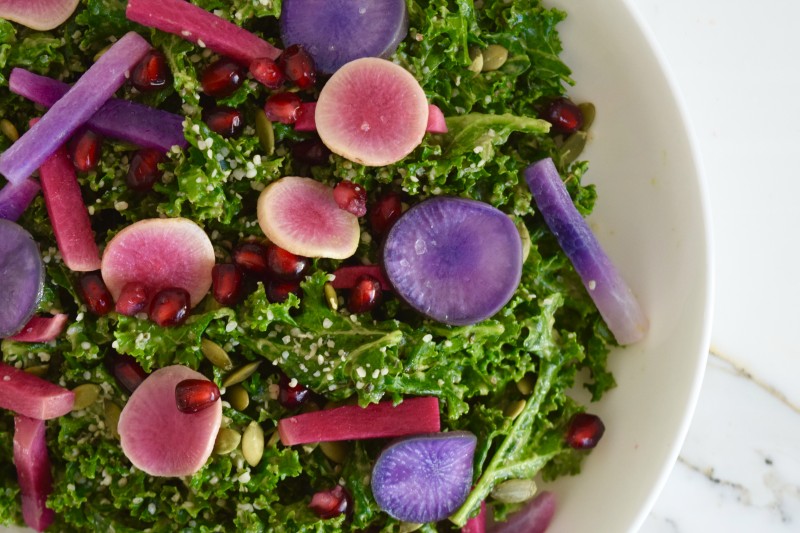 Try This Pink And Purple Detox Salad Recipe
If you try this recipe, let me know! Leave a comment and rate it (by clicking the stars in the upper right of the recipe card, below). Also, don't forget to tag a photo @mariamarlowe or #mariamarlowe on Instagram or Facebook. I'd love to see what you come up with!
Pink & Purple Detox Salad
Instructions
Preheat oven to 425 degrees Fahrenheit. Lay the radish slices on a parchment lined baking sheet and bake for 5 minutes, just until soft.**

Meanwhile, put kale and chopped avocado in a large bowl. Wash your hands. Use your hands to massage and squeeze the avocado into the kale for 2-3 minutes, until kale is dark green and wilted a little.

Add the remaining ingredients and the cooked radishes to the bowl. Mix well. Season with salt and lime juice to taste.
Recipe Notes
*You can use regular radishes if you can't find watermelon and purple.
**You can eat the radishes raw but I prefer to bake them in the winter to warm it up, plus mellows their bite.

Did you make this recipe?
Tag @mariamarlowe on instagram and hashtag #healthybymarlowe for a chance to be featured and win awesome prizes each month.

Clearer Skin in Just 3 Days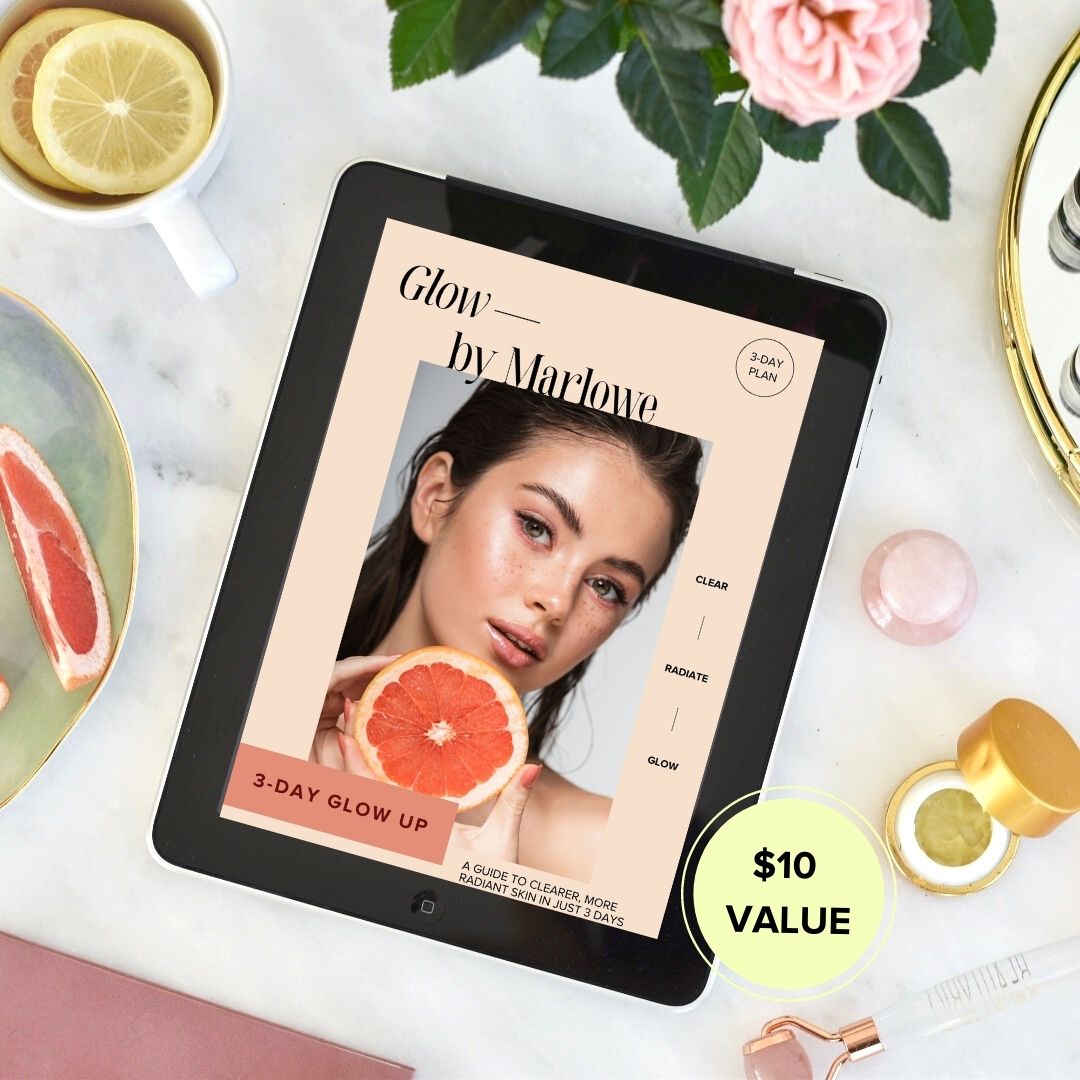 Sign up for my weekly newsletter to get the latest recipes, articles, & podcasts delivered to your inbox.

Plus, you'll receive The Glow Up Guide right away, a delicious 3-day meal plan to reduce redness and bumps, fast.