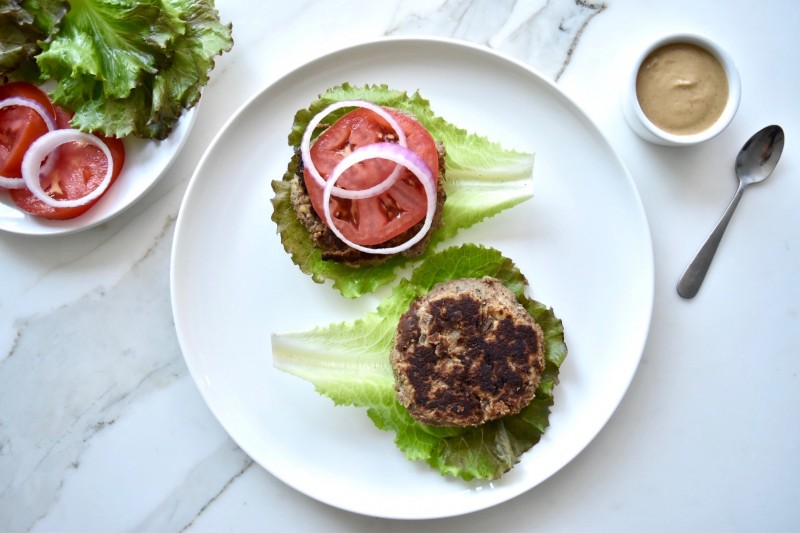 OMG. This umami chickpea burger is everything. It's a must-try recipe, especially if you're bored with beans and quinoa, and looking for a fun way to get your plant protein.
I set out to make a chickpea burger a few weeks ago, with the desire to make something hearty, flavorful, and craveable. Mission accomplished.
I have made this chickpea burger recipe probably 6 or 7 times within the last two weeks. That is how good it is. I'm telling you, best chickpea burger recipe. There is still some texture from the chickpeas, and hidden mushrooms bring a rich, savory, umami flavor. Biting into this umami chickpea burger is seriously satisfying.
Dress it Up Any Way You Like
You can use one to two patties in a burger, or skip the bun and put two or three over spiralized or roasted veggies, salad, or in a Swiss chard leaf with avocado and onion for a chickpea burger burrito. I am not usually a fan of using a lettuce leaf as a wrap, because let's be honest, that doesn't sound appetizing, but the burger is so good, it's actually delicious.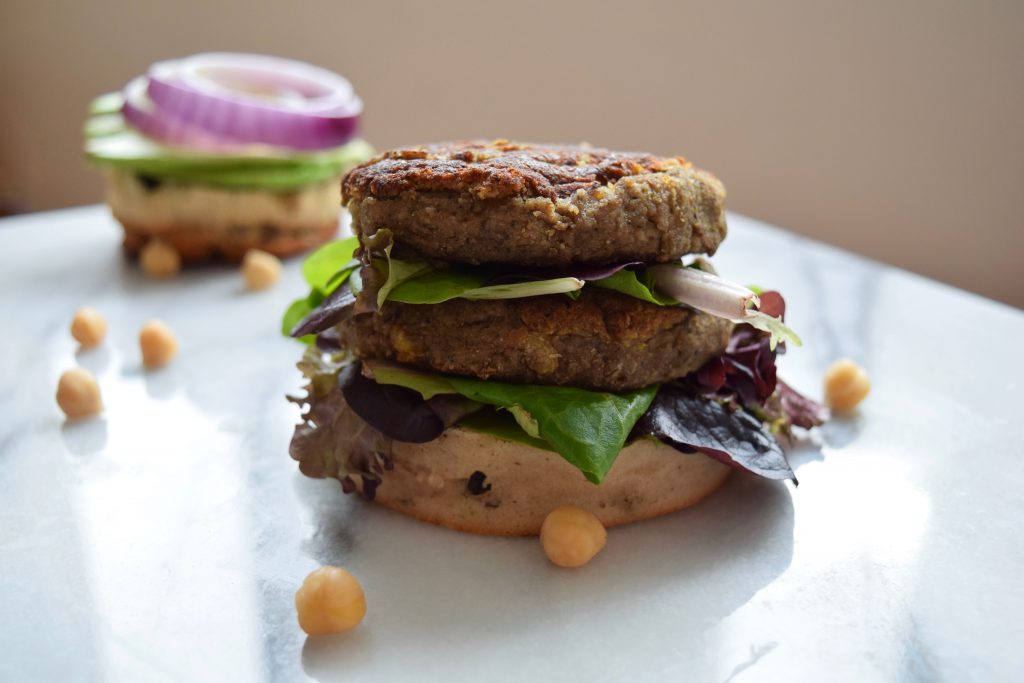 Batch Cook This Bad Boy
This is a perfect recipe to batch cook on the weekend, and use throughout the week. It makes about 6 patties, and I suggest two-three patties (not burgers with the bun :)) as one serving. (Three patties delivers appx. 17 g of protein). You can either cook the patties on Sunday, or just prep them, and then pan-fry them when ready to serve, which only takes 6 minutes. They are also good cold.
Try this Recipe
If you try this recipe, let me know! Leave a comment, rate it (by clicking the stars in the upper right of the recipe card, below), and don't forget to tag a photo @mariamarlowe or #mariamarlowe on Instagram. I'd love to see what you come up with!
Chickpea Burger
Instructions
In a skillet, over medium heat, add about 1 tsp. olive oil or coconut oil. Saute the onion and mushrooms for about 7 minutes, stirring occasionally. If the mushrooms and onions start sticking to the pan, add about a teaspoon of water. Then add the garlic, and cook an additional minute or two.

Meanwhile, in a large mixing bowl, add the almond meal, teff, salt, and pepper. Mix.

Next, in a food processor or high-speed blender (on speed 1) briefly pulse or blend the chickpeas until they are broken down or chopped, but still retain some texture. Remove half of them and put them into the center of the mixing bowl.

When the mushroom mixture is done, add that to the food processor or blender (half of the chickpeas should still be in there), and blend for 20-30 seconds until a paste-like consistency is formed. Spoon that into the mixing bowl. Mix everything well, until evenly combined. Split into about 6 portions, roll each into a ball, and then flatten into a patty.

Back in a clean skillet, heat it over medium heat, add about 1 tsp. of coconut or olive oil and then add the patties, cooking about 3 minutes each side. (You will have to do in batches).

Remove to a plate, and build your perfect burger, or serve over vegetables or a salad. I recommend 2 butter lettuce leaves, a slice of tomato, 2 onion rings, and mustard, hot sauce or tahini dressing.
Recipe Notes
2 burgers is one serving.

Did you make this recipe?
Tag @mariamarlowe on instagram and hashtag #healthybymarlowe for a chance to be featured and win awesome prizes each month.
Clearer Skin in Just 3 Days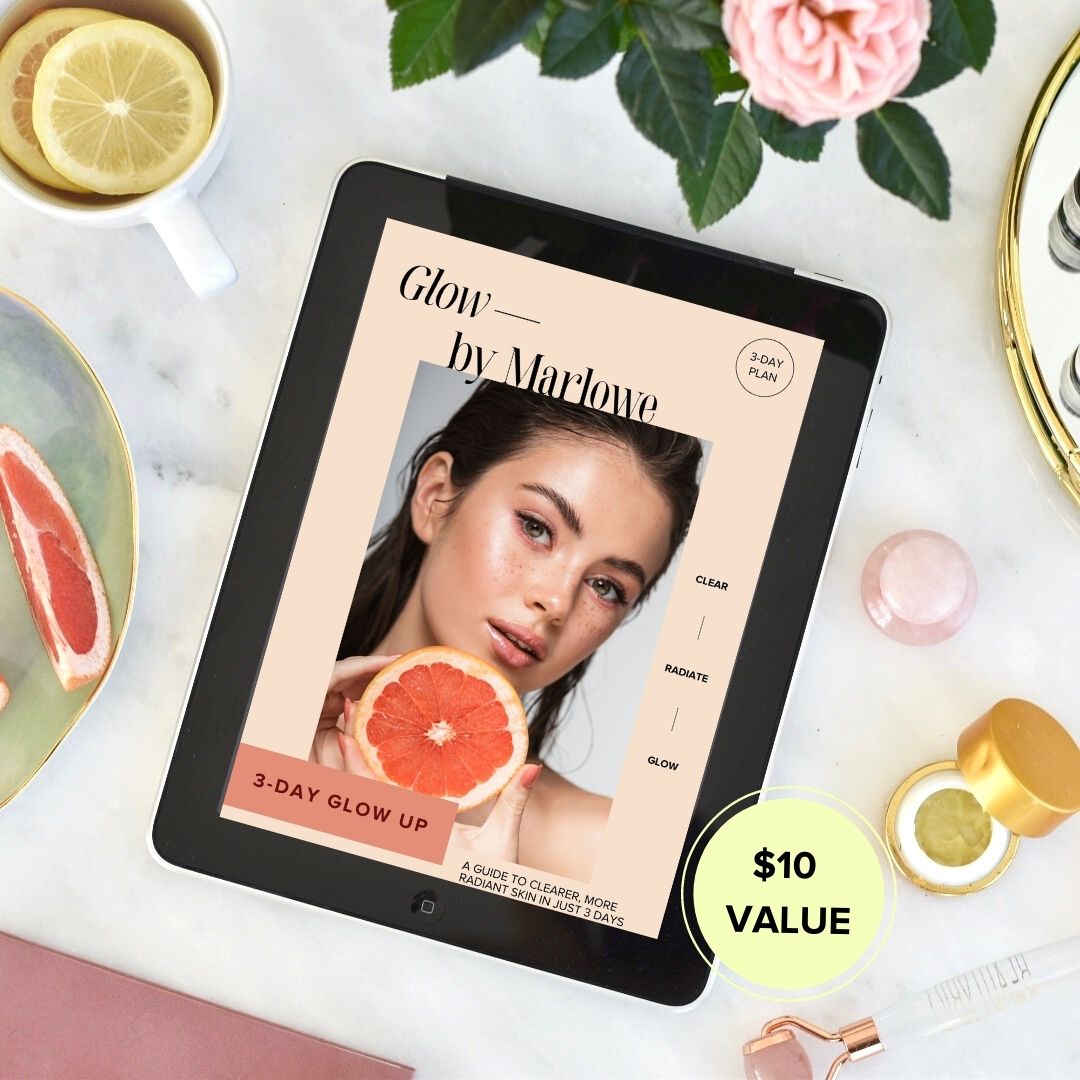 Sign up for my weekly newsletter to get the latest recipes, articles, & podcasts delivered to your inbox.

Plus, you'll receive The Glow Up Guide right away, a delicious 3-day meal plan to reduce redness and bumps, fast.