This delicious blueberry protein smoothie was inspired by one of my favorite Juice Press smoothies.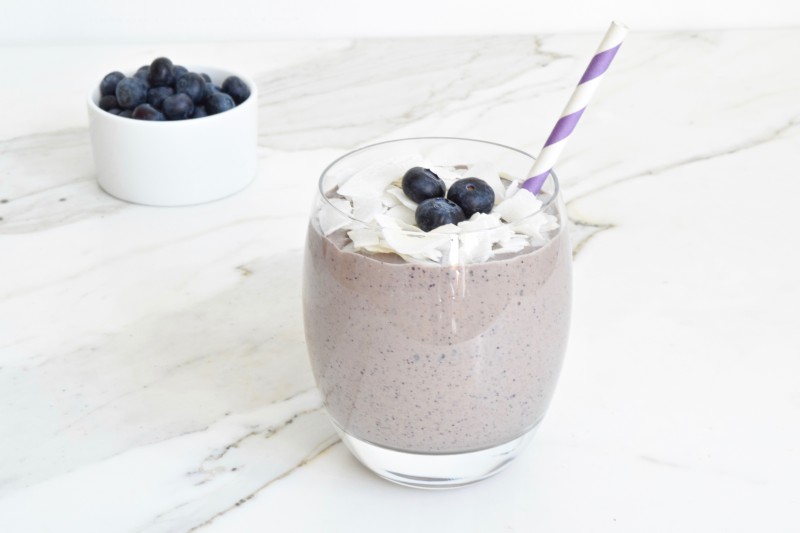 Blueberry Protein Smoothie is Perfect Post-Workout
It's important to get adequate protein after a workout, and this shake delivers just what you need.
It provides about 15 grams of plant-based protein from hemp seeds, almond butter, and chia seed.
Hemp seeds are the optimal "protein powder" in my opinion. They are a source of complete plant-based protein that are easy to digest (unlike some other protein powders, like whey or soy). A single serving size of hemp seeds – 3 tablespoons – provides 10 g of protein, 16% of your recommended daily intake of iron, and about 3 grams of omega 3, an essential fatty acid that provides anti-inflammatory benefits.
Chia Seeds help bulk up and thicken the smoothie, while also providing additional protein and omega-3s.
Similar to Juice Press F***ing Genius Blueberry Protein Smoothie
After a workout class or run in Central Park, I love swinging by our local juice bar, Juice Press to pick up either their Clean Green or F***ing Genius smoothies. I get them made fresh, as I do modify them a little bit. I think fruit is sweet enough, and always leave out the added coconut sugar as a sweetener. I also replace the protein powder with hemp seeds. So, this Blueberry Protein Smoothie is a riff on their F***ing Genius Smoothie. It's really thick, almond-y, and delicious.
Try This Blueberry Protein Smoothie
If you try this recipe, let me know! Leave a comment, rate it (by clicking the stars in the upper right of the recipe card, below), and don't forget to tag a photo @mariamarlowe or #mariamarlowe on Instagram or Facebook. I'd love to see what you come up with!

Add all ingredients to a high speed blender, and blend on high until smooth consistency is formed. Top with coconut and blueberries if desired.
To freeze banana, simply peel, break in half, put in a ziploc bag, and freeze overnight. You can freeze multiple bananas at once, and they should last 2-3 months in a freezer proof bag.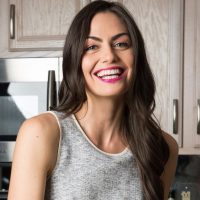 Maria Marlowe
Maria Marlowe is a holistic nutrition and wellness coach who uses real food to help her clients improve their health, weight, and skin. She offers a 28-day healthy eating meal plan that teaches you how to batch cook, as well as one to clear up acne. Her most popular program is EatSLIM, a 10-week online group glass that guides participants to develop healthy eating habits that stick – and lose weight, boost their metabolism, improve their digestion, and quit sugar.
She writes healthy and delicious plant-based recipes for her popular blog. She is also the author of the #1 New Release on Amazon, The Real Food Grocery Guide, the most practical guide to selecting the healthiest foods, without going broke, which has been praised by Dr. Oz and InStyle magazines. You can find her on instagram @mariamarlowe.